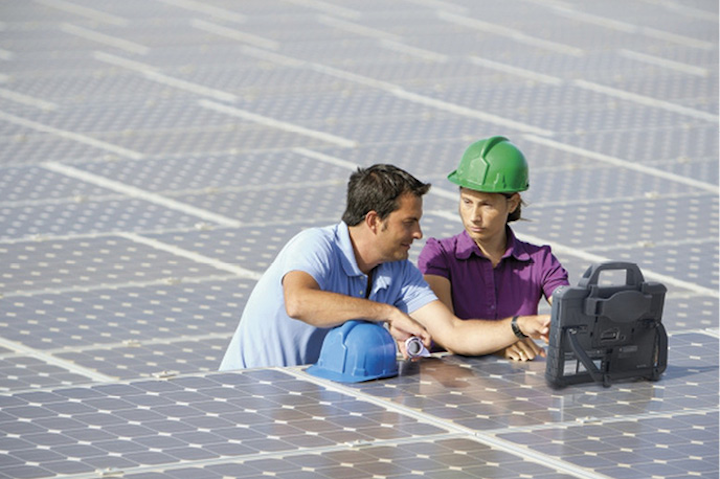 Photos courtesy of Panasonic.
Two ways rugged technology helps keep the power on
By Jo Satili
Each year, the utilities industry faces many operational challenges such as unforeseen outages and interrupted services that affect millions of individuals. While workers in the utilities industry have spent their careers responding to malfunctions, companies are now facing increasing pressure from consumers for on-demand communications and reduced restoration time. In order to meet these demands, companies are hungry for technology to help anticipate when outages will occur. Additionally, they want to arm their workers with the right tools to recognize, respond to and repair outages as efficiently and safely as possible — no matter the environmental demands or location of the outage — all while delivering improved customer service.
In today's technology-enabled world, rugged mobile devices are purpose-built to feed this need and support digital transformation within the utilities industry. Deploying rugged devices throughout the utilities workforce means that companies can equip their workers with the constant connectivity needed to increase productivity, decrease the amount of time it takes to respond to problems and deliver reliable information to customers in real time. But the benefits of adopting mobile technology don't just begin when outages occur, they begin before outages happen. Rugged mobile technology gives the utilities industry the ability to identify and fix malfunctions before they threaten access to public resources.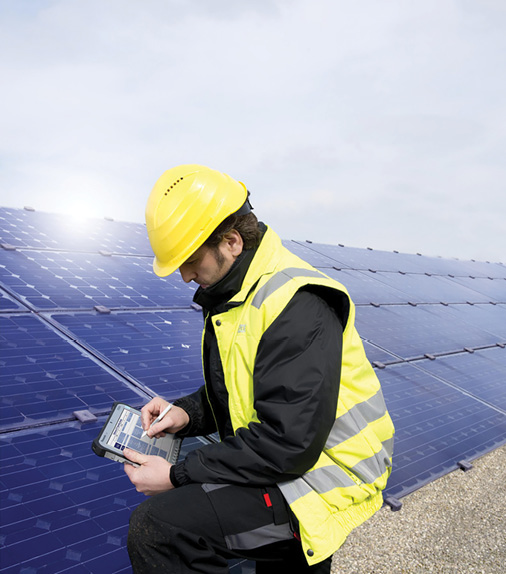 Rugged mobile devices provide workers with an additional avenue they need to communicate in real time.
But how is this possible? Here are two key ways rugged mobile technology is helping to support the evolving needs of the utilities industry, while keeping the power on today, tomorrow and in the future.
1. Improving the Information Exchange Before Outages Occur
Information is the linchpin in any utility company's ability to recognize, respond to and resolve grid problems — especially before failures happen. While many companies are using the smart grid framework to share data with participants throughout the electrical flow, including bulk generation, distribution, transmission and end customers, rugged mobile devices provide workers with an additional avenue they need to communicate in real time.
Whether in the field or in the office, rugged mobile technology is critical to helping utility companies protect the public from unforeseen challenges and outages. For example, recognizing utility malfunctions before they occur is key to maintaining the public's access to electricity. To do this, engineers in particular rely on tablets equipped with keyboard functionality to map facilities and survey infrastructure when in the field. This enables field workers to recognize potential sites of outages that could happen in a few hours, days or even in a few months.
After identifying weaknesses in infrastructure, workers can transmit this data to headquarters in real time before quickly receiving the information they need to fix the point of malfunction before it even happens. Not to mention, when equipped with thermal imaging, rugged mobile devices help companies detect potential power facility malfunctions and allow companies to send accurate images to technicians' devices that show the location of needed repairs.
As you can imagine, when surveying infrastructure outside of the reach of cellular towers or in harsh weather that threatens service, technicians don't always have the ability to drop what they're doing and travel to areas with better service to communicate with headquarters when imminent threats to public resources are about to occur. The reliable connectivity promised by rugged devices, especially in remote locations, is critical to eliminating potential outages as quickly as possible. While consumer-grade devices force technicians to travel for better service, rugged devices are built to keep mission-critical operations going through ultra-reliable satellite communications.
2. Optimizing Responsiveness and Repair Time When Outages Occur
Despite the drive to eliminate electrical outages before they happen, the unpredictable nature of severe weather (the leading cause of electrical outages) means that outages will continue to occur, no matter how hard the industry tries to eliminate them. Because malfunctions are inevitable, utilities companies must have the technological infrastructure they need in place so that workers are equipped to efficiently recognize, respond to and repair outages when they do happen.
While companies have previously adopted consumer-grade devices to power the utilities industry, 18 percent of businesses that have adopted these devices are suffering from up to two days of production downtime per employee due to device failures on the job. As a result, in an industry where response time is key to restoring the public's access to vital resources, companies are replacing consumer-grade devices with rugged mobile devices that are built to transform how workers respond to outages and communicate in the field.
By implementing mobile-enabled operating management systems (OMS) and work management systems (WMS), utilities companies can rely on the technology they need to minimize restoration times, all while staying connected to customers (the key to meeting rising expectations). Whether a technician is responding to a gas leak, a damaged power line or conducting maintenance at the top of a windmill, rugged mobile devices give workers the connectivity they need to capture and transmit data and work orders in real time. They provide the situational awareness that's needed to restore access to resources as efficiently and safely as possible, all while optimizing productivity and profitability for the organization.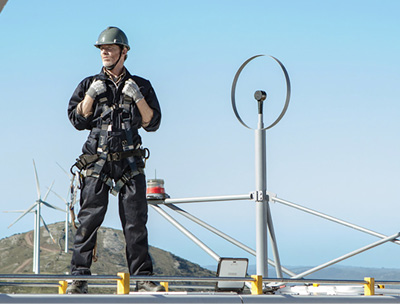 While consumer-grade devices force technicians to travel for better service, rugged devices are built to keep mission-critical operations going through ultra-reliable satellite communications.
Rugged mobile devices are providing the support companies need to keep up with the evolving needs of the utilities industry. Whether that's identifying outages before they happen, efficiently responding to malfunctions after they occur, or meeting customer service pressures, rugged mobile technology has the utilities industry's back and is ready to transform how workers operate on the job. UP
The Author: Jo Satili is the national sales manager for Panasonic, where she is focused on sharing Panasonic's renowned family of TOUGHBOOK rugged mobile devices and services with the public sector and utility markets. Since joining Panasonic in 2004, Satili has served in a variety of roles, gaining extensive industry experience in solution sales and creative project management that directly impact growth strategies. Based in New York, Satili holds a bachelor's degree in business and finance from CUNY.