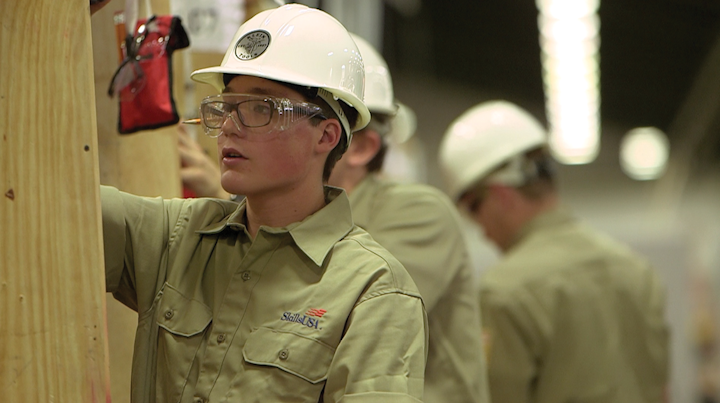 By Mark Klein
Many companies today are experiencing difficulties recruiting, hiring and retaining young people in skilled trade positions, particularly in building and construction fields. The inability to find the right people for these jobs is just the tip of a much larger iceberg: the U.S. skills gap.
Caused by a growing demand for skilled trade work and a diminishing supply of skilled workers to do it, this gap has been especially evident in physically demanding trades with a relatively low retirement age. Skilled workers are retiring faster than new recruits can come in and pick up all the work in the booming construction industry.
While the skilled labor shortage is troubling today, it is poised to be a major crisis in coming years. The Bureau of Labor Statistics projects that the construction industry, driven by demands for new buildings and infrastructure, will grow to provide more than 7.5 million jobs in 2026. Even so, the industry's growth, as described by the Associated General Contractors of America, already is being restricted in major metropolitan areas not by demand but by the lack of qualified workers to support it.
For decades, most employers, school administrators and parents have guided high school students on an all-or-nothing path toward a college degree. Public perception cast aside the skilled trades as the fallback for those who couldn't make it to — or through — college. Coupled with a nationwide decrease in trade-based electives in high schools, that has discouraged generations of students from entering the skilled trades. Not only have students been urged to have tunnel vision in pursuit of traditional, four-year degrees, but they also may not have been introduced to the trades at all.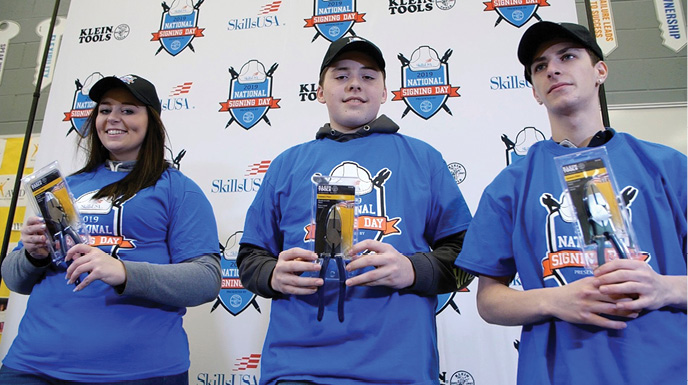 The SkillsUSA National Signing Day event celebrated nearly 3,000 high school seniors dedicated to pursuing a career in residential wiring, building trades and renovations, HVAC, and plumbing at hundreds of schools across the nation.
Fortunately for the future of the trades, organizations like SkillsUSA have been working persistently to change public perception of skilled trade professions. SkillsUSA's network of career technical education programs extends across the country, with a unifying vision that connects more than 19,000 local chapters in 52 state and territorial associations. Its programs support more than 400,000 middle school, high school, and college students who are preparing for careers in trade, technical and skilled service occupations.
SkillsUSA is by far the largest national organization dedicated to supporting the country's next generation of skilled professionals, but it has the potential to grow from what feels almost like a secret society today into a truly national initiative with enrollment in the millions.
SkillsUSA National Signing Day, Presented by Klein Tools
Recently, SkillsUSA and Klein Tools partnered to find a solution that could generate excitement and awareness of the importance of the skilled trades on a national level. The groups created a national program that honors students entering skilled trades in the building and construction industries: SkillsUSA National Signing Day, presented by Klein Tools.
This inaugural event, held on May 8, 2019, celebrated nearly 3,000 high school seniors nationwide who committed to pursue careers in fields like residential wiring, building trades and renovations, HVAC, and plumbing. This exciting program garnered both local and national attention as communities, school administrators, teachers, elected officials, SkillsUSA advisors, family and friends came together to celebrate participating students for making the decision to pursue careers or advanced technical training in the skilled trades. Similar to National Signing Day events for high-school student athletes, each student entering the skilled trades put on a hat and signed a "letter of intent" for a job offer, apprenticeship or advanced technical training in a trade they have already been studying as part of a SkillsUSA program.
This first-ever SkillsUSA National Signing Day even caught the attention of NFL quarterback Jimmy Garoppolo and his father, Tony, a recently retired career electrician. Jimmy has a firsthand understanding of the importance of the skilled trades, having watched his father support the entire family of six with a stable and rewarding career. The two were able to lend their experiences from both the sports and skilled trades perspectives across many national media outlets, broadcast from the event at the Silicon Valley Career Technical Education center.
On SkillsUSA National Signing Day, Tony and Jimmy Garoppolo congratulated all the students for committing to a rewarding career in the trades.
Tony Garoppolo also shared his experiences in the trades with students and their parents. "After 40 years as an electrician, I've seen how the industry has changed and know that it's more important than ever for us to encourage young people to explore a career in the skilled trades," he said. "The students who participated in SkillsUSA National Signing Day were fortunate enough to have someone help them understand the many benefits of a career in the trades. We hope that this day will help even more people understand the growing demand for skilled trade professionals and how vital these careers and future workers are to our economy."
Working Together to Support the Next Generation
SkillsUSA National Signing Day is just one part of generating excitement around skilled trade professions on a national level. It is now more important than ever for education and industry partners to continue to encourage more young people to explore the trades and to get exposure to more than a four-year college path.
With help, the nation is beginning to see once again the many benefits a career in the skilled trades offers and just how rewarding that career can be. UP
The Author: Mark Klein is co-president of Klein Tools and oversees the company's worldwide sales, marketing, customer service and new product development. He also leads strategic sales in the U.S. and Canada, as well as leading Klein Tools' UK and European businesses. He has played a significant role in nine consecutive years of record growth, bringing to market new sales channels and never-before-seen tool innovations. He is passionate about advancing the electrical industry and attracting new people to the field. Through his leadership, Klein Tools has created programs like the annual State of the Industry survey, the Electrician of the Year award and National Signing Day.