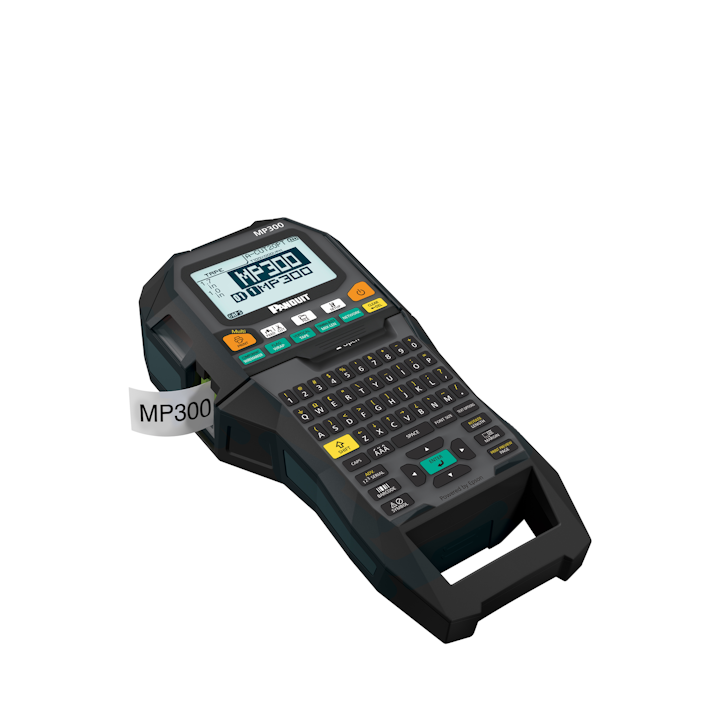 Handheld Printers
Panduit Corp., a global leader of innovative electrical and network infrastructure solutions, is entering into a strategic partnership with Seiko Epson Corp. to jointly develop printers and labels for the industrial, construction, and network infrastructure marketplaces. Under the terms of the partnership, Epson will develop and manufacture new label printers for Panduit apart from its own brand LABELWORKS PX series. These products will integrate aspects of both companies — the strength of Epson's label printers and the strength of Panduit's special label media lineup and Easy-Mark Plus™ software — to meet the needs of customers across a broad spectrum of industries.
Panduit Corp. Seiko Epson Corp.
www.panduit.com global.epson.com
Single, Handheld Tester
Megger now offers a single, handheld dedicated static motor tester that can perform multiple tests. Its multifunction capabilities include insulation resistance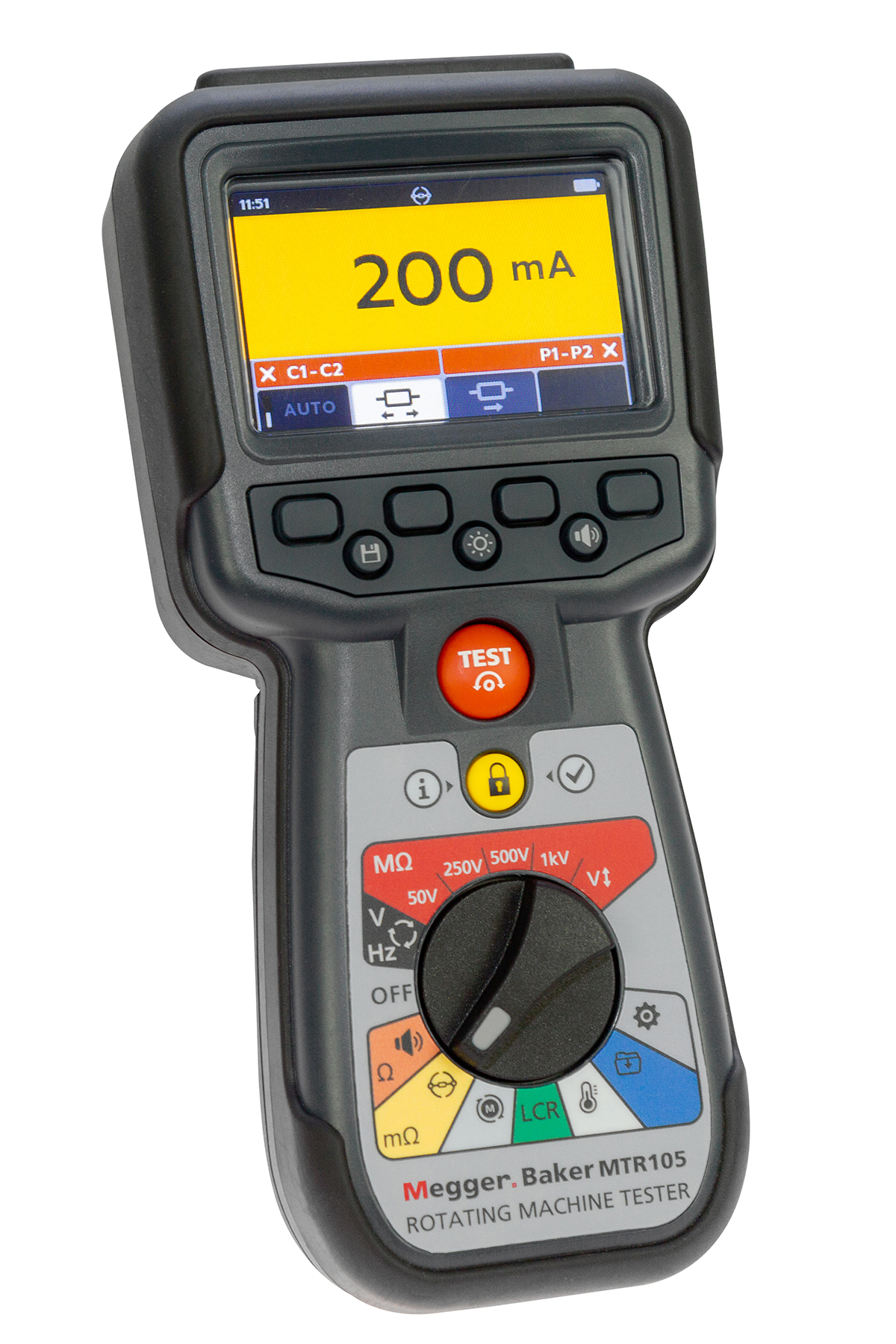 tester, motor rotation testers, DLRO, multimeters, and LCR meter. The MTR105 combines all of the functions frequently used when testing electric motors. This new tester, designed for use in the service, OEM, utility, industrial, and transport markets, takes the testing abilities of Megger's proven insulation resistance test instruments and adds in the DLRO four wire Kelvin low resistance test, inductance and capacitance tests to provide users with a versatile unit. The MTR105 is a compact, multi-function test set that is lightweight and easy-to-use. It features a fully automated three-phase connection so that testing can be performed seamlessly with no need to reconnect the unit for each phase-to-phase measurement. It also features temperature correction for insulation resistance testing. The unit includes a guard terminal that helps to eliminate the effects of surface leakage and delivers accurate results in harsh environments thanks to improved diagnostics.
Megger
us.megger.com
LED Search Light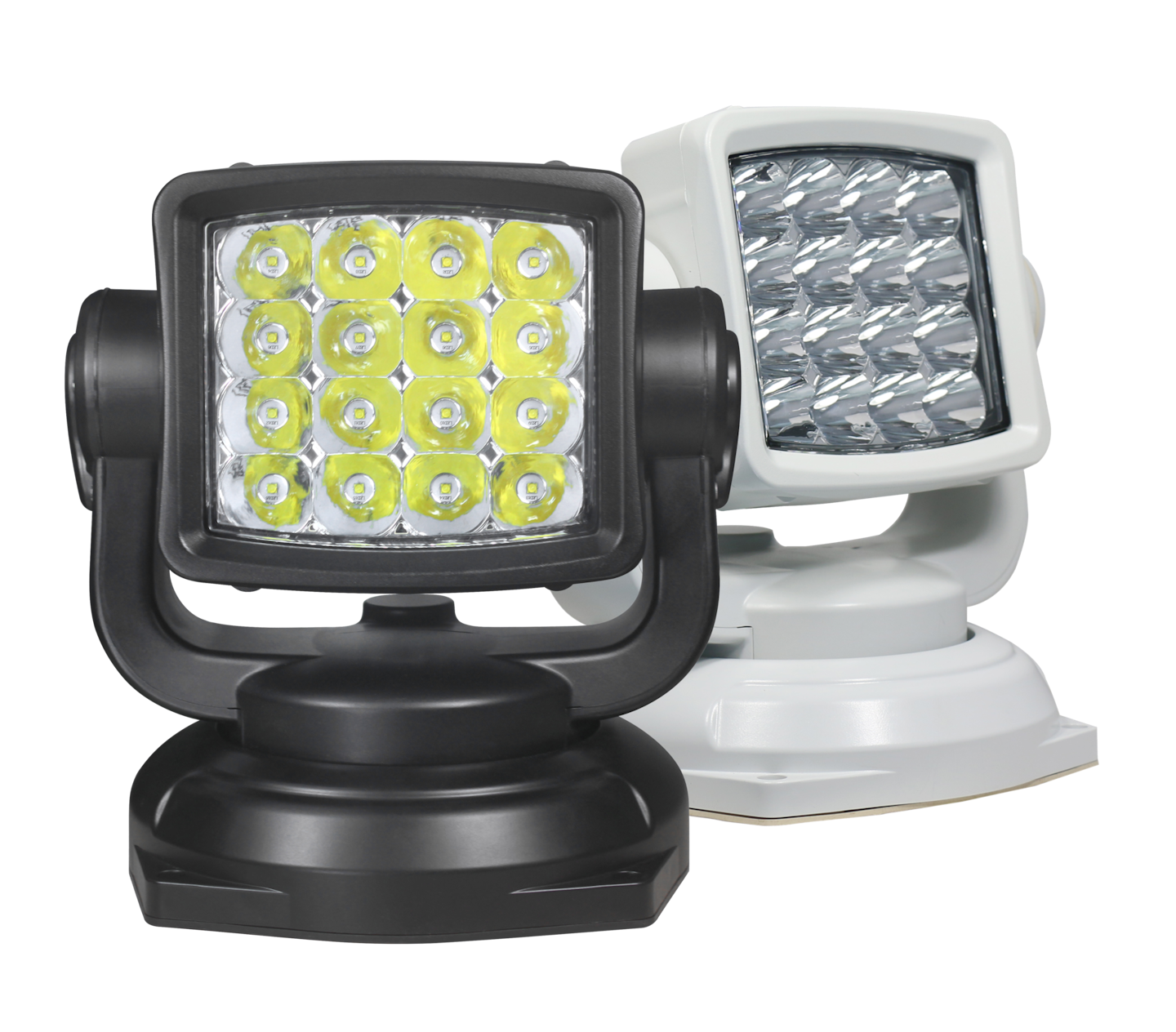 Superior Signals Inc. (SSI) announces the addition of a new LED search light to its already extensive product offering of LED worklights. The 80WRC series LED search light, with its ability to rotate horizontally 360˚, is ideal for those odd jobs where the standard mounted worklight or search light just doesn't cut it. This light is controlled by a remote, making it easier to operate while you are working. The 80WRC series LED search light is available in white or black and each color option has the choice of flood or spot beam patterns. This 80-watt light has 16 LEDs, gives a light output of 3,145 lumens, a 12–24 voltage range and comes with a 3-year limited warranty. It also has the following certifications: CE, RoHS and IP65, the remote controls are IP67 certified.
Super Signals Inc.
www.superiorsignals.com
Fiber Optic Blower
Fiber optic cable blowers from TT Technologies are ideal for last mile, fiber-to-the-home projects. Three models of fiber optic cable blowers are available for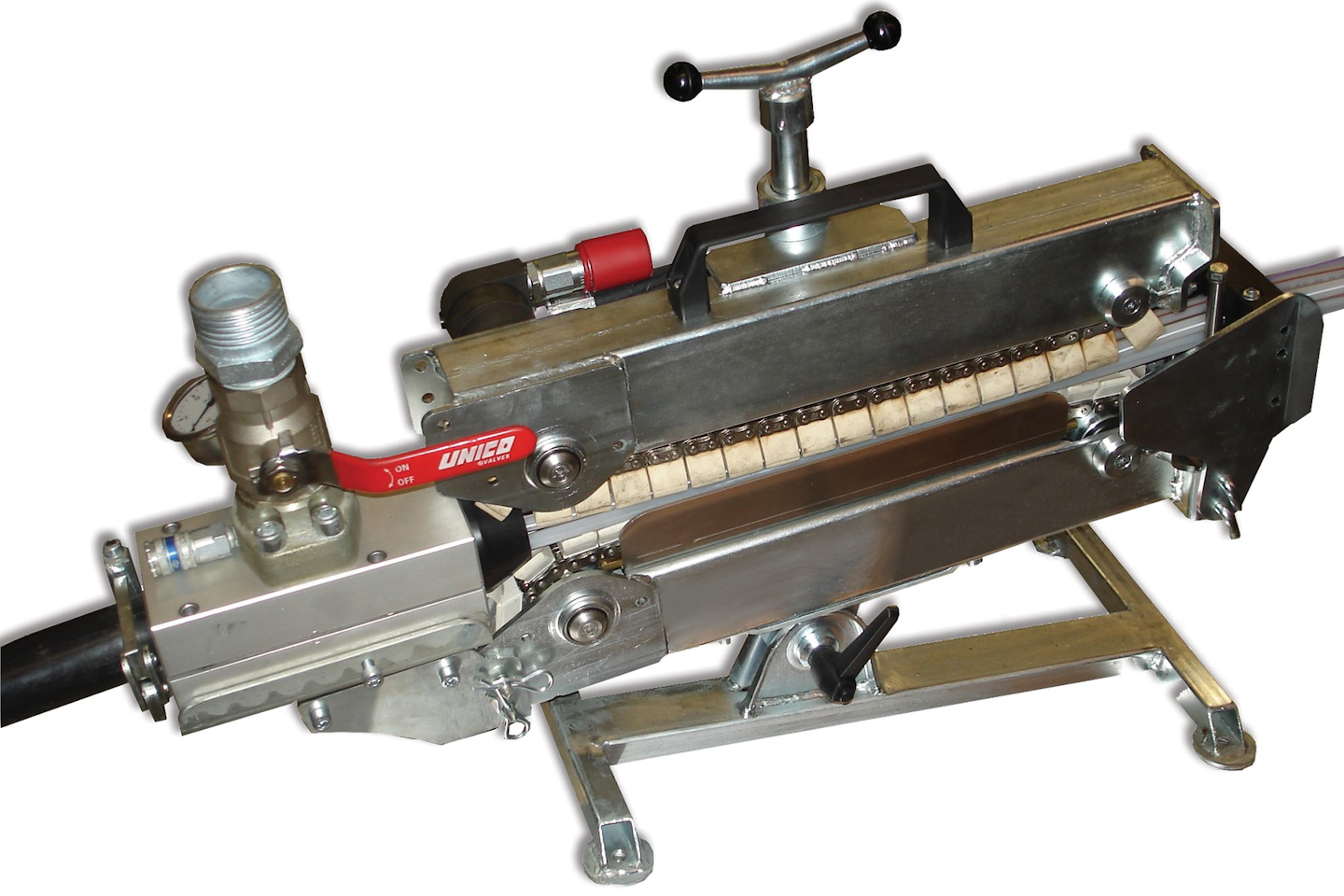 installing fiber optic cable, as well as micro-duct. Fiber blowers offer safe, fast and efficient installation of fiber cable into duct work with speeds up to 325 feet per minute possible depending on cable size and duct integrity. The Multiflow cable blower is capable of installing multiple micro ducts or single large size cables into ducts from 1¼ in. to 2 in. (32 mm to 50 mm) in diameter. The Miniflow cable blower is capable of blowing in fiber optic cables from 3/16 in. to 7/16 in. (4 mm to 11 mm) into ducts from 1/4 in. to 3/4 in. (7 mm to 20 mm) in diameter. Finally, the Microflow touch blower is able to blow in small fiber optic cables from 1/32 in. to 1/4 in. (1 mm to 5 mm) in diameter.
TT Technologies
www.tttechnologies.com
Tool Attachment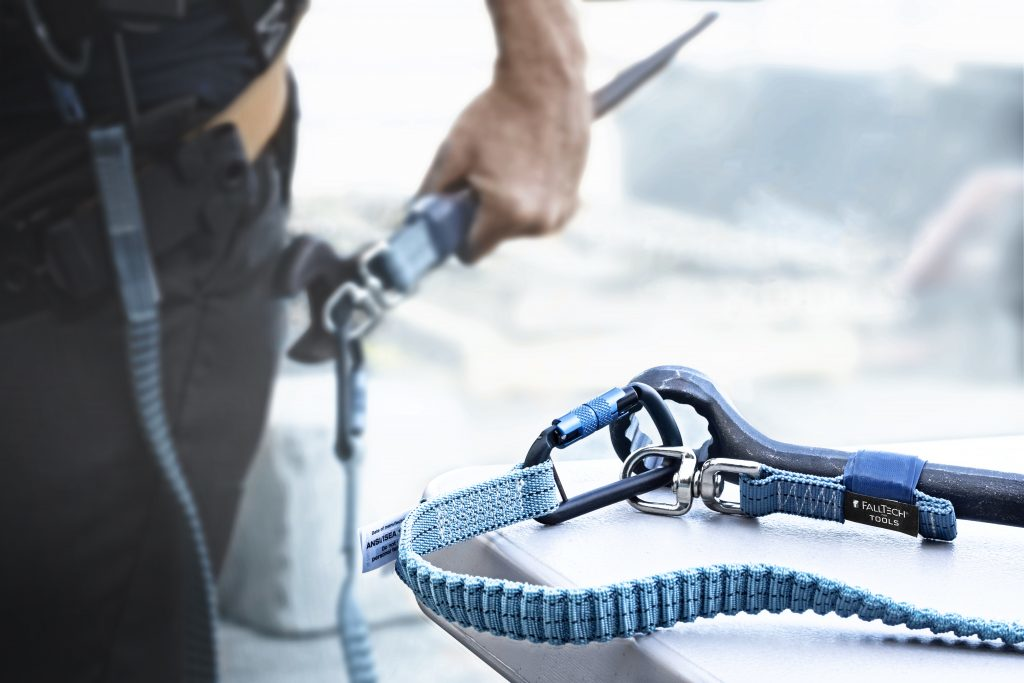 FallTech®, a U.S. manufacturer who specializes in fall protection safety products and gear, has announced the introduction of its new FallTech for Tools dropped object prevention program. Falltech for Tools is a complete ANSI/ISEA 121-2018 tested and compliant range of solutions that feature tool attachments, tool tethers, premium self-fusing no-heat tool tape, speed clip attachment tethers, a wrist anchor attachment system, and hard hat tethers. FallTech® for Tools is designed to accommodate the most commonly used tools in construction trades, general industry, oil and gas, utilities, and other industries. These include tools with captive eyes, open and closed handle tools, open and closed handle tools with triggers, including impact hammers, wrenches, screw drivers, spud wrenches, power tools, and many others.
FallTech
www.falltech.com
Underground Detectable Warning Mesh
Detectable underground warning mesh from Wuhan Jackwin Industrial Co. LTD is a colored plastic detectable mesh netting for cable marking and detecting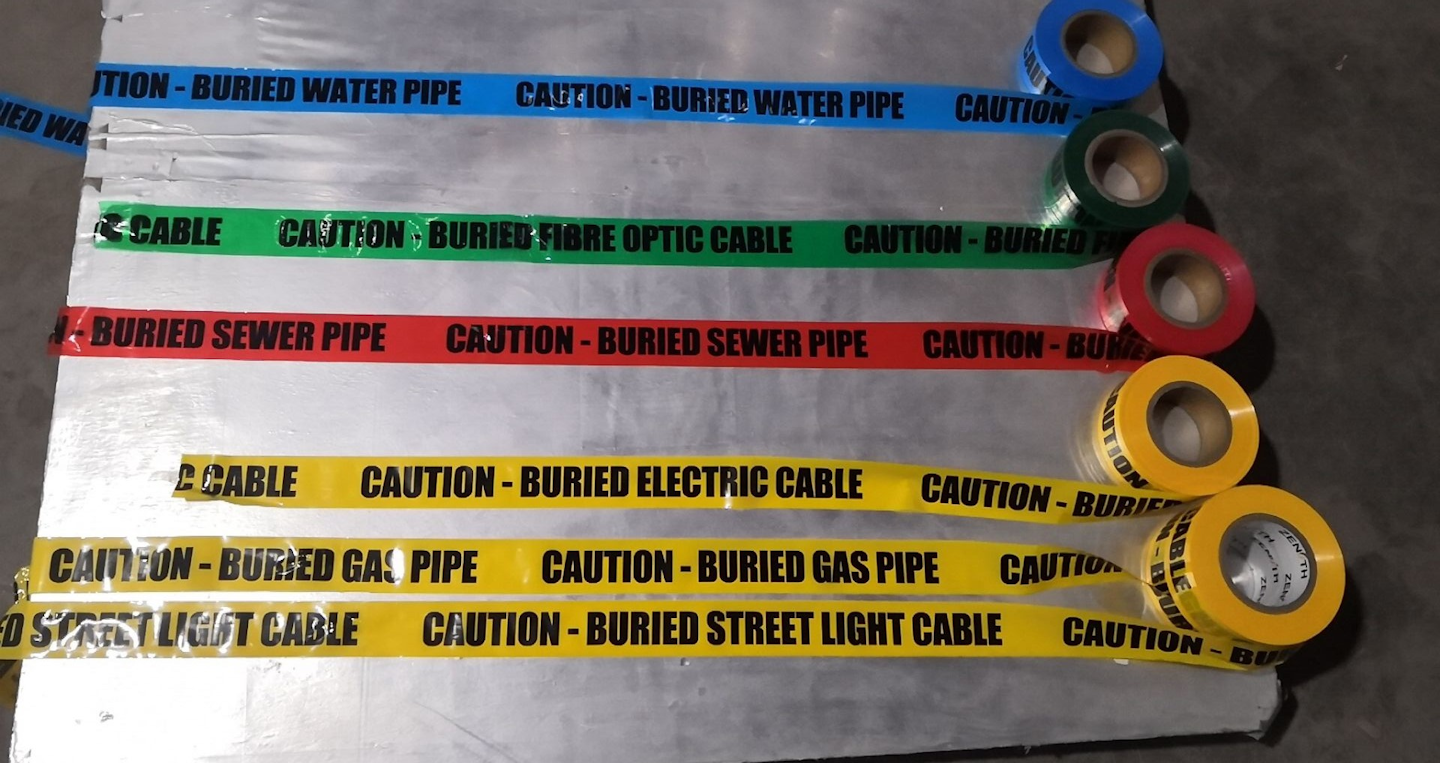 buried underground pipes, cables and utility service lines. It can be used in conjunction with cable and pipe locators or cable avoidance tools for the location of underground cables and lines. It is manufactured from high-strength, colored, rot-resistant homopolymer polypropylene plastic mesh incorporating a traceable stainless-steel wire or aluminum foil strip and overprinted with a warning message in black. Available in a range of colors including blue, green, red and yellow. The warning message can be printed to suit the operator's requirement subject to minimum order quantities. Texts can be printed for gas lines, electrical cables, water lines, sewer lines and fiber optic cable lines or pipes offering cable protection for a range of different applications.
Wuhan Jackwin Industrial Co. LTD
www.jack-win.com
Forestry Mulcher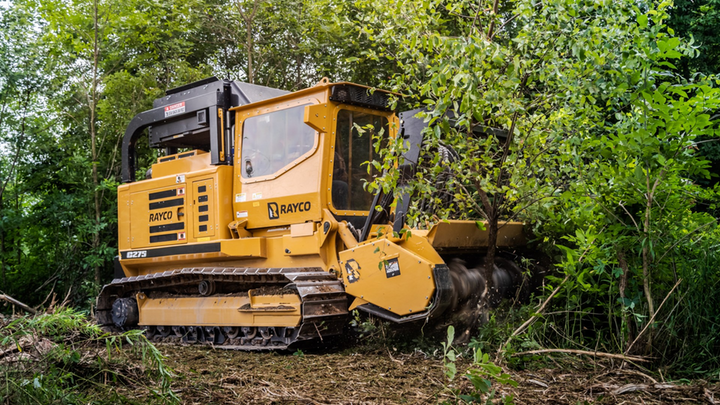 Morbark LLC introduces the powerful, mid-size Rayco C275 Forestry Mulcher and updated RCT150 Crawler Truck. Ideal for clearing small trees, underbrush, and a variety of unwanted vegetation across a wide range of environments, the C275 delivers 275 horsepower (205 kW) in a compact, low ground pressure package. The C275's 109-gpm cutter system provides hydraulic power to the Predator mulcher head, which boasts a 77.5-inch (196 cm) cutting width, while the heavy-duty steel undercarriage and powerful final drives allow operators to tackle difficult terrain with confidence. The C275 also will accept a DENIS CIMAF mulcher head. Rayco's exclusive elevated cooling design keeps engine and hydraulic temperatures within their limits in even the harshest of environments. To minimize maintenance, an operator can activate a reversing fan from the cab to clear the debris screens, helping extend service intervals even when operating in hot, debris-filled environments. The debris screens are easily removable when manual cleaning becomes necessary, and the rear door opens to allow unrestricted access to the debris screen and engine radiator. The cabs are climate controlled and sealed from dust and debris to maintain operator comfort. Operators appreciate the high-backed, heated seat with adjustable armrests and air-ride suspension. For safety, the cab is certified to meet ROPS, FOPS, and OPS specifications and is equipped with a rooftop escape hatch. High-output LED work lights and a backup camera enhances rearward visibility.
Morbark LLC
www.morbark.com
Thermal Camera
FLIR Systems Inc. has released the FLIR T860, the latest addition to the high-performance T-Series family. This new thermal camera is the first to feature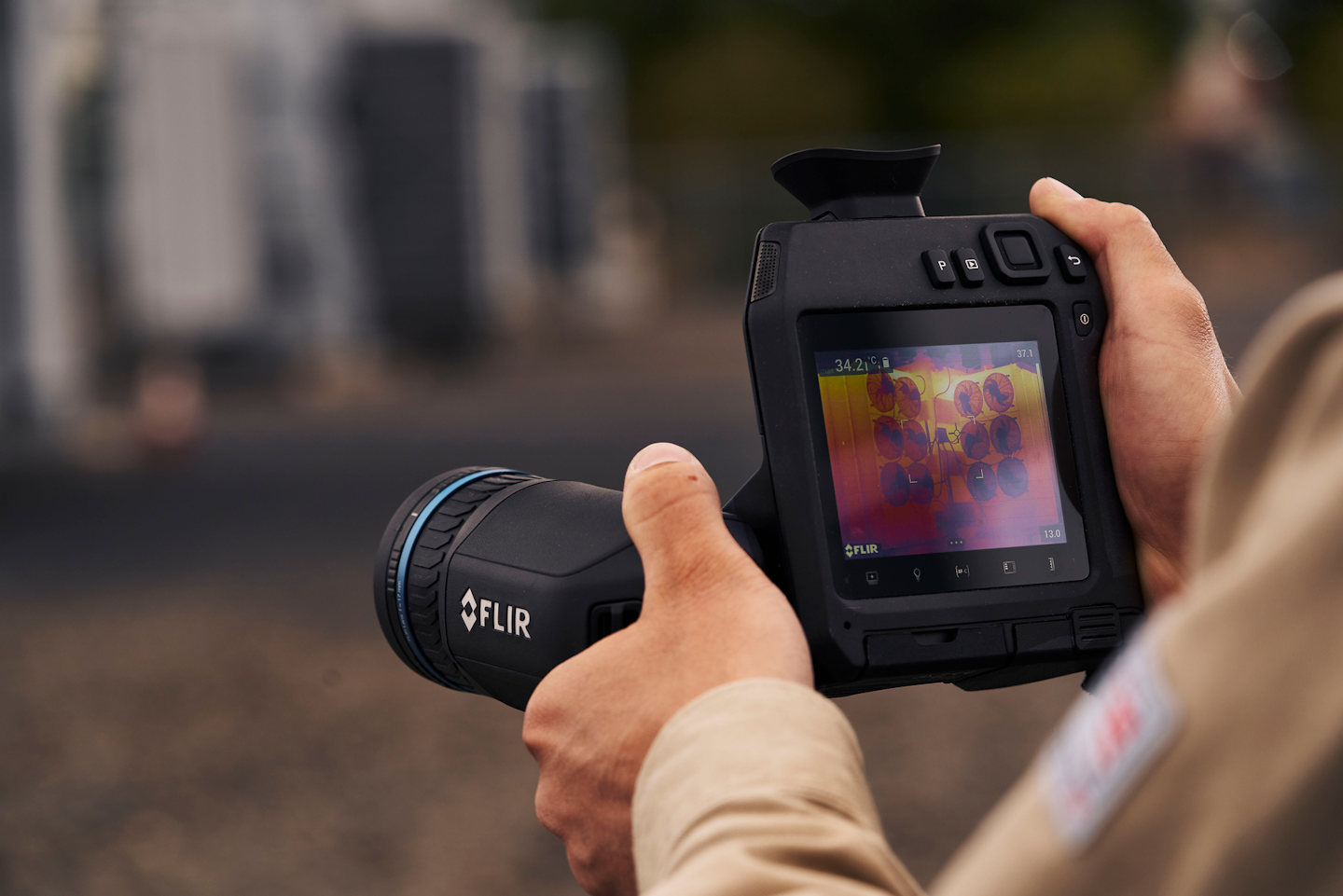 onboard Inspection Route software, ideal for streamlining inspections of critical assets, including power substation components, distribution lines, manufacturing equipment, or facility electrical and mechanical systems. By running a pre-planned route through the camera, thermal inspectors can spend less time in the field and face less hassle when creating survey reports. Featuring the FLIR T-series camera platform's award-winning design, the T860 has an ergonomic body, a vibrant LCD touchscreen visible from low angles, and an integrated color viewfinder for sun glare conditions. The 640 x 480-resolution thermal camera incorporates FLIR's advanced Vision Processing™, including patented MSX® and UltraMax® image enhancement technologies to provide enhanced image clarity with half the image noise of previous models. Pairing the T860 with an optional 6-degree telephoto thermal lens allows users to inspect energized targets from a safe distance or measure small targets with greater precision.
FLIR Systems Inc.
www.flir.com
UAV AI-Based Solution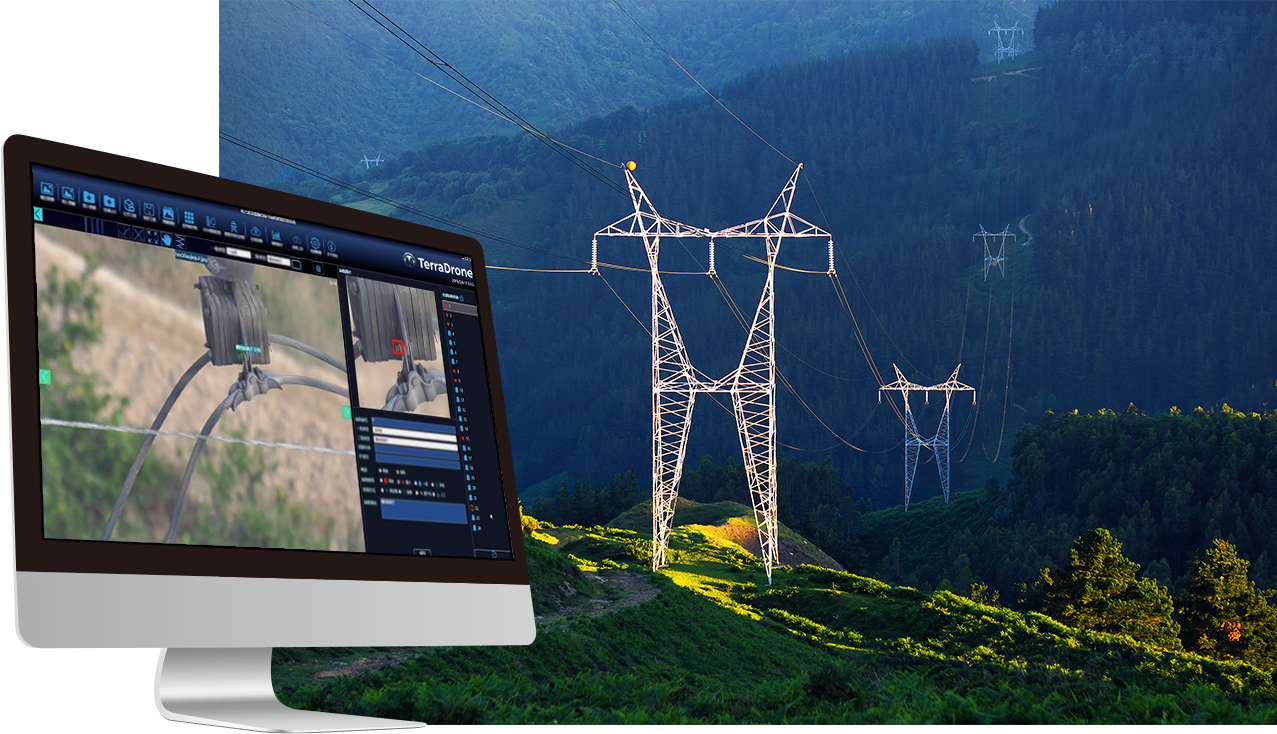 Terra Drone Corp. has launched a new UAV and AI-based solution set for the maintenance of power transmission and distribution equipment. The solution was developed based on the market gaps identified after inspecting over 90,000 km of power lines by BVLOS throughout the world. Acquired data is automatically processed and analyzed by artificial intelligence algorithms which are trained to detect crossovers at the bottom of transmission lines, buildings and construction machinery. The system identifies rust on bolts, loosening and missing tower parts, bird's nests, etc., and generates a smart report, highlighting the areas that require action. The error (identified anomaly) detection system is accurate up to 92.5 percent. The algorithm is developed through a process identifying anomalies in a training data set of approximately 1,500 images, this allows for a custom solution to be created for the end client where all pertinent anomalies are identified and reported. The development and training of the algorithm only need to be completed once for a particular type of asset and can be implemented easily at different locations on similar assets.
Terra Drone Corp.
www.terra-drone.net
Sub-meter GPS Receiver
Juniper Systems has released the Geode GNS2 Sub-meter GPS Receiver. This new addition to the Geode now features connectivity with a range of iPhone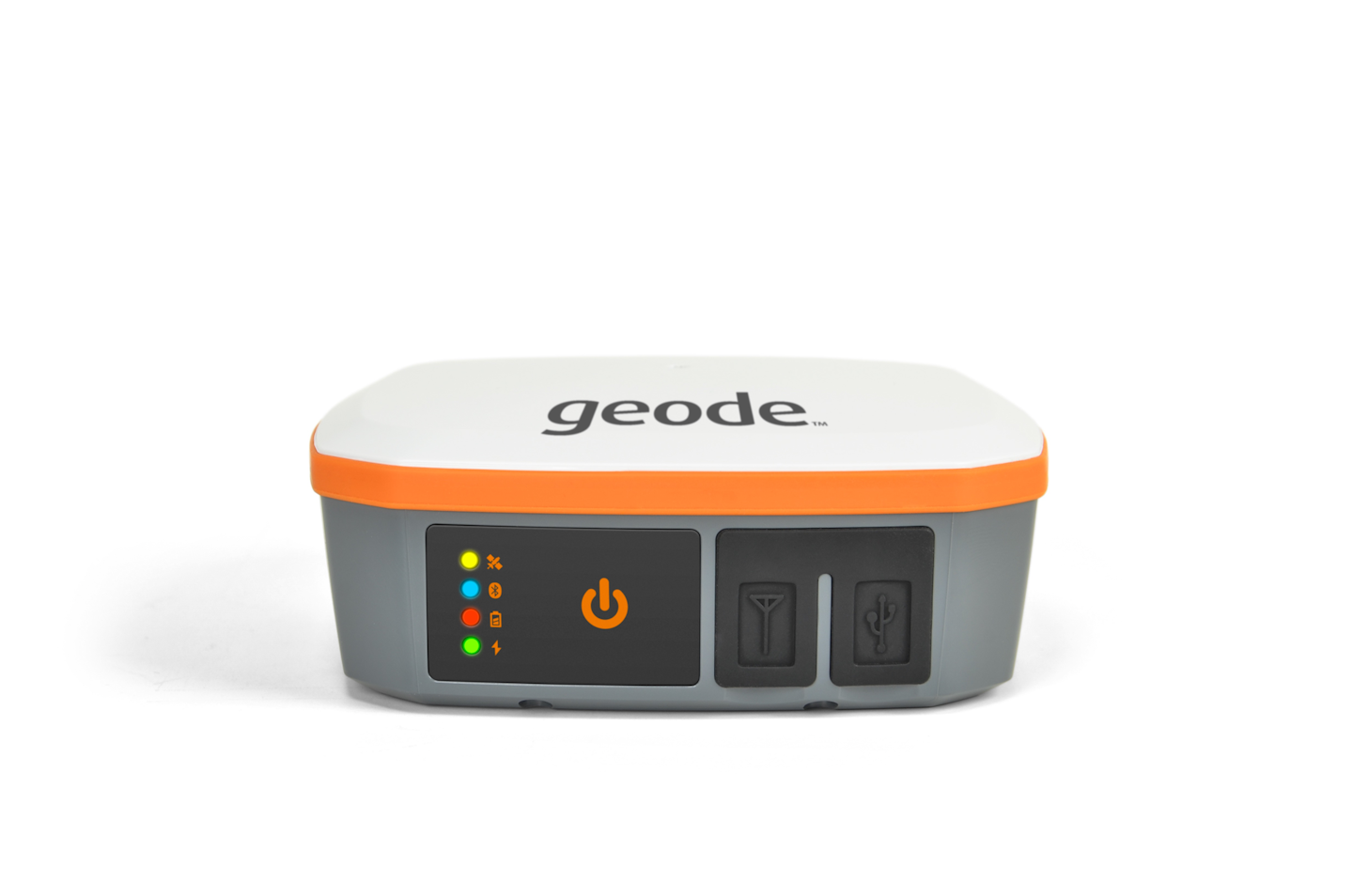 and iPad devices providing users with an even more versatile and powerful tool. This is made possible by the Geode's new MFi certification. MFi stands for Made For iPhone, iPad. The Geode GNS2 retains all the features and connectivity of the original Geode while adding this support for iPhone and iPad. The Geode is an all-in-one sub-meter receiver that provides users with real-time, precision GNSS data at an affordable price. Designed with versatility in mind, the Geode features one-button simplicity and can be used with any of Juniper Systems' rugged handhelds, as well as a wide range of Windows®, Windows Mobile, Android® and now iPhone and iPad devices — a useful feature, particularly for bring-your-own-device workplaces.
Juniper Systems Inc.
www.junipersys.com
Hi-Vis Rainwear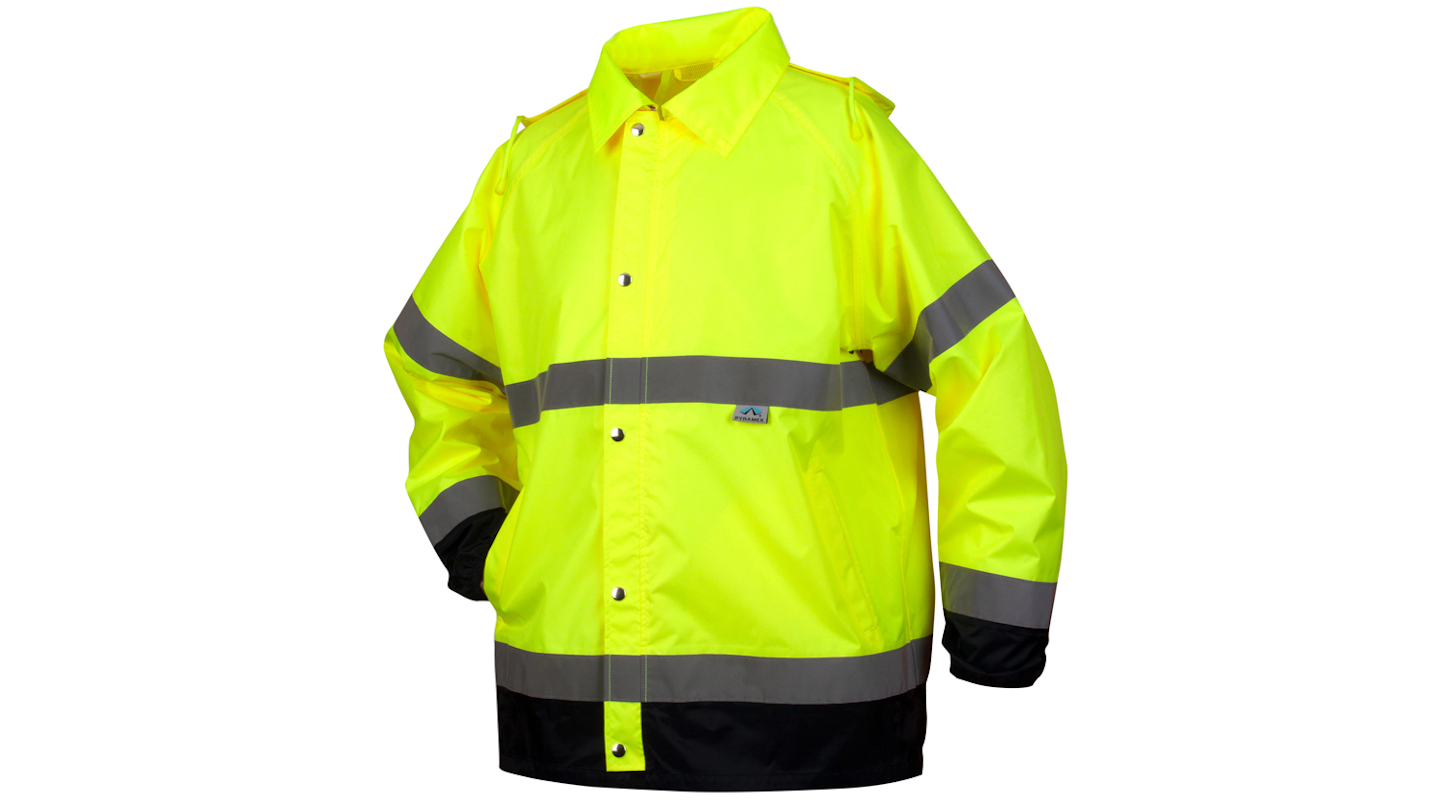 Pyramex® and its new Hi-Vis Rainwear line includes a rain jacket (RRWJ31 Series), pants (RRWP31 Series), bib pants (RRWB31Series) and raincoat (RRWC31 Series) and is designed to work with your body as you maneuver through wet conditions. So much more than just Hi-Vis, the new rainwear line incorporates details that make a difference both from a functionality and safety standpoint. All four outerwear pieces are rated for ANSI Type R Class 3. Built tough, the Hi-Vis lime material is made from breathable polyester with a polyurethane coating to keep moisture out. Two-inch silver reflective material adorns arms, waist, and leg areas for appropriate 360-degree visibility at dawn, day, dusk, or night. The pieces are all constructed with the highest care and quality with sewn and sealed waterproof seams. The rain jacket and coat both feature a zipper front closure with a metal button storm flap and an attached drawstring hood which stows away in the collar. The jacket and coat also have a cape back and underarm vents, elastic cuffs and slash pockets on the front for easy access. The raincoat has a vented bottom for maximum breathability. The pants and bib pants feature metal take up snaps at the bottom of the pant legs for easy wear over boots and work shoes.
Pyramex Safety
www.pyramexsafety.com
Bolt Circle Wheel End
Marmon-Herrington announced a new wheel end option for compatibility with 11.25" (285 mm) bolt circle wheels on its MT22 double reduction planetary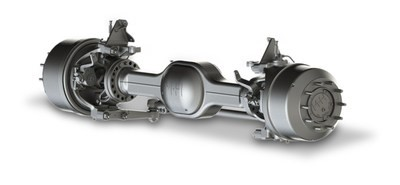 front drive steer axle. This new option supports customer requests for commonality between the front and rear tires and minimizes potential downtime. This new offering maintains the industry leading 5G high dynamic shock load capability that has defined the MT22 as a market leader for decades. The MT22 axle with 285mm wheel end will be standard on all Marmon-Herrington AWD conversions and will be offered as standard to all MT22 customers for all approved applications. Marmon-Herrington will continue to manufacture and support the 335 mm bolt circle option for OE production and AWD customers.
Marmon-Herrington
www.marmon-herrington.com
Deterrent Equipment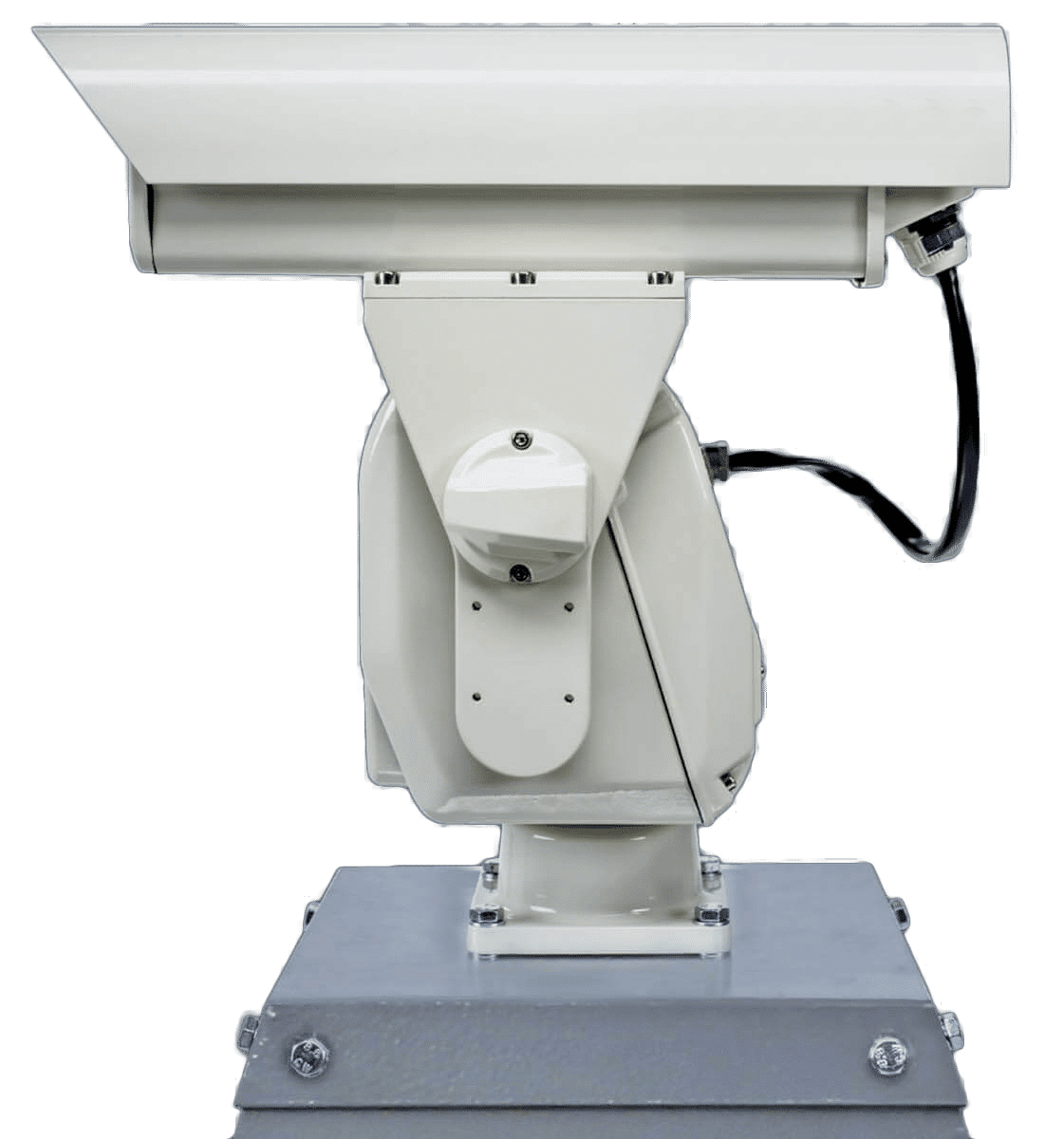 Laser Bird Defense from TransGard is a fully automated bird deterrent system that provides continuous performance after a one-time configuration. When operational, birds perceive the system's approaching laser beam as a physical danger and disperse to seek safety. This discourages birds from entering and roosting in substations altogether, in contrast with other bird control methods which may only protect isolated substation components. Unlike conventional methods, birds will not become accustomed to Laser Bird Defense. They will consider the area unsafe and will not return. Laser Bird Defense can be programmed with up to 16 different patterns and 3 different time slots. Each pattern can be assigned to a specific time slot, enabling a variety of bird-repelling patterns at different times of the day. The system also offers up to 1,600 unique waypoints, enabling you to selectively target trouble spots. The Laser Bird Defense is available in both a programmable, automated unit and a handheld version.
TransGard
www.transgardfence.com
Work Boot
KEEN Utility has introduced its strongest, most capable heavy-duty work boot
to the American and Canadian markets. Built tough for heavy industries including demolition, commercial construction, utilities, rail, pipe fitting, public works, heavy equipment maintenance, quarry and mining. The new Philadelphia boot series features eight different models including CSA and ASTM-certified styles and is available at specialty retailers and online. The series boasts a few familiar KEEN Utility comfort technologies as well as scores of new construction qualities and components that mark its rugged toughness. Created to take on the most extreme working environments, the Philadelphia series lives up to an unyielding standard of quality, durability and comfort with innovative design and progressive safety and performance features.
KEEN Utility
www.keenutility.com
Clamps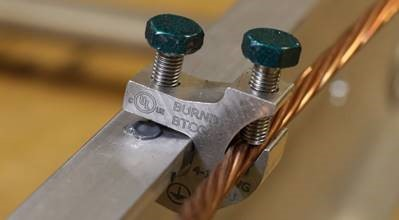 BURNDY®, a leading manufacturer and provider of compression connector solutions to the industrial, energy, construction, telecommunications, petrochemical, data center, and transportation industries, expands its BTCGC-SS family of BURNDY Mechanical Grounding products. The expanded BTCGC-SS family of clamps for copper or aluminum conductor to aluminum or steel cable tray will accommodate from #14 to 1/0 using only two sizes. Supplied with stainless steel grounding green hardware, cULus Listed for both Grounding and Bonding (UL467) and Solar PV Applications (UL2703) in the US and Canada. These clamps accommodate most common styles of cable tray with inside or outside flange, are suitable for use on solar PV modules, and support structures requiring no drilling on special tools for proper installation.
BURNDY
www.BURNDY.com
Outrigger Pads
The new ProStack Cribbing product from DICA is a lighter weight and lower cost solution that was developed with customer input to meet the specific needs of the electrical utility market. ProStack Cribbing Blocks are an engineered, integrated solution that resolves this critical problem. The interlocking blocks can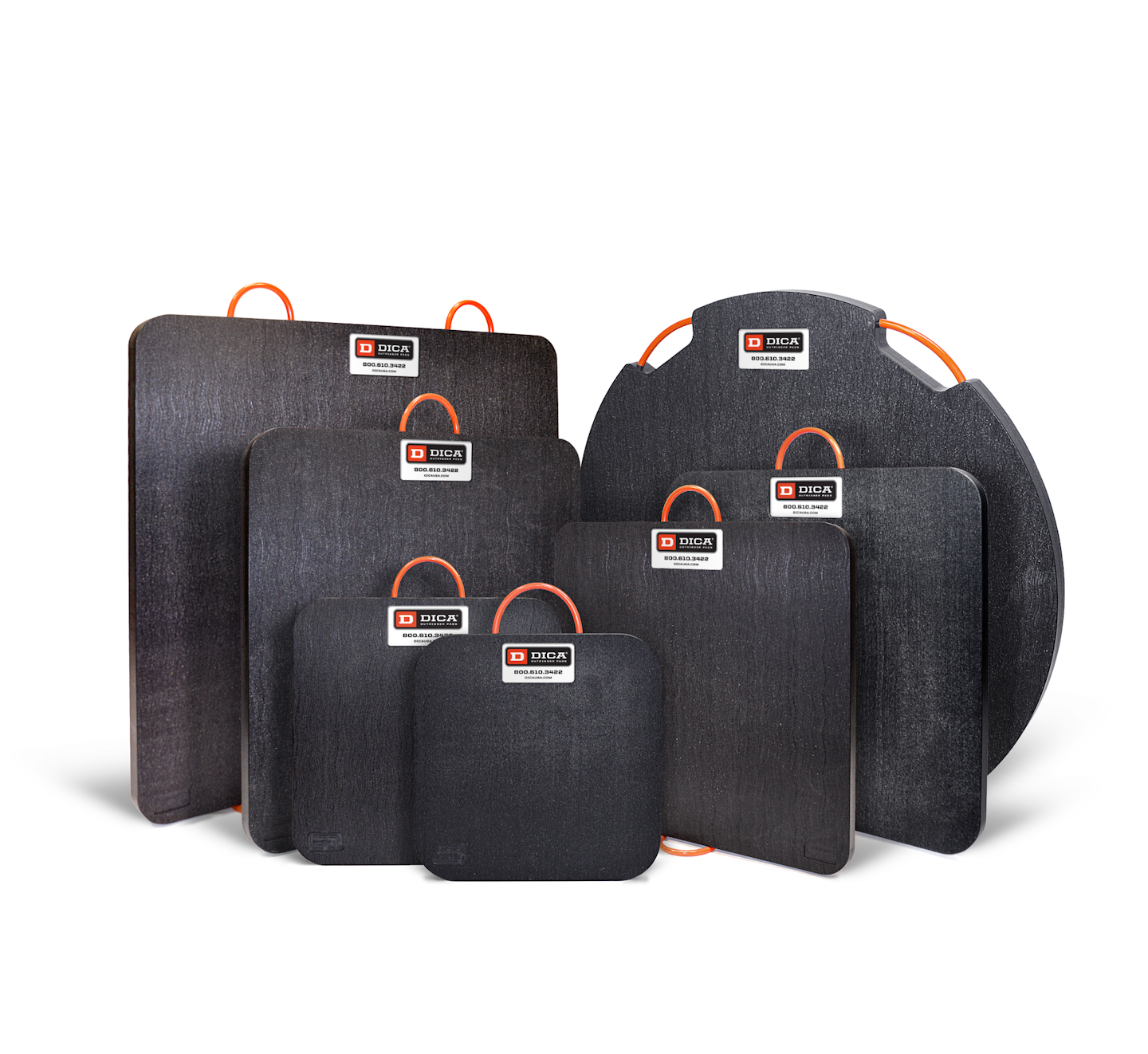 be stacked for additional height to create a safer set-up than traditional methods. ProStack Cribbing is made from a combination of post-consumer recycled and new materials to produce a strong and reliable finished product that interlocks into a SafetyTech Outrigger Pad. SafetyTech® engineered thermoplastic outrigger pads deliver proven performance, durability and ease of use for setting up mobile cranes, concrete pumpers, aerial lifts and digger derricks. Popular with utilities are DICA's Hi-Viz 18"x18" and 24"x24" SafetyTech Outrigger Pads due to their unbreakable strength, lightweight, and ease of use. In addition, specific setup needs can be met with DICA's Cavity Pad Plus, Cleated, Sliding Shoe, and Pole Puller Pads.
DICA
www.dicausa.com
Industrial Scissors
UTILCO announces an addition to its offering of battery-powered, hydraulic,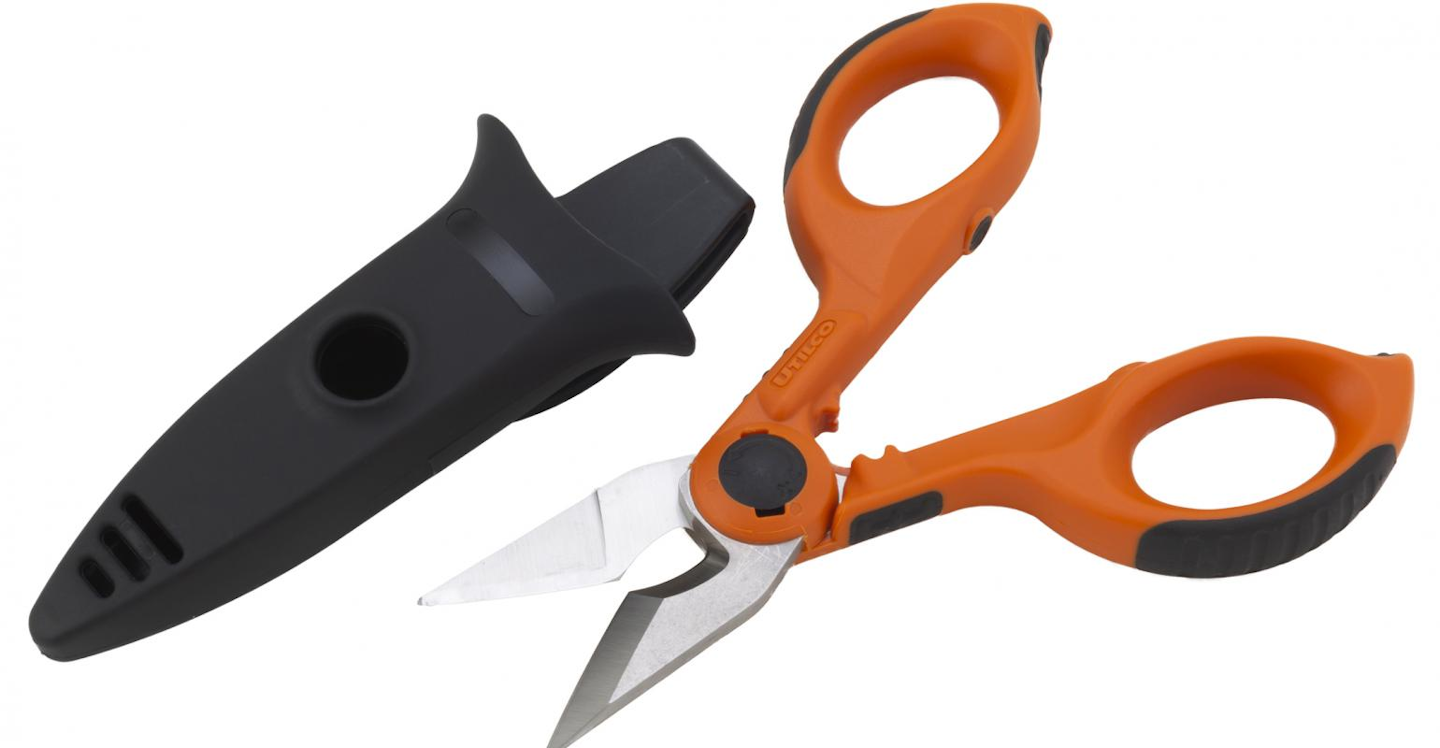 and manual Lineman Tools. The UHT-CCU-S industrial scissors cut up to #6 AWG or 1/0 flex, copper or aluminum conductor. The cushion grip handles were built with a feature that allows the user to crimp terminal sleeves from #22 to #10 AWG. Stainless steel blades are hardened to 55 HRC, and the scissors include a safety holster with belt clip to secure the scissors while not in use.
UTILCO
www.ilsco.com/utilco/
Hydraulic Puller-Tensioner
The PT2450 hydraulic puller-tensioner from Condux Tesmec offers 2 x 11,240 lbf (50 kN) or 1 x 22,480 lbf (100kN) of pulling or tensioning capacity and is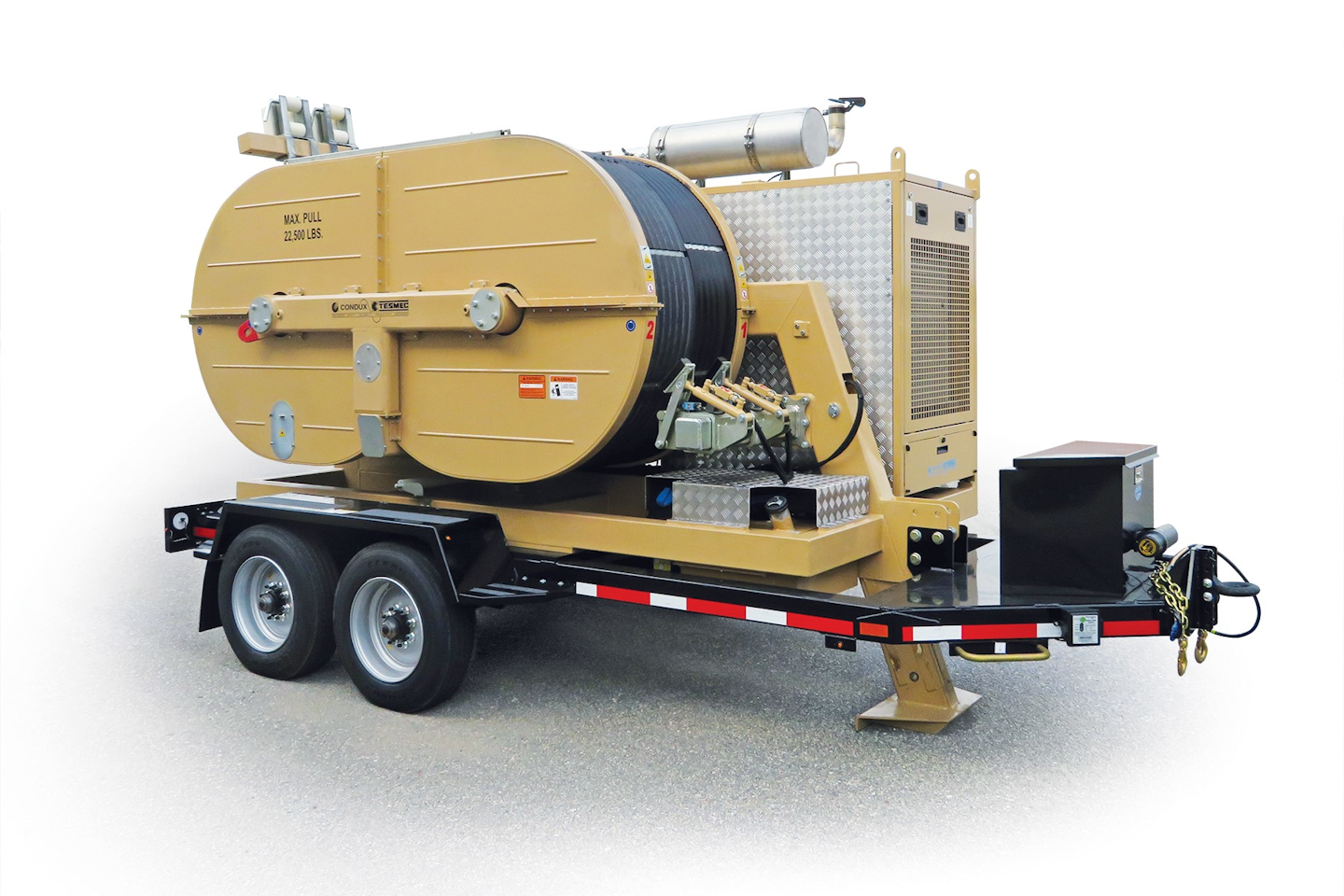 designed for stringing one or two ropes or conductors. The PT2450 features a new digital interface with a 7-inch color display and integrated pull and speed recorder. A radio remote control provides total user machine control, while integrating with the new digital HMI providing automatic power management and full safety controls. The unit also offers industry-leading features like a negative self-acting hydraulic brake, an integrated hydraulic dynamometer, a hydraulic cooling system and bull-wheel grooves made from high resistance interchangeable nylon sectors. Condux Tesmec offers a full line of hydraulic pullers, tensioners, puller-tensioners and stringing blocks representing the safest and most reliable equipment in the power transmission and distribution industry. Condux Tesmec also offers one of the largest and most diverse selections of conductor blocks on the market.
Condux Tesmec
www.conduxtesmec.com
Rubber Shock Protection
Cementex, the safety tool specialists, announces the availability of its insulating rubber apron, now available with a new belt strap and ideal for working on or around battery storage systems. The apron is a good choice for technicians who have to reach over energized conductors to perform standard maintenance. The new belt strap allows for easy cinching at the waist to help decrease the risk of the apron dragging across batteries. With a base material of Cementex Class 0 Roll Blanket, the apron is composed of high-strength fabric reinforced Type II rubber. Highly puncture- and tear-resistant, the Cementex insulating rubber apron is also flame-resistant (self-extinguishing) and oil- and ozone-resistant. Designed, manufactured, and tested in the USA, the apron meets strict ASTM F2320 specifications.
Cementex
www.cementexusa.com
Hex Bit, 2-in-1 Sockets
Milwaukee Tool is growing its lineup of solutions for the utility industry with the addition of eight new Shockwave™ Lineman's accessories — 2-in-1 Sockets and Hex Bit Sockets. Engineered specifically for the challenges of the construction and maintenance of utility lines, the new accessories offer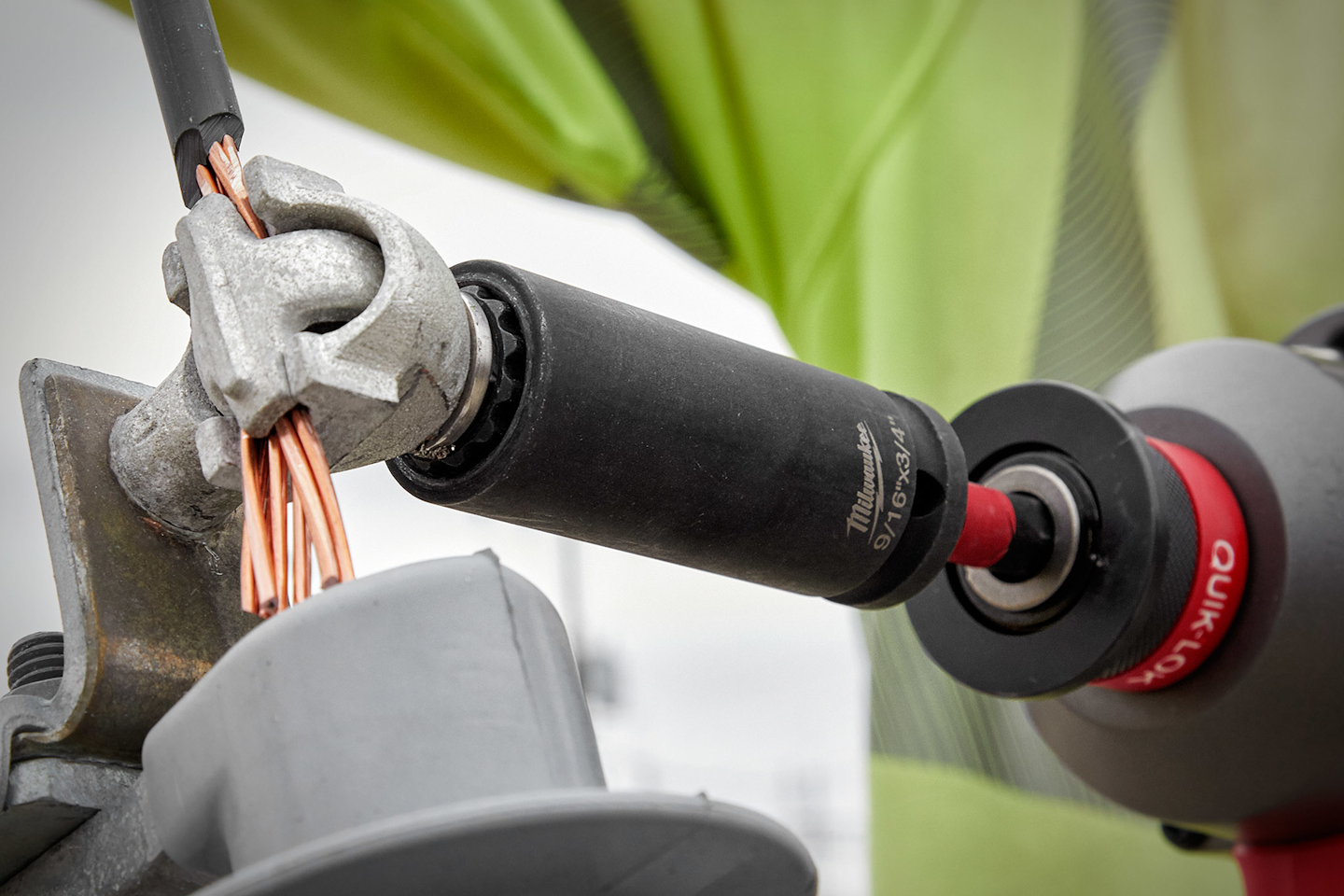 superior accessibility, durability, and efficiency. The new Shockwave™ Lineman's 2-in-1 Sockets will be 9/16" x 3/4" and available in 6PT and 12PT designs to fit both square and hex hardware. A 7/16" to 1/2" adapter will also be included. Equipped with an internal anti-rust stainless steel spring and retaining ring, these sockets will provide the longest spring life, dual-nut fastening versatility, and hands-free size changes. The Shockwave™ Lineman's Hex Bit Sockets incorporate a one-piece design to withstand power tool torque. Equipped with a compact profile and 1-3/4" hex fastening depth, these sockets will fit all shear bolt, underground connectors and pad mounts. These sockets will be available in 1/2" and 3/8" drives sizes. The new Shockwave™ Lineman's accessories will be available for purchase at select distributors this fall.
Milwaukee Tool
www.milwaukeetool.com
Leverage Booster
The Leverage Booster from Super EZ Work Tool makes the task of handling telescopic dielectric poles easier for linemen and takes the strain out of vegetation management work for arborists. The new patented Leverage Booster attaches to the Hastings telescopic dielectric pole. These poles are heavy and hard to handle. Instead of straining, linemen and arborists can use the product to provide stability and make the job easier. For the vegetation management industry, arborists can use the product for hot sticks and extension poles that are 10 ft, 20 ft, 30 ft, or 40 ft as well as for pole saws, power pole saws, tree pruners, hedge cutters, and weed whackers.
Super EZ Work Tool
www.whystrain.com