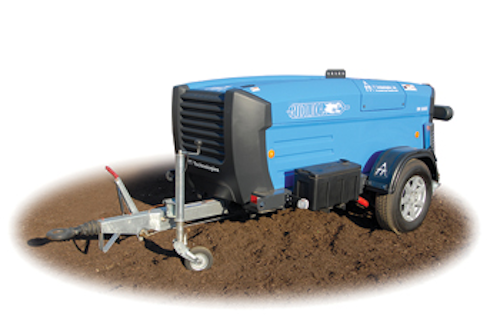 Constant Tension Winches for Variable Conditions in Below-grade Work
TT Technologies' 3-, 5- and 10-ton Grundowinch hydrostatic constant-tension winches are specially designed for the variable conditions in below-grade work, such as pipe bursting. Portable and powerful, the winch units are well-suited for underground utility construction applications including pipe bursting, underground cable pulling, sliplining, pipe pulling and swage lining. All models feature protective cable storage and are available with an air-cooled diesel or gas engine, as well as an adjustable boom system.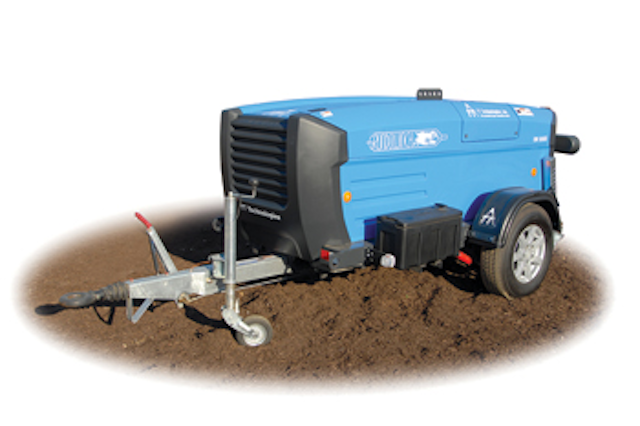 The constant-tension design feature means any cable slack is immediately sensed and quickly taken up automatically. Control is easy with a number of convenience and operational features such as single-lever tension control (no gears to engage), power assisted winch line feed and winch controls located at the rear of the unit to provide a safe view of the job while operating.
TT Technologies
CIRCLE 109 ON READER SERVICE CARD
---
ARS709 Hydraulic Puller for Underground Pulling Applications
The ARS709 hydraulic puller from Condux Tesmec is for a wide range of underground pulling applications including power transmission and distribution cable installation. With 20 tons of pulling force, the ARS709 offers features such as a negative self-acting hydraulic brake, an integrated hydraulic dynamometer, a hydraulic cooling system, advanced user controls and more.
A standard electronic pull and speed monitor and recorder kit is integrated into the control panel, providing users real time data on pulling operations. Bull-wheel grooves on the ARS709 are made from heat-treated steel.
The Condux Tesmec line of hydraulic pullers, tensioners, puller-tensioners and stringing blocks are cited to represent the safest and most reliable equipment in the power transmission and distribution industry.
Condux Tesmec
CIRCLE 110 ON READER SERVICE CARD
---
Four New Tools Added to Piercing Tool Product Line
HammerHead has introduced four new tools to its pneumatic piercing line. The new models come in two sizes, 4 in. and 5.125 in. Both sizes are available in a Catamount reciprocating head model or a fixed, non-reciprocating head model. The new tools are for any underground installation that requires minimal disruption to landscapes, buildings or traffic flow.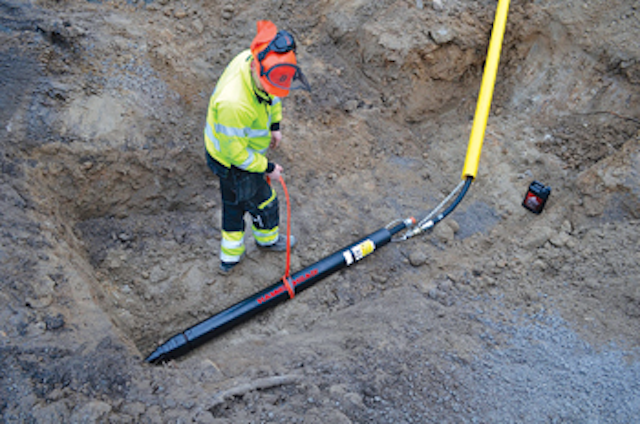 Each new pneumatic piercing tool comes with the Power Port Reverse feature. The patented quarter-turn reverse design pneumatically locks into forward or reverse, preventing accidental direction change during the bore. The patented Debris Free Tailcone was also incorporated to eliminate the introduction of debris into the tool body, increasing overall production and tool life.
The new Catamount piercing tools, along with the entire Catamount line, are designed for tough working conditions in a wide range of soil conditions. Engineered without mechanical springs, contractors enjoy more productivity with lower cost of replacement parts. They are also easy to service in the field because of HammerHead's original tailbolt design. A two-year warranty offers peace of mind.
HammerHead
CIRCLE 111 ON READER SERVICE CARD
---
New Mid-range Articulating Cranes
Iowa Mold Tooling Co. Inc. (IMT) has introduced new and improved mid-range articulating cranes. The 9 tm, 10 tm, 11 tm and 12 tm models have been enhanced with new options, features and ratings to meet unique application needs. With good lift and reach capabilities and reduced weight, the new cranes offer customers increased productivity and payload capacity.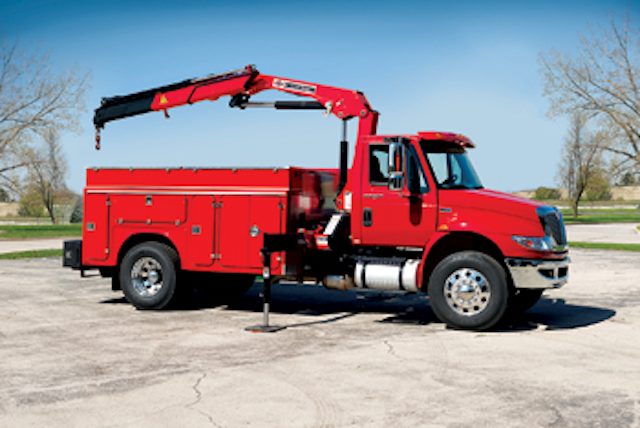 The 9/65, 10/72, 11/78 and 12/86 cranes have ratings ranging from 65,100 ft-lbs (9 tm) to 86,075 ft-lbs (11.9 tm) and maximum lift capacities from 8,380 lbs. to 10,230 lbs. New features include SL (single link) or DL (dual link) options, 15-degree overbending and weight reduced by 10 to 15 percent from previous models. Each crane can be fitted with up to five hydraulic extensions to provide application-specific reach. Additional features include the rated capacity limiter (RCL) 5300 safety system and a radio remote control.
IMT offers a complete lineup of articulating cranes from 2.5 to 80 tm.
Iowa Mold Tooling Co. Inc.
CIRCLE 112 ON READER SERVICE CARD
---
Elastimold Shrink-Fit Cable Joints Make Cable Splicing Easier
The Elastimold Shrink-Fit Cable Joint from Thomas & Betts combines the convenience of pre-molded splicing with the range-taking versatility of cold-shrink methods into one, easy-to-install solution. It features a single-piece body that can be quickly installed using a self-ejecting plastic support core, which can be easily removed by hand.

It is made of high-quality, molded EPDM elastomer, offering the same high durability, quality and reliability of other Elastimold molded rubber products. The Shrink-Fit method uses no ripcords and no heat, making installation fast, simple and safe.
The Elastimold Shrink-Fit Cable Joint's four-piece plastic support core reinforces the openings at both sides of the joint. To create a splice, insert the joint. After preparing and joining the cables together with a connector, according to the instructions, cut the strapping bands on the elastomer Shrink-Fit joint, and the joint will contour itself around the splice as it pushes the pieces of the plastic core out of both sides.
After the splice has been completed, cable neutrals can easily be re-connected over the body of the joint without having to use potentially dangerous spring clamps and without having to sacrifice any conductivity in the shield.
Thomas & Betts
CIRCLE 113 ON READER SERVICE CARD
---
Hy-Brid HB-P827 Lift for Maneuverability, Productivity on Low-level Jobs
The new HB-P827 low-level scissor lift from Custom Equipment gives contractors and maintenance crews a lightweight lift with a zero turn radius for damage-free use over delicate floors and easy maneuverability around tight corners. The all-purpose push model offers a working height of 14 feet for projects such as electrical, sprinkler, drywall and HVAC system installation. Custom Equipment also offers the unit in a CE compliant model, the HB-P4.5.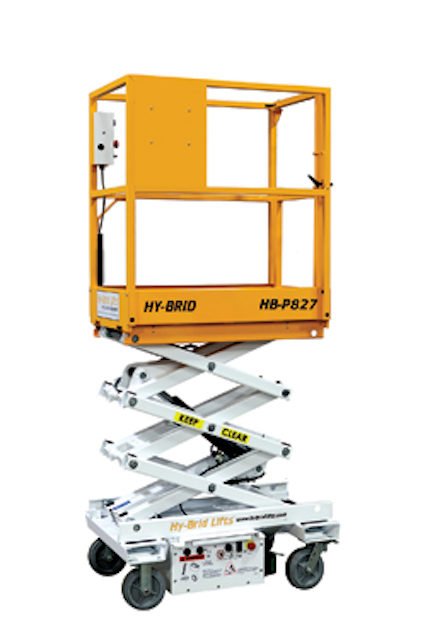 The platform on the HB-P827 is 22 in. wide and 43 in. long to give users ample working area. The ANSI/CSA-compliant HB-P827 lift can hold as much as 500 lbs., and the CE-compliant HB-P4.5 can hold up to 550 lbs. The CE unit also is equipped with a platform overload protection sensor that alerts the operator if there is too much weight on the platform.
Custom Equipment
CIRCLE 114 ON READER SERVICE CARD
---
Stringing Equipment Provides Safety, Reliability
Condux Tesmec's comprehensive line of stringing equipment is cited to represent the safest, most reliable equipment in the power transmission and distribution industry.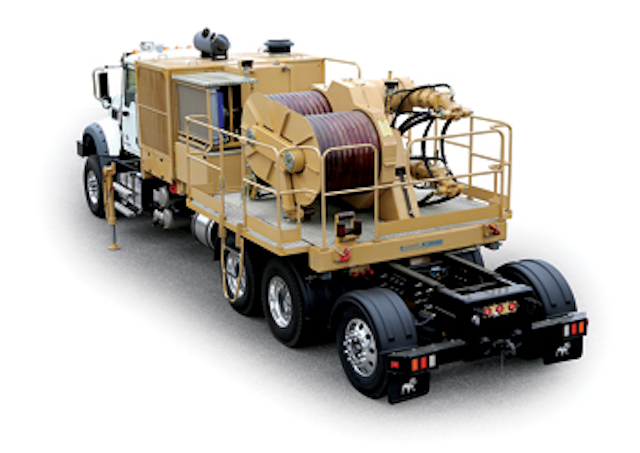 Hydraulic pullers, tensioners and puller-tensioners feature negative self-acting hydraulic brakes, integrated hydraulic dynamometers, hydraulic cooling systems and complete user controls. Condux Tesmec offers single conductor through six bundle blocks, single helicopter blocks and bundle blocks, and the newest 2-3 bundle 32-in. helicopter blocks. Stringing tools and accessories are also available including anti-twist rope, reel winders, reel stands and more.
Condux Tesmec
CIRCLE 115 ON READER SERVICE CARD
---
Anti-twisting Galvanized Steel Braided Rope
FUX/FUH anti-twisting galvanized steel rope from Condux Tesmec is designed to serve as pulling rope for stringing overhead transmission lines. FUX galvanized steel rope is an anti-twisting rope made up of braided strands and offers complete stability to rotation, high break loads, flexibility and corrosion resistance. FUH offers the same benefits of FUX, but is made with high tensile strength steel strands, allowing for higher working loads with the same diameter.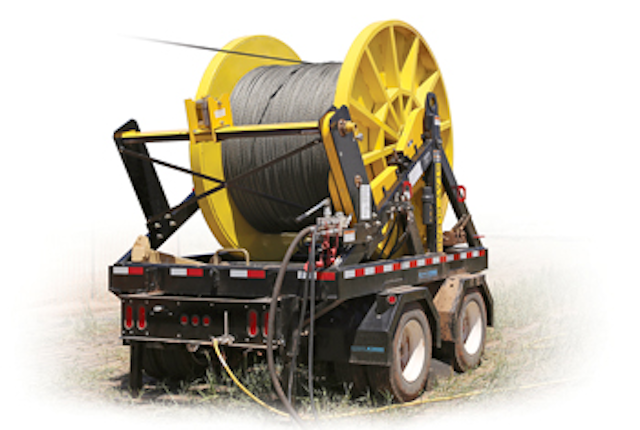 FUX/FUH rope has low elongation when pulled and is cited to be more flexible than any other rope available, producing less stress and providing a longer life span. FUX/FUH is a safe and economical rope for overhead stringing operations.
Condux Tesmec offers a full line of stringing equipment including pullers, tensioners and puller-tensioners, as well as productivity-enhancing conductor stringing tools and accessories.
Condux Tesmec
CIRCLE 116 ON READER SERVICE CARD