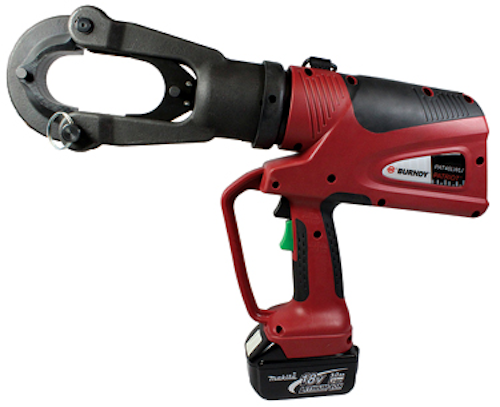 New PATRIOT PAT46LW Series Lightweight 15-ton Crimping Tool
BURNDY, a manufacturer and provider of connector solutions to the industrial energy, construction, telecommunication, petrochemical, data center and transportation industries, announces the new and lightweight PATRlOT PAT46LW 15-ton battery actuated crimping tool.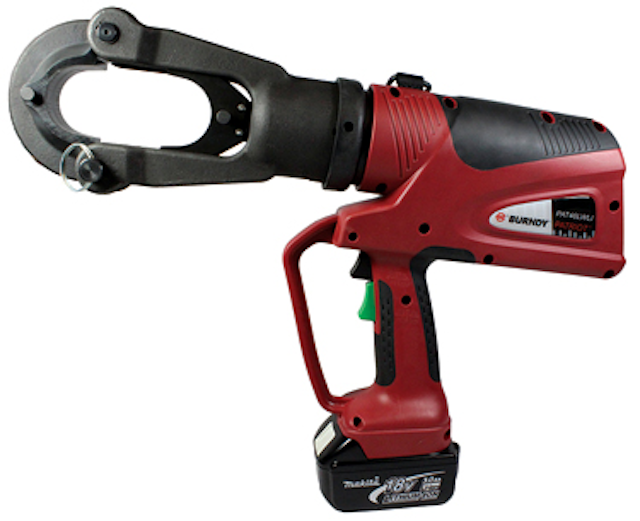 The PAT46LW series features a new forged latching head that offers a weight reduction of 34 percent over the existing design. In addition, this new series has been designed to accept all BURNDY standard "P" and "U" style crimping dies (w/PUADP-1 adapter).
The PAT46LW series offers customers the choice of ordering the tool kits with 18V Makita Lithium Ion batteries, 18V Makita Nickel Metal Hydride batteries, or the tool kit less batteries and charger. Like all BURNDY PATRlOT battery tools, the PAT46LW series incorporates the latest engineering technology with a patented high-speed hydraulic pump and field proven electronics designed to provide a consistent, reliable connection every time.
BURNDY
CIRCLE 130 ON READER SERVICE CARD
---
Hand Line Block Offers 1,500-lb. Working Load Limit
The new Campbell 3-in. Hand Line Block has a 1,500-lb. working load limit, which is cited to be the strongest in the industry. The compact design and lightweight aluminum alloy construction make the block a favorite among professional linesmen working on utility lines.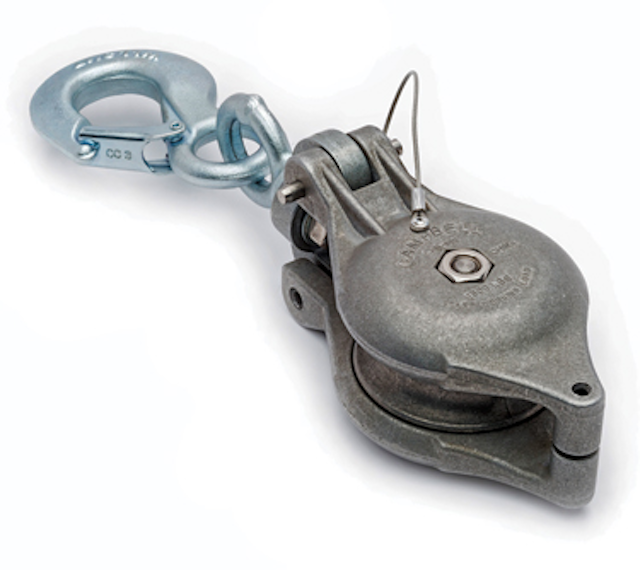 The block features a stronger sheave pin for heavier loads, a carbon steel safety-latched hook and eyebolt, and a safety-tethered locking pin. The Campbell 3-in. Aluminum Alloy Block joins the Campbell 3-in. fiberglass-reinforced Nylon Hand Line Block as another valuable tool for professionals in the utility industry. The new blocks add to the wide and varied line of Campbell products.
Campbell
CIRCLE 131 ON READER SERVICE CARD
---
New 12-ton Streamline Compression Tool
Huskie Tool's new SL-510 streamline compression tool delivers 12 tons of compression force, using all industry standard "U" dies. This streamline tool is capable of accepting lugs up to 750 MCM Cu/Al and splices up to 600 MCM Cu/Al.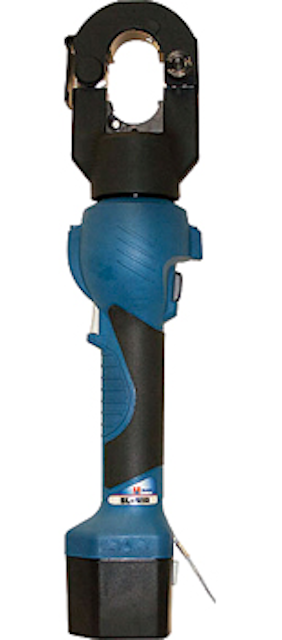 The SL-510 is also cited to be the lightest 12-ton tool on the market-weighing just over 12 lbs. with the battery. The housing design incorporates a rubber over-mold handle grip area, allowing the operator better tool control.
Huskie Tools
CIRCLE 132 ON READER SERVICE CARD
---
Newly Released OEM840NCP Pneumatic Crimping Press
BURNDY announces the release of the OEM840NCP Pneumatic Crimping Press. The new OEM840NCP is a 4.5 ton pneumatic bench top press capable of crimping BURNDY copper terminals and splices ranging from #8 - 4/0 AWG and accepts standard BURNDY "U", "UM" and "W" dies. BURNDY connectors compatible with the new OEM840NCP include the YA, YA-L and YAD-M series.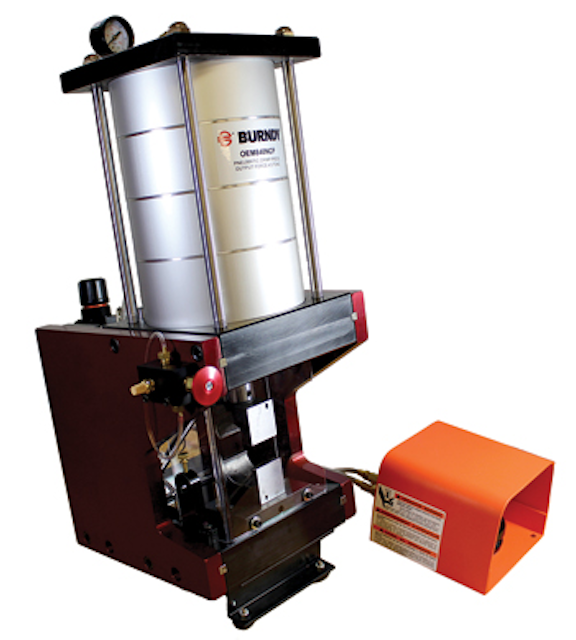 The OEM840NCP is designed for high volume OEM use incorporating the latest safety features available on the market, including a three-sided front operator safety guard, guarded foot switch, emergency stop and guard interlock switch that disables the unit should the guard be dislodged.
In addition, this new OEM press performs terminations in as little as 3 seconds per crimp, providing the end user increased productivity over other termination methods for this cable range. Other advantages of the new OEM press include an adjustable connector locator for reduced operator error and a low-limit pressure switch, preventing partial ram advancement.
BURNDY
CIRCLE 133 ON READER SERVICE CARD
---
UM Die Sets Announced
BURNDY, a manufacturer and provider of connector solutions to the industrial, energy, construction, telecommunication, petrochemical, data center and transportation industries, introduces the UM Die product line.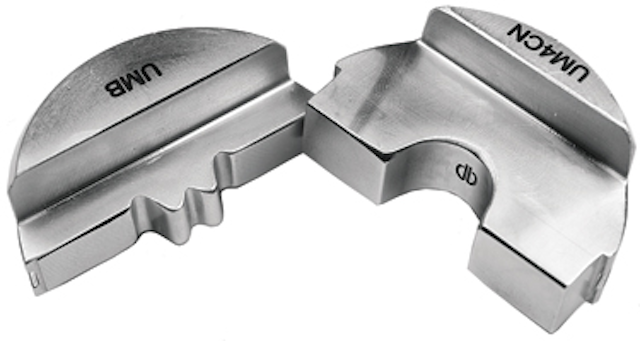 BURNDY expands its die offering with the new UM die product line. The UM dies, with an "M" style design, straddles the brazed seam of the YAD series lug to maintain closure during the crimp cycle. This profile provides a consistent and long-term reliable connection.
The UM dies are designed to crimp YAD/YAV lugs accepting copper cable sizes from 8 AWG to 4/0 AWG. These dies can be used with DLO/Flex cable. CNC machined from stainless steel, these dies are compatible with all BURNDY tooling that accepts a "U" die envelope.
Tools BURNDY offers that accept the "UM" dies are: Y35, Y39, Y750 and the new OEM840NCP OEM Press.
BURNDY
CIRCLE 134 ON READER SERVICE CARD
---
Merlin PowerBlade Cable Cutter
IDEAL Industries Inc. continues to add innovation to its PowerBlade line of products with the new Merlin PowerBlade Cable Cutter designed to cut Aluminum Conductor Steel Reinforced (ACSR) cable. ACSR high-capacity, high-strength cable is commonly used in overhead power lines, as well as guy-wire tensioned cable installed to improve utility pole stability.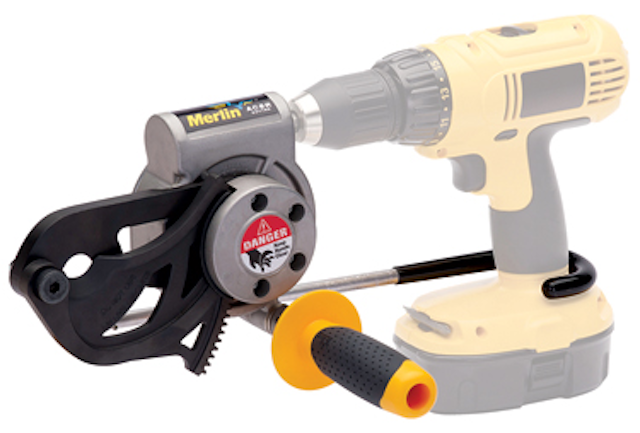 Equipping linesmen with the Merlin PowerBlade means electrical utilities can better respond to market pressure to boost grid capacity and take faster action during emergency power outages.
The Merlin PowerBlade fits onto the standard corded or cordless drills that electricians carry with them every day, so there is no need to waste time with special battery packs or chargers. Once installed, the Merlin Power Blade is held securely in place with an adjustable torque arm, while the user grips an ergonomic, textured Santoprene handle for added stability. Next, the user simply pulls the drill's trigger to cut through thick ACSR cables in 20 seconds or less. This compares favorably with manual cutters that typically require 2-3 minutes to cut through ACSR. To assure little or no cable distortion, the Merlin PowerBlade blade is contoured to provide clean, rounded cutting of ACSR cable.
IDEAL Industries Inc.
CIRCLE 135 ON READER SERVICE CARD
---
TwinRay Wireless Controller Available With StarBeam 2 Spotlight Systems
KH Industries, a US manufacturer of vehicle-mounted remote controlled spotlights, has upgraded its StarBeam Spotlight to include the new TwinRay wireless controller. The TwinRay controller features clear, noise free communication with KH's exclusive selective signal processing technology, which eliminates false signals from other RF transmitters.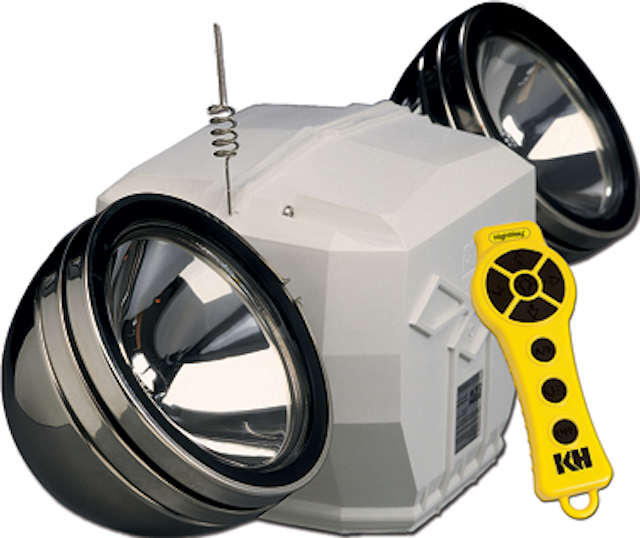 Features of the new StarBeam 2 Spotlight System include wireless operation from up to 100 ft. away, ability to add a second NightRay or StarBeam spotlight to a single light system, and easy field programing.
The StarBeam features twin rotating Par 46 H3 Spotlights or 35 watt ID Xenon heads for very bright illumination. The motor controlled dual lamp heads rotate 330 degrees on horizontal and vertical axis to provide precise placement of light output.
KH Industries
CIRCLE 136 ON READER SERVICE CARD
---
LED Stryker Spotlight Offers High Intensity and Clarity
The new LED Stryker spotlight by Golight offers high intensity and clarity while reducing the amp draw by half. The LED upgrade features a 50 percent increase in intensity compared to its halogen counterpart-the LED Stryker generates a peak beam intensity of 320,000 candela. In addition, the hot spot, the most intense portion of the beam, comprises nearly 70 percent of the beam circumference, three times that of a comparable halogen unit. Upgrade kits are available for use with existing Stryker models as well.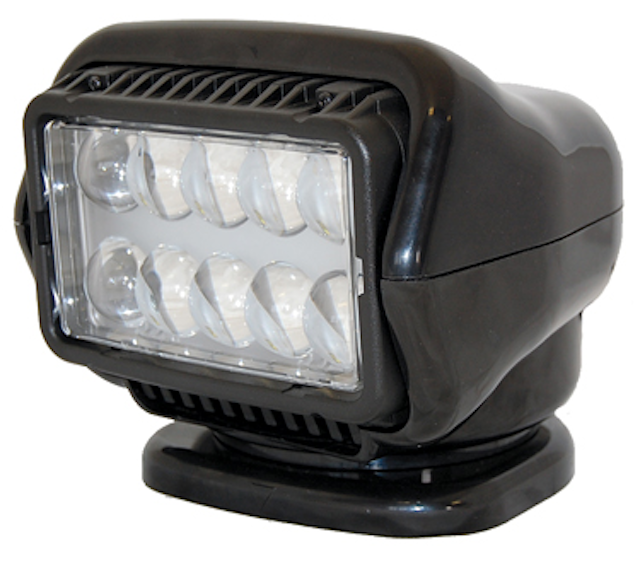 Golight
CIRCLE 138 ON READER SERVICE CARD
---
NEMA 4X Retractable Cord Reels for Utility Maintenance, Service Applications
KH Industries has committed stocked inventory of its top selling NEMA 4X corrosion resistant cord reels. KH Industries' RTF NEMA 4X cord reels are built for indoor and outdoor utility maintenance and service applications including exterior mounting on utility trucks, cranes or hoists, or engine block heater stations.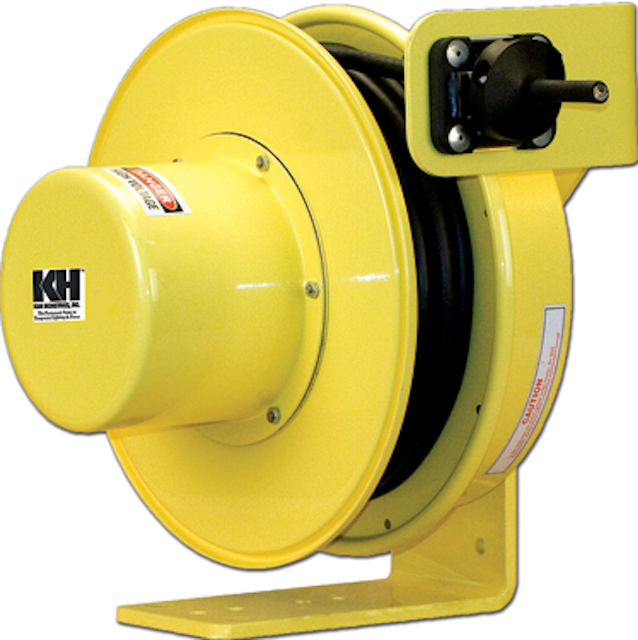 RTF cord reels feature 600 volts/35-amp rated slip rings; all steel construction including a mounting base, adjustable cable guide, ball stop and a ratchet that can be engaged (positive lock) or disengaged (constant tension) as needed; as well as SOOW 600 volt cable and a 4-ft. feeder cord.
KH Industries
CIRCLE 137 ON READER SERVICE CARD