New Products Showcase
Apr 11th, 2014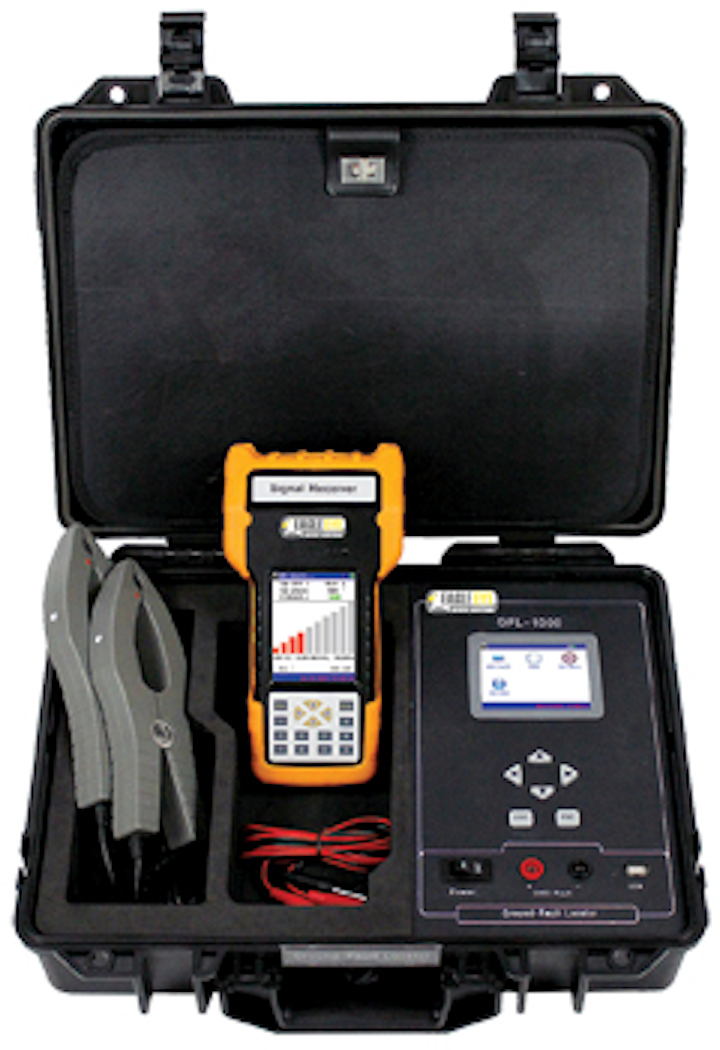 Ground Fault Detection for Substations
Eagle Eye Power Solution's GFL-1000 ground fault locator pinpoints faulty grounding where electrical cables have breakage and lost to the ground. The GFL-1000 is a preventative maintenance tool commonly used at power utilities, which increases the reliability of electrical equipment.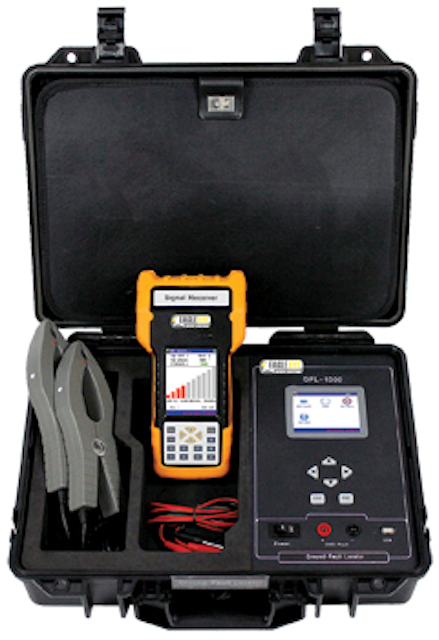 A ground fault is an unintentional electrical path between a power source and a grounded service, and can occur at any time. They often occur when equipment is damaged or defective. Ground faults often go unnoticed and can cause problems with plant production processes. Ground faults cause serious damage to equipment and to production processes, and also create health and safety risks to personnel.
The Eagle Eye GFL-1000 pinpoints ground faults by accurately measuring grounding resistance and distributing capacitance. Based on different distributing capacitance, it selects the right output frequency for testing, enabling it to be used in a variety of dc systems-including dc systems of high resistance.
The GFL-1000 is built based on years of field experience in different dc systems to quickly detect, track and locate virtual grounding faults-saving hours of costly troubleshooting.
Eagle Eye Power Solutions
CIRCLE 109 ON READER SERVICE CARD
---
Ergonomic, Lightweight Tower Harness for Suspension / Tower / Wind
Hi-Line Utility Supply's ergonomic, lightweight "Y" style harness features a web bridge that allows the user to comfortably sit for suspension work. It includes lumbar pad for back support, D-ring distributing pads and tool loops. Unlike other harnesses where weight is focused on the back, this version divides the weight between the legs and back of the user for a more comfortable and less strenuous wear. The harness also features tool loops and pouch tabs.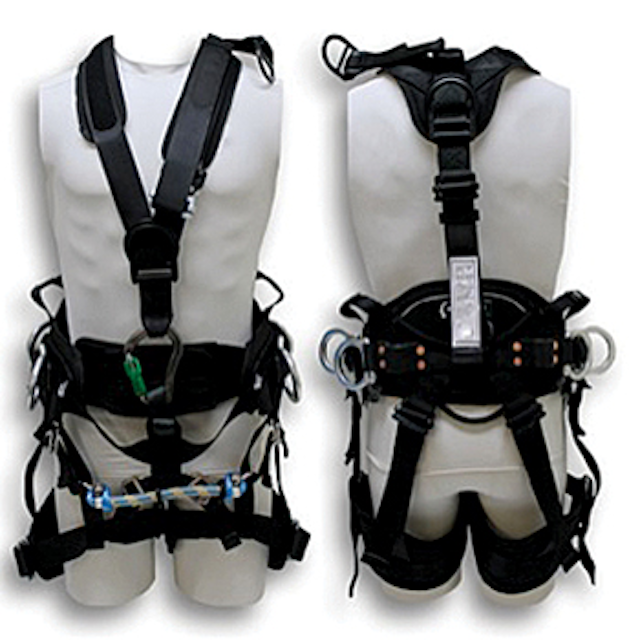 Hi-Line Utility Supply Co.
CIRCLE 110 ON READER SERVICE CARD
---
Tonneau Cover and Cap Available for 2014 Toyota Tundra
A.R.E. is now offering its LSII Series tonneau cover and Z Series truck cap for the 2014 Toyota Tundra with either 6.5-foot or 5.7-foot beds. A.R.E.'s LSII Series custom-fitted hard tonneau covers for the Toyota Tundra offer high performance while providing excellent rear visibility from the cab of the truck. A.R.E. designs each fiberglass tonneau cover to match the original equipment style lines of the pickup and the truck's paint code.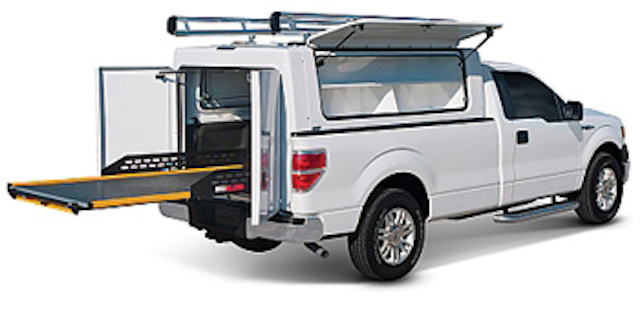 A.R.E.'s LSII tonneaus come equipped with fabric headliner. Optional equipment includes a battery-operated LED dome and prop light, a sport wing, a sport wing with brake light, remote keyless entry, a black palm handle, a 12-volt power strip and an interior clothes rod.
The Z Series fiberglass truck caps feature soft rounded curves for overall sleek styling. The cap comes standard with a front picture window, screen-vent side window, glass rear door and fabric headliner. Optional equipment includes a variety of window styles, Yakima roof rack, battery-operated LED dome and prop lights, remote keyless entry and fishing rod holders, among other options.
A.R.E.
CIRCLE 111 ON READER SERVICE CARD
---
ARS916 Truck Mounted Puller
The ARS916 hydraulic puller from Condux Tesmec is truck mounted and completely electronically controlled and self-contained. The unit offers 62,947 lbf of pulling force and is designed for stringing one rope up to 3 3/4 in. in diameter. The bull-wheel grooves on the ARS916 are made from heat-treated steel.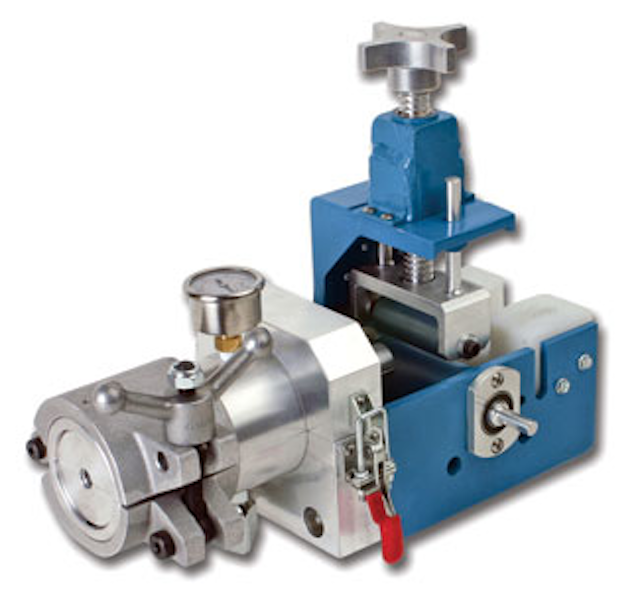 Condux Tesmec pullers offer features such as negative self-acting hydraulic brakes, integrated hydraulic dynamometers, hydraulic cooling systems, advanced user controls and more. Hydraulically controlled systems allow Condux Tesmec pullers to eliminate conductor galloping, providing utility contractors maximum pulling control.
A full line of productivity-enhancing conductor stringing tools and accessories is also available including anti-twist rope, reel winders, reel stands and more.
Condux Tesmec
CIRCLE 112 ON READER SERVICE CARD
---
Work Zone Capacity Calculator for Easy Digger Derrick Comparison
The new Terex Work Zone Capacity Calculator allows utility companies and contractors to select the right size of digger derrick to complete the majority of their day-to-day tasks-digging holes and setting poles. The Work Zone Capacity Calculator takes into account not only the digger derrick's boom lifting capacity, but it also accounts for the digger derrick's auger digging and lifting capacity.
To calculate a digger derrick's work zone capacity, the new calculator takes into account the soil conditions and density of the material the truck will be working in, as well as the auger sizes to be used and number of flights needed. Once these specs are input into the calculator, it is a simple process to determine a digger derrick's work zone capacity.
Terex
CIRCLE 113 ON READER SERVICE CARD
---
Polymer Disconnect Switch Offers Dependable Line Sectionalizing, Isolation of Distribution Circuits
Eaton's Cooper Power Systems Division provides durable switching on distribution circuits with its new easy-to-use type D-73P polymer disconnect switch. The new switch allows linemen to reduce field time when sectionalizing and isolating distribution circuits, increasing system reliability and overall efficiency.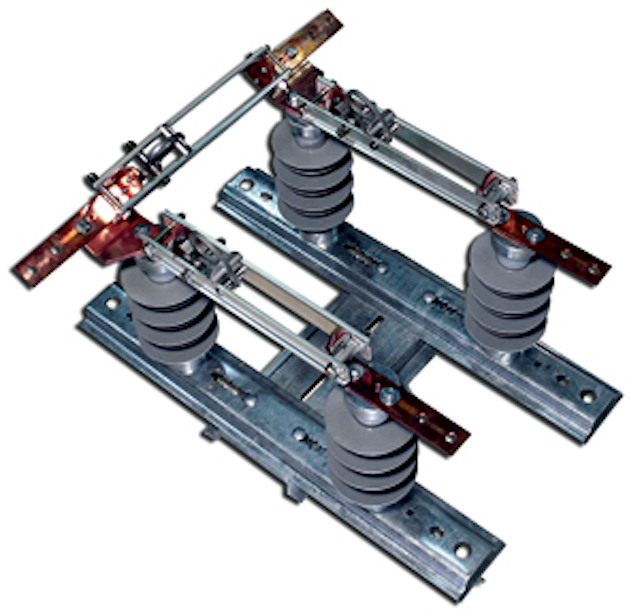 The D-73P disconnect switch incorporates proven UltraSIL polymer insulator technology to provide end users with a safe, reliable product designed to improve on-the-job efficiencies. In addition, it features quality construction, allowing for a stable high-current capability and full thermal capacity, along with a wide range of features for enhanced reliability, improved field operations and increased ease of installation.
Through the utilization of proven UltraSIL polymer insulator technology, the product offers increased insulating performance in high-contaminate environments and includes a high level of safety, flexibility and strength. And, using UltraSIL insulators lowers the product's susceptibility to breakages due to vandalism.
Eaton, Cooper Power Systems Div.
CIRCLE 114 ON READER SERVICE CARD
---
Rock Trencher Attachment Mounts to High-flow Skid Steer Loaders for Toughest Digging Conditions
The new Bradco 655 Rock Trencher by Paladin Attachments mounts to high-flow skid steer loaders to tackle the toughest digging conditions, including asphalt, frozen ground, fracturable rock and compacted soils, year-round. By replacing the need for dedicated trenching machines, it yields a higher utilization of existing equipment at a fraction of the cost. The largest in Bradco's full line of trencher attachments, the Bradco 655 Rock Trencher can trench up to 30 inches deep and 8 inches wide, easily meeting specifications for utility trenching applications. For increased safety, the low-profile dirt shield provides optimal operator visibility when trenching.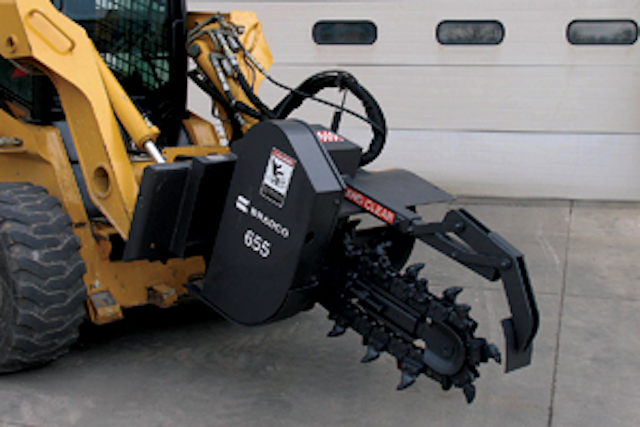 The Bradco 655 Rock Trencher features a tooth-every-station, double-standard rock chain for tooth pattern versatility and uses a rugged 50,000-pound anti-back-flex chain for extended life in the toughest conditions. Its heavy-duty chain reduction drive system amplifies torque to the cutting chain and the high-torque hydraulic motor produces maximum digging power. The attachment's built-in skid shoe provides positive depth control for the auger, while the pivoting crumber shoe assists with loose soil removal.
Paladin Attachments
CIRCLE 115 ON READER SERVICE CARD
---
Ratchet Wrenches, Accessories for Tightening Nuts on Transmission Towers
Lowell Corp. now offers a full line of ratchet wrenches and accessories for tightening nuts on transmission towers. There are six wrenches and an impact socket in the line. Each of the rugged wrenches can handle either two or three of the most common transmission tower nut sizes, and, with a bolt-thru head, can handle nuts on any threaded length. By combining several tools in one, each wrench offers better flexibility and convenience. All tools are covered by a one-year guarantee.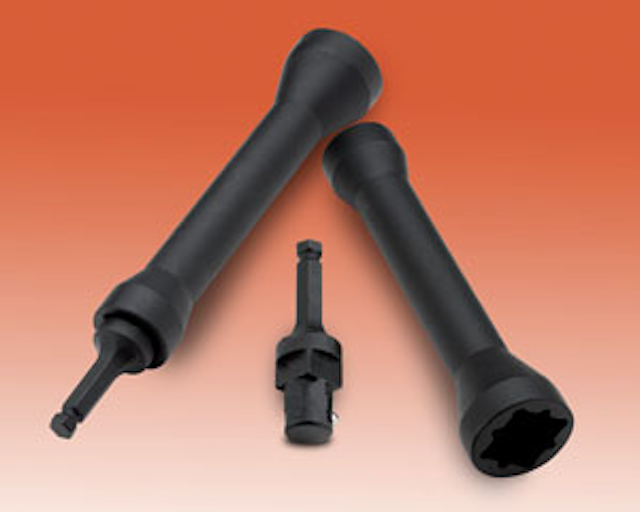 There are three models in the Lowell 100T Series. Each has a permanent socket with three sizes that fit 3/4-in., 7/8-in. and 1-in. hardware as well as 1 1/2-in. hex nuts. The 103T has a 12-in. handle and weighs 2 3/4 lbs.; the 104T has a 15-in. handle and weighs 3 lbs.; and the 105T has an 18-in. handle and weighs 3 1/4 lbs. The long handles and a torque capability of 300 lb./ft. bring plenty of turning power to any job. All have stamped and riveted metal handles with vinyl comfort grips.
Lowell Corp.
CIRCLE 116 ON READER SERVICE CARD
---
AC-DC Power Supplies for Harsh Environments
Schaefer Inc. has introduced its TER Series of rugged, ultra low-profile ac-dc power supplies designed for heavy industrial applications. All units are sealed in a heat-conducting potting material and are specifically designed for projects that demand reliable and shock resistant power supplies in the harshest operating conditions.
The TER family of 250W, 1000W and 1500W converters (models TER-250, TER-1000 and TER-1500) features high power density, power factor correction, compact packaging and high efficiency. Additional features include universal input, output voltage adjustment, parallel/series operation, comprehensive protection/alarms for the input/output signals, and single or multiple outputs that are individually isolated. The rugged design includes a wide operating temperature range and units are compliant to EN55022 Class A (Class B with filter).
Schaefer Inc.
CIRCLE 117 ON READER SERVICE CARD
---
New Bridle Rings and Beam Clamps for Cable Management
Platinum Tools, a provider of solutions for the preparation, installation and hand termination of wire and cable, has added five new threaded screw bridle rings (p/n JH802 though JH809) and two new beam clamps (p/n JH966 and JH967) to its inventory of low-voltage cable management solutions.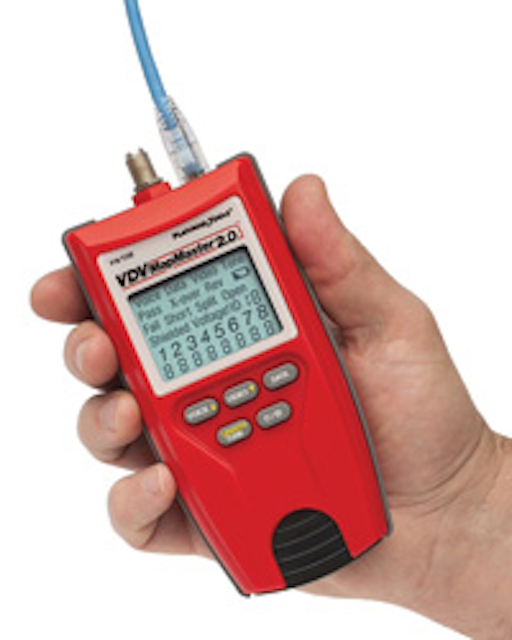 Offering various diameter sizes and standard thread configurations, the bridle rings attach with beam clamps on flanges up to 1/2 in. Simple, effective and constructed of solid, low carbon steel, these additions complement the company's line of J-Hooks for an additional cable management solution.
Platinum Tools
CIRCLE 118 ON READER SERVICE CARD
---
ED3766 SAE Class I Dual Color Directional LED
ECCO has introduced its dual color directional LED. The ED3766 offers the flexibility of two different color outputs within a single unit, comprised of 12 high intensity LEDs, six of each color. SAE Class I light output, synchronization capability and the choice of 11 flash patterns allow the creation of an attention-getting multi-color warning system with half the number of lights typically required. Each model can be programmed to flash either color option individually or alternate colors.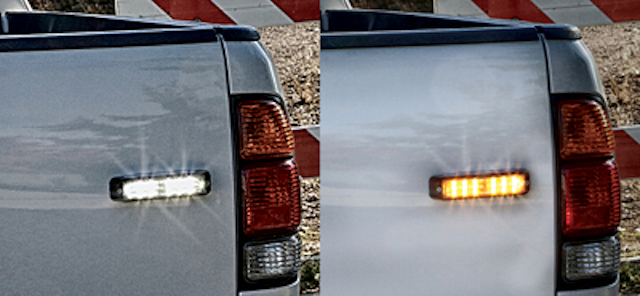 The ED3766 is constructed of durable aluminum and a polycarbonate lens with encapsulated electronics, and is backed by a three-year warranty. Available colors are: amber/blue, amber/clear, amber/green, amber/red and red/blue.
ECCO
CIRCLE 120 ON READER SERVICE CARD
---
GROUNDTAB Offers Attachment Point for Terminations of Ground Wires
BURNDY introduces the GROUNDTAB, which offers a convenient attachment point for terminations of ground wires to steel structures or steel supports. They are easily welded to steel with two options available, one with 1/2-in. stud holes, NEMA spaced and the other with 3/8-in. stud holes with 1-in. spacing. The tabs are made of 1/4-in. thick A36 steel and can be used to attach one or two hole terminals.

Common applications include large generators, mobile construction site modules, housing structures or any metal structure that requires a permanent or temporary ground.
BURNDY
CIRCLE 121 ON READER SERVICE CARD
---
Shaft Grounding Ring Protects Wind Turbines From Generator Failures
By safely channeling harmful shaft currents away from bearings to ground, Electro Static Technology's new AEGIS WTG wind turbine grounding ring prevents bearing damage that could otherwise cause generator failure, unplanned downtime, costly repairs and lost revenues. Maintenance-free, effective at any rpm, and available for any size wind turbine generator, the ring is designed for OEM installation or easy up-tower retrofit.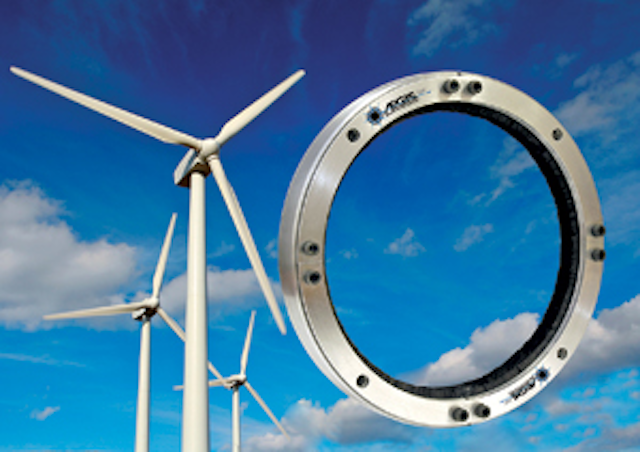 High-frequency currents induced on the shafts of wind turbine generators can reach levels of 60 amps and 1,200 volts or greater. If not diverted, these currents will discharge through the generator's bearings, causing severe electrical damage that results in bearing failure and catastrophic turbine failure, sometimes in as little as six months or less. The AEGIS WTG's patented conductive microfiber technology effectively steers these currents away from the bearings and safely to ground.
The WTG is engineered to safely divert up to 120 amps of continuous shaft current at frequencies as high as 13.5 MHz and discharge up to 3,000 volts (peak).
Electro Static Technology
CIRCLE 122 ON READER SERVICE CARD
---
Thermal Transfer Printers and Markers for Electrical Equipment Identification
The ABB Low Voltage Products Division has upgraded and expanded its lineup of high resolution thermal transfer printers and markers designed for producing high quality identification markings for terminal blocks, wires, cables and other equipment housed in electrical panels. The expanded product range features the second generation HTP500 V2 printer, upgraded with simplified installation and operational systems, and a 25 percent increase in speed, now able to print 8,500 markers per hour in automatic mode.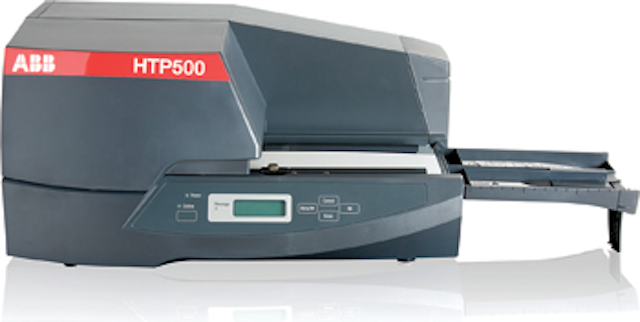 New to the product line is the MG3, a compact, versatile printer that can be used in the workshop and easily transported into the field. A full line of plastic markers and adhesive labels is also available for both the HTP500 V2 and MG3 printers, covering the identification requirements for all terminal block and electrical panel equipment components.
The marking equipment is targeted for panel shops, OEMs, electrical contractors and electrical distributors who must efficiently mark medium to high volumes of electrical components in a highly legible and durable manner.
ABB Low Voltage Products Division
CIRCLE 124 ON READER SERVICE CARD
---
Trenchless Service Line Replacement Unit
Trenchless plastic and copper service line replacement with TT Technologies' Mini Grundotugger is simple. Small launch and exit pits are dug at either end of the service line being replaced. A winch cable is rodded from the exit pit, through the existing line, to the launch pit. At the launch pit, the Mini Grundotugger's splitting expander is attached to the winch line. The Mini Grundotugger winch is placed in the exit pit and the winch line is loaded into the unit. The expander forces the split pipe into the surrounding soil. Contractors can choose to pull in the new pipe directly behind the expander or retrieve the split service first, then pull in the new service.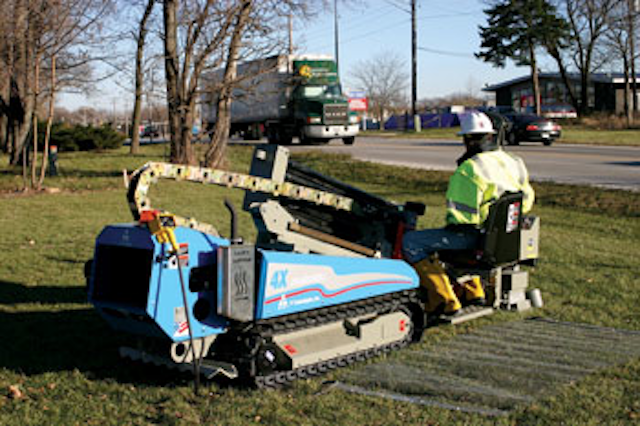 Two Mini-Grundotugger models are available. One model offers 9,000 lbs. of pullback and the other offers 12,000 lbs. of pullback. The unit's splitting head and expander splits the host pipe and pulls in the new pipe directly behind the expander. Various attachments and cutting head options are available for a wide range of host pipe and product pipe characteristics.
TT Technologies
CIRCLE 123 ON READER SERVICE CARD
---
Ethernet Cord Sets Offer Easy Deployment, Improved Reliability, Safety
Belden Inc., a provider of signal transmission solutions for mission-critical applications, announces DataTuff TC Cat 5e cord sets with TC Listed industrial Ethernet cable. These 600V TC 1277 rated Cat 5e cord sets, with RJ45 connectors, are cited to be the first to address a long-standing challenge-the ability to easily route industrial Ethernet cables in the most demanding heavy-industry environments using existing 600V cable trays. These cord sets reduce the cost of installation and reduce the risk of field failure, with the attendant costs of operational downtime and potential safety issues.
The DataTuff TC Cat 5e shielded cable can be easily deployed in pre-existing 600V cable trays for cost-effective installation. This cabling solution also offers a line of 600V AWM connectivity solutions that provide the easy transition from the cable tray to the applications within NEC-rated enclosures. IP20 shielded Cat 5e and Cat 6 cord set extensions, IP20 Din Rail mounted couplers, and IP20 shielded Cat 5e and Cat 6 cord sets are all available for convenient direct connection with equipment and devices.
Belden Inc.
CIRCLE 125 ON READER SERVICE CARD