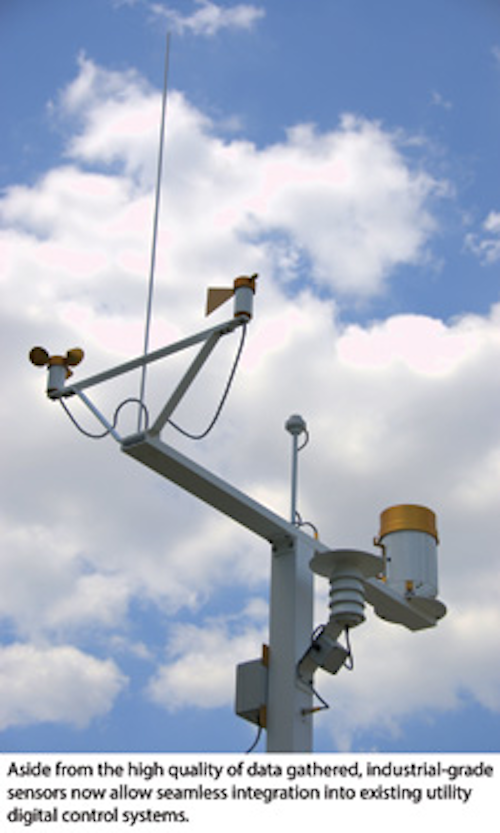 Industrial-grade weather sensors automatically relay climactic conditions into the grid nerve system to facilitate smart grid operations.
How can you accurately control if you don't have precise input? In the face of increasing cost penalties for the inaccurate predicting of power and gas requirements, many local utilities are asking themselves that question. With weather posing one of the more significant factors in predicting demand at any given time, an increasing number of utilities now opt to rely on their own industrial-grade weather stations that monitor conditions on a local level, saving themselves significant money in the process.
Enabling this micro control are modern industrial-grade stations that not only monitor weather parameters to exacting standards, but now act as sensors to provide analog or digital input directly into a utility's business/operating system to provide greater control.
"Accurate weather monitoring has a direct economic impact," said Dr. Luis Cabeza, a power systems consulting engineer for Austin Energy, the nation's eighth largest community-owned electric utility. "It's very valuable to your engineering approach."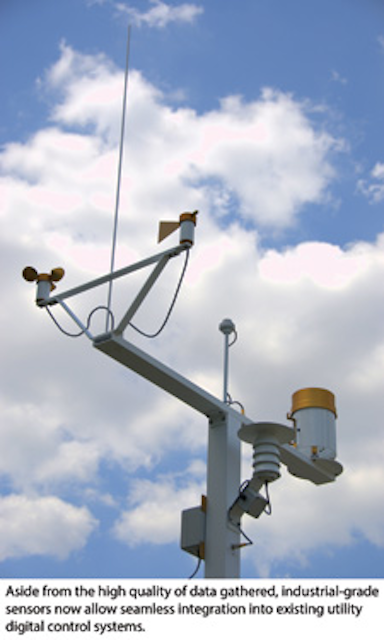 Weather Takes on a Bigger Role
"On August 7, electricity consumption reached a new record for 2013 with 67,180 megawatts of load in the 5:00 p.m. hour," reported an opening paragraph in the Dallas Business Journal two days later, citing figures from the Electric Reliability Council of Texas Inc. (ERCOT), the system operator for the state's bulk transmission grid.
No matter the cause, global warming's impact on utility operations can no longer be ignored. System operators need to carefully and continuously monitor climactic conditions to keep a tight rein on apportioning system demands.
"ERCOT allows dynamic ratings for transmission lines, depending on temperature," Cabeza said. "Before 2010, we only had to worry about zones. But now we must focus on critical transmission lines, congestion rights and nodal analysis to determine power losses, and weather comes into play."
"If the weather reporting isn't accurate, you can put the utility in a situation where you run into high cost penalties on the pipeline," said Ryan Deering, a substation and generation supervisor for Owatonna Public Utilities-a community-owned supplier serving 11,300 electric, 10,000 natural gas and 9,400 water customers in Minnesota. "On really cold days, for example, the pipeline company may not let us increase our gas volumes in real time because the pipe is already full from other customers increasing their gas loads. At that point, we'd have to look at our gas supplier for other options and help to stay balanced on the pipeline for that day."
Avoiding such financial hits requires far more localized monitoring than the nearest TV station or Weather.com can provide.
"When clouds come, they block the sun in that particular area of the city and the difference in solar penetration shows up in your generation demands," Cabeza said. "Or we might notice that in one part of the city that the temperature dropped down to 85 degrees. What happened? But you look at your data from your own weather station and realize there was an isolated rain shower there. Things like that help you understand what's going on and even help predict power demands."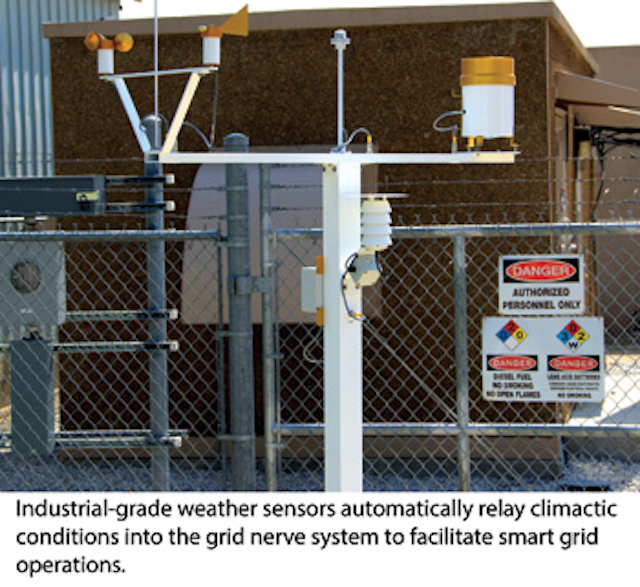 Higher Risk Requires Higher Quality Monitoring
Whether too hot or too cold, meteorological micro analysis can only be achieved through high quality industrial grade monitoring stations. Covering all the parameters requires a complement of sensors that monitor wind speed, wind direction, temperature, barometric pressure, humidity, rainfall and even solar radiation. All must deliver unerring accuracy and be durable enough to stand up to harsh conditions without failing in the field.
"Weather station accuracy represents an important piece of the process here," Deering said. "We installed our first weather station in the mid-eighties. Of course, we now have upgraded to a modern station but we continue to use the Texas Electronics weather sensors because their units have been very reliable."
Dallas-based Texas Electronics Inc. has been a pioneer and innovator in the field of quality meteorological instrumentation since 1956. The company offers individual gauges or complete weather stations that use high quality, research-grade sensors protected by corrosion resistant enamel coatings-all warranted to last three years and all meeting National Weather Service requirements.
"In an application like ours, accuracy can't be trusted to a low quality, consumer-grade unit like you'd get from a big box store," said Joe Green, a director at Owatonna Public Utilities.
"Even knowing the exact wind speed and direction is a big factor when we order gas for the upcoming gas day," Green said. "Increased wind will suck the heat out of homes, especially poorly insulated homes faster and they burn more gas in their furnaces to keep the house warm. This is especially the case when the wind is out of the north, so we must take into consideration the wind and direction to order the correct volumes ahead of time."
"We used to feel comfortable working with transmission line ratings based on a temperature variance of 5F," Cabeza said, "but the goal is to be more stringent in the future. We installed Texas Electronics weather stations at six of our substations to more closely monitor conditions at each location. Additionally, we are an ISO9000 certified company so our work needs to be calibrated and certified every year. We must maintain accurate instrumentation."
Seamless Integration is Vital
Aside from the high quality of data gathered, industrial-grade sensors now allow seamless integration into existing utility digital control systems. Standard industry outputs include 4-20 mA, but signal conditioners allow interface to virtually all data acquisition systems.
"Our weather station incorporates an internal interface to automatically convert its supervisory control and data acquisition (SCADA) data to feed directly into the DNP3 protocol we use at our utility," Cabeza said.
"The weather station plays into a script in our SCADA master system," Deering said. "The temperature and wind chill data are gathered at our substation where a remote transmitting unit brings that info back into the headend. This feed goes into our internal 'compute' to help us figure how much gas we need to order that day."
Better Data Acquisition Pays Off
Tight monitoring of local weather conditions benefits both utilities and customers.
"If you know that the temperature, and hence demand, is not going to get too high, then you can push more amps through the line without worrying about things like line sag," Cabeza said. "Having the ability to use the full capacity of the transmission lines benefits the utility as well as the rate payers."
"Keeping close tabs on weather conditions helps us determine how much gas we have to order each day," Deering said. "There are risks of expensive penalties from the pipeline if your percentage of daily gas orders are way off-order. We lessen that risk with our weather sensors."
"We also incorporate the Texas Electronics weather station results into the billing statements we mail to our customers," Green said. "This allows consumers to see the temperature difference between one year and the next. It helps them understand whether the price of gas went up, or if they simply used more, thus reducing calls to our customer service department with bill complaints."
For more information about Texas Electronics, please email info@texaselectronics.com or visit www.texaselectronics.com.