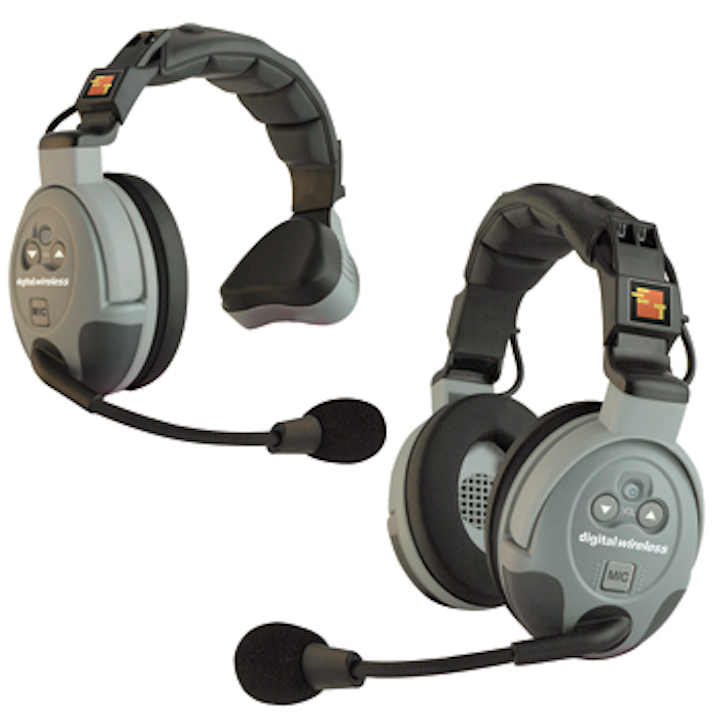 ComSTAR Full Duplex Headsets
Eartec's ComSTAR is a new generation of full duplex wireless that allows up to eight users to communicate simultaneously such as on a regular telephone. These headsets are not voice activated and there is no delay when transmitting. They enhance industrial job site productivity and safety by providing instantaneous, hands free voice communications within an 800 yard range.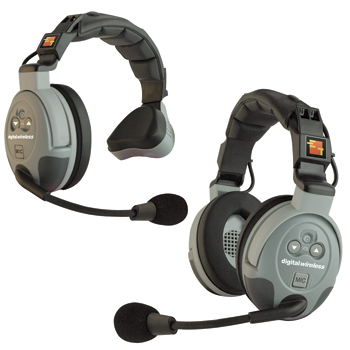 The XTreme is a specialty hardhat compatible ComSTAR headset that features miniaturized wireless circuitry and antenna installed inside the ear cup. This streamlined "all in one" design is a breakthrough, eliminating the need for cables and belt pack transceivers.
ComSTAR operates within the DECT, 1920 - 1930 MHz band allocated by the FCC for voice communications only. No FCC licensing required.
Eartec Co.
CIRCLE 111 ON READER SERVICE CARD
---
ARS916 Truck Mounted Puller
The ARS916 hydraulic puller from Condux Tesmec is truck mounted and completely electronically controlled and self-contained. The unit offers 62,947 lbf of pulling force and is designed for stringing one rope up to 3 3/4 in. in diameter. The bull-wheel grooves on the ARS916 are made from heat-treated steel.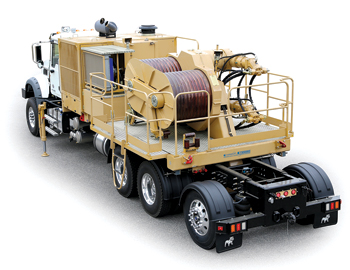 Condux Tesmec pullers offers features such as negative self-acting hydraulic brakes, integrated hydraulic dynamometers, hydraulic cooling systems, advanced user controls and more. Hydraulically controlled systems allow Condux Tesmec pullers to eliminate conductor galloping, providing utility contractors maximum pulling control.
A full line of productivity-enhancing conductor stringing tools and accessories is also available including anti-twist rope, reel winders, reel stands and more.
Condux Tesmec
CIRCLE 112 ON READER SERVICE CARD
---
Ti400 Infrared Camera
The Fluke Ti400 Infrared Camera features advanced connectivity and accuracy to maximize technicians' productivity in the field. It is equipped with LaserSharp Auto Focus, which uses a laser to calculate the distance to target for precisely focused images every time. Place the red laser dot on the equipment you are inspecting, then pull and release the trigger for a perfect in-focus image.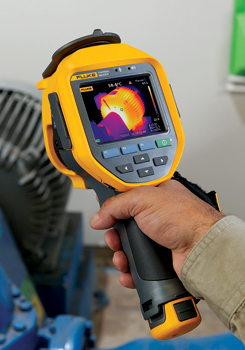 The Ti400 is part of the Fluke Connect system, which allows maintenance technicians to wirelessly transmit measurement data from their test tools to their smart phones for secure storage on the cloud and universal team access from the field. More than 20 Fluke tools connect wirelessly with the app, a free download from the Apple App Store and Google Play Store.
Fluke infrared cameras feature patented IR-Fusion technology, which merges the infrared and visual images into a single view to better discover, diagnose and communicate problems.
Fluke
CIRCLE 113 ON READER SERVICE CARD
---
PUPI EZE-Mount Tangent Crossarm Assemblies
GEOTEK, the producer of PUPI fiberglass Utility Products, offers the PUPI EZE-Mount-a braceless tangent crossarm assembly that joins GEOTEK's line of PUPI brand electrical distribution and transmission products.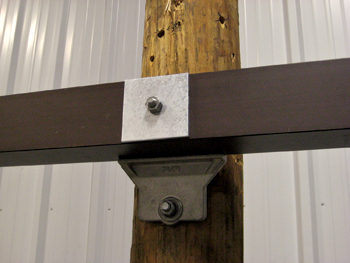 The 8-ft. PUPI EZE-Mount tangent assembly weighs 25 lbs., including all of the hardware required. The system is specifically designed to work with the PUPI 2200 series crossarm in standard 8-ft. and 10-ft. tangent applications. The EZE-Mount is made of tough, corrosion-resistant cast aluminum and designed for use on wood poles. It is cited to be among the most economical crossarm assemblies on the market.
The PUPI EZE-Mount crossarm assembly is easy to handle and simple to install. The crossarm and mounting hardware are assembled at the pole with two bolts. No braces are required, so installation is fast. Once installed, the EZE-Mount's compact design provides maximum clearance for line workers and other pole-top equipment.
Standard RUS TYPE 03, 04 and 05 configurations are available. Custom lengths and drill patterns can be requested.
GEOTEK
CIRCLE 114 ON READER SERVICE CARD
---
Overhead Conductor Delivers Greater Reliability, Capacity for Transmission Lines
Utilities looking for greater flexibility, reliability and single-failure tolerance for critical transmission lines now have an affordable carbon-fiber option in the new Southwire C7 Overhead Conductor. The multi-stranded composite core, using advanced polymers, resins and thermoplastics from Celanese, delivers increased performance and a service life in excess of 40 years.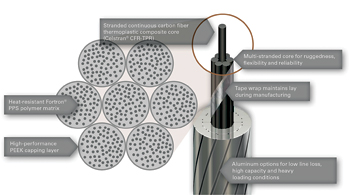 Southwire has been developing the C7 Overhead Conductor for the past seven years, creating a transmission conductor with nearly double the capacity and less sag than the same diameter aluminum conductor steel reinforced (ACSR). The new overhead conductor has a stranded continuous carbon-fiber thermoplastic composite core for rugged flexibility and reliability. The carbon fibers are embedded in a heat-resistant Fortron polyphenylene sulfide (PPS) polymer matrix and capped with a layer of high-performance PEEK. The design allows for minimum sag at higher power transfer, and the stranded core means there is no single point of failure for the overhead conductor.
Southwire Co. LLC
Celanese Corp.
CIRCLE 115 ON READER SERVICE CARD
---
Rigid Fittings BlueKote Universal Conduit Elbow
The T&B Rigid Fittings BlueKote Universal Conduit Elbow (LU) Form 8 from Thomas & Betts (T&B) replaces four conduit body configurations, resulting in a four-to-one reduction of stock-keeping units (SKUs). The T&B Rigid Fittings BlueKote LU Form 8 enables fiber-optic cable to be run in a 3/4-in. system, instead of a 2-in. system, and still maintain the cable bend radius, which provides a reduction in the time needed for installation.
The angled covered port facilitates wire pulling and uses standard covers.
Because the BlueKote LU Form 8 is UL listed as an enclosure, splices are permitted inside of it. The BlueKote LU Form 8 is rated for 40 percent wire fill, avoiding the need to de-rate the system.
Thomas & Betts Corp.
CIRCLE 116 ON READER SERVICE CARD
---
Auto Voltage/Continuity Testers Deliver Simplified Troubleshooting
Milwaukee Tool continues to expand its test and measurement offering with the addition of two new electrical testers. Combining the simplicity of a traditional voltage/continuity tester with the digital read-out capabilities of a higher functionality meter, the new units allow users to properly troubleshoot common electrical issues with ease, even as electrical systems become more diverse.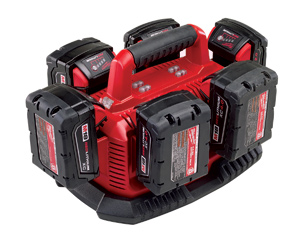 For accurate troubleshooting, the new units measure voltage, continuity and resistance with precision. While traditional testers only indicate broad voltage ranges that mask electrical issues such as voltage drops, the Milwaukee units deliver measurements down to the decimal and display them on an easy-to-read LCD screen. With built-in intelligence, the units automatically determine whether to test for voltage or continuity, and also identify ac or dc voltage to provide users with more valuable information in a single test.
Complete with a built-in LED work light for low-lit areas, and test lead holders to conveniently store the probes for when the job is done, both Milwaukee units are compatible with common threaded carrying and mounting accessories such as belt clips and magnets.
Milwaukee Tool
CIRCLE 117 ON READER SERVICE CARD
---
Line Guards Keep Linemen Safe
Hastings, a manufacturer of hotline tools and equipment, understands that every day has the potential to bring the unexpected for lineman. That is why Hastings designs every product with safety in mind and one such critical component of safety is a Line Guard.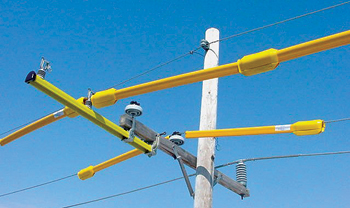 Hastings Line Guards are installed before setting new poles to guard against accidental line contact. They also guard against accidental contacts by personnel working in insulating aerial buckets or on platforms. Manufactured with Hastings Safety yellow polyethylene, our Line Guards are lightweight and easy to clean. They also feature a larger I.D. than traditional rubber hoses with an opening of 1.77 in. compared to the average 1.25 in.
The Line Guards are available in 5 ft. and 6 ft. lengths and rated 15 kV and 25 kV.
Hastings
CIRCLE 118 ON READER SERVICE CARD
---
Voice/Data/Video Cable Tester Line Expanded With Commander Series
Klein Tools expands its Voice/Data/Video product line with its new full-featured Commander Series testers. This product has extensive cable testing capabilities, time-domain reflectometry (TDR) technology for distance to a fault measurement, power over Ethernet (PoE) detection and testing, link status and capabilities, as well as report management functionality. With one tool, professionals can confidently determine the status of each wire in a data, PoE or communications/video system.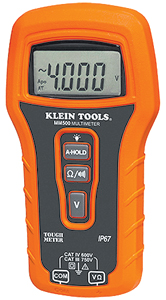 Klein Tools' Commander Series is made specifically for testing of coaxial, network or telephone cables. The Commander Series consists of two kits: The Commander Test Kit (VDV501-828) and the Commander Test & Tone Kit (VDV501-829).
Klein Tools
CIRCLE 119 ON READER SERVICE CARD
---
Escape Kit Keeps Safety Simple for Workers at Height
The DEUS Industrial Escape Kit from DEUS Rescue is a turnkey, individual evacuation solution for anyone who works in elevated industrial environments up to 500 feet such as platforms, utility and wind towers, tower cranes, communications and more. The lightweight and compact kit is a complete escape system that provides workers a safe and simple way down with nothing to hold, operate or worry about from top to bottom.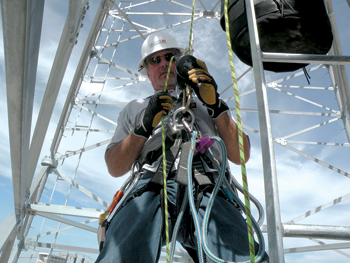 The central component of the kit is the DEUS 3700 controlled descent device. The 3700 has been third-party tested and certified to the American National Standards Institute (ANSI) Z359.4-2007 fall protection rescue standard.
Complete, pre-rigged and ready to use, the simple-to-operate 3700 is an automatic, compact, speed-limited descent system. Ideal for rescue situations, the device even works if the person descending is unconscious.
DEUS Rescue
CIRCLE 120 ON READER SERVICE CARD
---
P-touch EDGE Wireless Industrial Handheld Labeling Tool
Brother Mobile Solutions Inc. offers the P-touch EDGE PT-E550W wireless industrial handheld labeling tool, the most powerful member of Brother's EDGE line of industrial handheld labeling tools.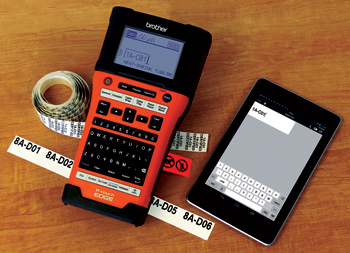 The full-featured labeling tool is Brother's first industrial handheld product to feature Wi-Fi connectivity to Windows, iOS, Mac and Android devices-an enhancement designed to expand the contractor's jobsite capabilities. With the PT-E550W, users can download and store custom label files and databases from select tablets, smartphones or PCs to print full project labels or individual labels wirelessly, on demand at the jobsite. The PT-E550W prints labels up to 24mm wide, including heat shrink tubing, and is further differentiated by a dual-blade auto-cutter for easy peel label strips. It was engineered from the ground up to be an alternative to sheet label systems and the labeling tool of choice for larger infrastructure installations.
With built-in templates, files and databases instantly available through wireless connectivity, work crews can help save time, improve accuracy, and minimize keystrokes in generating clear, long-lasting labels for wires, cables, faceplates, patch cords and other components of an installation.
Brother Mobile Solutions Inc.
CIRCLE 121 ON READER SERVICE CARD
---
FTX128L Mulching Tractor
Fecon offers the FTX128L Mulching tractor as part of the Fecon FTX Tracked carrier line. Built in their Lebanon, Ohio facility, this tractor is strong on cutting power with 60 GPM to the Bull Hog Forestry Mulcher. The compact FTX128L features 20-in. tracks that work effortlessly while cutting up hill.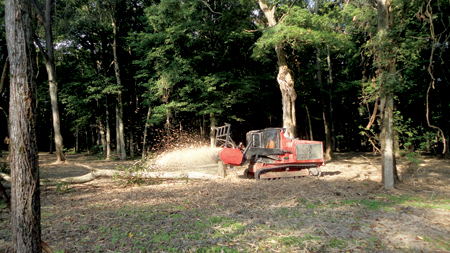 In addition, the low ground pressure at 3.8 psi is good for soft conditions, resulting in minimal ground disturbance. Serviceability is made easy with full access side doors and engine compartment roof. The Cummins QSB4.5 diesel engine, running at 128 hp coupled with Fecon's hydraulic technology, allows the FTX128L to outperform machines with higher horsepower.
Fuel consumption remains under 4.5 gallon per hour. High jobsite performance makes the FTX128L useful for right of way mulching, clearing and related forestry and urban interface work.
Fecon
CIRCLE 122 ON READER SERVICE CARD
---
Full Color Display Cable Tester, Report Management System
Platinum Tools, a provider of solutions for the preparation, installation, hand termination and testing of wire and cable, offers the Cable Prowler (TCB300) cable tester and report management system.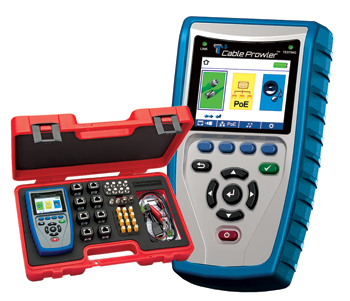 The Cable Prowler provides full cable testing on any category network, coax or telephone cable, combining the functions of a high-end cable tester and length measurement tester, with the capability to identify link status, link capability and PoE detection. The Cable Prowler provides full cable testing, displaying wire map, numbered ID remotes and any faults, including shorts, opens, miswires, split pairs and reverses. It also enables quick identification of a network drops link capability and current link status. This is done in full color and internal memory to save results, as well as the ability to export to a computer through micro USB cable for record keeping and printing.
The Cable Prowler PRO Test Kit (TCB360K1) includes the main unit, coax and network remote set (#1-5, F-Conn coupler includes foam holder), network/tel testing and ID remote #1, RJ12 Cable (Qty 2), micro USB cable, protective silicone holster, and a hanging T3 pouch.
Platinum Tools
CIRCLE 123 ON READER SERVICE CARD
---
DURABOOK R11 Rugged Tablet
The GammaTech DURABOOK R11 rugged tablet PC features an 11.6-in. TFT LCD capacitive touch display and a 4th generation Intel Haswell Core processor for workers in the utility market. It is citecd to be the lightest 11.6-in. rugged tablet PC in its class at 2.73 lbs., while remaining tough with Military Standard 810G and IP65 certifications for drop, shock, dust and water resistance.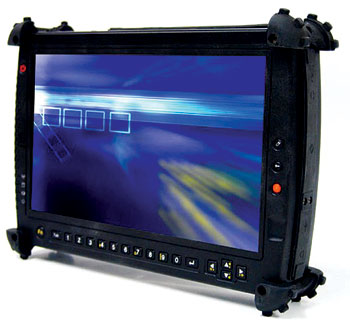 Its wide operating temperature range means it can stand up to the daily wear and tear encountered in office or field settings. The R11 functions for up to seven hours and can be customized with a wide array of options, including Microsoft Windows 7 Professional or Windows 8.1 software. Security features include computrace support BIOS, administrator password, TPM 1.2, Kensington lock and boot password protection.
GammaTech
CIRCLE 124 ON READER SERVICE CARD
---
Remote Switch Actuators for ABB/Sace Megamax F-Series Circuit Breakers
CBS ArcSafe, a manufacturer of remote racking and switching solutions for low- and medium-voltage switchgear, offers its remote switch actuator for ABB/Sace Megamax F-Series low-voltage power circuit breakers. Designed for all sizes of ABB/Sace F-series (F1 to F6) circuit breakers with current ratings from 1200-6000A, the CBS ArcSafe RSA-69A allows technicians to safely close and/or trip breakers outside of the arc-flash hazard boundary without any modification to the breaker.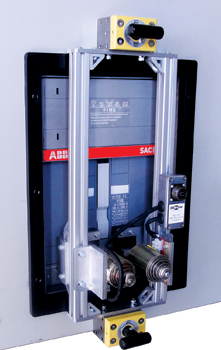 When accompanied by an applicable CBS ArcSafe Remote Switch Operator (RSO) control unit, the RSA-69A provides open and close operation from up to 300 feet away, reducing the need for arc-flash hazard suits and eliminating all hazardous manual contact with gear during operation. Using strong magnets, the actuator requires no modifications for switchgear mounting, and operators can easily move the actuator from one breaker to another. The actuator is lightweight, portable, and simple to install and set up, providing technicians with a quick solution for hard-to-access breaker locations.
CBS ArcSafe
CIRCLE 125 ON READER SERVICE CARD
---
Fault Current Limiter Eliminates Need to Replace Underrated Switchgear
Capture Fault Current Limiters from Phoenix Electric Corp. protect existing switchgear and circuit breakers by allowing them to operate within their original short circuit ratings, making substations safer and the grid more reliable. Through Faultron electron tube technology by Advanced Fusion Systems, Capture controls and regulates fault current levels. Automatically resetting in microseconds or less, Capture also eliminates the need for fuses, the manpower and expense of changing them, and the cost and time of stocking them.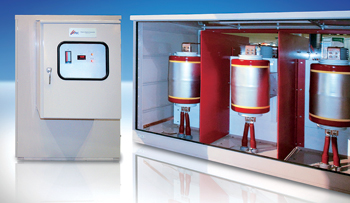 Capture Fault Current Limiter ratings are factory-set to customer specifications. 15 kV and 27 kV voltage class limiters have continuous current ratings up to 5000A and BIL ratings of 110 kV for 15 kV class limiters and 150 kV for 27 kV class limiters. An optional integrated monitoring system provides current and voltage information along with Capture's operational status.
Phoenix Electric Corp.
CIRCLE 126 ON READER SERVICE CARD
---
Build Your Own Hat Application Offers Customization
Honeywell has launched Build Your Own Hat, a Web-based application that enables customers and distributors to fully customize hard hats from the complete selection of Fibre-Metal and North brand safety caps. In four easy steps, visitors can create their signature look by selecting a hat style, color, suspension and graphic.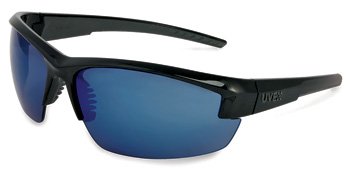 A Honeywell customer service team supports the application by answering questions, fulfilling orders and ensuring complete customer satisfaction. Build Your Own Hat offers a 360-degree, rotating product view as well as side-by-side comparisons of up to three custom caps to help safety managers make the best selections and meet every worker¹s needs.
All styles of Fibre-Metal and North brand safety caps and hats are available for customization. Hard hat offerings span the full range of ANSI and CSA ratings for impact and electrical protection, with a bump cap also available.
Build Your Own Hat offers a wide selection of suspension options, with hats that feature four-point, six-point and eight-point suspension, and Fibre-Metal SuperEight, which delivers comfort and protection. Users may also choose from headgear options such as SwingStrap, TabLok and Quick Fit for quick, easy-to-use adjustability and all-day comfort.
Honeywell
CIRCLE 127 ON READER SERVICE CARD
---
LoadLifter 5000 ULTIMATE Air Spring Kits Provide Comfort, Safety
Air Lift Co. has expanded its line of suspension solutions with the release of its new LoadLifter 5000 ULTIMATE air spring kits. The kits fit half-ton, three-quarter-ton and one-ton pickups equipped with leaf springs, boosting towing and hauling safety and comfort when drivers need it most.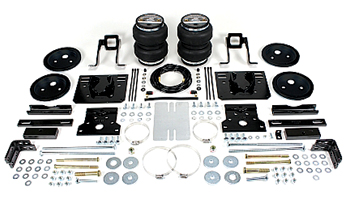 The air spring kits provide all the benefits of the LoadLifter 5000 air spring kit line, which works with the existing suspension to deliver up to 5,000 lbs. of load-leveling capacity, with the addition of an internal jounce bumper. The jounce bumper is made with Air Lift's closed-cell urethane foam and replaces the factory jounce bumper. Maintenance free and able to safely run on zero air, the LoadLifter 5000 ULTIMATE air spring kit provides a cushion of air that absorbs shocks and protects vehicles with heavy loads, eliminating jarring on rough roads.
The LoadLifter 5000 ULTIMATE air spring kits' internal jounce bumper compresses in stages to protect vehicles during a range of load situations, including unloaded, heavily loaded or under full compression.
Air Lift Co.
CIRCLE 128 ON READER SERVICE CARD
---
New maX Contact Touchscreen Mechanics Gloves for Reliable Touchscreen Performance
Galeton has introduced #12031 Galeton maX Contact Touchscreen Mechanics Gloves. The company has taken its maX 2.0 Gloves, added touch sensitive tips, and the result is maX Contact Touchscreen Gloves so you can keep your gloves on while operating smart phones and touchscreen equipment.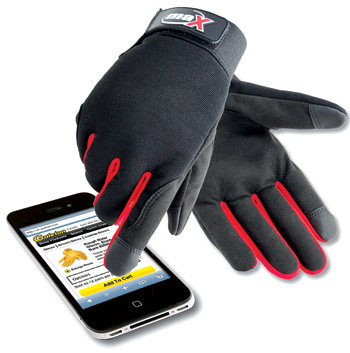 Most touchscreen gloves only place touchscreen material on the front of the finger, which makes it difficult to use the tip of your finger. The maX Contact goes a step further by having the touchscreen material on both the front and back of the fingertip to give you reliable touchscreen performance whether you use your finger pad or tip.
Galeton
CIRCLE 129 ON READER SERVICE CARD
---
Enhanced Electric Telescopic Cranes
Iowa Mold Tooling Co. Inc. (IMT) has enhanced its lineup of electric telescopic cranes to offer customers increased productivity, reliability and operator comfort. Enhancements to the 2003i, 3203i, 4004i, 5005i and 6006i models include: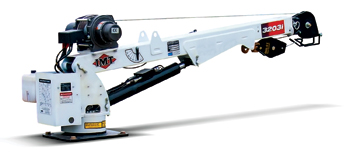 • Single-sheave boom tip design with a reduced profile for added reach in tight quarters,
• Hydraulic power unit featuring a new polyethylene reservoir that reduces weight and the potential for system contamination,
• Updated pin design that improves the reliability of the pin retention system, and
• More compact tethered remote control that provides added ergonomic comfort in a lighter package.
IMT electric cranes are specifically designed for lighter lifting applications. The lineup has a maximum horizontal reach ranging from 6 ft. 6 in. to 22 ft. and capacity ranging from 2,000 lbs. (8,000 ft-lbs) to 6,000 lbs. (38,000 ft-lbs). All models are compatible with IMT Dominator mechanics trucks.
Iowa Mold Tooling Co. Inc.
CIRCLE 130 ON READER SERVICE CARD
---
Circuit Breaker Analyzer Application for Windows 7 Tablets, PCs
Circuit Breaker Analyzer Inc. introduces its Circuit Breaker Analyzer application (CBAnalyzer) for Windows 7-compatible tablets and personal computers. Used in conjunction with an external calibrated accelerometer that attaches magnetically to the breaker under test, the Circuit Breaker Analyzer app runs on a tablet or PC to identify potential mechanical failures before they happen. The tool helps customers avoid unplanned downtime and confirm arc-flash calculations based on trip times without the need to modify existing equipment or remove them from service.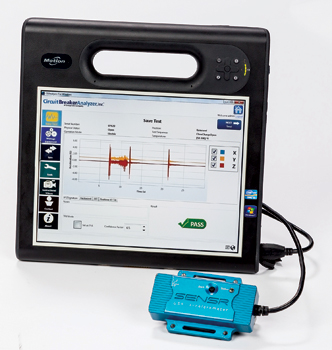 The CBAnalyzer also allows the user to operate the breaker in any sequence desired, including trip, charge or close. The vibration data created by the breaker operation is captured, displayed locally against previous tests, and analyzed through a Web-based application to identify potential problems based on vibration signature and the model of the breaker under test. Data saved to the online accounts can be used for equipment management, trending, and further analysis options including specialized issue diagnosis.
Circuit Breaker Analyzer Inc.
CIRCLE 131 ON READER SERVICE CARD
---
Fast, Friendly Heavy-duty Four-post Lifts
Rotary Lift introduces new heavy-duty four-post vehicle lifts that are user friendly and fast. The HDC series four-post lifts are available with capacities of 50,000 lbs. (P/N HDC50) and 60,000 lbs. (P/N HDC60) for servicing a variety of heavy-duty vehicles including trucks and buses. The battery-powered lifts are easy to operate, economical to maintain, and cited to raise a vehicle faster than any competing four-post lift.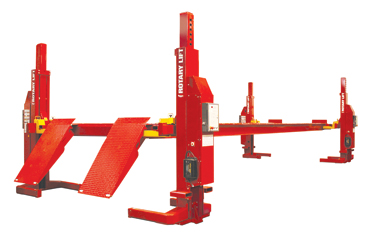 HDC series four-post lifts can be operated from any column, allowing the user to work from the corner of the bay that is most convenient. Each post is equipped with Rotary Lift's patented control system, which features an intuitive graphic layout of the lift and real-time height reading. To maximize efficiency, the control panels can be preprogrammed to remember their locations even after the power is turned off. And, in addition to its own control panel, each HDC series lift column includes a hydraulic cylinder.
Rotary Lift
CIRCLE 132 ON READER SERVICE CARD
---
FiberMax Crane Mats, Crane Pads and Outrigger Pads
Designed to improve stability for the largest cranes under maximum loads, DICA's FiberMax Mega Duty crane mats offer a new solution for cranes working on most ground conditions and soil bearing capacities. Made of fiber reinforced polymers, the crane mats are strong and rigid like steel, but at 50 percent of the weight. Featuring high compressive and flexural strength, FiberMax crane mats can distribute concentrated loads over large areas to safely reduce ground-bearing pressure more effectively than wood or steel.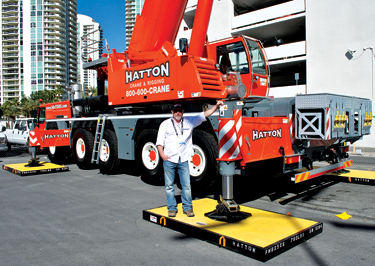 In addition, FiberMax's engineered material is not affected by the elements or prolonged use. The technology was first developed for building pedestrian and vehicle bridge systems as a lightweight, long-term replacement to heavy steel structures and rotting wood structures. The result is that the FiberMax mats won't rot, delaminate, rust or decompose.
FiberMax Heavy Duty and Super Duty products have a high concentration of fiberglass reinforcements, which creates a crush strength in excess of 400,000 psi and an average flexural yield strength of 60,000 psi.
DICA
CIRCLE 133 ON READER SERVICE CARD
---
EDGE Heavy-duty High Reach Clipper with Wireless Remote Control
CEAttachments Inc., a supplier of attachments and accessories for compact equipment, has added an EDGE Heavy-Duty High Reach Clipper to its lineup of tree shear attachments for skid steers and track loaders.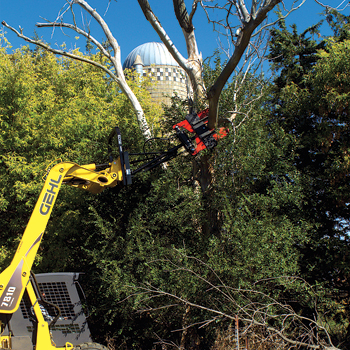 The EDGE Heavy-Duty High-Reach Clipper is a more rugged-built clipper than the Standard-Duty model also offered. Designed for commercial and rental use with it's wireless remote, this High Reach Clipper is made of 5/8-in. high strength steel for maximum durability in the toughest conditions.
The powerful rotator is hard-wearing and built stronger with several extra gussets, and features 110 degree rotation for greater maneuverability and clipping at various angles.
The mount is also more robust, featuring two extra stabilizer bars for a total of five, rendering more stability and control during operation.
A wireless remote control allows the operator to activate the solenoid valve for rotation, without the complication of wires getting tangled in the brush. It features a Velcro strap for securing in a convenient location.
CEAttachments Inc.
CIRCLE 134 ON READER SERVICE CARD
---
Accurate Voltage Transformer Testing Made Portable
OMICRON's VOTANO 100 is cited to be the first voltage transformer testing and calibration system to combine mobility (total weight less than 33 lbs.) with the highest level of accuracy (precise calibration of voltage transformers with class 0.1).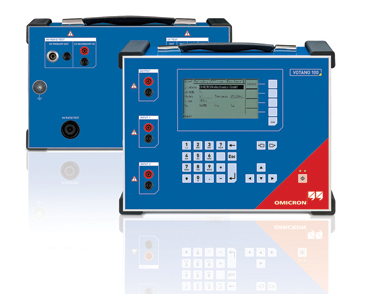 With its software-guided measurement, VOTANO 100 can test protection and metering voltage transformers in less than 20 minutes. In a single pass, winding resistance, short-circuit impedances, transformation ratio, and the magnetic characteristics curve of inductive and capacitive voltage transformers are determined. During this process, VOTANO 100 assesses voltage transformers with up to five secondary windings-for no-load and standard load operating conditions. The measured results are automatically assessed in accordance with international standards.
The VBO1 voltage booster comes with VOTANO 100. This amplifier supplies the primary side of the transformer with a maximum reference voltage of 4 kV for the transformation ratio measurement. The VBO1 is positioned near the test object, while the test engineer operates VOTANO 100 in a secure area outside of the high-voltage environment. The compact dimensions and low weight guarantee easy and convenient transport. The combined total weight of both devices is less than 33 lbs.
OMICRON
CIRCLE 135 ON READER SERVICE CARD