Transmission & Distribution
Aug 1st, 2017

Connectors and Couplings, and Flexible Metal Conduit Fittings
Electrical distribution: AFC Cable Systems and sister company Kaf-Tech, both manufacturers of electrical products, have expanded their line of electrical metallic tubing (EMT), flexible metal (Flex) and Liquidtight fittings for the electrical distribution industry. More than 150 fittings items have been added.

The products increase the number of applications for which fittings are now available. Many new items have been added to the Liquidtight category, including malleable Liquidtight fittings with aluminum or copper grounding lugs in insulated and uninsulated versions, tubular steel Liquidtight fittings (both uninsulated and insulated), as well as combo couplings to connect Liquidtight conduit to rigid conduit.
AC/MC cable Flex products include 90-degree saddle type connectors with insulated throats, and double bite saddle type set screw couplings, which are useful for connecting Flex, AC, MCI, MCI-A and HCF cables to outlets. Also available are combo couplings to connect flexible metal conduit to rigid or IMC conduit.
AFC Cable Systems
---
Remote Switch Actuator for GE Power Break Insulated Case Circuit Breaker
CBS ArcSafe, a manufacturer of remote racking and switching solutions for low- and medium-voltage switchgear, introduces its remote switch actuator (RSA) for the General Electric Power Break insulated case circuit breaker (ICCB). The lightweight, portable CBS ArcSafe RSA-91B M allows technicians to remotely close or trip the General Electric ICCB from a safe distance of up to 300 ft., well outside the arc-flash boundary.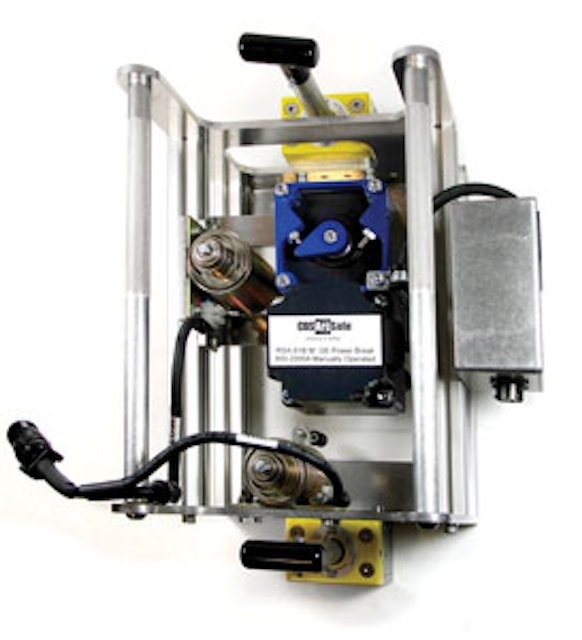 Installation and operation do not require any modifications to the existing electrical equipment because of CBS ArcSafe's magnetic latching system. The RSA-91B M is compatible with manually operated Power Break ICCBs with ratings of 800-2000 A. Typical applications include switching from high available fault current systems such as main service disconnects, feeder disconnects or branch circuit disconnects. When compared to other arc-flash mitigation alternatives, the RSA-91B M is a cost-effective solution for keeping operators safe.
Optional features include radio remote with a range of up to 300 ft., 24 VDC LED light, wireless video camera system with LCD monitor, and rugged protective case assembly. All RSA units are portable, fast and easy to set up; offer mechanical and/or electrical safety protection; are adjustable to fit unique electrical equipment configurations; reduce the requirements for personal protection equipment; and help customers with NFPA 70E arc-flash safety compliance.
CBS ArcSafe
---
Terminal Box Line Introduced GEB Series
Killark Electric's Harsh and Hazardous Terminal Boxes are built and tested to the latest IEC / UL / CSA / ATEX / IECEx Certifications and Directives for Class I Groups BCD & Ex d IIC hazardous areas, with IP66 and Type 4X Ingress Protection in an ambient temperature range of - 40C to +163C.
The GEB terminal box line is supplied standard in copper free aluminum that has a grey electrostatically applied powder coating, along with using a Nitrile gasket to hold up in the harshest environments.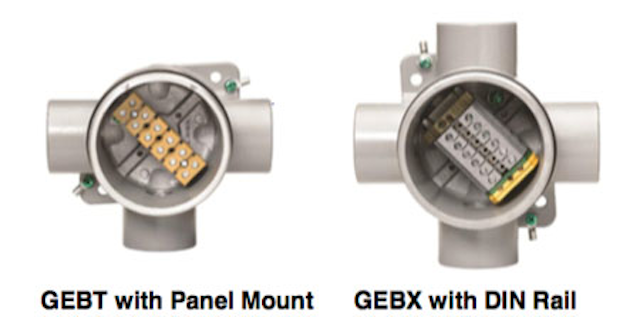 The GEB terminal box line is available in four configurations, C, L, T and X. The hubs are available in 1⁄2-in. NPT through 1 1/2-in. NPT and M20 through M50.
Available with ABB and Weidmuller terminal blocks, there is a choice of DIN rail mounted or panel mounted - as well as a choice of either screw clamp or cage clamp styles. Also available as an empty instrument enclosure.
Killark Electric's