Overhead & Underground
Aug 1st, 2017

Air Hammer Designed for Small Utility Drills
Utility tools: HammerHead Trenchless Equipment, a Charles Machine Works company, has introduced the new HammerHead Roughneck R200, the first 2-in. rock hammer engineered specifically for horizontal directional drilling applications. The R200, the smallest pneumatic rock hammer of HammerHead's Roughneck line, is designed to expand the capabilities of small utility drills - allowing 7,000- to 10,000-lb. class directional drills to effectively drill through solid rock as well as other difficult soil conditions.

The R200 rock hammer was made to be the most efficient system available to HDD contractors in communications, gas, electrical and water service installations. The R200 model drills a 3.125-in. pilot hole.
HammerHead Trenchless Equipment
---
Products for the Telecommunications, Power Utility and CATV industries
Utility supplies: General Machine Products (GMP) LLC, a subsidiary of Klein Tools, announces the launch of its newly redesigned website. GMP provides the development, prototyping and manufacturing of aerial cable construction equipment and tools, copper and fiber cable placing and blowing equipment, manhole and duct tools, installer's hand tools, warning signs, tents and tarps, winches, motor vehicle accessories, specialty hardware and related supplies.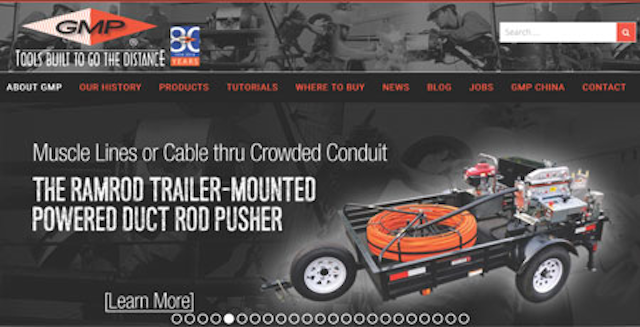 Offering fast and easy-to-find access to extensive product information and features, this newly redesigned website offers insight into GMP's cable placement products for the telecommunications, power utility and cable television industries. In addition to product information, the website also offers comprehensive training tutorials, company history background, company news and case history articles, where-to-buy options, blog access to industry-related topics and more.
General Machine Products (KT) LLC, a subsidiary of Klein Tools
---
Line Construction: Cable Reel Trailer Reel-EZ35
Budco Reel-EZ35 Cable Reel Trailer is engineered smarter so you don't have to work harder. It's cited to be the only cable reel trailer on the market that can load and unload a reel using the tow vehicle. The Reel EZ35 Trailer is perfect for handling 5-ft. diameter cable reels and more.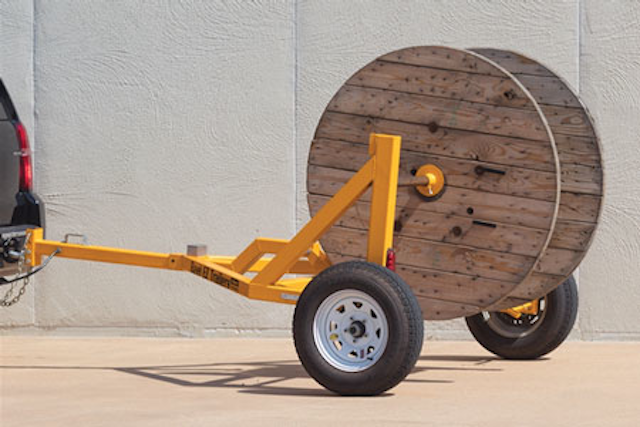 Reel EZ Trailers are engineered with production and savings in mind. The EZ35 Reel Trailer is a long-term solution that helps you meet and exceed the most aggressive company goals and expectations when it comes to material handling:
Increases production rates - faster reel loading/unloading
Less maintenance vs. similar hydraulic or electric trailers
Decreases chance of injury - safely loads/unloads reel
No additional equipment required to load - one person operation
Cost less and loads EZer vs. traditional reel trailers
Product Specifications:
Gross payload rating: 3,500 lbs.
Gross load limit: 2,750 lbs.
Reel diameter: 60 in.
Reel width: 60 in.
Trailer length: 112 in.
Trailer width: 88 in.
Trailer weight: 750 lbs.
Tires: 7.5 in. x 14 in. (6 ply)
Hitch style: pintle
Budco
---
Construction Equipment: Stringing and Underground Equipment
Condux Tesmec's new ARS610 puller tensioners and underground pullers, which will be on display at ICUEE 2017, provide more than 10 tons of pulling force and are for a wide range of underground pulling applications including power transmission and distribution cable installation, telecom and fiber.
The PT1250 and PT2450 puller tensioners provide features such as a negative self-acting hydraulic brake, an integrated hydraulic dynamometer, a hydraulic cooling system, advanced user controls and more.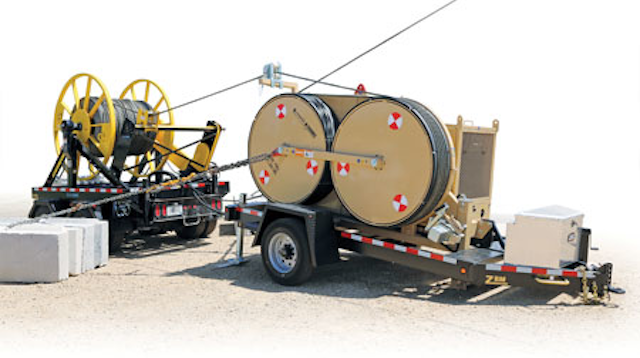 Condux Tesmec offers a full line of hydraulic pullers, tensioners, puller-tensioners and stringing blocks - cited to represent the safest and most reliable equipment in the power transmission and distribution industry. Condux Tesmec also offers one of the largest and most diverse selections of conductor blocks on the market.
A full line of productivity-enhancing conductor stringing tools and accessories is also available, including anti-twist rope, reel winders, reel stands and more.
Condux Tesmec
---
Line Construction: Tensioner Used on a Variety of Cable Pulls, Including Fiber
Sherman + Reilly, a Textron Inc. company, has released the Revolution Series T-1608 Bullwheel Tensioner. It delivers a maximum tensioning capacity of 8,000 lbs. through a pair of 60-in., five-groove bullwheels and is also designed to provide low-force tensions compatible with lighter weight conductors such as fiber optic cable. The T-1608's automatic tensioning system with sag assist maintains set tension and operates in pull-drive mode for easy rewinding of unused conductor, as well as forward drive for ease of bullwheel reeving.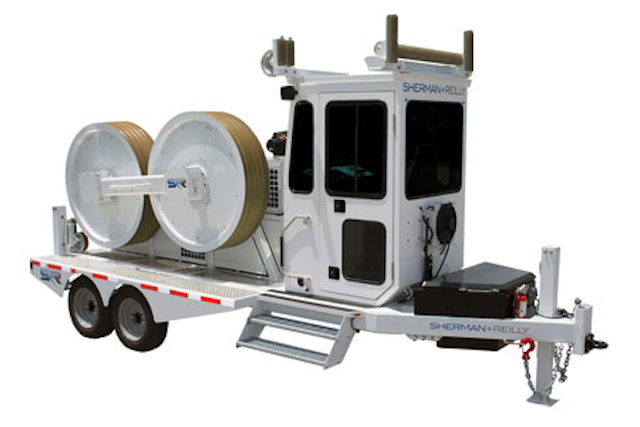 Working with Sherman + Reilly's CRS-96/67 and CRS-108/83 reel stands, the T-1608 can control tail-tension from within its Safe-Zone cab through hydraulic quick disconnect couplings located at the front and rear of the unit. The T-1608 is also capable of synchronized tensioning with up to three other Sherman + Reilly tensioners. This feature allows a single operator to control all tensioners simultaneously, a function particularly beneficial to bundled stringing operations.
Sherman + Reilly