Tools & Supplies
Aug 1st, 2017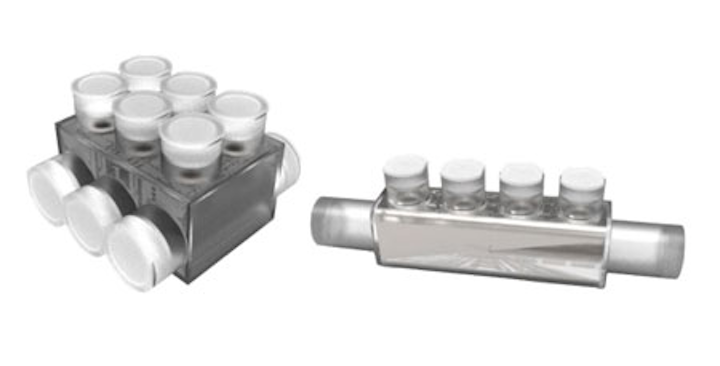 Multi-tap and In-line Splice Reducers UNITAP Heavy Duty Series
Utility tools: BURNDY, a manufacturer and provider of mechanical connector solutions to the construction, industrial, solar, OEM, energy, data center and transportation industries, announces the addition of a Heavy Duty Series of multi-tap and in-line splice reducers to the UNITAP line of insulated connectors. This expansion includes eight tap configurations and an in-line splice reducer available in both clear and UV-rated black insulation.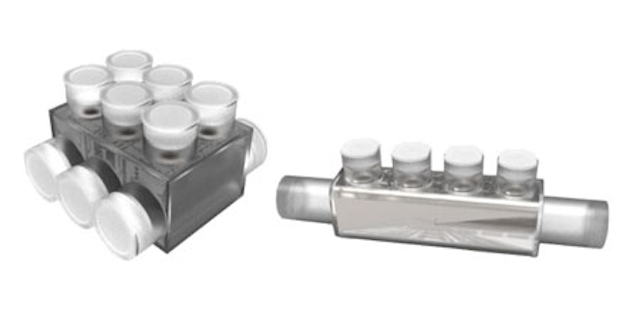 Each conductor port contains two set screws to increase the strength and performance of the connector, and will provide a reliable and robust connection in the most demanding applications. These new additions are listed to the UL Wire Connector Standard UL486A-486B and are dual rated for use with both aluminum and copper conductor from #2 - 750 kcmil.
BURNDY
---
Battery-powered Hydraulic Tools Next Generation
Utility supplies: Greenlee Textron Inc., a Textron Inc. company, offers its Next Generation battery-powered hydraulic tools. The design of these tools includes real-time communication technology, improved ergonomics, focus on optimizing the tool's center of gravity for the comfort of the worker, and a longer battery life supplied by an enhanced Makita platform.
Tools in the new Next Generation line include 6-, 12-, and 15-ton crimping tools, as well as cable and bolt cutters, and a 10K PSI pump with removable heads that have the capabilities to do both.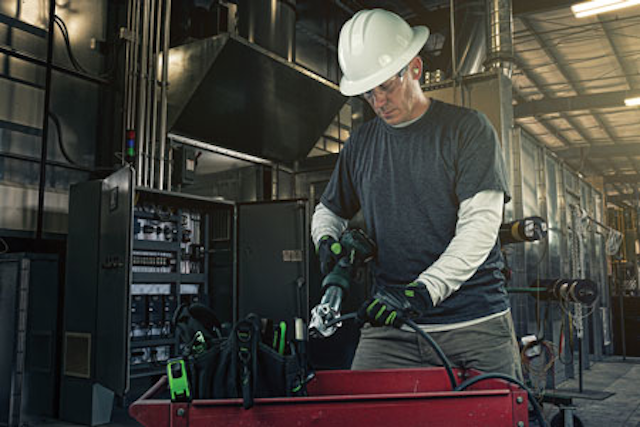 Each product in this new line of tools features Bluetooth communication technology. This allows electricians to wirelessly manage their tools, access tool history, monitor service timelines, and customize tool operation to suit their preferences. Each crimper is equipped with Intelli-CRIMP technology, a pressure sensor that monitors the crimping process, ensuring the correct amount of pressure is applied to each crimp. Crimpers equipped with this feature emit audible and visual alerts to notify the operator when a crimp is below specifications, giving assurance to the operator that the job was done right. Some tools are also equipped with Auto Retraction Stop (ARS), which retracts the ram just enough to prepare the tool for the next cycle, saving time and energy.
Greenlee
---
Affordable LinearX 3 Compression Kit Cut, Strip, Terminate Coaxial Cable
Cable cutter and more: The IDEAL LinearX 3 Compression Hip Kit is a cost-effective, all-in-one solution to connecting F-Type, BNC and RCA compression connectors on coaxial cable. Quality made in the USA, the kit contains the essential tools needed to strip, cut and terminate coaxial cables, and is housed in a durable hip kit that can be worn comfortably on a belt.
This best-value kit is expressly designed to meet the needs of installers of home theater, CATV, satellite and video surveillance systems, and features the LinearX 3 adjustable compression tool, the PrepPRO stripper for RG-59/6/6 Quad/Plenum coaxial cable, and the Data-T Cutter.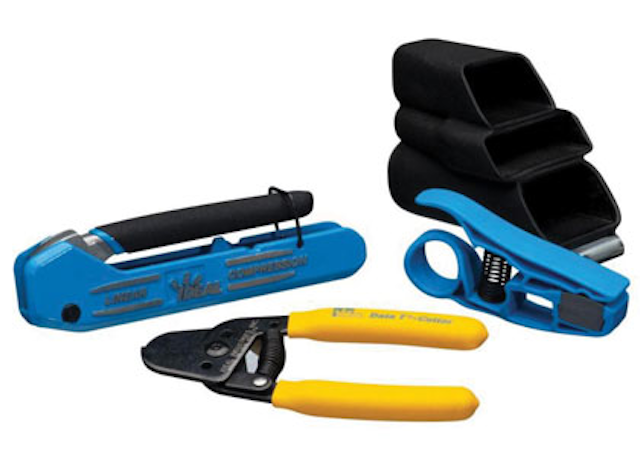 At the center of the kit is the LinearX 3 compression tool. It is manufactured using all metal components, resulting in a longer service life since there are no plastic pieces to wear out or crack. The zinc-coated, die-cast body and embossed logo are features typically found on tools costing several times that of the LinearX 3. The handle has a double dipped textured cushion grip for comfort and all-day use, plus has a shorter spread distance in the open position for a comfortable compression cycle for all users.
IDEAL Electrical
---
Formbuilder Mobile Solution Easily Creates Device-agnostic Electronic Forms
Utility supplies: Retriever's Formbuilder mobile solution easily creates device-agnostic electronic forms for mobile workers in a variety of industries, including utilities. Formbuilder is a part of Retriever's end-to-end mobility solution that enables better collaboration within organizations when creating, sharing or maintaining forms, such as:
Daily work logs
Job safety analysis
Check lists
Field data collection
Job procedures
Inspections & audits
Maintenance work
E-signatures
To increase accessibility, Formbuilder now allows multiple users to change, create and improve work forms on the web, dynamically adapting to the ever-growing business needs and more people being involved in each mobile work process. With the improved usability, new UX and UI, Formbuilder becomes a more user-friendly solution that requires very little training.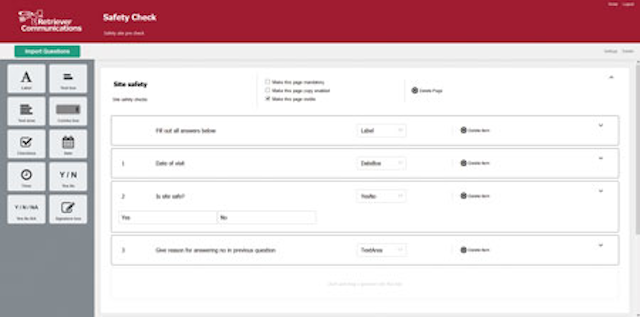 Other new Formbuilder features include:
Available on the web rather than on local drive / device;
Numeric range validation: Mobile workers receive instant feedback when entering numerical information as to whether or not it is within a good or bad range;
Inclusion of UTF-8 characters; and
Users can publish forms from Formbuilder to Retriever apps quickly and easily
Retriever
---
6000W Power Converter Rugged Design
Power management: Schaefer offers C/B5600 Series of 6000 Watt DC/DC converter, AC/DC power supply and battery charging products. A robust design with industrial grade components provides a highly efficient, space-saving solution for even the most extreme environments in industries such as transportation and railway controls and communications equipment (onboard and trackside), substation applications for DC Switches, CBTC and emergency lighting.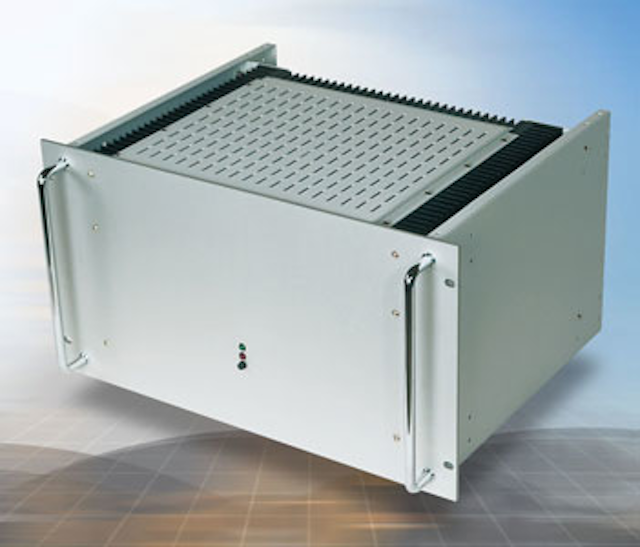 The C/B5600 Series offers a substantial lineup with more than 150 standard models, with requests for modifications also available. Five standard DC input voltage options span a range from 80-800 VDC. AC input models offer 1-Phase or 3-Phase as well as battery charging models. Single output voltages encompass a range from 5-400 VDC. All outputs are adjustable and fully regulated to 0.2 percent or better (load) and 0.1 percent (line).
The C/B5600 Series DC/DC and AC/DC models have remote sense capability and feature comprehensive protection circuitry and efficiencies are up to 95 percent.
Schaefer
---
Trenchless Gas Line Splitting Effective Methods
Utility supplies: TT Technologies offers a wide range of plastic pipe splitting heads developed by working directly with gas utilities to create optimum splitting head configurations. The designs are capable of splitting and replacing plastic gas service and main lines from 1/2 in. to 4 in. in diameter. The hardened heat-treated steel cutting blades are available in various designs and sizes to best match the type of plastic host pipe, as well as soil conditions. For service line splitting, the splitting heads are paired with a winch or other cable-pulling device. For main line splitting, a larger Grundowinch cable pulling system is used.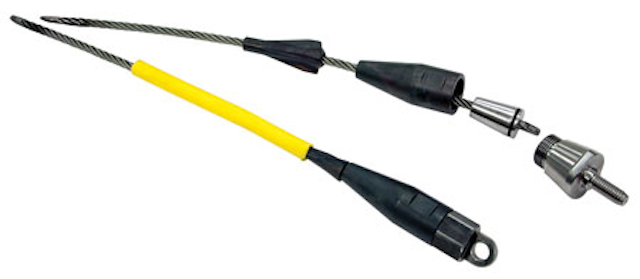 During the process, small launch and exit pits are dug at either end of the service or main line being replaced. A winch cable is rodded from the exit pit, through the existing line, to the launch pit. The splitting head configuration is attached and then pulled through the exiting line. An expander forces the split pipe into the surrounding soil.
TT Technologies
---
Utility Tools New Line of Accessories Engineered Specifically for Linemen
Milwaukee Tool's new Shockwave Lineman's Accessories include impact auger bits, 3-in-1 distribution and transmission utility sockets, and a 7/16 in. hex to 1/2 in. square impact socket adapter. Engineered specifically for the challenges of the construction and maintenance of utility lines, the new accessories are cited to offer superior speed, durability and efficiency.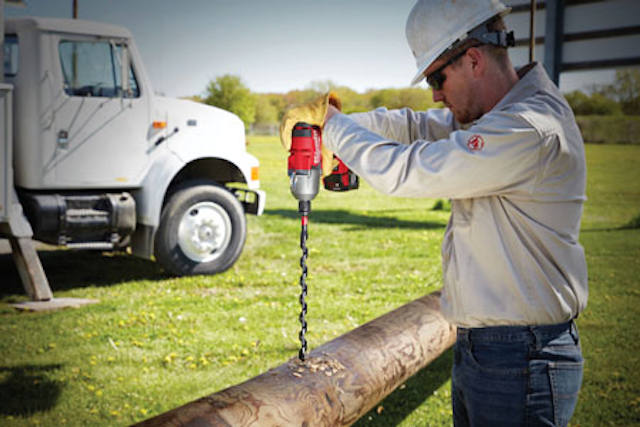 Working in all weather conditions both on the ground and in the air, linemen face a unique set of challenges different from many other professionals. Recent innovation in accessories for drilling and fastening into wood or steel utility poles has been limited at best, it's reported, and the new line of Shockwave Lineman's Accessories provide a more reliable and fast way to work, as well as the durability benefits of Milwaukee's Shockwave technology- the ability to absorb peak torque and prevent breaking.
Engineered for the power utility lineman to drill cleaner, faster holes in a utility pole, the Shockwave Lineman's impact auger bits feature a single spur design that scores the hole for a cleaner finish. An aggressive feed screw and cutting edge pull the bit through the material for faster drilling, while the optimized wide flute geometry ejects chips faster. A reinforced anti-friction PTFE coating allows overall smoother drilling and removal of the auger.
Milwaukee Tool
---
Snatch Block USA Made, Compact, Easy to Use
Safety equipment: Utility Solutions' Conductor Lift Snatch Block is machined from aluminum, not cast, and offers a high quality, USA made alternative for utilities and contractors. Lifting blocks, sometimes called snatch blocks, allow hotline crews to capture and control overhead conductors and maneuver them into place during construction, maintenance and repairs. Most blocks are heavy imported cast units that are difficult to operate, it's reported.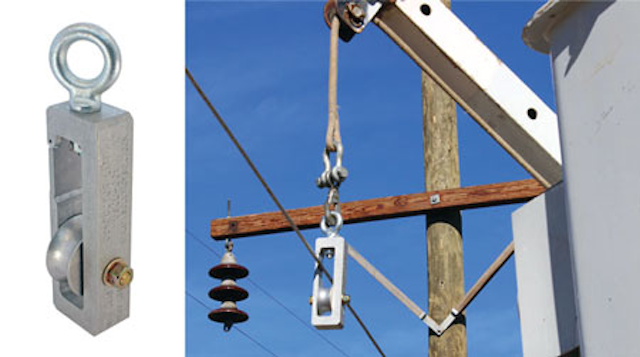 Despite weighing only 3 lbs., the pulley lists a 1,500-lb. maximum working load rating. In addition, the components have all been designed with longevity in mind. The lifting eye is 1.25-in. zinc-plated steel and the machined aluminum sheave, or roller, uses an oil-embedded bronze bearing.
The other noticeable feature of this Conductor Lift is the spring-loaded one-way gate. It allows a conductor to snap in easily without latches, locks or pins like most other blocks. The gate keeps the conductor captured until operated by a lineman and makes using the pulley easier and safer than conventional blocks.
Utility Solutions Inc.