Hydraulic material handling attachment protects utility crews installing telephone poles.
Without a doubt, man-handling drill pipe is historically one of the greatest risks of drilling. The solution is to mechanize the process, getting vulnerable human body parts away from heavy masses in motion. As often as not, a solution for one application benefits other markets--such as utility companies installing telephone poles. Jason LaValley's creation of the DECKHAND hydraulic material handling attachment not only demonstrates that point but underscores a new theme in mechanization: increasing worker safety can coincidentally increase productivity.
LaValley worked his way up from horizontal directional drilling (HDD) hand to superintendent of his own HDD crew. He witnessed broken hands and legs, sprains and bruising that others accepted as part of working on a drill crew. LaValley didn't. With all the technological marvels that made work more productive, he couldn't understand why someone hadn't designed a way to get drill hands out of harm's way.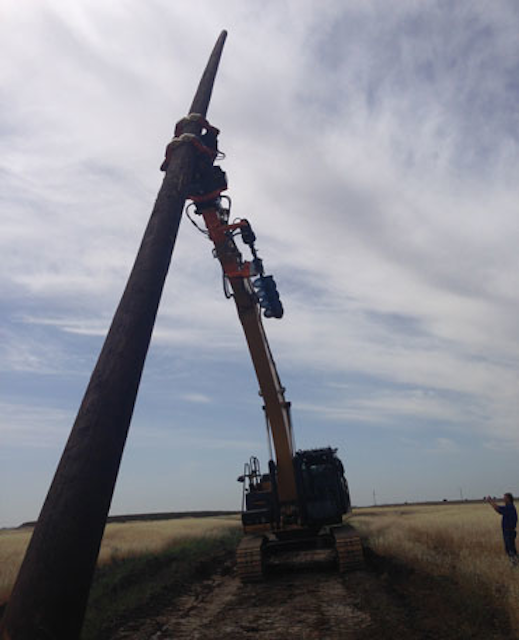 "Then one night my crew and I found ourselves on a particularly difficult job," LaValley said. "It was raining. There was mud everywhere. When a pipe rack support gave way, the pipe caught one of my crew member's legs. His ankle was crushed."
Although he had no background in design engineering, LaValley had grown up in the timber industry of northern Minnesota. His familiarity with mechanized timber harvesters inspired his conceptual sketch of a similar hydraulic attachment for pipe handling. The attachment's design would securely grasp pipe at any location along its length. It would precisely control the pipe's movement without requiring human contact, even carrying the pipe at any desired attitude as the carrier traveled from point to point, ensuring ease of transport. And he would make sure that while it was robust enough for massive loads, its grip pressure would not mar pipe.
It took LaValley two years to develop his prototype for customer use in the field. He named it the "DECKHAND," since it was literally stepping in for human deckhands during times of highest risk potential. It was a success almost immediately, recognized as a tremendous advance in drilling safety.
When the timber industry crashed after 2005, LaValley found an interested design engineer who improved his concept, calculating induced loads and perfecting the electronic finesse of the attachment's grip.
The most recent version is in use by a utility company to install telephone poles up to 90 feet in length on mountainous terrain. Compared to installation by helicopter, the DECKHAND is completing the job at a fraction of the cost. In regard to safety, there is no comparison.
A similar job by a contractor who is not using a LaValley DECKHAND demonstrates how many instances of bodily interaction required during a helicopter installation and their inherent injury potential can be eliminated using a DECKHAND.
Several members of the telephone pole installation crew were at the pole trailer. They harnessed each pole for helicopter transport by hand, relying on the stability of the tubular stock while they worked on and around it. Like pipe, poles are roll-prone. Each time a pole is removed, a stockpile's dynamics change. Experienced workers have seen enough to anticipate how the pile can behave--most of the time--provided they are not overtired, distracted or subjected to the occasional equipment failure.
The crew moved aside, wary of the pole's movement as it was hoisted. Cables offered little means of controlling its behavior, but the experienced pilot deftly accounted for its sway as the pole was borne aloft.
As the helicopter slowed to hover over the insertion point, the pole swung slightly forward, bringing it up to a man basket extending from a utility truck's boom. He reached his hands out to the pole, while on the ground, first two workers and then a third rushed in to arrest the pole's movement and guide it into the hole. Although the helicopter was a good distance above them, all three workers turned their heads away from the task in hand, protecting their faces from dirt and debris from prop wash.
In contrast, the Rocky Mountain customer currently using DECKHAND simply takes up a pole from the trailer using the positive grip hydraulic attachment. The pole trailer is not able to get to each hole, but the excavator can track back and forth across the steep, rough terrain, repositioning the pole as necessary while carrying it past various obstructions such as trees, fences and buildings.
The operator controls all DECKHAND functions from the comfort and safety of the excavator cab. In addition to the excavator's 360-degree rotation capability and the reach of its articulated boom, the attachment itself provides additional dexterity, rotating up to 360 degrees, tilting 0 to 19 degrees along the main beam, and allowing lateral adjustments from the attachment point up to 5 1/2 inches.
After tracking to the insertion point, the DECKHAND operator places the pole in its hole, safely holding it in place while crewmembers secure it. Human bodies never approach the pole to harness it, guide it or keep it from swinging.
Not only is the crew safer, but they also aren't sidelined waiting for ideal weather conditions because, unlike a helicopter, an excavator with a DECKHAND can work just as well in wind, rain, mud, ice and snow.
Like many of today's technological innovations, LaValley's DECKHAND proves that increasing worker safety often leads to increased productivity as well.
For more information about LaValley Industries' DECKHAND for utility construction jobs including utility poles, stringing, stockpiling, moving and positioning water, sewer and gas pipe, visit www.lavalleyindustries.com.
More Utility Products Current Issue Articles
More Utility Products Archives Issue Articles