Tools & Supplies
Aug 1st, 2015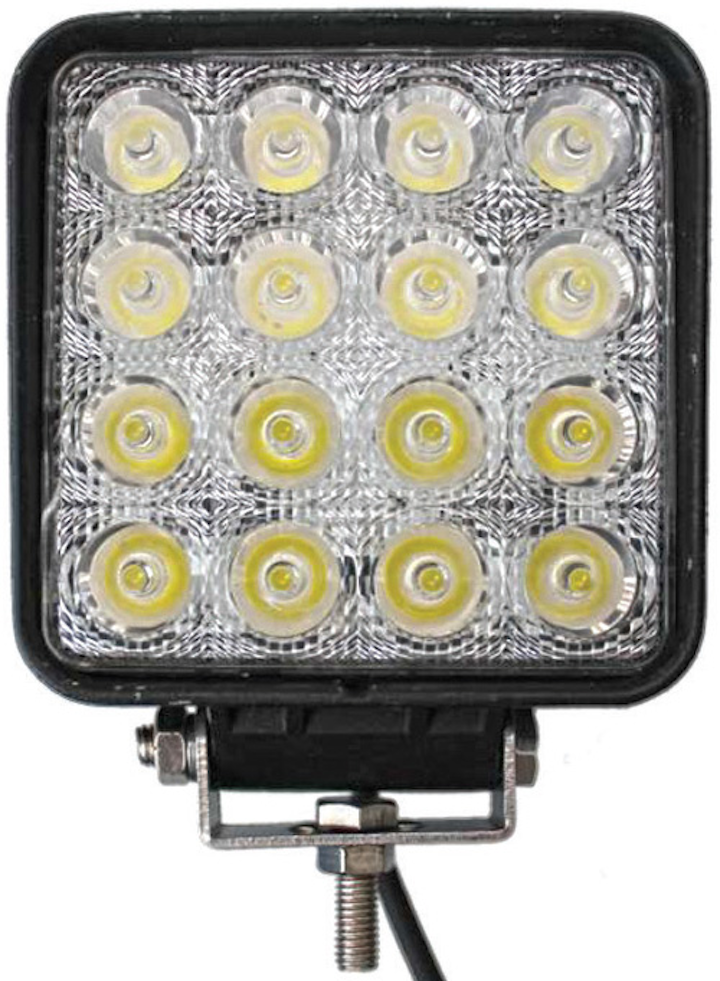 Light the Way With Illuminator SYLED2880S Work Light
Superior Signals Inc. (SSI) is now offering the Illuminator SYLED2880S Series LED work light. This heavy-duty 12-24 volt light features 16 LEDs and provides 2,880 lumens of light. The flood beam pattern with a 60-degree viewing angle will easily light up your space with an output of 48 watts. The SYLED2880S has a PMMA lens and is reverse polarity protected. This work light also features a sturdy die-cast aluminum housing, stainless steel mounting hardware, and can effectively operate in temperatures of -40 F to 140 F.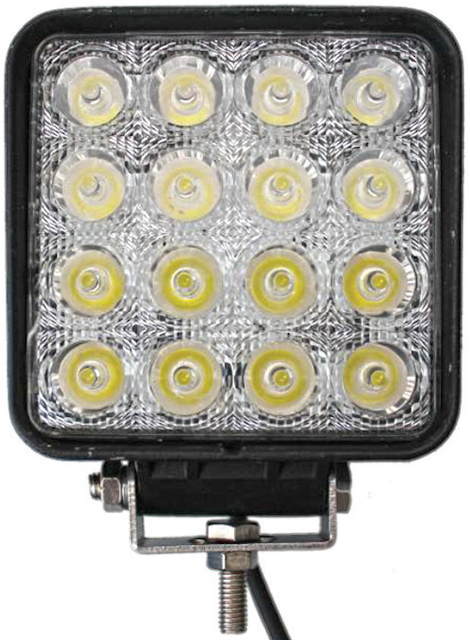 Superior Signals Inc. (SSI)
---
Model GXL 4021 LED Work Light Is Ultra Bright, Tough
With 4,500 maximum lumens emanating from its compact aluminum housing, Golight's new Model GXL 4021 LED work light delivers more lumens per square inch and handles up to 40 Gs. The light's fascia measures 4 1/2 in. wide by 4 in. tall, has a depth of 3 1/2 in. and comes with a 2-in. stainless steel mounting bracket. The GXL 4021 represents the company's expansion of its permanently mounted, manually adjustable LED work lights and is the smallest of the four lights it now offers in that category.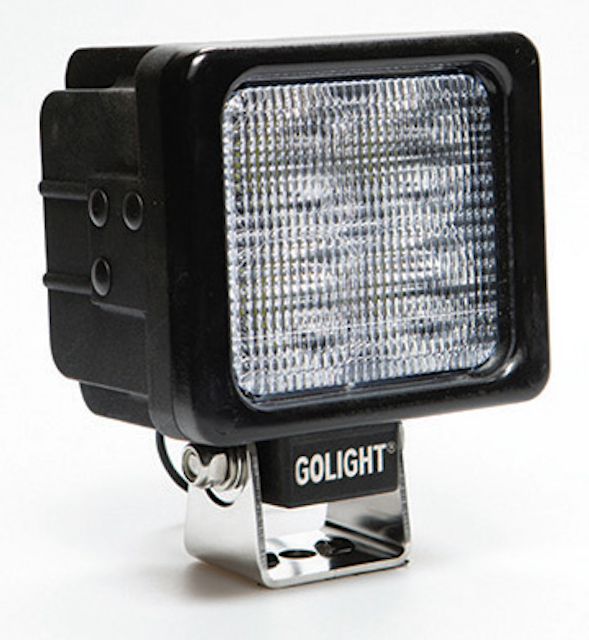 The light's small size and illumination power is a byproduct of its space-saving LED cluster design, combining four clusters of four high-powered LEDs to generate a maximum output of 4,500 lumens. The raw power of the light's 16 LEDs is controlled through the use of three rugged yet versatile polycarbonate lenses.

Golight Inc.


---
Cable Cutter With Assist Handle Battery Operated
BURNDY, a manufacturer and provider of connector and tooling solutions, offers the latest addition to its PATRIOT line of battery powered installation tools. The PATCUT4CUAL-LI 11-ton, 18V lithium-ion battery powered cable cutter accommodates large copper and aluminum cables up to 4.00 in. in diameter, typically seen in underground environments for power and communication applications.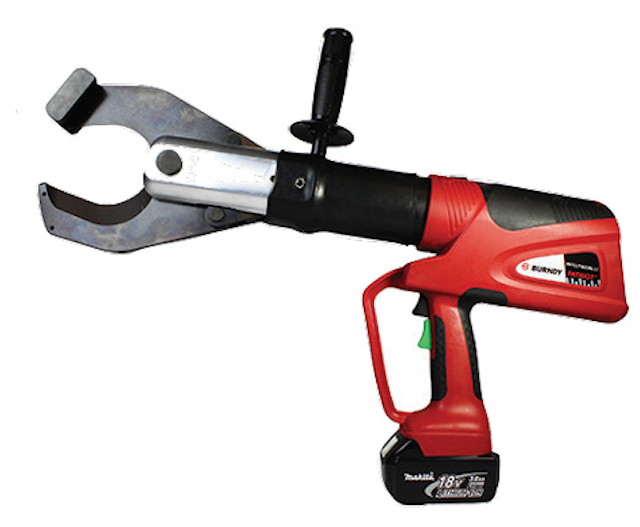 Built on the BURNDY INFINITY DRIVE transmission platform, the PATCUT4CUAL-LI offers a clean and consistent cut every time. Designed for reliability and long-term use, the extra wide opening cutting jaw has hardened steel blades featuring a scissor-action style jaw, enabling the user to lift cable off the ground. An attached blade guide also maintains proper blade alignment during use.
A multi-position assist handle is included to help with balance, comfort and operator control. An over-molded grip area helps facilitate better, more secure handling.

BURNDY


---
T-Strippers Wire Strippers
IDEAL first introduced its T-Stripper wire strippers in 1957, selling more than 10,000 pairs the first day they were available. The original T-Strippers were created by an engineering team at IDEAL in response to the trend to insulate electrical wire with thermoplastic. Unlike the fabric or rubber that previously was used as insulation, thermoplastic could not be removed with a traditional wire knife. The T-Stripper was designed specifically for the more challenging thermoplastic, hence the T in its name. Over the years IDEAL has continued to upgraded the T-stripper, adding ergonomic and versatility features to improve performance and comfort, while retaining its original quality.

IDEAL


---
Contractor Series 6-Ton Li-Ion Battery Platform IN-LINE Crimping Tool
BURNDY has announced its Contractor Series 6-Ton Li-Ion battery platform IN-LINE crimping tool that combines performance with an economical purchase price. The Contractor Series tool maintains the quality and reliability that BURNDY is recognized for and offers better than industry average crimp speeds.
Fixed, scissor-action crimping jaws are available in three standard configurations—each accepting standard W and X style die sets. Features include 350 degree head rotation, ergonomic balance, non-slip grip area, safety-lock feature and an audible pop off indicating a proper crimp completion.
As with all BURNDY battery operated tools, the Contractor Series is powered by Makita 18V battery technology. Supplied with the tool is one 3.0Ah battery and a charger. BURNDY offers a one-year warranty on the Contractor Series of tools.
BURNDY


---
Cable Stripping Tools Provide Safe, Quick Alternative to Blades
Cable stripper: Greenlee, a Textron Co., has released the GTSD-1930 Drill Mounted Saber Tool, the newest addition to Greenlee's Saber stripping tool line. Lacerations are a leading cause of recordable injuries on jobsites, and the GTS-1930 and GTSD-1930 Saber stripping tools are safe and quick alternatives to blades when stripping cable. The Saber line is developed and designed to offer users a wide variety of features to ensure they complete their work quickly, safely and with precision.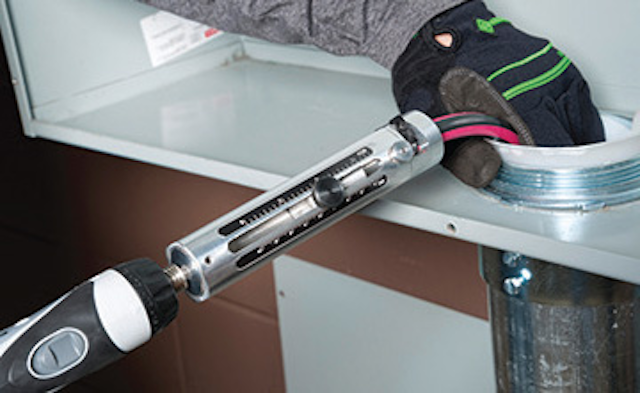 The GTS-1930's laser-etched depth stop and GTSD-1930's self-contained depth gauge allow precise stripping of wire without the danger of exposed blades. The spring loaded retention pin allows the user to simply pull the pin and insert specific bushing sizes.
Greenlee Textron Inc.


---
Static Discharge Grounding Reels for Utility Service Vehicles
Utility tools: KH Industries, a US manufacturer of industrial grade portable power and lighting products, has added the RTX Static Discharge Grounding Reels to its ReelTuff Cord Reel product line. The RTX Static Discharge Grounding Reels electrically connect equipment to the ground, which prevents equipment from becoming sufficiently charged to cause a static spark that could ignite flammable vapors. RTX Static Discharge Grounding Reels are for utility maintenance and service applications including exterior mounting on utility trucks, maintenance shops and fuel tank static grounding.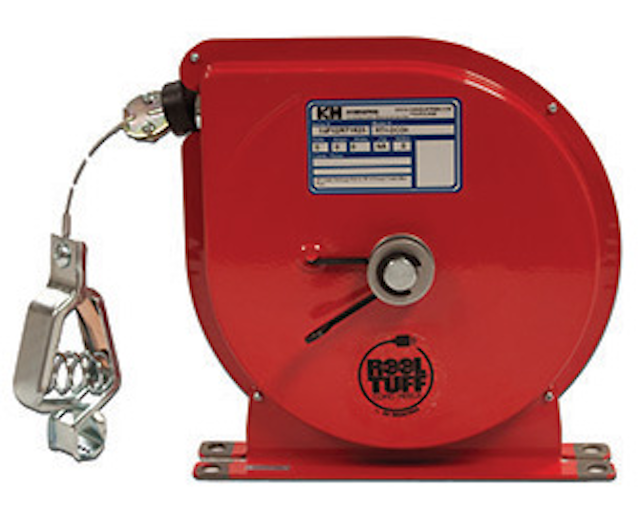 RTX Grounding Reels are built to NEC standards and feature all steel construction, corrosion resistant red powder coating, stranded steel cable, 100A grounding clamp, rubber ball stop, and constant spring tension to keep the cable from becoming tangled.

KH Industries


---
Strap Wrenches Lightweight Aluminum
Utility tools: Lowell Corp. has added four new lightweight aluminum models to its line of strap wrenches. Designed for use in industrial, construction, water and high line utility work as well as in home applications, the tools make it possible to turn any shape without scratching, denting or crushing.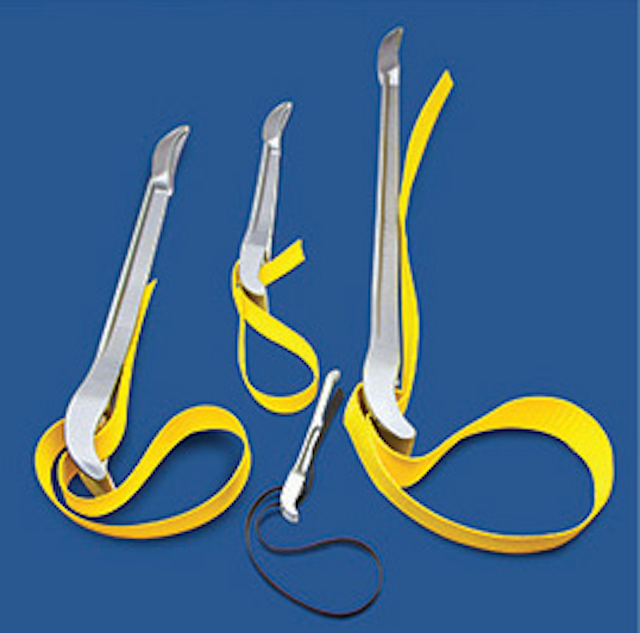 Industrial and construction uses include loosening and tightening oddly-shaped and/or frozen fittings, machine and vehicle oil filters, small handwheels, PVC pipe, knurled fasteners and knobs, and turned shafts. Around the home, the tools are for plumbing repairs, loosening vehicle oil filters and more.
Specs for the four new wrenches include handle lengths that range from 6 in. to 24 in. Strap lengths range from 17 in. to 54 in. and custom lengths are available. Capacities range from 2 in. to 12 in.; torque limits range from 20 lb-ft to 330 lb-ft; and weights range from 1/8 lb. to 2 5/8 lbs.

Lowel
More Utility Products Current Issue Articles
More Utility Products Archives Issue Articles