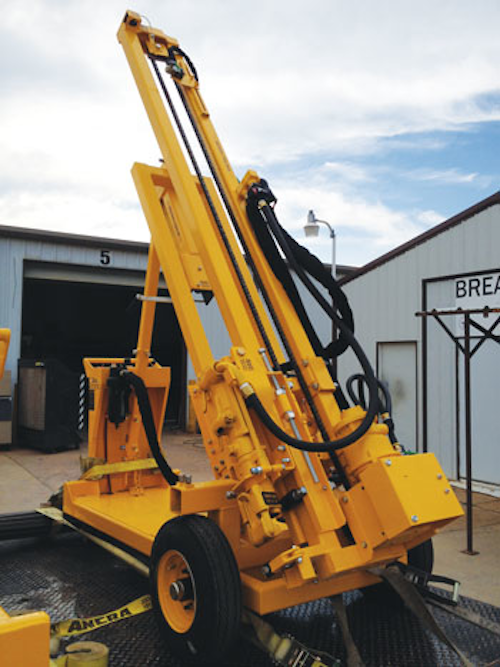 By Randy Stevens
The Trinity Hills Wind Farm spans 33,000 acres some 90 miles west of Dallas and generates enough electricity to power more than 67,000 homes per year. But in mid-2014, two years after operations began, the farm ran into an issue that disrupted its steady flow of clean, renewable energy. Foundations began cracking on some 50 of the 90 wind turbines, which can occur because of design faults or environmental issues. Fortunately, the concrete damage was rectifiable without needing to replace the foundations' pedestals and aprons. It still presented a daunting project, however, that required drilling thousands of holes at 90-degree and 45-degree angles, making accurate drilling by hand nearly impossible. And time was of the essence because the wind turbines couldn't operate during repairs, impacting the farm's energy production.
In July 2014, the contractor was tasked with drilling 17,000 to 20,000 holes for this repair project. That's when the company contacted E-Z Drill to develop an accurate, efficient drilling solution.
E-Z Drill designed its Cart Mount Drill for maximum productivity on this project. The drill was mounted on a 3-foot by 5-foot cart and featured a 7-foot-tall feed system that rotated 90 degrees, ensuring it could drill any position along the way, including a 45-degree angle. Its hand crank system allowed the operator to easily raise and lower the whole feed system and made it possible for the operator to drill horizontally. The unit was capable of drilling 5/8-inch to 2-1/2-inch diameter holes as deep as 5 feet to achieve the required depth for repairing the wind turbine foundations. Downtime for servicing also needed to be minimized and E-Z Drill incorporated several features to accomplish this. In one example, the operator could easily replace worn drill bits using its quick-release bit guide and a 3/4-inch wrench.
The drill's maneuverability and stability was key for continuous work on the large foundations. Three pneumatic wheels and two steel caster wheels ensured maximum maneuverability by allowing the operator to easily push and turn the unit into position along the concrete aprons that encircled the towers' pedestals. The adjustable support arm that extends from the cart's frame locks into place, which stabilized the unit while it drilled at challenging angles into the foundation. Once the holes were drilled, rebar and epoxy were inserted into the holes, tying the concrete foundations together. This stabilized the foundation and prevented the rebar from separating from the concrete.
Without the Cart Drill, the contractor would have relied on inefficient hand drills to create several thousand holes. These drills are inconsistent for angled drilling, which could delay the project if the holes weren't properly aligned. Holding the drill for extended periods is physically exhausting for the operator, which could significantly impact productivity. And the hand drill would have required a drill extension to achieve the proper drill depth, creating another problem for the operator.
E-Z Drill's Cart Drill is an example of how innovations are created--listening to customers' needs and developing a product to meet their challenges head-on. Despite having to drill several holes at various angles, the contractor finished the project within 3 1/2 months. And shortly after the repairs were finished in early November 2014, the wind farm was back to operating at full capacity, feeding clean, renewable energy to the homes and businesses in the region.
About the author and company: Randy Stevens is E-Z Drill's vice-president of sales and marketing. E-Z Drill offers contractors equipment concrete drilling and doweling equipment that are a faster, more accurate and safer alternative to handheld rock drills. The company manufactures slab rider, on-grade and equipment-mounted drills with as many as five gangs as well as vertical utility models and concrete drilling accessories, such as dust-collection systems. E-Z Drill also can custom design and build automatic drill systems for specific jobs. For more E-Z Drill information: 800-272-0121; sales@ezdrill.com; www.ezdrill.com.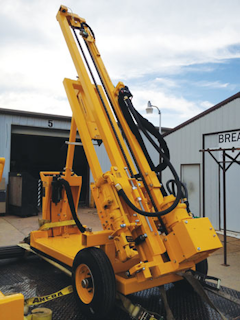 E-Z Drill's Cart Mounted Drill provides maximum versatility in drilling for optimal reach in repairing wind turbine foundations.
More Utility Products Current Issue Articles
More Utility Products Archives Issue Articles