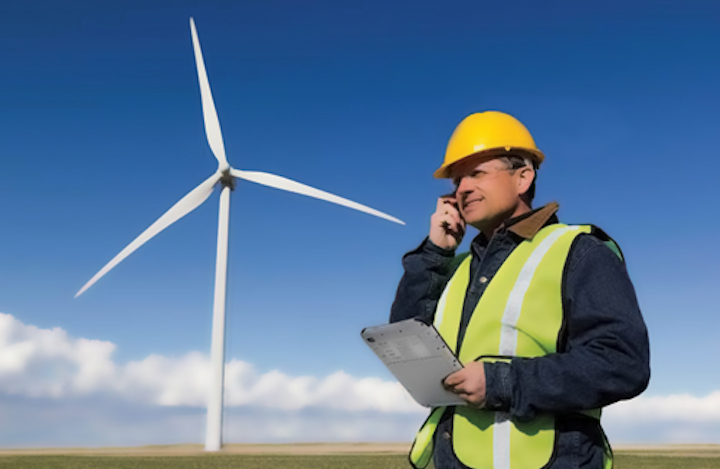 How rugged mobile devices are transforming the utilities industry
By Jo Satili
From shifting power generation sources to increasing government regulations and extreme weather conditions, the utilities industry is facing unprecedented challenges. While utility workers have spent their careers working in extreme environments, today's workers are under greater pressure than ever to meet their companies' productivity and customer satisfaction goals. In order to meet these evolving demands, the utilities industry is adopting revolutionary, purpose-built technology to transform how their workforce operates on the job.
Today, many utilities are equipping their employees with rugged mobile devices, technology designed to optimize productivity while standing up to the various rigors of field work. Whether workers are responding to gas leaks, conducting maintenance at the top of a windmill, or surveying infrastructure in a remote location, rugged mobile devices enable utility workers to efficiently tackle the jobsite while transmitting data such as work orders or other digital records to headquarters in real time.
Using devices like the Toughbook T1 or L1, work obstacles are no longer a match for utilities workers, as this transformative technology is enabling them to conquer evolving demands of the job while maintaining optimized productivity for their organizations. Here are some key ways the versatility and durability of rugged mobile devices are supporting the disruptive nature of the utilities industry.
To meet the industry's changing needs, utility companies are adopting revolutionary, purpose-built technology to transform how their workforce operates on the job.
Innovating with Evolving Government Regulations
Faced with increasing government oversight, utility organizations are adopting new technology to comply with an evolving regulatory environment. As mobile technology is becoming increasingly common within the utilities industry, in-vehicle devices are required to be mounted securely to mitigate the risk of distracted driving. Businesses must seek alternative devices as standard laptops no longer comply with today's regulated environment.
Field engineers, especially, rely on keyboard functionality to map facilities and underground infrastructure while protecting the electrical grid from outages. Multi-functional devices, like those offered in a 2-in-1 form factor, can be used to share actionable intelligence in transit and in the field, ensuring workers are in line with new regulations. In transit, these devices provide turn-by-turn navigation signals, geographic information system (GIS) functionality, and connectivity to communicate real-time routing safety audits with dispatch.
The device's detachable tablet can easily be removed from a vehicle's dashboard and used to accurately map and survey infrastructure when in the field. The tablets are purpose-built to withstand all weather conditions, so regardless of severe winds or heavy downpour, they provide the connectivity workers need to capture and transmit data from the field. Because workers don't have to return to their vehicles to record data or be concerned about weather damage, rugged mobile devices are not only allowing workers to comply with evolving regulation but also boosting workplace productivity and profitability for utilities.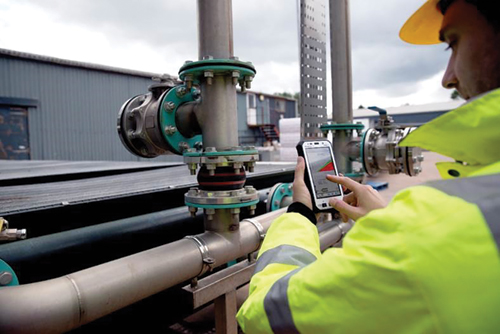 Rugged mobile devices are not only allowing workers to comply with evolving regulation but also boosting workplace productivity and profitability for their organizations.
Accelerating Renewable Energy Production
Sustainable energy is gaining momentum across many industries. As consumers demand more visibility into how they produce and consume energy, these companies are investing heavily in renewable energy initiatives. According to a recent Panasonic survey, renewable energy is one of the most highly adopted disruptive technologies that's making an impact on the world today. However, regardless of this high adoption rate, less than one in three energy and utility companies (the ones who are actually building energy sources) believe they will be able to increase renewable energy to meet consumer needs. Utilities can no longer simply "keep the lights on" for their customers; they must reinvent processes to improve overall operational efficiency in order to meet this new consumer reality. Companies not only have to rethink business strategies but must also consider how workers are equipped to handle new challenges that were not part of the equation decades ago.
As a result, rugged handheld devices are no longer merely nice-to-have gadgets but a critical investment that workers need to adapt to new job expectations. Whether climbing a windmill or traveling to a remote solar farm, workers require adaptable, portable devices to efficiently meet rising demand for new energy sources. Regardless of network coverage or physical environment, rugged mobile devices are revolutionizing how workers communicate on the job while limiting the need to return to base to record information. By reducing production time and human capital, rugged mobile devices are accelerating the construction of reliable renewable energy sources and ultimately helping the utilities industry ensure long-term success through customer satisfaction.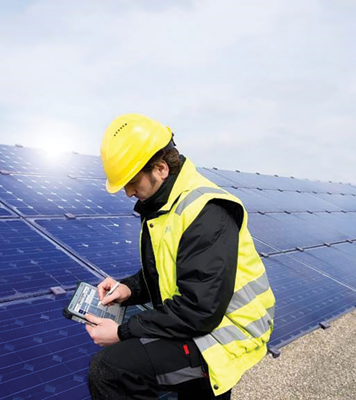 Transformative devices like the Toughbook T1 or L1 are enabling utilities workers to conquer evolving job demands while maintaining optimized productivity for their organizations.
Maintaining Public Safety during Unforeseen Challenges
Utility workers are often responsible for responding to and addressing malfunctions to ensure sustained access to vital public resources. Whether responding to gas leaks or fixing power lines, time is of the essence. In Puerto Rico, for example, ten months after Hurricane Maria electrical outages continue to cause inconsistent water quality throughout the island. While power outages are expected of any major storm, cities must have the infrastructure in place to restore services that power basic needs of everyday life.
With the development of new technology, rugged handheld devices permit workers to respond rapidly to power outages and effectively plan for the unforeseen challenges of tomorrow. For example, detecting invisible power facility malfunctions before they happen can be critical to keeping the publics' lights on tomorrow. Thermal imaging built into rugged mobile devices can process accurate images and transmit data to workers' devices to reveal the exact location of needed repairs.
Prior to the development of innovative handheld devices, crew members were required to lug around heavy tool boxes filled will multiple tools to fix utility malfunctions, ultimately prolonging response time and leaving the public without access to resources. By streamlining the entire ecosystem of devices needed to operate on the job, rugged mobile devices allow workers to optimize productivity and mitigate imminent risks to public safety and worker safety before and shortly after they occur. UP
The Author:Jo Satili is a national sales manager for Panasonic. Learn more at panasonic.com.