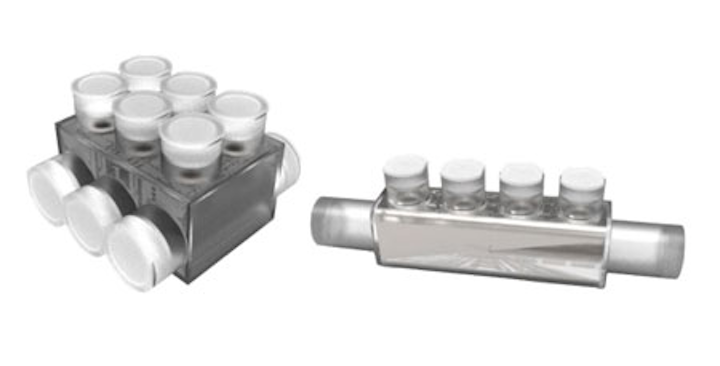 Long sleeve Henley
Tyndale's new Versa Long Sleeve Henley (J06MT) fits and feels like your favorite shirt — and even looks good enough to wear out after work. It's constructed with lightweight, 100% FR cotton, so it's breathable on hot days and light enough to use as a layering piece when temperatures are cooler.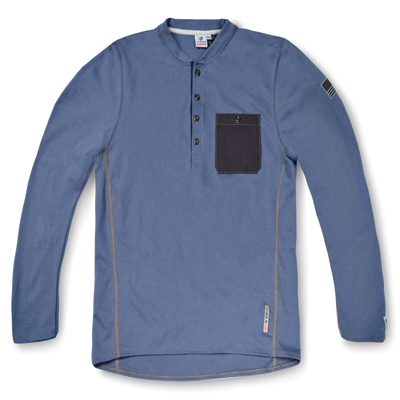 High-stress areas like side-seams and shoulders are cover-stitched in contrasting thread for extra durability and a touch of style — and the same goes for the contrasting left pocket, secured with a button to keep your essentials close at hand. The Versa Long Sleeve Henley is proudly Made in the USA by Tyndale, and features a signature American flag patch on the left sleeve. It provides 8.9 cal (CAT 2) arc flash and NFPA 2112-certified flash fire protection.
Tyndale
www.tyndaleusa.com
Reusable spray device for Quick-Mark™ paints
With a few easy twists, the Quik-Tap reusable spray device allows you to get more paint out of each can, with easy disposal of empty cans in any recycling or waste bin.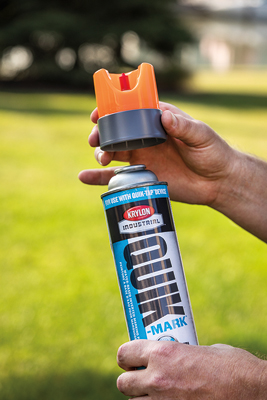 Punctured, empty cans minimize the need for hazardous waste disposal for you and your team. Quik-Tap is ready to use in seconds and lasts for up to 130 cans. It works with the same Tallboy™ Quik-Mark paint, marking wand and Glove Grip™ cap. It maximizes productivity, minimizes downtime and reduces supply runs back to the truck.
Sherwin-Williams/Quik-Tap
www.quik-tap.com
2-in-1 slit and ring tool for fiber optics
The patented MS-326 microduct fiber cable slit and ring tool is designed to provide easy access into fiber optic cables specifically designed for use in microducts. These cables have a thin wall jacket design that is difficult to open without causing damage to the buffer tubes inside, but the MS-326 addresses that concern.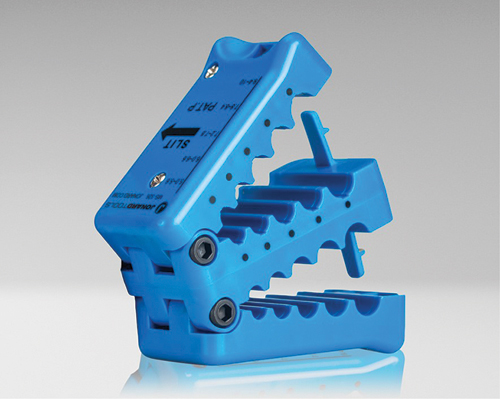 The tool will also slit open thin wall buffer tubes. Building on the popularity of Jonard Tools' MS-6 and MS-26 fiber optic mid-span slitting tools, the company has incorporated a ring feature into the MS-326 making it even more versatile. It consists of five precision slitting grooves and five ring grooves ranging in size from 5 mm to 10 mm. Groove Sizes: 5.0-5.6 mm, 6.0-6.6 mm, 7.2-7.8 mm, 7.8-8.4 mm, and 9.4-10.0 mm. To use, open the appropriate side of the tool, select the correct groove size, place the cable in the tool and close to lock in place. To ring: rotate the tool 3-6 times in direction of the arrow. To slit: use markings to align cable, pull in direction of arrow. Open the tool and remove the cable. If slit, peel the jacket along the slit lines.
Jonard Tools
www.jonard.com
Eliminate wire basket waste
Cope, an industry leader in cable management solutions, announces the release of the new Wire-Basket Quick-Latch®, designed to reduce labor in the field. Though the typical Cope Wire Basket design comes with a pre-attached splice plate, multiple field cuts or manufacturing fittings can leave perfectly usable pieces of Wire Basket without any splice bar.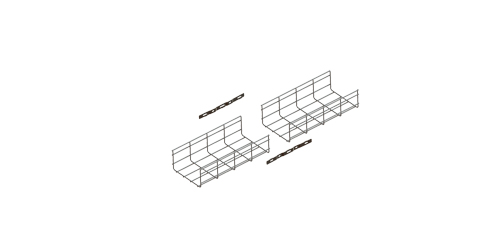 Using the Quick-Latch is a great way to utilize these pieces and save money, labor, and time when splicing these parts together. Technicians must first ensure each end is cleaned of burrs, then place two wire baskets up against each other. They can then slide the Quick-Latch on one end and, with the use of a pair of pliers, crimp down the hooks. No additional hardware or tools are required on the job site, and the Quick-Latch's one-size-fits-all design reduces confusion and the need for additional parts.
Cope
www.copecabletray.com
Crimping tools
BURNDY® introduces the PATRIOT® PAT444S Series of Dieless C-Head crimping tools. An extension of the PATRIOT® Battery Actuated Hydraulic Crimping Tool line, the PAT444S is an 11-Ton, C-Head dieless tool made to cross over both utility and commercial/industrial applications. Built off of the existing PAT644 crimping tool platform, the PAT444S features a 355° rotatable C-Head design allowing for both easy access and more flexibility when working overhead and in areas of limited access.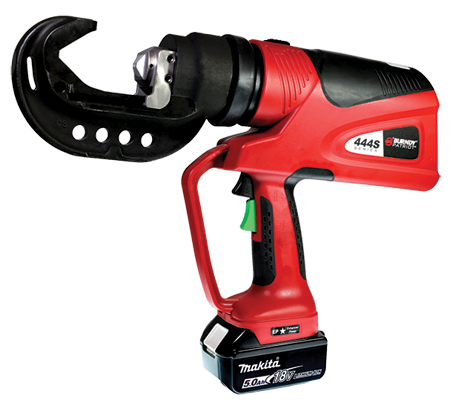 The dieless, nest and indenter crimping profile offers a large range taking capability, eliminating the need for carrying multiple die sets to the job site. Featuring the robust and reliable INFINITY DRIVE® transmission, a patented high-speed hydraulic pump system, and protected electronic circuitry, the PAT444S retains the industry-leading performance, speed, and dependability expected from the PATRIOT line of rugged and reliable tools. Large on/off triggers and hand grip area enhance the user experience, with or without gloves.
Burndy
www.burndy.com
Thermal imaging cameras for your smartphone
Whether you need to inspect electrical panels, find the source of HVAC failures, or discover hidden water damage, FLIR ONE Pro cameras offer the measurement tools and outstanding thermal resolution you need to help you finish the job fast.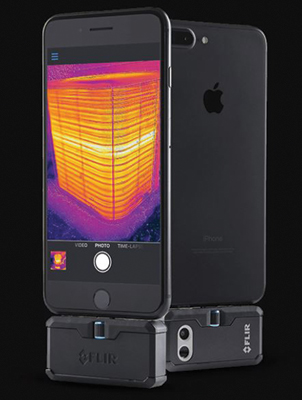 Both the FLIR ONE Pro and the new FLIR ONE Pro LT have features you need to identify problems quickly and ensure you've repaired them correctly. Enhanced resolution through VividIRTM improves thermal sensitivity and image quality, while FLIR MSX® technology adds finer details and perspective to images. And, both models have the FLIR OneFitTM connector, which extends up to 4 mm to attach the device to your smartphone through many popular phone cases. Features thermal image resolution of 4,800 pixels, temperature measurements up to 120°C (248°F), the thermal sensitivity needed to detect temperature differences down to 100 mK, and VividIR thermal resolution enhancement for improved sensitivity and image quality.
FLIR
www.flir.com
Vehicles and Accessories
Telehandler with horizontal boom transfer
The Pettibone Traverse T944X is the industry's only new telehandler with an extendable, traversing boom that moves loads by traveling horizontally. Up to 70 inches of horizontal boom transfer allows users to precisely and safely place loads at full lift height through tight openings without having to coordinate multiple boom functions.
With the Traverse, the specified lift height of 44 feet, 6 inches is nearly identical to the 44-foot landing height. This stands in contrast to a traditional fixed boom pivot, where the true landing height is generally several feet less than the advertised lift height, as operators must account for withdrawing the forks out of the load with enough rearward travel for the fork tips to clear the landing zone. The traversing boom allows for maximum forward reach of 35 feet, 10 inches.
Pettibone
www.gopettibone.com
Grip pads for multiple uses
The new, patent-pending BIG GRIP outrigger pad is ideal for multiple uses in the field. When used face down, the outrigger pad bites in ice, mud, snow and other harsh conditions to reduce slipping of equipment in poor field conditions.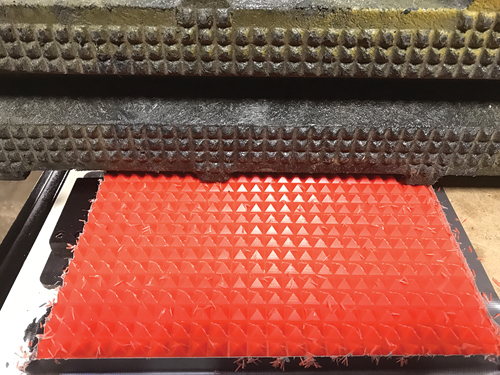 When the BIG GRIP pad is used face up, the teeth bite into cribbing, dunnage or another BIG GRIP pad to safely get your equipment set up level. This should only be used on vertical pressure with the cribbing application.
Outrigger Pads
www.outriggerpads.com
21st-century console
Adrian Steel's Tech Desk makes working on the road easier. For operators to keep business flowing smoothly they need a console that will do more than organize paper. They need a console that supports technology in order to grow business.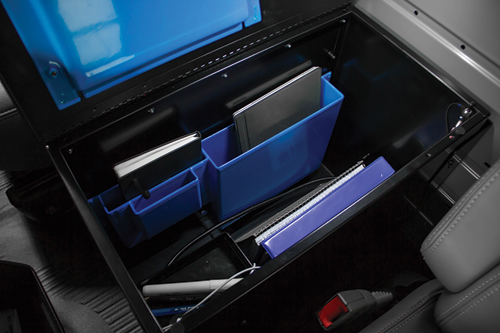 Features include: non-slip lid tray ensures cell phones stay in place and do not slide off onto the cab floor; interior LED lights make it easy to see stored electronics in dark cabs throughout the day and night; ignition-triggered USB provides power to your phone and other electronics while giving you peace of mind that it will not drain your truck battery; internal organization keeps all of your electronics organized for greater efficiency in the cab; and a lockable lid ensures all of your electronics are safe and secure when you are away from the vehicle. An easy access clipboard located on the outside of the Tech Desk allows for fast and easy note taking. Currently available for Chevrolet Express/GM Savana, with more vehicle model versions to come.
Adrian Steel
www.adriansteel.com
Load display option on digger derricks
Terex Utilities now offers Load Display as an option on its Commander Digger Derricks. Used as an operator aid, a load cell measures the actual winch line pull, which is then shown on the display at the control station to assist operators as they follow the load chart.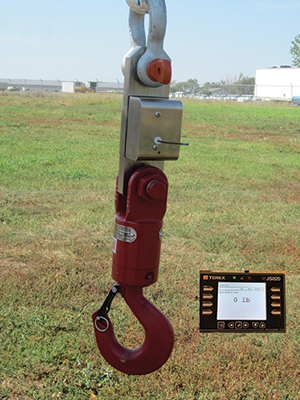 The load cell attaches between the winch line and the hook, and wirelessly transmits the value to the display. Customers can now request Digger Derrick Load Display on new Commander Digger Derricks or to retrofit on existing models. Available as a 6-ton system for single line capacity, the actual load must be calculated based on the number of parts of line used times the value displayed.
Terex Corporation
www.terex.com
IATF Certification
Sherex Fastening Solutions, a global leader in engineered fasteners, tooling, and automation, is pleased to announce that its Sherex Taiwan production facility has received IATF 16949:2016 certification, which replaces ISO/TS 16949:2009, establishes specific quality management system requirements for the automotive market.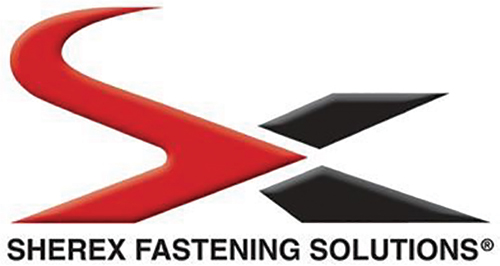 To gain accreditation, businesses must possess quality systems that focus on continuous improvement to prevent defects and eliminate high variation and waste throughout the supply chain. Sherex Fastening Solutions and Disc-Lock are global manufacturers providing fastening solutions for thin sheet material attachments and vibrational loosening prevention. With locations in the USA, Mexico, and Taiwan, Sherex and Disc-Lock products are manufactured to the highest quality standards in accordance with IATF 16949:2016, AS9100, and ISO 9001:2008 accreditations.
Sherex Fastening Solutions
www.sherex.com