By Kevin Conry
A day in the life of a utility contractor is full of tough decisions and unique challenges. In addition to the demands out in the field, like navigating between buried utilities and dealing with tricky terrain, they often need to work adjacent to buildings, roadways and other distracting and difficult environments. Tight deadlines and high demand for their work present additional challenges for the utility contractor. Finally — and maybe most importantly — the utility contractor also needs to take great care in selecting the equipment that will see them through the challenges they face every day.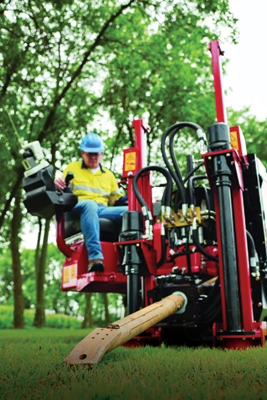 Directional drills are especially suited for applications where excavating or trenching is impractical, such as busy urban areas or sites with a small footprint.
Demand on the Rise
Directional drills have without a doubt seen an upward trend over the past few years, thanks in part to an overall uptick in underground utility installation. This could stem from a number of different underground utilities that all use the same equipment solution for installation: Horizontal Directional Drill (HDD) rigs.
From natural gas pipelines to wind and solar conduit to telecommunications, DSL and fiber optic installations, the right HDD rig can handle it all. Utility contractors have quickly realized the inherent benefits of directional drills compared to excavating or trenching — especially where excavating or trenching is impractical, such as busy urban areas or sites with a small footprint.
There are also scenarios in which excavating or trenching is simply cost prohibitive, and the investment in equipment and labor to rehabilitate an installation area would bore into the bottom line of the utility contractor's operation. Furthermore, there are other installation sites that require minimal disruption, such as habitats of endangered species or areas close to waterways, which make horizontal directional drills an attractive choice over excavators and trenchers.
The Right Solutions for Unique Challenges
Contractors can stay ahead of the safety curve by selecting equipment solutions that focus on productivity. Toro's new DD2226 and DD4050 HDD units feature dual stabilizers on each side of the unit that can be independently adjusted for increased stability on uneven ground.
It is the responsibility of the contractor to locate and verify existing utilities before performing any work, but some manufacturers also offer integrated safety features that will notify the operator of a potential electric line strike. Toro's Zap Alert™ system allows operators to perform the functions of a specific job while reducing the risk of coming into contact with existing electrical infrastructure.
Additionally, an exit-side lockout system can help reduce crew miscommunication. This is essentially a device that crew members on the end of the drill string must use to lock out any potential inadvertent drill string activation while tools are being changed or products are being hooked up for the pullback.
Productivity is a key part of any utility contractor's formula for success. In order to ensure the drill they purchase matches their needs, contractors should determine the minimum thrust, torque and drilling fluid requirements that will allow them to complete all the bores they plan to perform, in the short term and for the life of the machine. Toro is proud to offer 2,600 foot-pounds of rotational torque and 22,000 pounds of thrust and pullback on the new DD2226, while the DD4050 provides 5,000 foot-pounds of rotational torque and 40,000 pounds of thrust and pullback.
For longer boring applications, look for a unit that offers open-top vice wrenches that provide the operator clear visibility to the tool joint and rods.
Fast connection and breakout speed is also a key consideration when it comes to productivity, and for longer boring applications, contractors will want to select a unit that offers open-top vice wrenches that provide the operator clear visibility to the tool joint and rods.
Some manufacturers also offer intuitive controls that allow operators of all skill levels to effectively control the rig. Toro's new TDOS-1 with SmartTouch™ drill operating system streamlines pipe handling by allowing the operator to use the cam rocker switch to advance through the pipe handling process. Each push of the switch corresponds to a sequence of pipe handling functions. This makes the pipe handling process easy to learn, improving the operating experience for new operators.
In addition, the TDOS-1 with SmartTouch software gives the drill operator the benefit of a more visually appealing and intuitive interface for accessing functions and information on the display. Features include the ability to select single or dual joystick mode on the fly, as well as easy-to-use torque, thrust and tool rotation selection limits for quick adjustments to match bore requirements. Display contrast and day/night mode adjustments also allow users to make changes as light conditions fluctuate.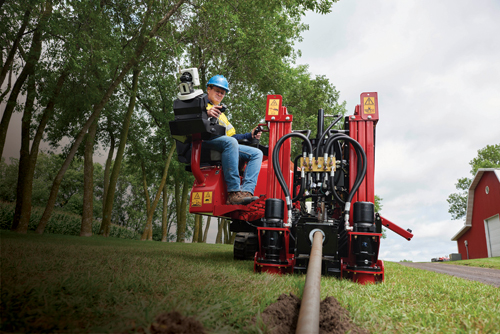 Properly sizing the HDD rig to the application should be a key consideration in the equipment purchasing process.
Matching the Rig to the Application
Properly sizing the HDD rig to the application should be a key consideration in the equipment purchasing process. It's a challenge that should be discussed between the contractor and equipment dealer to determine the best solution for each project. A few of the main considerations are the general size and scope of the project, the total length of the typical run, the typical outer diameter of the pipe to run, materials and ground conditions, and environmental factors like traffic, existing structures or tight areas. Contractors can and should work with their equipment dealers to make a decision that is the ideal solution for their specific needs. They can also contact HDD drill manufacturers, like Toro, directly to help answer questions about rightsizing the rig to the application.
Trust in the Experts
Equipment working in tough conditions like those utility contractors experience every day needs to be rugged and durable. But equally important is the level of support and service that dealers and manufacturers can provide if and when it's needed. Parts availability, field service and on-site troubleshooting and drill operator training are all things to consider when making an equipment/dealer selection, as even just a few hours of equipment downtime can seriously impact the profitability of a job.
Contractors can get ahead of the game by learning about the new technology in horizontal directional drilling and figure out what's most important to their operation. While contractors need to do their homework to be their own best advocates when it comes time to purchase an HDD rig, the recommendation of a trusted equipment dealer (or even the suggestions of a few equipment dealers in the area) can be beneficial. HDD rigs have come a long way in terms of technology over the past few years, and any equipment dealer worth their salt will be able to talk about the latest HDD features and benefits and recommend the best solutions for the job.
Without a doubt, the best scenario for a utility contractor is when they can combine the service and support of a trusted equipment dealer with top-quality equipment that meets all the various demands of the jobsite. Learning about the new equipment and features that are out on the market is the first step to a more productive operation. UP
the Author: Kevin Conry is senior marketing manager at the Toro Company, a leading worldwide provider of innovative solutions for the outdoor environment, including turf maintenance, snow and ice management, landscape, rental and specialty construction equipment, and irrigation and outdoor lighting solutions. For more information, visit www.toro.com.