Contractor Helps Build Large Indiana Wind Farm
Case loader/backhoes and excavators restore 48 square miles of drain tiles.
Jan 1st, 2012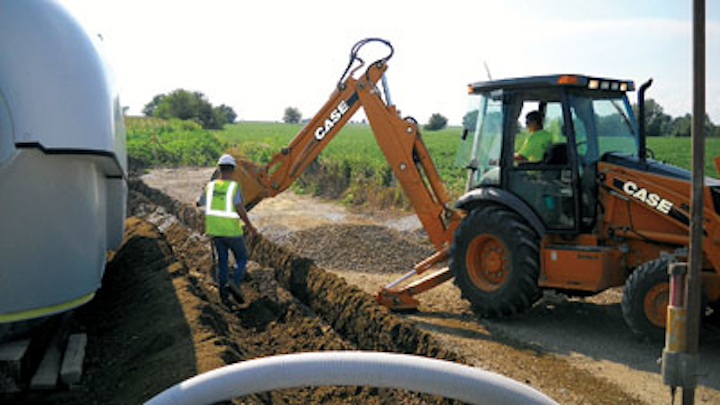 Case loader/backhoes and excavators restore 48 square miles of drain tiles.
Standing more than 250 feet above the ground with their signature three-blade propellers, wind towers bring green energy into the nation's power grid. Meadow Lake, which has become one of the Midwest's largest wind farms, continues expanding in northwest Indiana's White County.
The first phase of Meadow Lake has an installed capacity of 199.65 MW—enough to power approximately 55,000 average Indiana homes with clean energy each year. The wind farm, which consists of 121 Vestas V82 1.65 MW turbines, achieved commercial operation in October 2009.
Beginning in 2012, Commonwealth Edison will purchase 50 MW of the clean, renewable energy generated by the wind farm. The electricity generated by the wind farm is currently sold to the regional wholesale market. The associated energy credits are used by businesses and organizations to comply with state renewable energy mandates or to voluntarily reduce the environmental impact of their operations.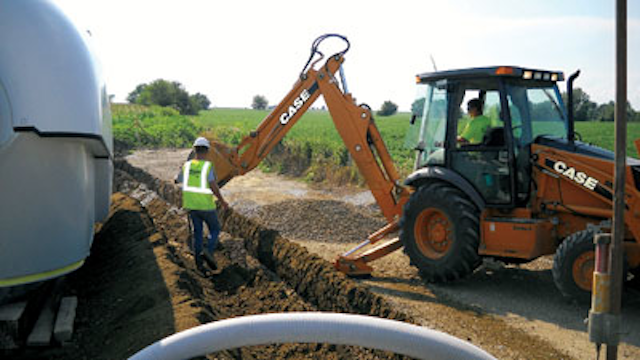 Keeping the Farm Fields Drained
Building the wind farm included installing one of the largest drainage tile projects ever awarded in the U.S. T&M Cain Enterprises of Brookston, Ind., was hired to repair damaged drainage tiles and install new drainage systems on the Indiana farmland that is the site of the Meadow Lake wind-energy project. T&M Cain Enterprises, owned by Tony and Michelle Cain, has a fleet that includes three Case 580 Super M loader/backhoes and three Case CX130B excavators.
Tile Repair
The drainage repair and installation project involved three aspects: tile repairing, tile system re-routing and new tile system installation.
As the construction crews excavated the tower foundations and trenches for wire installation, they often encountered the underground drainage tile systems.
To repair any damaged drainage tiles, T&M Cain Enterprises used a Case CX130B excavator with a 42-inch bucket to open the trench and expose the damaged tile pipe. Most of the drainage tiles are 4- to 6-inch clay pipe buried 2.5 to 4 feet deep.
"Due to the size of the site, we've moved our Case excavators around frequently," Tony Cain said. "The CX130B is light enough at less than 28,000 pounds to make it easy to load on and off the trailer. And, it runs a long time between refueling."
When the expected tower location is close to a drainage pipe, the pipe is re-routed so it is accessible for future repairs and modifications. Cain surveys the best re-route path and then digs the 200- to 300-foot trench length needed to go around the tower. The ditch matches the depth of the original tile installation so the new tile can easily be hooked into the system. Cain installs new tile pipe and backfills with a Case loader/backhoe.
"Pilot controls make the Case loader/backhoe easy to operate and you get great response," Cain said. "The four-in-one bucket helps us move gravel around quickly."
In some cases, it has become necessary to expand the drainage system to reduce the farmland's water level. In addition to digging the trench and installing new clay tile, Cain installs a discharge outlet to carry water into a de-watering hole or an existing open ditch.
The Indiana site offers many advantages for a wind power project: a reliable wind resource, good access to a transmission line, compatibility with existing land uses and proximity to power markets. The wind farm will co-exist with agricultural land use, allowing farmers to continue growing crops while generating revenue from the wind turbines. About 250 acres have been taken out of crop production.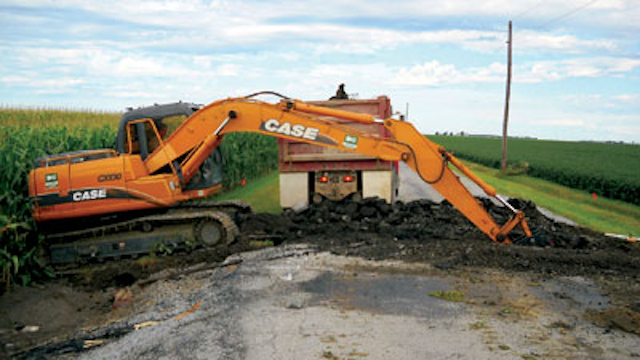 Green Fuel Powers Equipment
The company uses B2 biodiesel fuel to power its Case equipment. According to Cain, the equipment has run well with the biodiesel blend. With the green energy provided by the wind towers, Cain reports he likes being able to "go green" with his Case equipment. For service, Cain relies on his Case dealer, MacDonald Machinery, in Lafayette, Ind.
"They provide excellent service and their rental rate is very attractive. MacDonald makes it easy to stay with Case," Cain said.
Cain has rented two Case loader/backhoes and three Case excavators on a monthly basis. "Cain significantly increased the size of his fleet to meet this large project," said Bryan Glick, rental manager for MacDonald Machinery. "By renting, he doesn't have a long-term financial commitment. When he completes the project, he'll be able to purchase the machines he needs for other projects while turning the rest back over to us."
More Utility Products Current Issue Articles
More Utility Products Archives Issue Articles