Overhead & Underground
Aug 1st, 2012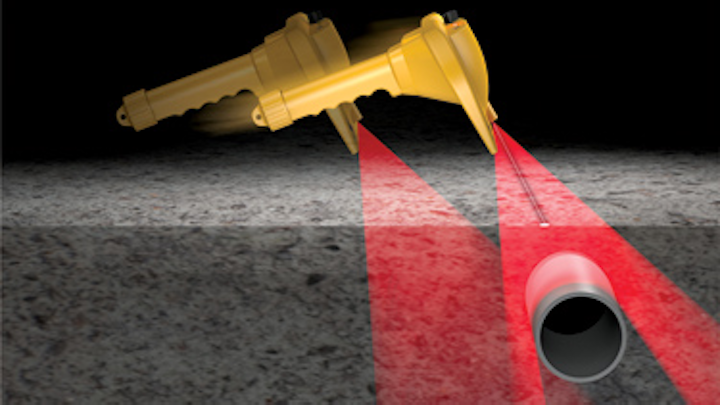 All Materials Underground Locator
Using technology originally developed for the aerospace industry, Subsurface Instruments' new All Materials Locator (AML) locates subsurface objects indiscriminately-cable, pipe, plastic, metal or wood. The AML unit is a highly sensitive tool that uses advanced, ultra-high microwave frequencies to find nearly any subsurface object.
The instrument was specifically designed to locate buried polyvinyl chloride (PVC) pipes for the telecom, cable, power, water, sewer and gas industries. The AML's patented technology not only locates PVC, but also finds all other types of pipes. By simply sweeping the target area, left and right target indicators on the AML will activate to notify the operator that an object has been detected. The operator then rotates the AML until both the left and right target indicators light simultaneously, signaling the underground object is in parallel alignment with the unit. Parallel alignment with the underground object is also confirmed visually with a laser target marker that is projected onto the ground. After obtaining proper alignment, the operator will continue scanning the ground in alignment to map out the object's length and run direction.
Subsurface Instruments Inc.
CIRCLE 106 ON READER SERVICE CARD
---
Bucket Barricade-New Safety Innovation for Linemen
Hastings, a manufacturer of hotline tools and equipment, considers protection of a line-worker from hazardous voltage serious business. Safety is always top priority. The Bucket Barricade is the latest, patented product from Hastings that gives linemen added protection when working on high voltage lines.
The Bucket Barricade is designed to fit inside the lift bucket and gives added face and body protection against sudden releases of energy that can occur during an electrical flash. Unlike face shields-which can fog up, obstruct visibility and create a potential hazard-the Bucket Barricade guards the face and body with one solid sheet of clear, high dielectric, impact resistant material.
This new product does more than shield line-workers from electrical arc and arc flashes. Bucket Barricade also provides a barrier for wind and weather conditions, and transformer oil spray.
Features include:
• Built-in tool board,
• Accommodates any bucket size,
• Available in two width sizes of 18 and 23 inches,
• Adjusts to four different heights with one-hand deployment, and
• Easy to stow.
Hastings
CIRCLE 107 ON READER SERVICE CARD