Geographic Information System for the Utility Communication Network
The utility industry is changing at a rapid pace. The expansion of the smart grid is a game changer that requires utilities to operate, maintain and manage advanced two-way communication networks to support real-time data exchange.
May 1st, 2012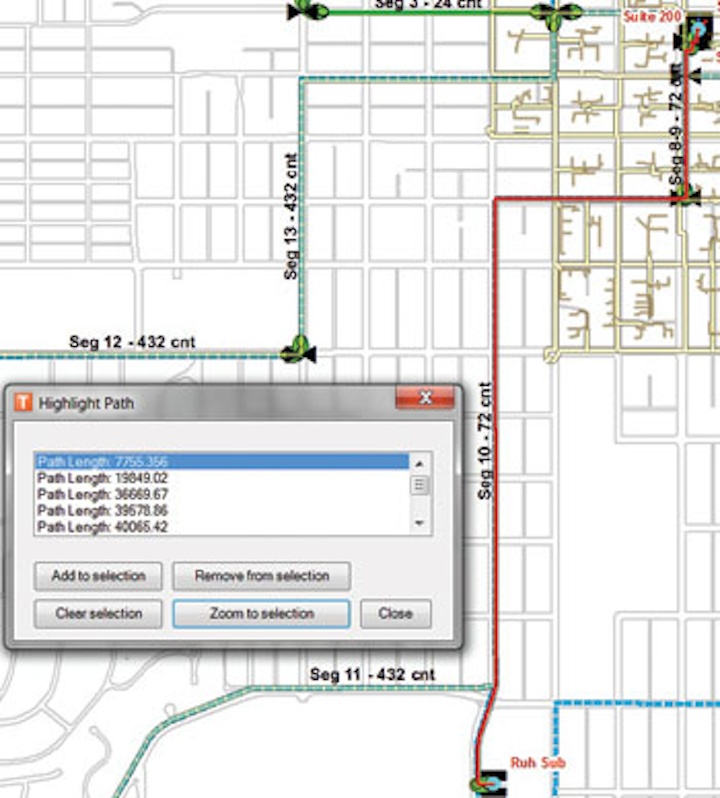 By Danny Petrecca
The utility industry is changing at a rapid pace. The expansion of the smart grid is a game changer that requires utilities to operate, maintain and manage advanced two-way communication networks to support real-time data exchange. In addition, utilities have begun considering taking on roles as potential service-providers in the triple-play market, depending on their ability to leverage and expand existing infrastructure to offer fiber-to-the-home (FTTH) services. As these trends push utilities to develop and expand their broadband communications networks, they can learn from the experience of telecommunication service providers. In a highly competitive market environment driven by increased demand for broadband connectivity, these companies have successfully been using enterprise geographic information systems (Enterprise GIS) as a centralized way of managing, updating and analyzing their communications network.
The telecomm industry realized early that to stay ahead of the curve, companies whose businesses are built on today's optic communication network cannot afford to manage it with yesterday's tools. As utilities enter this market, however, many still document their network with file-based technology, storing critical information in several formats such as computer-aided design (CAD) drawings, spreadsheets and Visio diagrams, or sometimes relying on human memory. With such disparate data management processes and disconnected workflows spread throughout their organization, utilities often don't have a holistic view of their network and, therefore, are unable to share their data internally to support the rest of their business.
In addition, the lack of a complete centralized communications network management system has significant implications for maintenance work in the field, where the crew is at risk of causing inadvertent outages and communication failures as a result of out-of-date or inaccurate information. This is why communication network operators are increasingly looking for solutions to enhance crew confidence in their assigned tasks, making maintenance operations more efficient and secure.
As a result of these drivers, the Enterprise GIS market has quickly grown. When looking for a solution and choosing among multiple vendors, it is important to know all the potential benefits such an application can yield and which features are critical for fiber optics management software.
Essential Functions and Features of Enterprise GIS for Utilities
By definition, an Enterprise GIS spans the entire organization. This has two important implications. First, the technology must be able to support a complete enterprise deployment. Systems not fully positioned to work at the enterprise level will perform only part of the job. Second, the organization must be willing to adopt an enterprise mindset across business processes and work flows, making GIS central to all business operations. Establishing these features make Enterprise GIS a powerful tool, providing a centralized database and repository of knowledge across the enterprise, and allows a utility to manage the entire communications network for four key functions: data maintenance, analysis and reporting; planning and engineering; decision support; and operational awareness.
• An Enterprise GIS offers asset management. Through data maintenance, analysis and reporting, it provides a centralized repository for asset information and network inventory, called a Geodatabase.
• It serves planning and engineering purposes by transforming data into actionable information, such as getting material cost estimates for extending the communications network or setting up new network connectivity based on a new smart grid driver, for example.
• An Enterprise GIS helps utilities get asset management, planning and engineering information into the field, as well as from it, for a complete overview of the system. This offers field crews mobile support, allows them to run reports and traces, as well as obtain answers to questions the crew might have while performing their assigned task.
• An Enterprise GIS has a supporting role in heightening operational awareness across all levels of the organization, disseminating knowledge when and where it is needed.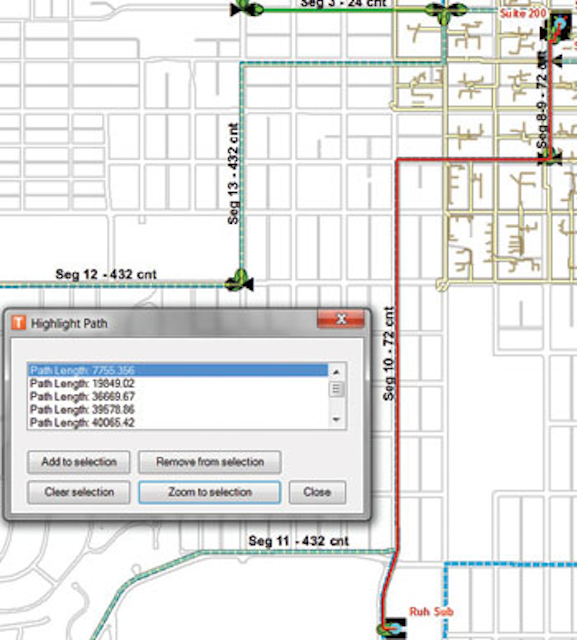 Enterprise GIS provides a detailed visual layout of the Geodatabase, showing users an accurate schematic of their asset information and network inventory.
Productivity Tools Replace Yesterday's Ways of Monitoring the Network
To fulfill these functions, several tools are available that work together to accurately document and assess the location and connectivity of networks.
• For managing connections, communications network operators need a tool that simplifies entering, updating and understanding the connectivity of a network. When the need to manage certain network fiber paths as a single unit arises, circuit managing tools establish a named communication path from one part of the network to another.
• When problems with the communications network arise, an Optical Time Domain Reflectometer (OTDR) outage trace can precisely determine the location of a fault or other potential issues in the communications network, allowing faster crew dispatch and restoring the network in the shortest possible time.
• Editing proficiency tools enable utilities to quickly reconfigure patch panels, equipment and racks at a network location, or expand their communications network. It is also useful to analyze data with a comprehensive reporting tool, documenting the connectivity within splice enclosures, patch panels and circuits, as well as available system capacity. With the click of mouse, a reporting tool issues splice reports, splice schematics, patch panel reports, connectivity reports, circuit reports and OTDR trace reports, saving staff time and resources.
Alarms notify users of issues with the network and the location problem areas with a high degree of accuracy, allowing users to quickly respond to service outages.
Friendly, Flexible, Future-proof
Productivity tools are only useful when coupled with a high level of user-friendliness and flexibility to changing demand and market conditions. Whether managing a fiber optic network from a central office or planning a future system expansion, network operators need the most accurate information available, mapped out in a user-friendly way to mirror the physical network. It is crucial to be able to access this information from anywhere-from the field, the desktop or the boardroom. Equally important, systems that allow multiple editors enable them to make updates simultaneously and share data and workflows across the organization.
Because the technologies that drive a network rapidly change, an Enterprise GIS needs a high degree of flexibility and must be future-proof to protect a utility's investment. When systems are highly configurable and customizable to the utility's individual needs, they seamlessly integrate with other business systems while reducing total cost of ownership and maintenance. Almost any level of customization becomes possible when the system is built on open architecture and information technology (IT) standards, and when it is accompanied by a comprehensive support service.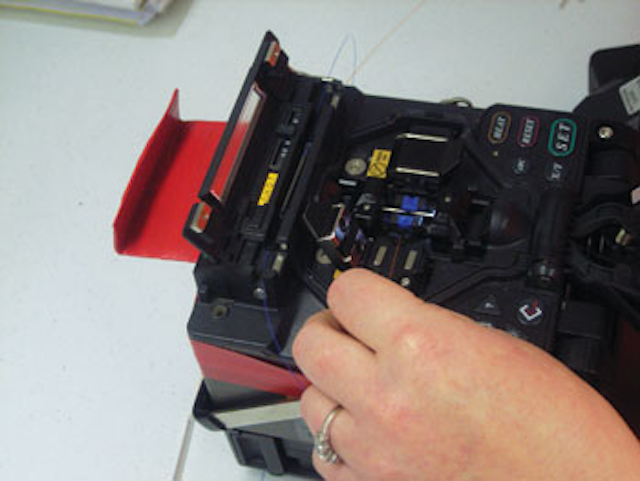 A fiber technician splicing fibers. Enterprise GIS helps users manage fiber pathways by establishing named circuits that include elements such as splices, fibers and ports.
Enterprise GIS in Practice: Truckee Donner Public Utility District
Utilities worldwide are choosing Enterprise GIS solutions, which are available from multiple vendors, for their communications network design and asset management technology. Among them is the Truckee Donner Public Utility District (PUD), providing electric and water service to 24,000 customers in the Truckee, Calif. area. The utility needed to improve existing infrastructure and prepare for new smart grid and supervisory control and data acquisition (SCADA) infrastructure. To avoid the high costs associated with poor fiber optic design, Truckee Donner PUD needed to accurately design and model an advanced fiber optic system using its existing GIS infrastructure.
With the help of a GIS Enterprise system-in this case, Telvent's ArcFM Fiber Manager Enterprise GIS solution-Truckee Donner almost immediately experienced improved efficiencies and cost savings. Beginning with the design and planning stages, Truckee Donner accurately determined all needed materials for the project-from cable footage to the number of required splices for each splice box. When Truckee Donner bid the project, it already had an understanding of what materials were required to build the system and how much it was going to cost.
"Fiber Manager not only made our life a lot easier, it's also made our contractor's life that much easier," said Ian Fitzgerald, IT/GIS operations manager at Truckee Donner. "From the beginning, we were able to present the contractor with a well-organized plan, complete with map layouts and splice diagrams. Our contractor has dealt with hundreds of utilities building fiber optic networks, and said this was the first time they've seen a utility as organized and informed as Truckee Donner."
Utilities can yield many benefits by staying current with forward-thinking peers such as Truckee Donner and choosing an Enterprise GIS that best fits their needs. In doing so, utilities can leverage the experience by applying Enterprise GIS in other industries, such as the telecommunications sector, to meet the increased demand for more accurate, efficient and advanced technologies.
---
About the author: Danny Petrecca is currently director of product management for Enterprise GIS at Telvent. He has knowledge and experience with the application of GIS technology to utility and communications industry business needs. His specialty is graphic work design in utilities. Petrecca has 13 years experience in the geospatial industry, and 10 of those years have been with Telvent.
More Utility Products Current Issue Articles
More Utility Products Archives Issue Articles