By Bill Docca
Delaware Electric Cooperative prides itself on being one of the most advanced co-ops in the country with its integrated global positioning system (GPS), geographic information system (GIS), staking and work order processing software. With an install base of 83,000 meters throughout Kent and Sussex counties, Delaware Electric is a large co-op that continues to grow.
For Delaware Electric, a primary goal for work order management was to streamline the engineering department's duties from design to implementation, integrating all information technology (IT) systems and processes so any input into one system would update all other enterprise systems.
Delaware Electric started this process in 1999 by moving its staking duties from legal pads and hand-written schematics to laptops and working in Excel. Storing and creating information digitally reduced the number of inaccuracies in the field construction process and rapidly increased the speed of execution by the field engineers and construction teams.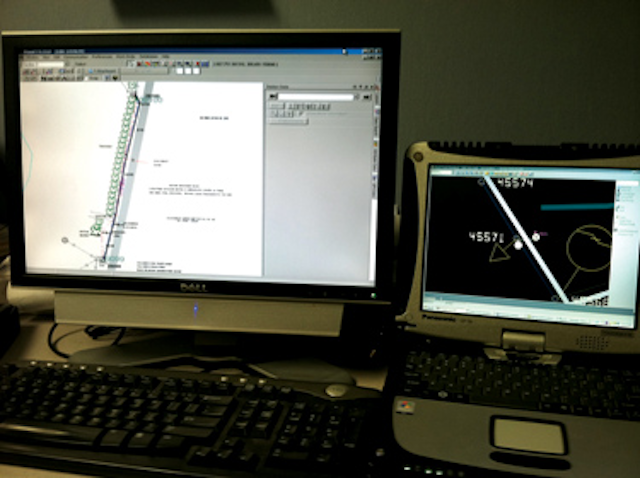 In 2003, Delaware Electric purchased and deployed Powel's-now GeoDigital Solutions'-StakeOut solution to allow the cooperative to maximize efficiency and accuracy of its staking operations as well as achieve its goal of unifying all its systems. This software enables field and office personnel to have a comprehensive overview of assets updated in real-time. It also bolsters the ability of the crews to estimate the cost of a project based on construction unit information loaded into the software. In addition, the GIS software allows crews to scroll over field equipment for in-depth information and allows them to view pictures of equipment with the push of a button.
Jesse Spampinato of Delaware Electric reported: "To map and re-wire a couple of power lines prior to this change could take multiple days to complete with a paper-based system, where the new laptops and software could accomplish this task in a matter of hours."
Delaware Electric was especially interested in adding GPS functionality to the staking software and customized the system to interface that data with its Chapel mapping system and Trimble GIS system.
With Delaware Electric's current process, the workflow starts in the engineering department in NISC, a Customer Information System (CIS) platform, by creating a work order, which then moves to StakeOut. This transfer of data signals engineering to go into the field to establish GPS data points. Staking engineers collect GPS coordinates with Trimble GPS units and Toughbook tablet computers using Bluetooth technology. While on location, field stakers can gather XY coordinates by simply pressing a button. That one action will account for every piece of utility hardware up to the meter. From there, engineers can either complete drawings in the field or return to the office to complete the design.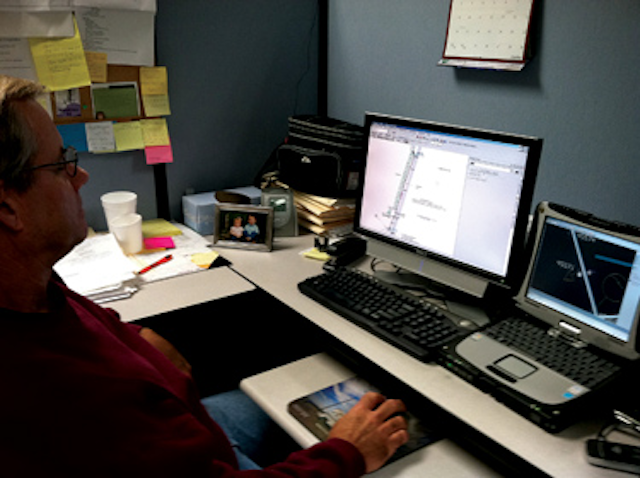 The staking software automatically estimates the cost of the job by accessing pre-programmed unit costs. From there, construction begins.
Back in the office, when field stakers plug in their computers to the company server, all information gathered in the field is now able to update existing data. Staking software integrates with mapping software, drawing new work orders on the Chapel map, a GIS platform. In early 2011, Delaware Electric further enhanced its process so engineering coordination studies performed in Milsoft Windmil, an engineering analysis package, could be ported directly into StakeOut and allow for field verification and field improvements. Crews enter information about fuses and reclosers for engineering system protection in Windmil, exporting this data directly to an electronic staking sheet. This staking sheet will then go to the stakers for quick field verifications and then to construction for installations and upgrades. This process expedites the stakers time to perform a job.
All work more easily follows a single, well-defined process. Even AutoCAD can interface with these systems, supplementing the construction design processes. The map update process synchronizes with the outage management systems (OMS) system, too-a benefit for a growing utility to quickly restore power outages.
This system allows the previous day's work to queue up for the current day.
Because the GIS is used by every lineman and others in the company, it needs to be as real-time as possible to enable them to quickly identify a fault or wire for maintenance, construction and maximum safety.
Delaware Electric continues to evolve and customize its enterprise systems to ensure the flow of information encompasses all systems to maximum efficiency.
"It would be a challenge to find someone who is taking things from staking to mapping as quickly as we are. We can address trouble calls and service calls quicker than almost any other co-op because of all the data on our map. If a utility is a month behind, crews may be sent to a trouble call that is not mapped yet, and that is a big problem," Spampinato said. "We also know what the line looks like underground and can import our data to staking sheets so the stakers don't have to build poles from scratch-our system saves us time in that aspect as well."
"Because of achieving this highly efficient system, Delaware Electric has seen an increase in the number of customers installed, greater team efficiency and a decrease in service costs per month," Spampinato said. "We get more jobs done, we are able to track jobs and efficiency of work, we are more accurate, and we are able to send precise and accurate cost estimates for each job. We do exceptionally more work with the software than without."
More Utility Products Current Issue Articles
More Utility Products Archives Issue Articles