Future Proofing a Network by Pushing Fiber Deeper
Many operators are faced with the issue of how to expand their network's capacity. They must consider whether to install fiber deeper within their existing hybrid fiber coaxial (HFC) networks or to convert to fiber to the x (FTTx).
Jun 17th, 2013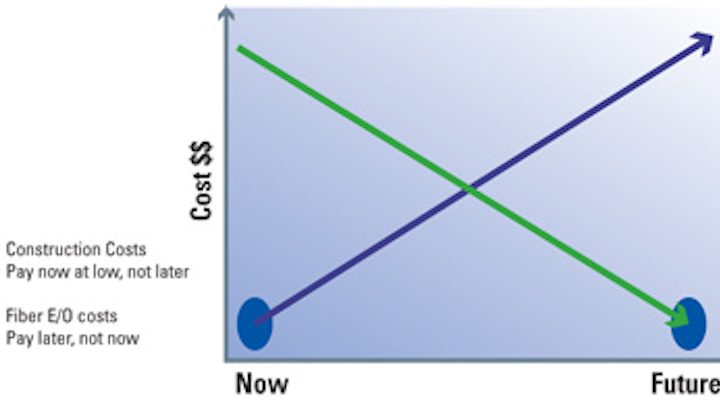 By Kelly Patrick
Many operators are faced with the issue of how to expand their network's capacity. They must consider whether to install fiber deeper within their existing hybrid fiber coaxial (HFC) networks or to convert to fiber to the x (FTTx). The challenge for operators is executing this with minimal investment while creating maximum flexibility for the future. There are two things operators can count on:
• The cost to upgrade the outside plant will be higher tomorrow than it is today.
• When it is time to upgrade, speed and efficiency translate to overall savings and faster service revenue. See Chart 1.
Operators must find creative ways to extend their plants to capitalize on growth opportunities. These opportunities are associated with the increased demand for bandwidth that is being driven by more video content and the demand for higher data speeds. Operators, for example, have historically built networks to support their large residential customer base. As they have grown, operators are now actively expanding their networks to include commercial customers-business and wireless providers-as well. To reach their broader customer base with the bandwidth required to support their needs, operators are now faced with deciding whether to support them over their existing HFC networks or to run fiber to the premise. At the same time, like many other operators, they have to be concerned with maintaining an open migration path without jeopardizing their quality of service. Operators want to bring services online with minimal cost and service downtime.
New solutions are coming to market that help operators expand bandwidth capacity of their network architecture by allowing them to deploy fiber deeper, faster and with more flexibility to support the infrastructure needs of multiple architectures. As a result, the outside plant portfolio has evolved to include microducts, microcables and customized hybrid solutions.
Microduct and microcable solutions have been accepted and deployed in other parts of the world for almost a decade. They are common to European operators who needed to use available duct space without paying premium rates. Small, efficient solutions are a must in these areas; this technology, however, was not widely deployed in the U.S. because space and conduit was readily available. Now that the U.S. market's needs have evolved, microducts and microcables have become a viable solution for providing cost-effective versatility in an ever-changing market. They allow operators to maximize their current duct capacity by installing a microduct to secure a path for a lower cost, blown microcable solution to be added now or in the future. The microduct and microcable offerings incorporate duct sizing for low- and high-count microcable, allowing them to save space and time.
Microducts are available in a variety of sizes and are designed around the Telcordia GR-3155-Core industry specifications. These microducts can be buried or installed in larger conduits. When installing in larger conduits, the microduct's small size allows operators to maximize their duct capacity, securing a path for a lower cost, blown microcable solution. Microducts are also compatible with industry standard microduct couplers, allowing for quick and easy deployments.
Fiber optic microcable is manufactured based on the International Electrotechnical Commission (IEC) 60794-5-10 specification and provides a small, cost effective, lightweight cable design containing maximized fiber capacity. This cable is designed specifically for air blown, microduct applications. This design also adapts to the hybrid cable solution where the smaller and lighter cable can use the properties of the other components to offset tensile strength limitations of the design.
Hybrid cables offer a highly customizable solution that combines coaxial cable, optical fiber cable and/or microducts-all inside a single ruggedized sheath or conduit. The flexible design enables an operator to build in the capacity and space they need to handle future upgrades or architecture changes with little or no associated installation costs. A product solution set including microcable, microduct and hybrid designs can provide a unique and flexible solution to help operators resolve their problems.
Hardline coaxial cable is often used to provide video, and is combined with microcable and/or microduct to either provide an instant fiber connection or an upgradeable connection. Coaxial drop cables are often combined with microduct to continue deploying drop connections as they have previously; this solution, however, also provides operators with the ability to easily blow in a fiber cable to increase their bandwidth when needed. Some operators prefer conduit with a variety of transmission mediums for that same reason, including adding microduct to provide scalability and upgradeability to future proof their network.
By installing these solutions now, operators can save on their ever-increasing construction costs by investing in deployment up front and control fiber costs by allowing them to upgrade or change architectures as needed. In many cases, this allows them to take advantage of decreasing electronics prices. Regardless of which option an operator chooses, these three solutions address the needs often being communicated-bring services online with minimum cost, downtime and impact. It offers a cost-effective, craft-friendly way to upgrade a network that can grow on demand by deploying fiber as needed. These solutions also provide scalability and allow the operators to mitigate future construction costs.
---
About the author: Kelly Patrick is the product manager of Outside Plant Solutions for the Broadband business unit of CommScope, a provider of infrastructure solutions for communications networks. Patrick joined CommScope in 1996. During her 17 years with the company, she has held positions in customer service and product management.