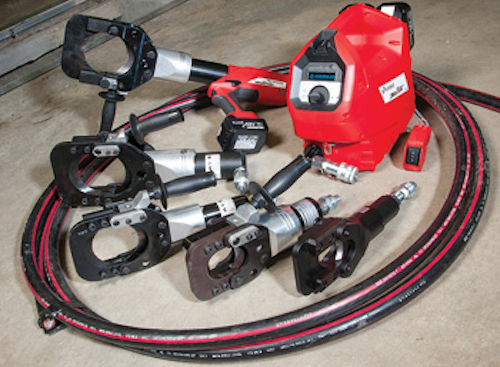 Guillotine-style Cable Cutting Tools
Greenlee Utility has announced the launch of four new guillotine-style cutting heads for cutting cables and other materials. The Greenlee Utility SDG45 and SDG55 remote cutting heads are designed to cut ACSR cables and other materials, such as rebar, guy strand and ground rods. Greenlee Utility SDG85 and SDG105 heads are designed to cut large-diameter copper and aluminum cables. A battery-powered Gator version of the SDG105 is also available (ESG105LU), which features single-trigger operation and automatic retraction.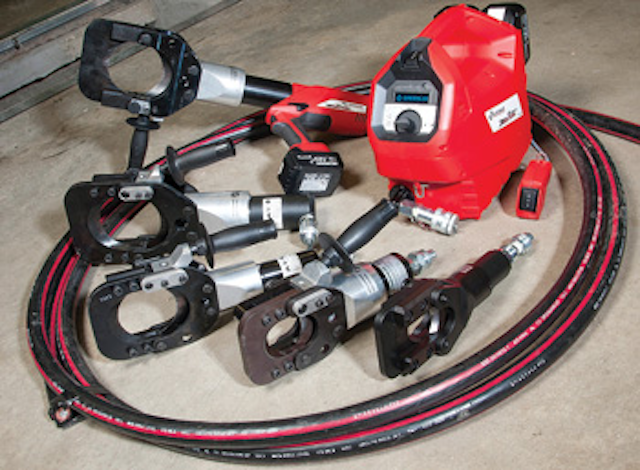 Guillotine-style heads are far safer than conventional, scissor-style cable cutters, it's reported. They also reduce egging and distorting cables-giving users cleaner, more accurate cuts.
Remote heads allow utility line workers to operate safely away from the cutting location. All four remote guillotine-style heads can be powered by the Greenlee Utility EHP700LU Battery-Powered Hydraulic Pump, which provides the user with additional features, such as real-time pressure monitoring, downloadable work history and automatic retraction.
Greenlee Utility
CIRCLE 124 ON READER SERVICE CARD
---
LP6 Lightweight, Low-pressure Hydraulic Crimping and Cutting Tool for 6-ton Work
Greenlee Utility has launched the LP6, an interchangeable head cutter/crimping unit suitable for 6-ton work to provide contractors and linemen with a faster and easier way to cut and crimp connections.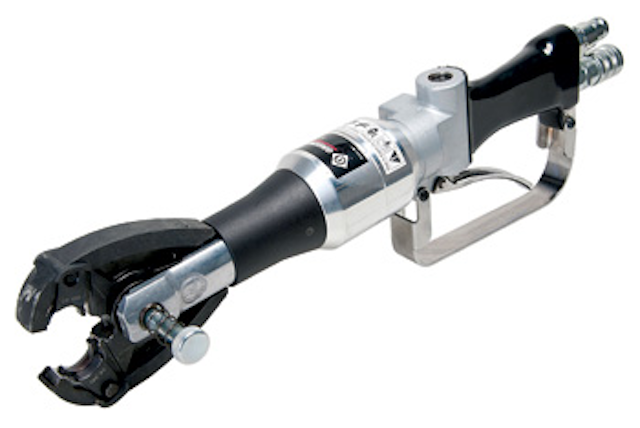 The company wanted to give users the ability to use Greenlee crimping and cutting dies found on our Gator brand battery tools in a lightweight, low-pressure hydraulic package, it's reported.
The LP6 features a spring-loaded pin for quick change of the crimping and cutting jaws. The head rotates 350 degrees and, at 8.4 lbs., the LP6 can be operated with one hand.
The LP6 is also available with or without couplers installed from the factory.
Greenlee Utility
CIRCLE 125 ON READER SERVICE CARD
---
Type CT-SSB Stainless Steel Barb Cable Ties
BURNDY, a manufacturer and provider of connector solutions to the industrial, energy, construction, telecommunication, petrochemical, data center and transportation industries, announces the addition of Stainless Steel Barb cable ties to its wire management system. Stainless Steel Barb cable ties are designed and manufactured to meet or exceed industry standards to deliver maximum reliability.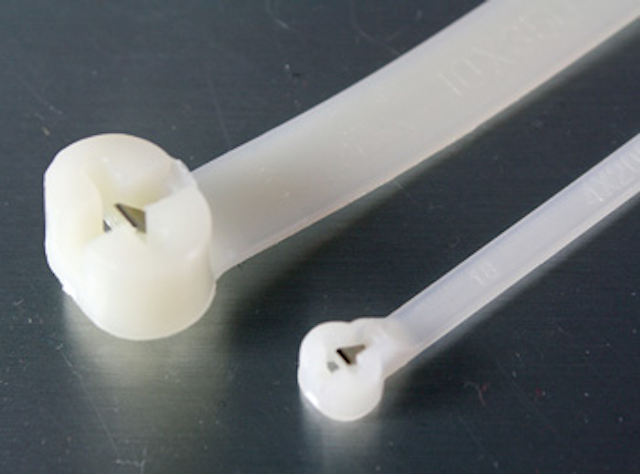 The Stainless Steel Barb cable ties (type CT-SSB) are Nylon 6/6 with self-locking stainless steel barbs and an oval low profile head. There are no sharp edges, which helps prevent damaged cables. CT-SSB ties have as low a threading force of any one-piece design cable tie in the industry. The cable ties have a curved tip for faster initial threading to help speed installation and a no slip tail for easy grip during tensioning. CT-SSB ties are currently available in Natural and UV Black.
BURNDY
CIRCLE 126 ON READER SERVICE CARD
---
25-i Winch for Power Linemen Looking for Faster Connections
Get hooked on the latest product from Lug-All! The 25-i winch is now available for power linemen who are looking for faster connections on the job without sacrificing the quality of their equipment. The 25-i winch from Lug-All provides an eye-bolt attachment point for secure connections in either single or doubled-up applications. In addition, the 25-i frame has a lighter-weight, more ergonomic design that doesn't affect the quality of a Lug-All hoist. Whether you prefer wearing rubber gloves or using hot-sticks, the 25-i can be used with either method.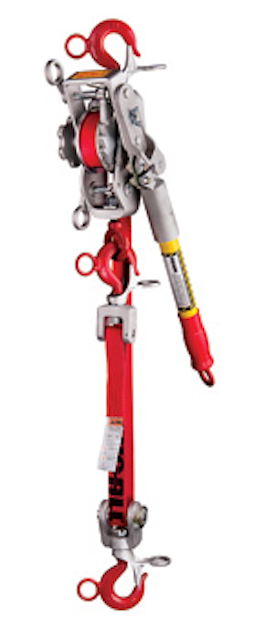 Lug-All
CIRCLE 127 ON READER SERVICE CARD
---
Tier 4i Air Compressor XP200WJD
Doosan Portable Power is delivering a new power level in its air compressor lineup with the introduction of the Tier 4i-compliant XP200WJD. The new model produces 200 cfm at 125 psig, making it useful for countless applications, including general construction, sandblasting, pneumatic tool operation and pipeline testing.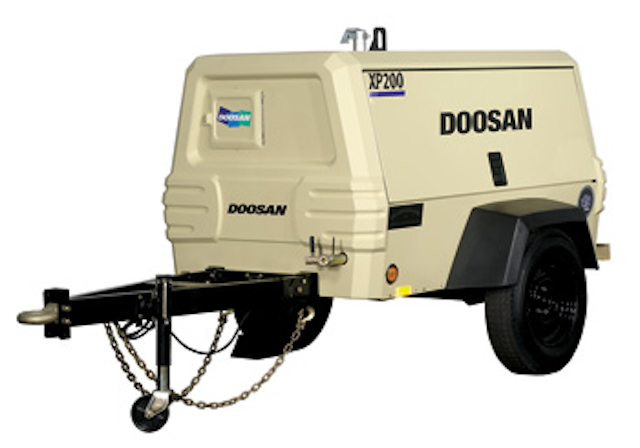 The XP200WJD maximizes jobsite productivity with an eight-hour runtime at 100 percent load. Dependable even in extreme temperatures, the model features a three-degree limited ambient temperature improvement, delivering reliable performance in conditions up to 118F.
Easy-to-access service points and simplified maintenance enhance machine lifetime. Pnuematic lift side doors provide easy access to service points-from hoses to filters and fuel tanks-while a rear panel simplifies heat exchanger cleaning. A spin-on oil separation system is cited to offer the industry's easiest maintenance, while an engine and airend diagnostic module provides operators with at-a-glance maintenance and servicing information.
Doosan Portable Power
CIRCLE 128 ON READER SERVICE CARD
---
HW3 High Pressure Impact Wrench
Greenlee Utility has announced the new HW3 Hydraulic Impact Wrench with very good power-to-weight ratio. Greenlee Utility wanted to provide its customers with the perfect mix of performance and ergonomics, it's reported. For the HW3, this was done by increasing power, reducing weight and adding features such as the new Cool Grip handle.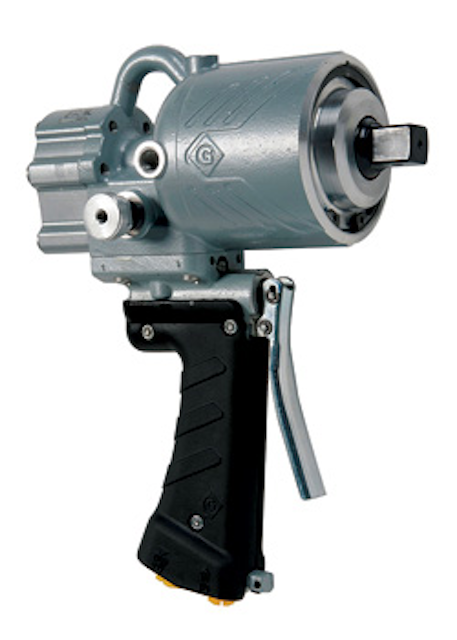 Greenlee Cool Grip technology is a new, patent-pending polymer design that dissipates heat away from touch points, such as the handle of the unit. This enables users to safely operate the unit for longer periods of time.
When compared to the previous model (H6510), the Greenlee Utility HW3 features 20 percent more torque (up to 1,283 ft-lbs) and 14 percent less weight-a leading power-to-weight ratio in this category of hydraulic tools. A newly-designed, self-regulating flow control prevents over-speed and over-torque at high flow rates, and a hydraulic check valve eliminates damage from improper connections.
Greenlee Utility
CIRCLE 129 ON READER SERVICE CARD