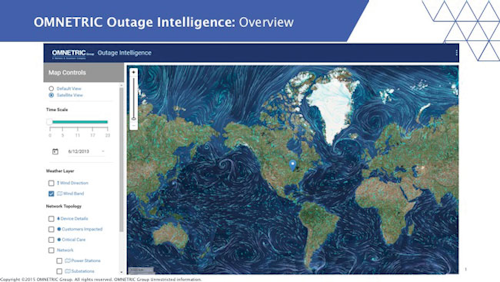 By Vasan Krishnaswamy
While the utilities industry may face many strains, there is one area where wealth prevails. The richness of data generated and available for use by energy companies is significant and has the potential to create the next generation of operational efficiency. This data deluge is set to become particularly key in addressing critical outage management as the severity of global weather events worsens. With the right analysis and interpretation, utilities can forecast, predict and prepare for the worst in an attempt to offer the best.

Our industry has invested heavily in recent efforts to modernize grid infrastructure. The increasing use of sensors and devices in the field has enabled information to make its way to the control room. When used effectively, utilities can use this information to better identify pressures on the grid and take faster actions to resolve them.
Once grid vulnerabilities are identified, preventative action can be taken in the correct areas and at the correct time. The alternative is inadequate insight leading to poor decision-making, with potentially larger-than-necessary physical and financial consequences. This is becoming unacceptable to customers and regulators in the hyper-connected environment. Despite this, too much time is still being spent on the reactive mobilization phase of outages. Some utilities are starting to do thing differently and are collating the insight needed to identify vulnerabilities, events and preventative action. Data integration approaches and analytics techniques are giving rise to outage intelligence-bringing forward the investment and effort to the proactive-end of the outage lifecycle to better predict the storm path and forecast the damage and resulting outages.
What Data Holds Value?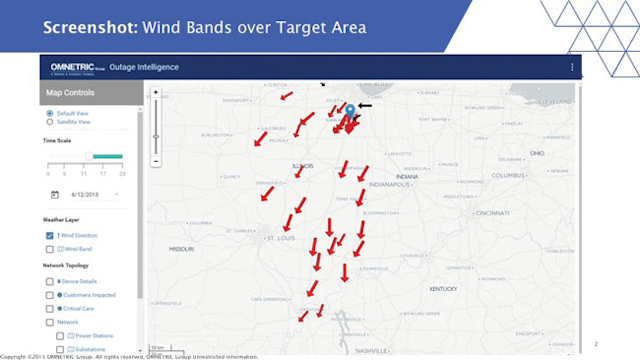 As is true of any industry, the best decision-making is a result of properly informed choice. Utility data is at its most powerful when various data sets and possibly data formats are combined and observed collectively. Proprietary information from within an energy business, for example, can be viewed alongside external sources such as weather forecasting and social media data. Only then is it possible to determine where the highest probability of damage is likely to occur. By focusing on identifying the most extreme vulnerability, true efficiencies can be realized.
Can the Benefit be Quantified?
In a test scenario based on a utility service territory of 1.5 million rural and urban customers, OMNETRIC Group calculated that the ability of utilities to anticipate, prevent and react faster to outages could lead to an annual saving of some $2.96 million. In addition, the increasingly turbulent weather recently experienced across the US is crystallizing the financial benefits of improved outage preparation. Between 2003 and 2012, weather-related outages were estimated to cost the US economy an inflation-adjusted annual average of between $18 billion and $33 billion.
How Achievable is Outage Prevention?
A more digital grid lends itself to solving the challenge. Within OMNETRIC Group's business, Siemens' energy technology product portfolio is combined with Accenture's systems integration and managed services capabilities to bring a practical approach to generating insight for energy companies.
It is the art of combining and interpreting data sets that leads to understanding where the highest level of vulnerability exists on the grid. This understanding requires highly skilled practitioners from analytics and data science domains to collaborate with field experts. Only then can utilities claim to generate, understand and interpret the data sitting behind their resulting actions.
The good news for the utilities industry is that the data needed to address the challenge already exists. Extracting it can be laborious, but the end game is proven to be worth it. By taking the time to understand what the data is telling us, we can pinpoint priority risks and address them in time to reduce the impact. The result will be an industry able to get ahead of the next storm.
---
About the author: Vasan Krishnaswamy is head of Energy Insight, OMNETRIC Group, North America.
More Utility Products Current Issue Articles
More Utility Products Archives Issue Articles