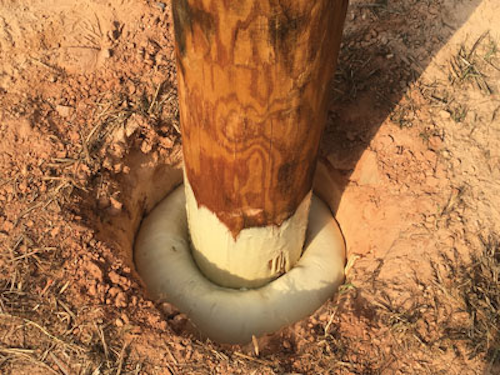 Pole Setting Foam for Setting, Straightening Distribution and Transmission Poles
Line construction: Osmose Utilities Services introduces OsmoSet pole setting foam, a high-density polyurethane water-blown foam designed for setting and straightening distribution and transmission poles.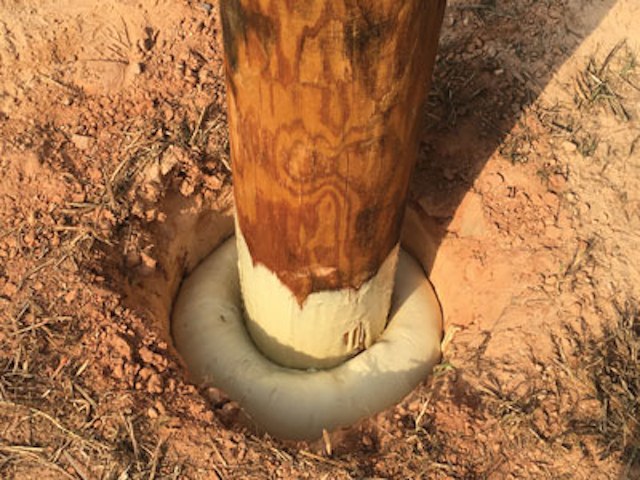 Most soils in the U.S. have a compressive strength of approximately 28 PSI. OsmoSet foam has a density of four pounds per cubic foot and a compressive strength of 70-80 PSI, providing a safety factor of nearly 3:1 over the surrounding natural soil. It's useful in a number of settings, but especially for poles set in sandy or sandy loam soils with low compressive strength, poles set in rocky soil, dynamited or drilled pole sets that may not produce sufficient backfill material, and difficult-to-access pole sets where transporting fill dirt is not feasible.
OsmoSet's goal was to create a pole setting foam that provided added strength and safety, reduced costs, reduced environmental impact, and improved labor efficiencies for infrastructure owners. OsmoSet expands at a ratio of 18:1, 20 percent more than other foams-which means less product is required to fill the space.
Osmose Utilities Services Inc.
---
Partial Discharge Sensor PD Alert Programmable
CBS ArcSafe, a manufacturer of remote racking and switching solutions for low-voltage and medium-voltage switchgear, has added the PD Alert partial discharge sensor option to its Remote Racking System (RRS) line.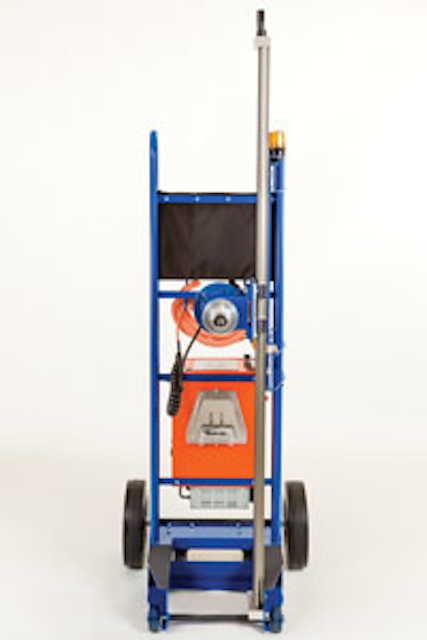 CBS ArcSafe's optional PD Alert provides an additional layer of safety for technicians tasked with racking or removing circuit breakers and motor control centers. In the event of a breakdown in line-to-line or line-to-ground insulation, the PD Alert radio frequency (RF) non-contact sensor issues a visual strobe alarm or digital alarm through email or SMS text message. The PD Alert can be used with any of CBS ArcSafe's remote racking systems, including the RRS-1 for rotary jackscrew-type breakers, the lightweight RRS-1LT made from aluminum extrusion, the programmable dual-mode RRS-4, and the RRS-2 and RRS-2BE for remotely racking extractor-type circuit breakers and motor controls, respectively. PD Alert can also be used as a stand-alone partial discharge sensor for monitoring critical electrical distribution equipment.
CBS ArcSafe
---
Mechanical Lay-In Grounding Connectors - MLG25020 Assemble Easily
Utility supplies: Blackburn MLG25020 mechanical lay-in connectors from Thomas & Betts (T&B), a member of the ABB Group, feature a swing-away design that allows for easy assembly without the need for special tools.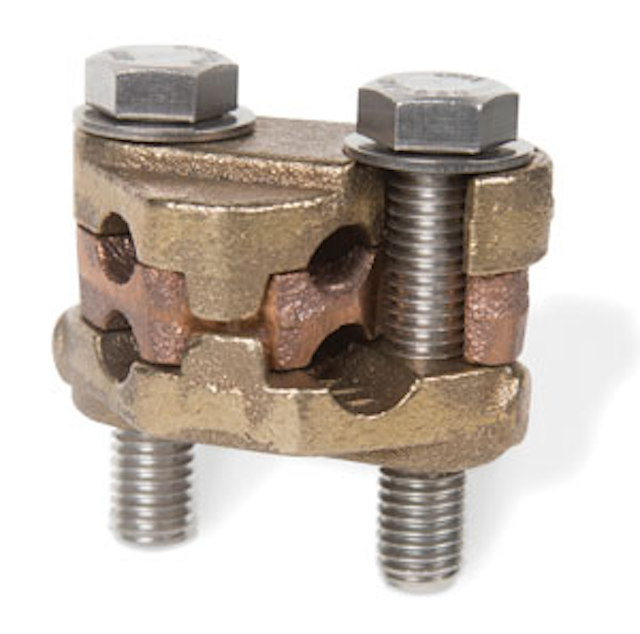 The Blackburn MLG25020 mechanical lay-in grounding connector is designed for easy assembly when extending existing ground grids. When the proper molds and shots aren't available on the job site for exothermic installation, or the appropriate tools for compression installation aren't available, the MLG25020 is a cost-effective alternative that saves time.
The Blackburn MLG25020 mechanical lay-in grounding connector will accommodate cables ranging from 250 MCM through 2/0 STR. Cables can be run in parallel or perpendicularly to each other. Because it is a mechanical connector, it can be installed in any weather conditions. An anti-corrosive compound is applied at the factory.
Thomas & Betts
---
Revolution Series Transmission Equipment Towing Ability Enhanced
Line construction: Sherman + Reilly Inc., a Textron Inc. company, has enhanced the towing ability of its Revolution Series transmission equipment product line with the addition of a pintle eye trailer configuration for use with line trucks. The platform of trailers provides reductions in overall weight and allows for a smaller field and storage foot print.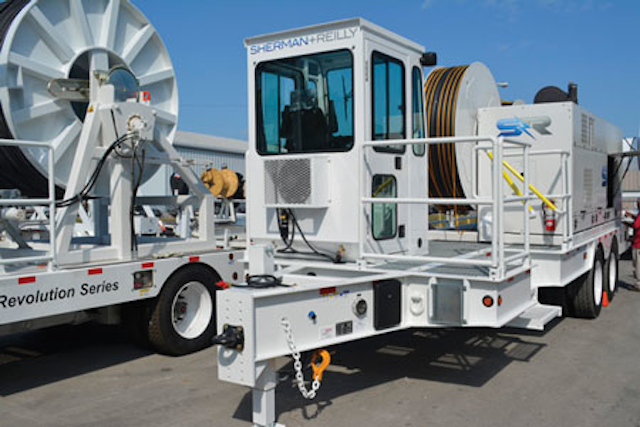 By creating these offerings, Sherman+Reilly looks to provide customers with more diverse operational solutions while maintaining the same technological and safety benefits of the Revolution Series stringing equipment line.
The T-7212-P Bullwheel Tensioner is built with two pairs of 72-in. 5-groove bullwheels and delivers a maximum tensioning capacity of 12,000 lbs. per sub-conductor or bullwheel pair. Each bullwheel has its own planetary gearbox and hydraulic motor with spring-applied hydraulic release brake.
Sherman + Reilly Inc.