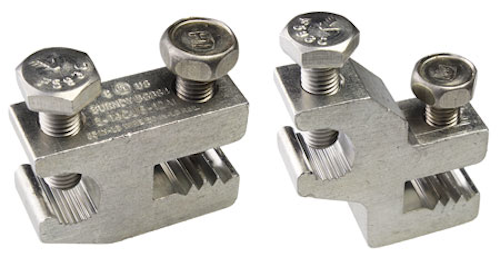 Aluminum Lay-in Lugs Solar Panel Applications
Utility supplies: BURNDY, a manufacturer and provider of connector, grounding and tooling solutions to multiple markets, announces new additions to its grounding product line. The aluminum lay-in lugs are most suitable for solar panel applications. The connectors are for use with frames with a maximum thickness of 1/4 in. They may also be used for cable to bus or cable to steel connections where the lay-in feature is necessary.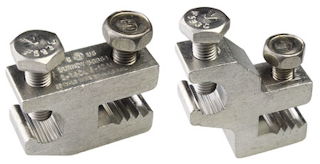 Manufactured using high strength aluminum alloy, these connectors have the versatility to be used with aluminum and copper conductors. The serrations are provided to establish better contact and cut through oxidation, ensuring low contact resistance and high conductivity. The anodization on aluminum rails is nonconductive and electrical current cannot pass through this layer. BURNDY's cup point screw penetrates this layer, allowing current to flow into the aluminum connector and consequently current flows to the conductor.
The connectors are UL467 and UL2703 Listed. The connectors accommodate copper cables from 14 AWG to 6 AWG and aluminum cables from 12 AWG to 6 AWG. The connectors are also available in bulk.
BURNDY
---
Anchoring Equipment Allows Quick Installation of Utility Towers
Utility tools: Little Beaver's anchoring equipment allows installers to quickly secure utility towers to solid ground, which prevents towers from shifting or moving off footings during a storm or strong winds. The equipment package includes an 11-hp hydraulic drill, a high-torque handle and an anchoring adapter, and it can install each anchor in about a minute.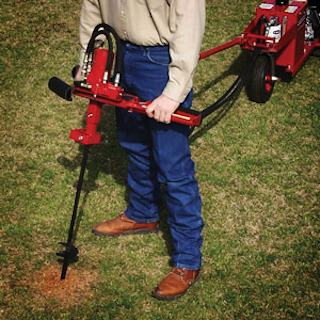 The drill's compact body and portable hydraulic power pack make it easy to anchor in remote locations and cramped worksites. An all-terrain vehicle, for example, can transport the hydraulic drill and attachments. Other drills require using a carrier, such as a backhoe or skidsteer, to hold and power the drill, making it difficult to maneuver the carrier through narrow worksites. Rather than transporting a bulky air compressor or generator, Little Beaver's unit is powered by a hydraulic power pack on a three-wheeled steel carriage. A Honda gas engine or Kohler diesel engine powers the pack's hydraulic pump, providing the drill, or any other hydraulic hand tool, with a 6-gpm hydraulic flow rate. Because the power pack is self-contained, there's minimal risk of fuel and hydraulic oil leaks.
Little Beaver
---
M12 7.8KP Thermal Imager With DUAL SENSE Pixels
Line maintenance: Milwaukee Tool has expanded its M12 offering with the M12 7.8KP Thermal Imager, featuring the highest pixel density in its class and DUAL SENSE pixel technology for high definition of hot and cold details within the same image. The imager provides an affordable solution for predictive maintenance or troubleshooting applications, taking high-quality images that rival more expensive imagers on the market, in a more compact and easy-to-use design.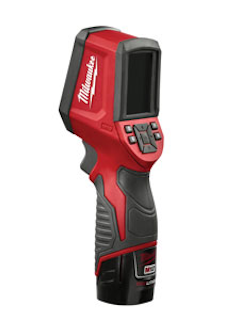 Designed from the ground up with the professional tradesman in mind, the 7.8KP Thermal Imager gives users very good detail to view the quality of construction, inspect hard-to-evaluate systems, and understand the extent of damage instantly. DUAL SENSE technology allows the imager to individually optimize pixels to eliminate the blurring of hot and cold details in complex scenes. Equipped with 83:1 distance-to-spot performance, dual lasers and hot/cold spot locators, users are able to quickly scan, target and capture temperature readings from long range or small areas.
Milwaukee Tool
---
RM27 Stump Cutter More Versatile
The Rayco stump cutter just became more versatile for the rental and landscape industries. Rayco's RM27 Multi Tool Carrier is a new platform for carrying a variety of work tools, including Rayco stump cutters, plus tillers, trenchers, snow throwers, power brooms, push blades and more.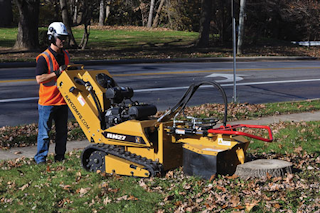 The stump cutter also provides operators with an economical and versatile tool carrier capable of using a variety of implements. The RM27 tool carrier maximizes profit by operating work tools at a fraction of the price of dedicated machines.
The new RM27 is self-propelled with rubber tracks and is powered by a reliable 26.5hp Kohler, fuel injected, gasoline engine. The RM27 has been designed for the rental and landscape industries with easy to operate controls and a low maintenance hydraulic system. Service points are easily accessible and powered implements feature beltless drive trains. The RM27 is available with non-marking rubber tracks.
Rayco