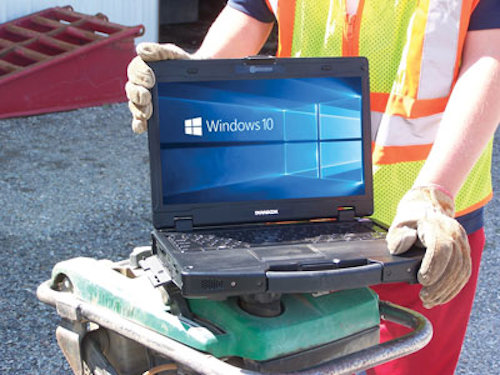 DURABOOK SA14 Rugged Notebook for Utility Personnel
Mobile computers: Utility IT departments face more challenges than the average IT department. High percentages of their personnel work in the field instead of the traditional office environment-maintaining, upgrading and repairing complex infrastructures to safely deliver power, water, gas and electricity to their customers, day in and day out. GammaTech's DURABOOK line of rugged computers contains solutions for nearly every utility industry requirement.
The DURABOOK SA14 is well suited for applications on field diagnostics and simulation data collecting. Supervisors needing a solution as a field desktop replacement often turn to the SA14 because of its large, wide display and its ability to thrive in infrastructure sites and in-vehicle with the available docking solutions.
The SA14 features a 14-in. LCD display, the option for Intel Skylake i7-6500U or Intel Skylake i5-6200U processors, Intel HD Graphics 520; up to 12 hours of battery life and 32GB of memory; and optional Gobi5000 LTE support and GPS. It is compatible with Windows 7 and 10. With its magnesium alloy design and military standards of drop, dust, shock and spill resistance, the DURABOOK SA14 is designed for efficient and safe use in cable, water, gas, electricity and telecom industries.
GammaTech
---
Windows 10 Rugged Tablet: Mesa 2
Handheld computers: Juniper Systems offers the Mesa 2 Rugged Tablet. Featuring a large display, the Mesa 2 is also Juniper Systems' first handheld to run on Windows 10, allowing for improved decision-making in the field, as well as smooth transitioning from field data collection to office work and back.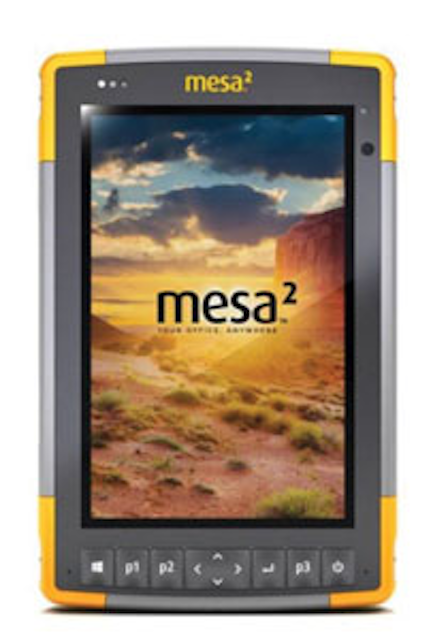 With a full Windows 10 operating system, the Mesa 2 provides users with access to an even broader range of software options to meet their data collection needs and is powerful enough to use in place of a desktop computer when in the office. The Mesa 2's 7-in. display strikes a balance between providing ample viewing area for collected data and reducing overall weight for minimal fatigue and superior, all-day comfort.
The Mesa 2 is designed to perform reliably in harsh environments and is cited to be the only IP68-rated rugged Windows tablet available, providing complete protection against water and dust. It even maintains a seal while its ports are in use, while most other tablets on the market are exposed to damage from water and dust if the port cover is not securely in place. The Mesa 2 also features an IllumiView display, providing visibility in any lighting conditions, and its chemically-strengthened Dragontrail glass touch screen provides superior durability, reducing haze from surface scratches and cracks normally caused by accidental impact.
Juniper Systems
---
Metering
Nexus 1500+ High-accuracy Meter Easy Install NEMA 1 Type Enclosure
Electro Industries/GaugeTech (EIG) announced that the Nexus 1500+ high-accuracy revenue and Class A power quality meter for critical metering applications is now available in a pre-wired NEMA 1 type enclosure assembly. This meter incorporates EIG's exclusive Constant Calibration technology that self-calibrates the meter every 10 seconds for high metering accuracy and stability.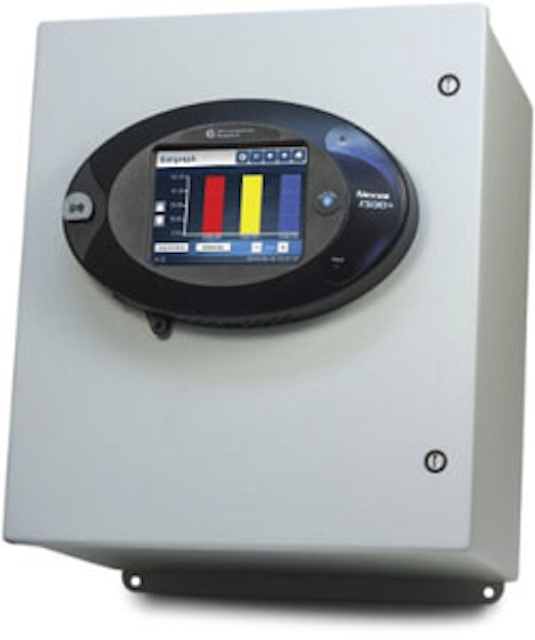 EIG's Nexus 1500+ Meter in Enclosure expands switchgear capability and lets the user easily meter critical circuits without expensive and time-consuming switchboard panel redesign. The meter is pre-wired in the enclosure with shorting blocks and fuses for error-free and quick installation. The enclosure has a locking mechanism to prevent tampering.
Electro Industries/GaugeTech (EIG)
---
Digital Voltmeter/Phaser New Double Vision
Voltage meter: HD Electric Co., a Textron Inc. company, has launched its Double Vision Dual Display Digital Voltmeter, a compact, high accuracy dual display voltmeter and phasing set with capacitive test point mode and peak hold. It can be used in both overhead and underground applications and is accurate and repeatable to within 1 percent. The voltmeter is lightweight and its weather-resistant construction is especially useful in tight work environments with minimum approach distances or with storm duty during disaster relief.
The Dual Display Digital Voltmeter, Model DDVM-40, measures voltage from 5V to 40 kV and the voltage is displayed on the two large bright LED displays that can easily be read from a distance or in bright conditions. The two LED displays are synchronized so the same voltage reading is shown on both displays. There is also a dual battery monitor with automatic shut off.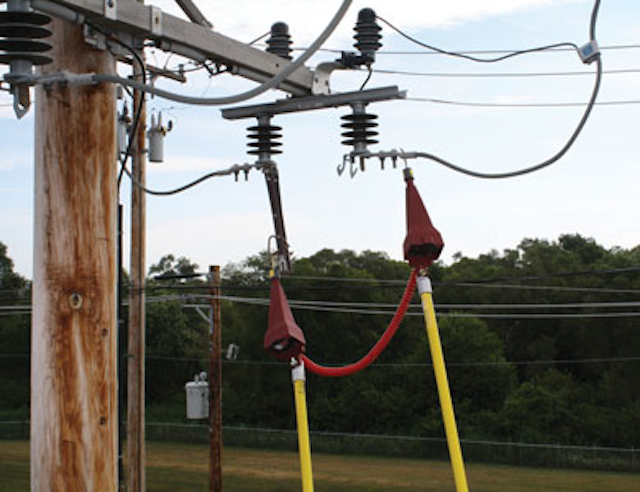 The Dual Display Digital Voltmeter has a single button interface that controls all modes, including: line to line measurements, line to ground measurements, capacitive test point, cable fault testing, and real time and peak hold reporting.
There are several probes and accessories that can be added to enhance your work effort.
HD Electric