Overhead & Underground
Jul 1st, 2011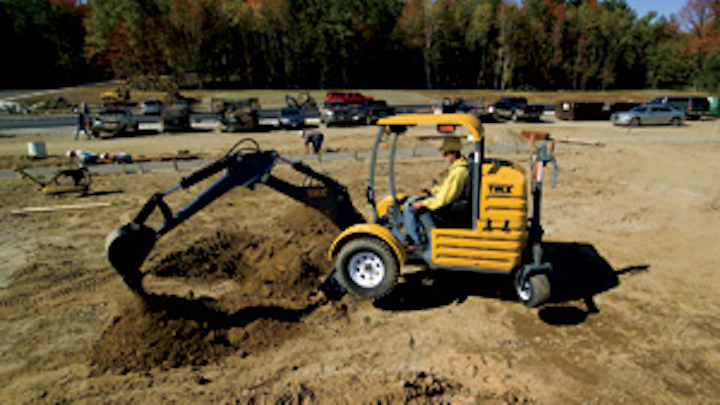 TMX Towable Mini-excavator Line Introduced
Innovative Equipment introduces the new line of TMX towable mini-excavators. Featuring a quick-on and quick-off hitch system, the TMX units can be hooked behind a standard 1/2-ton pick-up, van or light-duty tow vehicle, saving fuel and hassle. No trailer is needed, and no commercial driver's license is required.
Unlike conventional mini-excavators, TMX units eliminate tracks by utilizing zero-turn technology common on lawnmowers. The zero-turn rotation enables convenient access to tight locations and allows work on well-established lawns or greens by virtually eliminating the potential for turf damage. Drive tires are designed for mud terrain, ensuring performance and traction in demanding applications.
Innovative Equipment
CIRCLE 104 ON READER SERVICE CARD
---
Telescopic Cranes
Iowa Mold Tooling Co. Inc. (IMT) offers new telescopic cranes featuring one of the longest reaches in the industry and greater capacity. The new cranes—the 7500, 8600, 9500, 10000, 12000 and 14000—have model numbers corresponding to their capacity in pounds. They each offer up to 30 feet of reach and increased capacity over previous models. To support the cranes' expanded capabilities, IMT has upgraded the structure and stability of its Dominator mechanics trucks.
The new cranes feature a patent-pending Penta Boom design. With a flat top that eliminates stress concentrations inherent with certain boom designs and a half hex that controls tracking at long reaches, the five-sided boom offers premium strength and durability.
The cranes also feature a fully proportional "pistol grip" radio remote system that allows all the crane functions to be operated simultaneously, providing added versatility and enhanced productivity.
Iowa Mold Tooling Co. Inc. (IMT)
CIRCLE 105 ON READER SERVICE CARD
---
Duct Hunter Detectable Rodders Locate Buried Cable Without Digging
Jameson's Duct Hunter detectable rodders accurately locate buried cable, sewer lines and gas pipes without digging. Utilizing the rugged construction of Buddy Rodders, the Duct Hunters have a copper wire in the rod to trace or map underground conduit or pipe.
Connecting a signal transmitter to the Duct Hunter energizes the unit so the rod's signal radiates through the soil. A hand-held signal receiver is then used to detect the frequency so the entire buried utility can be traced. The ability to locate without digging saves time and prevents damage to existing utilities.
In addition, Jameson now offers two cable and pipe locators and a transmitter to use with its Duct Hunter detectable rodders. Locate any energized conductive path—telephone/TV cables; copper and aluminum wire; conduit and power lines; iron, steel and copper water lines; gas lines; and tracer wire by plastic pipe.
Jameson
CIRCLE 106 ON READER SERVICE CARD
---
6800 Series Automatic Switch Controls Now Available
S&C's 6800 Series Automatic Switch Controls are now available for overhead and underground switching and sectionalizing applications. They replace the existing line of 5800 Controls and are capable of running S&C's IntelliTEAM SG Automatic Restoration System. 6800 Controls offer fault detection and automatic sectionalizing, and are fully supervisory control and data acquisition (SCADA) compatible. They include an integrated battery management system and battery, permitting dead-line operation.
Featuring both Ethernet and serial communication ports, 6800 Controls can accept virtually any communication device commonly used in distribution automation applications. An optional global positioning system (GPS) module provides 1-ms accuracy time stamping for data logging, along with automatic reconstruction and playback of actual field events using IntelliTEAM SG's advanced in-field instant replay capability. And, an optional WiFi module permits configuration and interrogation of the control from the safety and security of your vehicle.
S&C Electric Co.
CIRCLE 107 ON READER SERVICE CARD
---
Bucket Barricade for Linemen Provides Added Protection
Hastings, a manufacturer of hotline tools and equipment, announces a new lineman innovation, the Bucket Barricade. This patented product gives linemen added protection when working on high voltage connections.
Bucket Barricade is designed to fit inside the lift bucket and gives added face and body protection against sudden releases of energy that can occur during an electrical flash. Unlike face shields—which can fog up and obstruct visibility, creating a potential hazard—the patented design of the Bucket Barricade allows airflow and guards the face and body with one solid sheet of clear, high dielectric impact resistant material.
This new product does more than shield from electrical arc and arc flashes. Bucket Barricade also protects against wind and weather conditions and transformer oil spray.
Features include:
• Built-in tool board,
• Accommodates any bucket size,
• Available in two width sizes of 18 and 23 inches,
• Adjusts to four different heights with one-hand deployment, and
• Easy to stow design.
Hastings Inc.
CIRCLE 108 ON READER SERVICE CARD
---
Rechargeable Battery Pack Provides Flexible Locating
Radiodetection announces the launch of a rechargeable battery pack for its Precision Cable & Pipe Locator ranges. The new pack—compatible with all RD5000TM, RD7000+ and RD8000 models—offers both operational flexibility and improved cost-of-ownership to locating professionals.
The rechargeable pack means that operators no longer have to replace, manage and recycle alkaline batteries—reducing the associated costs, workload and environmental burden.
With a run-time equivalent to the best alkaline batteries at normal operating temperatures and significantly improved in cold temperatures where alkaline batteries can struggle, the rechargeable pack can be fully charged in only three hours and topped-up or charged on the move from vehicle lighter sockets with the optional dc charger.
The rechargeable pack and charger can also be specified as an option when ordering Radiodetection's RD5000WL, RD7000+ or RD8000 precision cable and pipe locator kits.
Radiodetection, an SPX Co.
CIRCLE 109 ON READER SERVICE CARD
More Utility Products Current Issue Articles
More Utility Products Archives Issue Articles