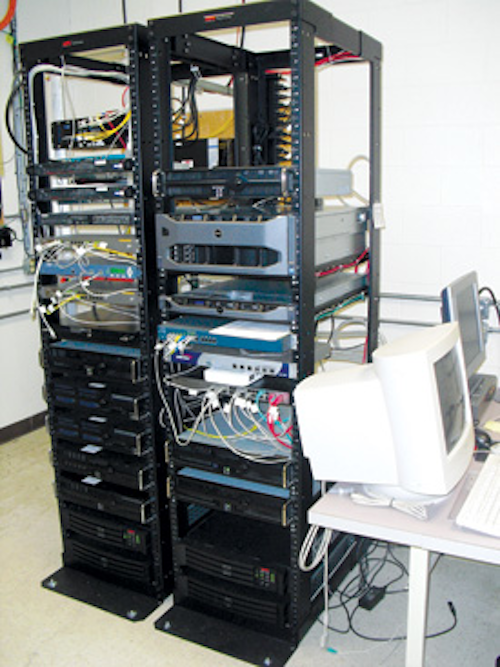 With Advanced Metering Infrastructure Network
By Hassan Ali
Chillicothe Municipal Utilities (CMU) is a combination utility that supplies water and electric services to the city of Chillicothe, Mo.—the business and energy hub of northwest Missouri. CMU provides electricity to approximately 4,700 customers through eight substations and 115 miles of line. And, it provides water to approximately 4,000 customers through a system that consists of four alluvial wells, a water treatment plant that has the capability of providing six million gallons of water per day, and 90 miles of transmission and distribution mains.
Challenge
CMU was in the process of replacing more than 4,000 outdated water and electric meters when it determined that the project also presented an opportunity to implement a system-wide advanced metering infrastructure (AMI) network. CMU had been considering adding a two-way AMI system for its water and electric services to help improve customer service and operational efficiency in ways that would bolster its water and electric infrastructure to help meet future service demands.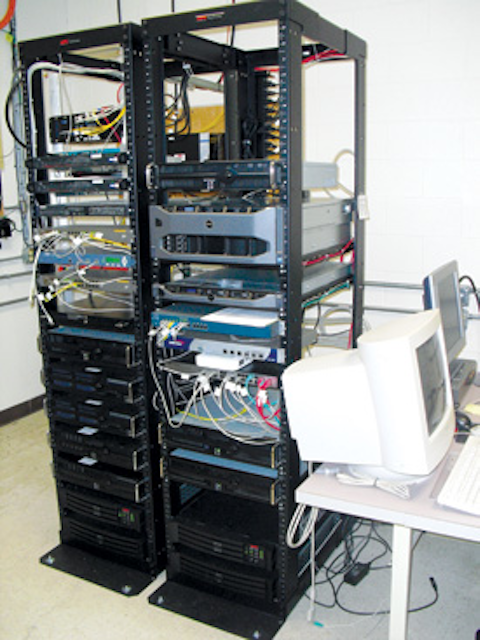 Water and electricity usage data that is transmitted by smart meters via radio frequency through the Mi.Net system is collected and stored in the CMU server.
Solution
CMU selected the Mi.Net Mueller Infrastructure Network for Utilities, a two-way AMI system developed by Mueller Systems that fully automates the meter reading-to-billing process and links meters, distribution sites and control devices in a single data network. The system's major components work together to completely automate the process of accurately determining how much electricity or water a customer uses—for any period of time—and allows the provider to accurately bill the customer for that usage.
Mi.Net uses transceivers on metering devices, known as Mi.Nodes, to gather and pass usage data via radio frequency to an area data collection module, known as Mi.Hub. This gateway collects and uploads the usage data to Mi.Host—Mi.Net's master data management (MDM) software—where it is then relayed via general packet radio service (GPRS) or other backhaul options to CMU's server and its third party billing software.
Results
Prior to Mi.Net, CMU was very limited in its ability to address certain customer service issues. When customers had usage or billing concerns, CMU's service representatives were unable to show electric or water usage based on specific dates or times—all they could provide was monthly usage information.
With Mi.Net, CMU and its customers are now able to view electricity and water usage on a monthly, weekly, daily and even hourly basis. Access to such detailed information has enabled CMU to not only help customers improve electric and water conservation but also to detect potential water leaks in customers' households that are responsible for losing water that customers unknowingly pay for.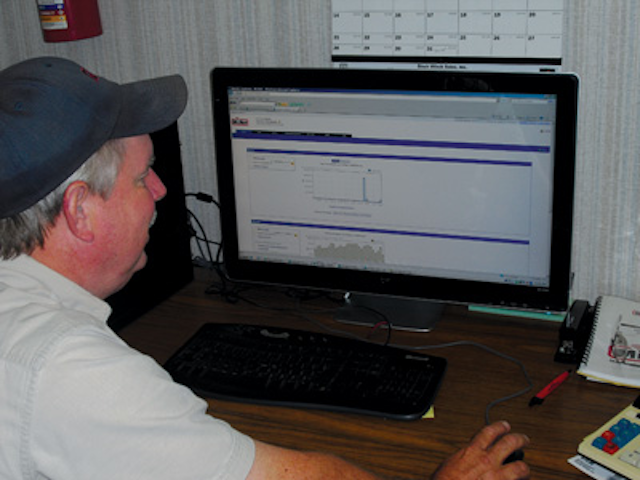 CMU meter reader is viewing near real-time water and electric usage rates through the Mi.Net System interface. Before CMU's implementation of Mueller Systems' AMI network, CMU meter readers had to manually collect readings each month. Now, readings are automatically sent through the network to CMU's office, where they are stored in the municipality's server.
And, as a result of Mi.Net's real-time outage alerts, CMU is immediately notified of even the smallest power outage that might be indicative of a bad electrical connection in a customer's home. By receiving these alerts, the municipality can proactively dispatch field crews to fix such problems during normal business hours, before they result in after-hours power outages.
"Mi.Net has enabled CMU to simultaneously improve customer service and operational efficiency while reducing costs," said Jim Gillilan, general manager for Chillicothe Municipal Utilities. "We are able to help customers improve conservation and save money by providing them detailed, on-demand views of their water and electricity usage. This real-time data access allows us to make sure we are applying our service factors in appropriate ways, and alerts provided by the system have helped reduce operating costs by giving us the means to address potential outages ahead of time before they result in service interruptions."
CMU also experienced an immediate increase in revenue as a result of the implementation. Before Mi.Net, the utility's billing gap was approximately 15 days—beginning when a meter reader collected usage data and lasting until bills were issued. Mi.Net's integration with CMU's third-party billing software helped the municipality reduce its read to billing to less than three days. By reducing the gap, CMU was able to experience revenues for approximately 1.3 million kWh of electricity and 10 million gallons of treated water and reduced the amount of unbilled receivables.
As a result of the improved customer service and operational efficiencies provided by Mi.Net, CMU plans to implement Mi.Data—Mueller Systems' interactive and easy-to-use Web portal that is also part of the Mi.Net system. Mi.Data graphically presents usage data to consumers in a format that allows them to easily monitor their water consumption, compare current usage to previous periods, configure individual alerts and set budget and water conservation goals. Mi.Data is expected to be available in the fourth quarter of 2011.
---
About the author: Hassan Ali is vice president and general manager of Cleveland, N.C.-based Mueller Systems, a provider of advanced metering solutions for water and energy systems. Mueller Systems is a subsidiary of Mueller Water Products Inc., a North American provider of water infrastructure products and services. A smart meter and water infrastructure expert, Ali previously served as director of quality and business excellence at Siemens Power Transmission & Distribution and as general manager/vice president, and then director of marketing for Landis + Gyr.
More Utility Products Current Issue Articles
More Utility Products Archives Issue Articles