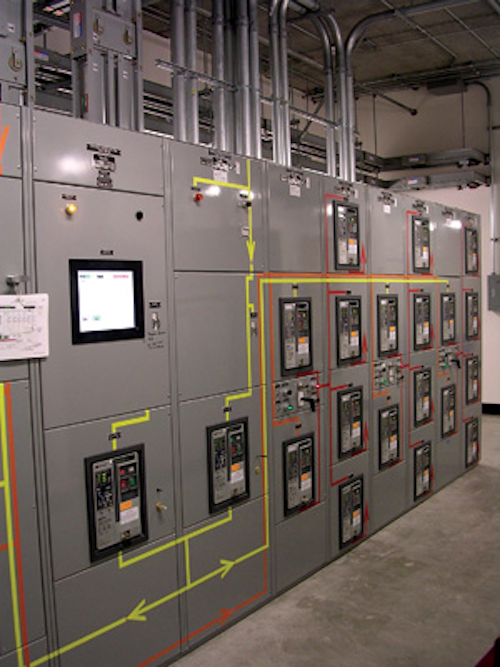 By Danny Benjamin
Since 1911, Los Angeles-based W.A. Benjamin Electric Co. has built high-reliability electrical power distribution products. Clients represent a diverse spectrum of industries—telecommunications companies, large school districts, water suppliers and wholesalers.
The company has manufactured power plant control systems since the 1930's that are still in service today. Other products have included stage dimmer boards and fire alarm pedestals. But, the company's core product has always been custom-designed switchboards for many applications.
Today's heavy-duty switchgear solutions are used to automatically or manually control and monitor the transfer, distribution and shedding of electrical power extending up to 38 kV. See Figure 1. The switchgear can be integrated with generator controls, emissions controls, automatic paralleling and automatic transfer breaker designs. Historical event logging and meter trending are monitoring features now offered.
Some of the original switchboard products used marble interiors and exposed live components. Over the last century technology has greatly advanced. Hand switch controls transitioned into programmable logic controller (PLC) automation with light emitting diode (LED) lightbox indicators, a configuration called Load Manager. Today, most generator and circuit breaker control schemes are automatically controlled and remotely monitored using solid-state components.
W.A. Benjamin Electric was one of the first to adopt touch screen control panels, discovering over time the need for systematic control was not being met. That led the company to develop its own control solution, the Compass Control platform.
The Compass Control platform encompasses many different automation components, including one or more industrial personal computers (IPCs), PLCs with input and output (I/O), and local touch screen operator interface panels.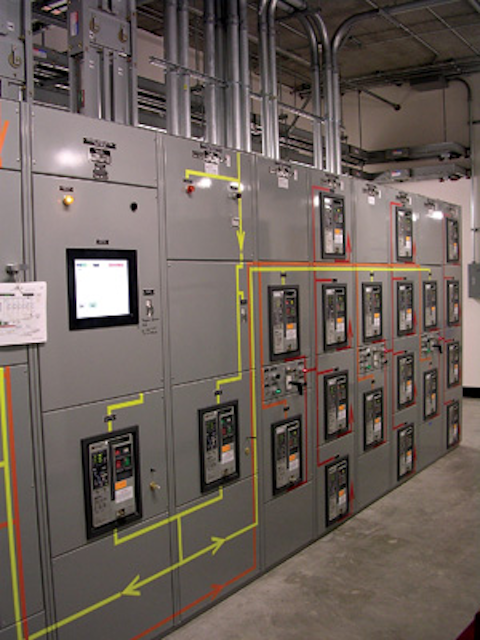 Figure 1. Compass Control mounted in switchgear. This is a typical switchgear lineup with multiple circuit breaker cubicles. The local touch screen operator interface is visible in the first section.
But, the heart of Compass Control is the personal computer- (PC-) based software package. With this software package, Compass Control can monitor and control one or many switchgear systems at a facility. Compass Control can be configured as a key component in a control and monitoring solution or used in a passive monitoring-only mode as the compass monitoring software solution. A key component of Compass Control is the industrial PC host, which must survive in the high temperature environments that switchgear is often subjected. See Figure 2.
For many years, W.A. Benjamin Electric assembled its own in-house PC to run its software; after experiencing problems assembling its PCs, however, the company began searching for a next-generation industrial PC platform. It needed a platform that could meet its stringent requirements and further improve the performance of its entire Compass Control and compass monitoring solutions. Issues with maintaining the in-house PC platform led the company to look for a commercial off-the-shelf (COTS) solution.
Trial by Fire
A candidate in the search was Phoenix Contact's newest generation of computers—the Valueline series of IPCs. During investigation, it was found that this IPC was designed as a solid-state product with no moving parts.
Rotating components such as fans and traditional hard drives are usually the most common point of failure in standard PCs. By avoiding the use of these components, Phoenix Contact is able to offer a standard two-year warranty. In addition, the warranty is extended to five years when the IPC is combined with its QUINT SFB power supply and PLUGTRAB main line surge suppression.
For the speed, data storage capacity and reliability critical to W.A. Benjamin Electric's applications, the company selected one of the available solid-state drive (SSD) options. These drives feature a mean time between failure exceeding one million hours, equivalent to 114 years running 24/7 and enable the IPC to continuously operate at high temperatures.
An extended temperature operating range is a key requirement for the switchgear systems. To ensure the IPC met its claimed specs, the company used an environmental chamber. In a 14-day test, the IPC was operated in an oven where it was subjected to 125F temperatures. The IPC survived the trial with no adverse effects.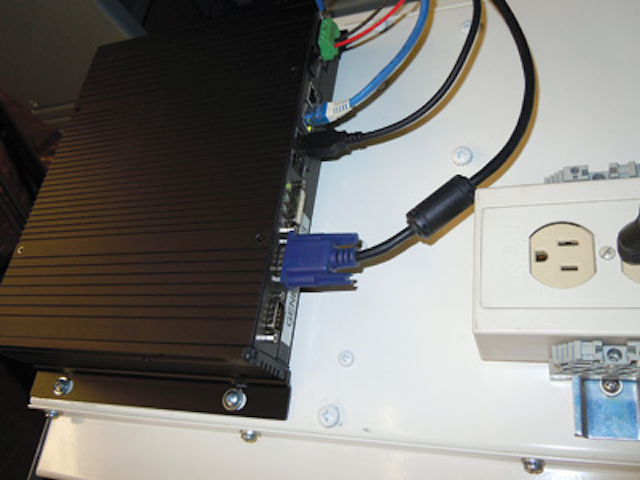 Figure 2. Valueline PC mounted in Compass Control. The selected industrial PC features a tough case and multiple mounting options, as depicted in this switchgear section installation.
Compass Control—Anything but Typical
There is no such thing as a typical switchgear system. Simple systems might have a few I/O points and serial connections, while more extensive applications can range up to 100 distributed PLCs—each handling 50 I/O points and several Ethernet inputs. These Ethernet inputs can come from devices with Ethernet connectivity or via serial-to-Ethernet converters for devices with only a serial port.
Discrete I/O points include circuit breaker position status, trip and close command outputs, protective relay status and hand switch inputs. More advanced switchgear components—such as circuit breaker trip units, protective relays, power monitors and generator controls—are linked to the control system via analog and serial connections.
One Compass Control platform benefit is combining disparate automation components into a single platform. This integration with various vendor components, where applicable, can be bidirectional. In addition, Compass Control can simultaneously present its monitoring and control information to multiple remote clients.
The IPC has dual Ethernet ports with an embedded router. This feature provides the hardware firewall between the internal network and the client's Intranet, while restricting the IPC to a single static Internet Protocol (IP) address.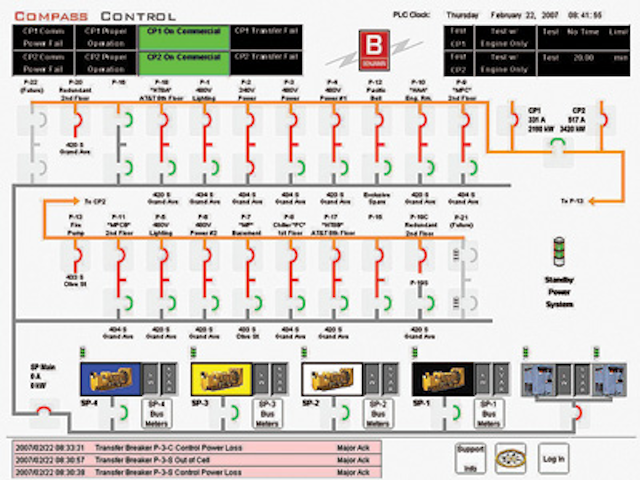 Figure 3. Compass Control status. Browser-based access shows breaker and system statuses at a glance, using simple icons and colors or detailed images, as appropriate.
Under the Hood
In addition to the IPC, the switchgear control systems utilize many automation components. Because the company is normally sole sourced, it is able to drive component selection towards the best available combination of price, performance and reliability—benefiting the company and its clients.
W.A. Benjamin Electric has standardized on a brand of PLCs and I/O, although in some instances it provides a PLC brand specified by the client. In each project, one or more of the preferred PLCs provide real-time control of the switchgear devices via classic I/O, while offering a form factor that lends itself to installation within the switchgear.
For a local operator interface at the switchgear, the company typically uses a liquid crystal display (LCD) touch screen that connects directly to the IPC. The real power of the control system, however, is in how easily users can remotely perform monitoring and control.
Offering high flexibility, remote operator interface can be via any web browser of the user's choice as long as the browser can connect on the network with the appropriate privileges. See Figure 3. This is possible because of the operator interface software running on the IPC that forms the heart of the Compass Control platform.
The Compass Control software offers all the features of any commercially available human machine interface (HMI) software package without the inherent drawbacks of version conflicts and licensing issues. Compass Control must be programmed by a professional, and W.A. Benjamin Electric provides that service as part of its offering. The company also provides the training needed for users to take over the Compass Control platform.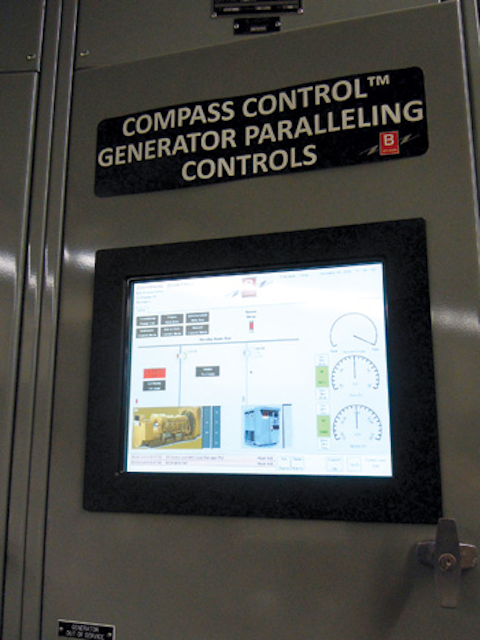 Figure 4. Front door of Compass Control section. Touch screen operator interfaces installed at the switchgear allow local monitoring and control.
Compass Control runs on the company's engineered implementation of the Linux kernel, specifically designed to meet its system's needs. Since the IPC hardware is Linux-compliant and available without an installed operating system, the product provides an exact fit.
Switchgear systems are always mission critical, so the hierarchical security system gives local operators control, when necessary. To help ensure proper operator choices, the software prompts "Are you sure?" when important changes are made.
The local touch screen provides real-time initiation of commands in the PLC. It also allows viewing of configuration statuses, alarms, settings and many other parameters. Straightforward graphic animations and detailed images enhance clarity for the operator. See Figure 4.
Operating Results
Ensuring the selected IPC offered current technology, durability and the required features was part of the equation. Also important was vendor support, beginning with pre-sales and continuing on to design and commissioning.
Even though the IPC is an industrial-grade product, W.A. Benjamin Electric expects the vendor to stay current with constantly evolving commercial-grade computer technology. The vendor also offers many more products—power supplies, Ethernet switches, surge suppressors and terminal blocks that can be integrated into the control system.
Looking forward, this IPC will be evaluated as an HMI platform for the company's soon-to-be released Power Quality Analyzer line of products. It will definitely have a place because of it durable construction, high heat handling capabilities and embedded Ethernet router.
---
About the author: Danny Benjamin is CEO of the W.A. Benjamin Electric Co. For more information, please go online to www.benjaminelectric.com.
---
Buy vs. Make
The Compass Control platform, as originally developed, used an in-house designed board-level PC. This enabled the engineers to maintain close revision control over the hardware while optimizing performance for the application. Another driver towards an in-house solution was that commercially available products didn't have all the capabilities W.A. Benjamin Electric and its customers needed.
Owning this degree of control, however, also presented problems. Recently, the company began to see that commercially available offerings had improved to overcome earlier deficiencies, and it began to define three areas where an outside source could improve an internal solution.
First, rapidly evolving PC technologies, per Moore's Law, meant that it was difficult to consistently source short life-cycle components. In-house engineering resources expended effort to locate legacy components or to redesign the PC boards if parts became obsolete. The quantity of time spent on these activities became excessive.
Second, the high temperature performance of the internally developed PC hardware became more of a concern. As switchgear control systems evolved, the company found that it was asked to supply and integrate more and more solid-state automation components, each of which added heat. The result was that the installation environment for the switchgear became very hot, and the existing design had heat rejection difficulties that sometimes caused inconsistent operation.
Third, W.A. Benjamin Electric found that existing storage media were not able to support the requirements of the switchgear control system, including the Compass Control platform. Storage technology was improving, and the company could have updated its in-house design accordingly—but it found that turning to an off-the-shelf solution was more convenient.
Taken together, these three considerations steered W.A. Benjamin Electric away from continuing to "make" its own PCs and directed it to research a standard COTS IPC that it could readily buy and easily apply.
More Utility Products Current Issue Articles
More Utility Products Archives Issue Articles