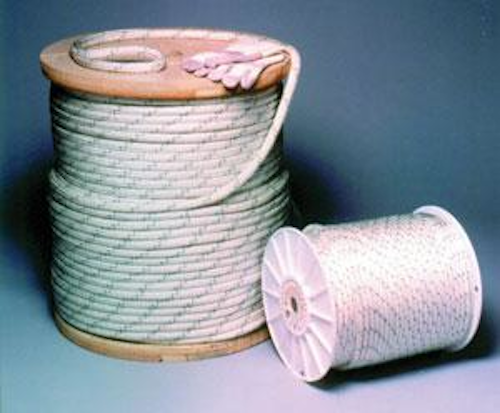 Pelican Rope Works of Santa Ana, California has been a leader in creating new and improved High Force Cable Pulling Lines for more than 38 years. Pelican manufactures two distinctly different types of pulling lines: composite double braid and 12-strand single braid.
The Pelican Rope double braid composite construction has been an industry standard for years. Tough and reliable, Pelican High Force composite pulling line is a blend of polyester and nylon with low stretch and high tensile strength that offers an even balance and excellent resistance to moisture, abrasion, sunlight and most common chemicals.
For smaller diameters with strengths equal to larger diameter ropes, the inner core is available in super strong fibers of Technora Dyneema. Tests performed by an independent laboratory to ASTM F1701-96 (five minutes at 100 KVAC) confirm these ropes exhibit good resistance to electric conductivity when in a new and dry condition. However, any rope fouled with dirt, moisture, absorbent water or other contaminants will greatly increase the potential for electrical conduction.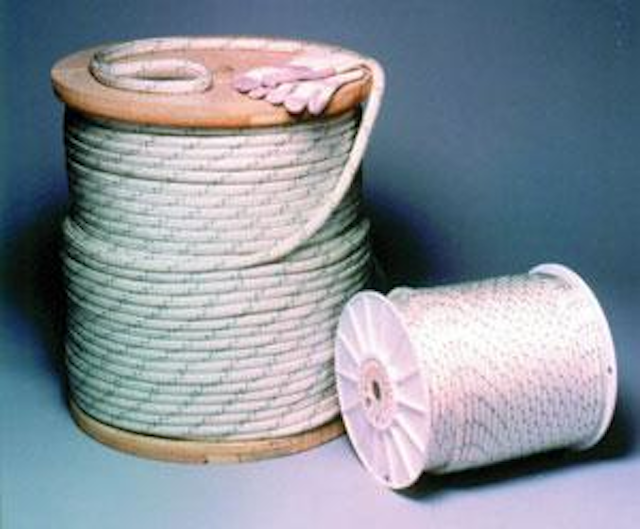 Click here to enlarge image
An added benefit provided by Pelican's composite construction beyond the aforementioned, is that all Pelican High Force Cable Pulling ropes come with professional hand-spliced eyes and chafe guards at both ends.
Double braided composite construction ropes have excellent applications for contractors working with boom truck winch lines, tension stringing or underground pulling equipment. The end-user must be confident that pulling ropes will not break mid-way though a job. Pelican High Force Composite pulling ropes have tensile strengths ranging from 2,500 lbs (1/4-inch diameter) to 50,000 lbs. (1-1/8-inch diameter).
Boom Truck Winch Lines and Davit Lines
These ropes are used for lifting and lowering in the arborist, utility, telecom, tower safety, electrical and rescue industries. By now, most municipal utility companies and electrical contractors should be very familiar with composite pulling lines.

Click here to enlarge image
Introducing Technora! The newest innovation rope for the utility industry is Pelican's 12-strand single-braided Technora, an Aramid fiber with amazing strength and cost-saving characteristics. Technora's high tensile strength is eight times as strong as steel and three times as strong as fiberglass, polyester and nylon of the same weight. This property will serve significantly to reduce weight and result in significant cost savings as will be described later.
Characteristics
High tensile strength.
Fatigue Resistance—High tenacity fibers generally show a loss of strength against repeated abrasion, flexure and stretch. Technora has excellent fatigue resistance as compared to other high tenacity fibers.
Technora has a stiff and highly oriented molecular structure which leads to a high modulus, low creep and less stress relaxation. Due to its low thermal shrinkage, it has good dimensional stability.
Technora has a decomposition temperature of 500C. It can be used at 200C for long periods of time; even at 250C it maintains more than half of its tensile strength that was measured at room temperature.
Technora exhibits high resistance to acids, alkalis and organic solvents. It is also resistant to sea water and steam.
Comparisons of weight per 100-foot and tensile strengths:

Click here to enlarge image
This example clearly shows advantages of Technora vs. other type of fibrous or wire cables. In the search and rescue industry, a recue helicopter with 4.4 pounds of weight vs. 83.3 pounds will save on fuel, ease of lifting and no more "hooks" from old wire.
Firefighters are using Technora as safety lines that will not "melt" and are lightweight with superior tensile strengths compared to other "rescue" ropes.
Utility trucks can reduce wear and tear on their winch motors with light and stronger rope. Reels for stringing lines can carry longer lengths or simply reduce weight for greater fuel economy.
Pelican rope works has many other fiber "blends" and continues to be a leader in new products that provide high standards of safety, functionality and economical advantages.
About the Author: Rod Woods, Pelican Rope Works executive vice president, has been in marketing and sales management for over 40 years. Rod resides in Huntington Beach, California with his wife, Jennifer. Rod is a Staff Commodore of Bahia Corinthian Yacht Club, Corona del Mar, CA. and is an accomplished racing skipper.