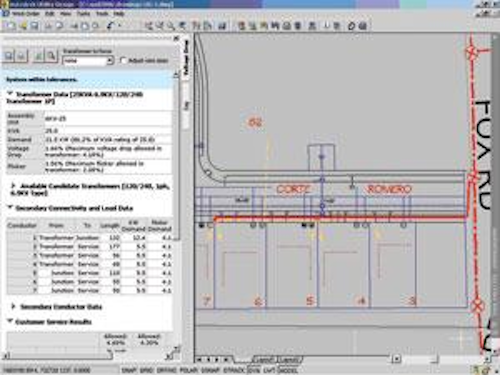 The Situation:Whether a utility serves a small town or a big city, its customers expect dependable service. Not only do customers expect their current needs met, they also expect city planners, builders and utility managers to accurately forecast and plan to meet future growth in demand. In order to continue to meet customer expectations and provide reliable service, utilities will have to develop smart approaches that address both current demands and future growth simultaneously, rather than in isolation.
Operating in this complex environment, utilities across the nation face a broader set of business challenges now more than ever before. From Main Street to Mid-town, American utilities have to address two issues that will redefine the industry: major fluctuations and predicted disruptions in the work force; and, growing consumer demand requiring smarter and more efficient planning and design.
Workforce Disruptions
As anyone who has spent time working in utilities will know, this industry is on the brink of a baby boomer retirement shockwave. In the next decade, according to an American Public Power Association finding as much as 50 percent of America's utility workforce—the technicians, engineers, linemen and maintenance crews that propel the industry and deliver core services to U.S. and Canadian households and businesses—will retire.
From crews in the field to plant managers and senior company leaders, the industry is looking at managing a significant knowledge transfer. With new workers to train, motivate and deploy, the industries must also find a way to maximize productivity in the existing, experienced workforce.
The challenge to utilities is how to get the most out of an inexperienced workforce in the short term, and how to quickly train and place a new generation of skilled workers in the long term. Like changing tires on a car while driving 60 miles per hour (best left to trained professionals), this workforce maintenance will have to be done while at the same time delivering consistent service to a growing base of customers. Overcoming this challenge will take ingenuity and innovation.
Growing Demand
Utilities are also expected to plan, design and construct infrastructure in record time to meet an ever-growing consumer demand. Even with an increased awareness of the need for energy efficiency, demand for energy (natural gas, electricity and oil) is expected to grow by double digit rates in the coming decade. This increase in energy demand will require a corresponding increase in transmission and distribution capacity.
In cities and metro regions like Las Vegas, Nevada, where population and demand have grown year after year, the demand on utilities is two-fold: provide more energy reliably; and, maintain the high level of customer service that consumers expect.
This pressure to plan and build at a record pace will be met only by streamlining the design process, minimizing wasted time, materials and money, and reducing on-boarding time for new employees.
The Solution
Fortunately for managers and planners alike, technology can provide new tools to much-needed smart and efficient solutions. One such tool, Autodesk Utility Design (AUD) software, has already delivered results for some of the nation's leading electric utilities. The software streamlines the design process and incorporates built-in intelligence and ease-of-use that helps utilities train and deploy new, less-experienced workers quickly while ensuring the design product maintains the standards required.
Autodesk, provider of applications such as AutoCAD Map 3D, Autodesk MapGuide Enterprise and Autodesk Topobase, designed AUD to assist planners in doing their work more quickly and accurately. The software saves time and money by providing distribution designers with a single solution for creating construction sketches, performing engineering calculations and generating complete material orders. Previously, performing engineering calculations and generating material orders was a manual, labor intensive and error-prone process, which led to time lost in the field because of non-standard designs. AUD automatically generates accurate, complete and consistent material orders based on engineering standards, reducing time and errors.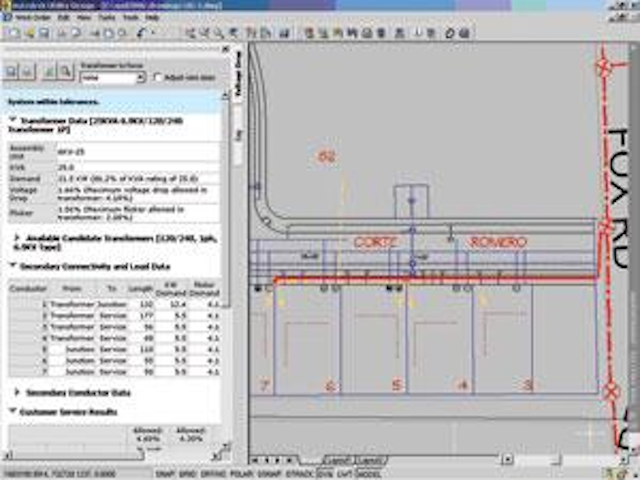 Autodesk Utility Design software helps users more easily and accurately design, engineer, order materials, and estimate costs for residential, commercial, and industrial gas and electric systems.
Click here to enlarge image
By smoothly integrating with other Autodesk design tools already in wide use, AUD allows all network design work to be done in one tool. Previously, engineers and designers would have multiple documents open to create the utility design: the developers' plans, an excel sheet to do the engineering calculations, the utility design program, and then various programs to create the workorder. With AUD, engineers, planners and designers are able to create all data in a single application, increasing accuracy and reducing the amount of time spent redundantly entering data.
AUD has many features that help managers quickly and efficiently train new employees or develop the skill sets of existing staff, helping ease the knowledge transfer. Because AUD is AutoCAD-based, it gives designers and engineers who were trained in AutoCAD a familiar interface to work with and eases the original design process because many developers deliver plans in DWG format. Additionally, AUD includes a set of intelligent symbols and engineering calculations that help standardize the design process and reduce training time.
A Small Town in the Desert
Nevada Power has had to meet some extraordinary challenges in its 102-year history. The utility has seen its customer base in Las Vegas and surrounding counties swell to more than 600,000 customers at the start of the 21st century. With this amazing growth, Nevada Power has been able to maintain award-winning performance and customer service, including a nod from J.D. Power and Associates.
Like many other power suppliers, Nevada Power relied on a mix of experienced and relatively new designers to manually prepare and estimate material orders. There was a lack of consistency throughout the engineering department; different designers were coming up with different specifications for the same job. This led to over-ordering of supplies and cost overruns.
In 1999, the Nevada utility implemented AUD to augment its existing Autodesk design platform. Right away, the utility's planners and designers saw significant efficiencies from the new tool. The software's built-in data automatically populates and counts compatible units, taking much of the variance out of the process. The program also allows users in different locations to access data, import and export information and share information in real time with colleagues and customers.
Since implementing AUD, Nevada Power has seen significant savings and a sizeable return on its investment. From saving time and money training staff to reducing its inventory and carrying costs, AUD has allowed Nevada Power to plan better, speed up its time from design to construction and integrate real-time data into the planning process.
Northern Lights
Far away in more ways than one is another success story, not in the deserts of the American Southwest but in the far northern reaches of Alaska. Facing an entirely different set of circumstances, Anchorage Municipal Light and Power also turned to AUD to solve its unique challenges.
In Anchorage, the primary challenge has been a shortage of experienced designers and engineers. In this environment, bringing new designers and engineers up-to-speed quickly is critical.
"Autodesk Utility Design enables our designers and engineers to produce standards-based layouts, material orders, project estimates and reports," said Ray Pearce of the Anchorage Municipal Light and Power Company. "AUD is highly configurable and its open architecture allowed us to automate time-consuming procedures. The delivered functionality of AUD combined with our configurations has yielded significant efficiencies and improvements to our design process."
AUD gives utilities a tool to streamline the network design process, including standards-based design rules and built-in engineering calculations. It provides what utilities need most: efficient, accurate processes in a familiar, AutoCAD-based environment. Many utilities have realized the benefits of a standards-based design process; Southern California Edison, California's largest electric utility, and Arizona Public Service, the largest publicly-owned utility in Arizona, recently implemented AUD to standardize the design process and bring their next generation of planners up-to-speed more quickly. As utilities face the need to do more with less, technology solutions such as Autodesk Utility Design are valuable tools to meet the challenges they face today and into the future.
About the Author: Alan Saunders is the industry principal for the Autodesk Utilities business unit. He is responsible for Solution Strategies, Product Development, Alliances and Marketing for the utilities industries globally. Saunders has over 25 years experience in the international energy and utilities business. With experience leading successful initiatives in distribution operations, customer service, energy trading and marketing, business development, and solution strategy and delivery, Saunders brings a big-picture view to anticipating and solving industry challenges.