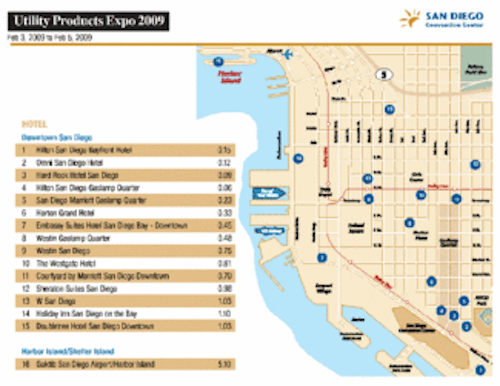 By Kellie Sandrik
Everything You Need in a Show
On February 3-5, 2009 Pennwell will launch a unique, new trade show and conference for the utility industry – Utility Products Conference & Exposition (UPCE). Utility Products magazine is the sponsoring publication of this new event, which will bring together buyers and sellers of CATV, telecom, water and power equipment, providing them with an opportunity to see and hear about the latest products available. This new event will be co-located with DistribuTECH (DTECH) in San Diego, and will provide the field worker with the opportunity to discuss and learn about practical solutions to everyday problems. Attendees will benefit from product demonstrations, workshops, breakfast roundtables, training and conference sessions, as well as indoor and outdoor exhibits from companies with solutions and products for the workplace.
UPCE attendees will also have access to the DTECH exhibit hall and can move freely between the two trade show floors. Attendees can also upgrade their registration and attend conference sessions at both shows.
Keynote Address
UPCE attendees are invited to attend the Keynote Address hosted by DTECH. This year's keynote speakers are Frank Abagnale, Kurt E. Yeager and Michael R. Niggli. Abagnale is the world's foremost authority on fraud and identify theft, and was the subject of major motion picture, Catch Me if You Can (2002), directed by Steven Spielberg. His story has a moral and takes audiences from laughter to tears on an emotional roller coaster ride, and explains what life is really about. Yeager is Executive Director, Galvin Electricity Initiative. He works with electricity experts, innovators and entrepreneurs to design and build prototypes of a smart, efficient electric power system that cannot fail the consumer. And the final keynote speaker, Niggli, is the Chief Operating Officer (COO) of San Diego California Gas Co. (SoCalGas), Sempra Energy's regulated California utilities. Niggli was named COO in 2006.
Utili-Skills Academy
In addition to the conference sessions, attendees can arrive early and attend the Utili-Skills Academy training courses. The half-day or full-day pre-conference courses begin February 2 and are relevant, topical, issue concentrated classes taught by recognized experts in their respective fields. Topics will include: ultimate safety, utility locating and marking, excavation safety, underground utility post damage investigation, post accident investigation, fault finding, water leak survey & detection, and certified fiber optics courses in which certificates of completion will be awarded.
UPCE Conference Highlights
The UPCE Conference begins Tuesday, February 3 and will consist of four tracks, with four sessions in each track for a total of 12 sessions. Tracks include:
Overhead/Underground Construction & Maintenance
- Proper Grounding of Conductors for Overhead
- Underground Locating: What Lies Beneath?
- Rehab of Utility Infrastructure
- Underground Construction
Business Practices
- Fleet Management: Battling the Budget
- Aging Infrastructure: Problems & Solutions
- Working with Contractors
- Solving the Aging Workforce Challenge – Panel Session
Safety, Training & Testing
- Total Safety Culture for Management
- Arc Flash Protection
- Complete Fall Protection – Panel Session
- Accident Prevention
New Technologies, New Practices & Their Impacts on Utilities
- Meter Installation and Maintenance
- Introducing New Technologies to Mobile Workers
- High Voltage Testing
- Fleet Management: Plugging into PHEVs
For session descriptions, please visit www.utilityproductsexpo.com.
Breakfast Roundtables
Attendees also have the opportunity to attend breakfast roundtables on Wednesday, February 4, from 7:30am to 9:00am. These informal breakfasts will allow attendees to network with peers, meet industry experts and discuss important topics related to the industry. Breakfast roundtable topics include:
Underground/Overhead Construction & Maintenance
Business Practices
Safety, Training, Testing and OSHA Standards
Latest Developments in Clothing and Equipment
Fleet Management
The Exhibit Floor
The exhibit floor will provide attendees with an excellent opportunity to view indoor and outdoor exhibits including: safety products; wire, cable & fiber optics equipment; lineman tools; metering devices; computers & software; overhead/underground equipment and much more. A variety of companies will be represented, including (as of 11/21/08):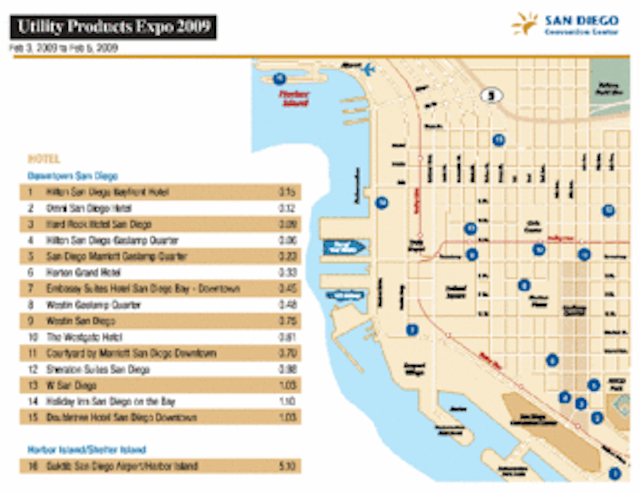 Click here to enlarge image
Utility ProductsExposition Exhibitors Booth #
A.R.E. 323
Aircraft Dynamics 317
Al Asher and Sons, Inc. 1026
Auto Driveaway 100
Brooks Utility Products Group 200
BURNDY Products, an FCI Company 414
BURNDY Products, an FCI Company 1016
Cabling Installation & Maintenance Magazine 329
CACT-CO 405
Cembre, Inc. 208
Cisco Systems, Inc. 1058
Condux International, Inc. 1048
Cooper Power 300
Electric Light & Power Magazine 329
Federal Signal Corporation 410
Goldak, Inc. 319
HeaterMeals, Inc. 206
Hercules Industries, Inc. 304
Highway Products, Inc. 1006
Hi-Line Utility Supply Company, Inc. 111
Hubbell Power Systems, Inc. 214
Huskie Tools Inc. 402
INNER-TITE Corporation 216
J. E. Lortie, Co. (Jelco) 406
J.L. Matthews Co. Inc. 400
Jameson LLC 226
Klein Tools, Inc. 301
Mobile Desk/SVP MPG 201
NASCO Industries, Inc. 311
Pelican Rope Works 115
Pelsue 302
Pelsue 1008
PennWell Corporation 329
RIDGID 101
Sensors & Software, Inc. 310
Terex Utilities 401
Terex Utilities 1032
United Rentals 307
UTILCO 211
Utility Automation & Engineering T&D Magazine 329
Utility Equipment Leasing Corporation 218
Utility Products Magazine 329
Water World Magazine 329
WHELEN Engineering Co., Inc. 315
Xcel Energy 1002
Yale Cordage 418
Networking Opportunities
In addition to walking the show floor and attending conferences, the event staff created several events for attendees to network while enjoying great food and entertainment. On Tuesday, February 3 from 5:00pm – 7:00pm the UPCE Networking Reception will offer barbeque, beer, music and, of course, networking. On Wednesday, February 4 be sure to head over to the Hard Rock Hotel for our Rock 'N Roll Networking Reception from 6:00pm – 8:00pm, where we will have a live local band, food, drinks and Guitar hero and Karaoke contests. The best karaoke performer will win the karaoke machine and a random drawing will take place for the Guitar Hero. The networking receptions are free to all attendees and exhibitors.
Plan to Attend
Many great opportunities to learn and network exist at Utility Products Conference & Exposition. Make plans to attend today so you can be a part of this inaugural event. Hotel rooms are booking fast, so we highly recommend you book yours now. For more information on the show, conference sessions, breakfast roundtables, exhibitor lists, hotel information and more, please visit www.utilityproductsexpo.com.