Tools & Supplies
Jul 1st, 2008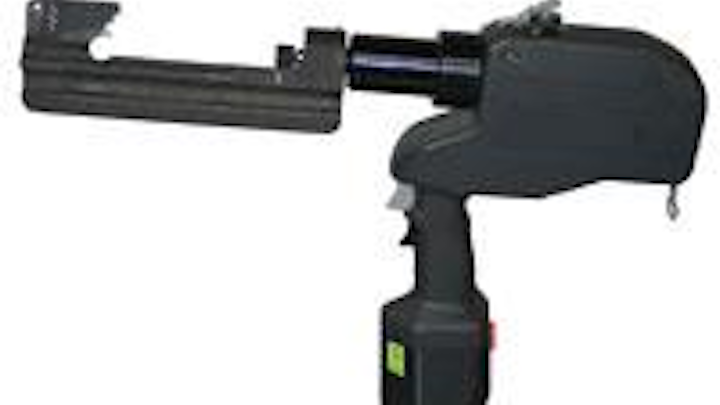 REC-MDT Battery Powered Wedge Connector
Click here to enlarge image
The Huskie REC-MDT is a precision battery actuated hydraulic tool, designed to install AMPACT tap and stirrup connectors without the use of powder actuated cartridges. The REC-MDT will interchange with any HUSKIE 14.4 Volt battery. The proven AMPACT tap "C-component" and wedge design provides a stored energy system that prevents connector degradation and achieves extremely low contact resistance over the "in-service" life of the connector.

As thermal cycling causes the conductors to expand and contract, the AMPACT tap spring member flexes and maintains constant contact pressure. With the small AMPACT tool head mounted on the REC-MDT tool, the user can install taps up to 350 kcmil (AWG). By attaching the large head to the same tool body the tap range is expanded to cover conductor sizes ranging from 477 kcmil to 3500 kcmil. The Huskie REC-MDT is 100% environmentally friendly and carries a 5-year warranty on tool and batteries.
Huskie Tools
www.huskietools.com
---
ECO-EZ558 ROBO*CRIMP
Click here to enlarge image
The ECO-EZ558 Streamline compression tool is designed to crimp commonly used service entrance connectors including lugs, splices, H-taps and C-taps. It has a powerful 6-ton output utilizing the same compression head as the REC-558 tool. It accepts both "W" and "O" type dies, with a "D3" standard nest die included.

The NEW ECO-EZ558 also accepts the optional 25CAT cutter head attachment. Quick release pins allow the operator to change between compression and cutter head in one minute with no springs or pins to lose. This tool operates on the same 14.4 volt battery used in all of the Huskie Robo tools. Just like the rest of Huskie's battery tools, energized lines will not affect the operation or performance of the tool.

The NEW ECO-EZ558 Streamline tool carries a 3-year warranty on the tool and a 5-year warranty on the batteries.
Cat. No. 5228 - Robopak Tool Adapter Combo Kit
Click here to enlarge image
Stop replacing all those expensive cordless batteries and maintain portability of your Huskie battery operated tools. With the XL 9280 you will increase your tool's run times 6x. The XL 9280 Robopak is equivalent to six Huskie cordless batteries. Robopak has cost effective refurbishable/replaceable battery systems that are able to power hundreds of other tools, lights and equipment that require from 6V to 28V to operate. The XL 9280 is charge friendly and can be left on charge. No memory problems.

Cat. No. 5228 includes: XL 9280 Robopak, Huskie Tool Adapter (fits all Huskie Tools) & Worldwide AC Charger.
Aircraft Dynamics Corporation
www.aircraftdynamics.com
---
New Headlamp Technology
Click here to enlarge image
The HL-1 3AAA eLED Headlamp is built off of a cylinder type construction, designed to rotate on its own axis, self contained and roughly the size of the plastic capsule a 35mm film comes in. It has a waterproof rating of 10 meters, two power options, three selectable beam patterns, a high power LED (Approx. 1⁄2 watt) and an output of approximately 29 lumens. With a large power button and adjustment knobs, the HL-1 3AAA eLED can be turned on and off and cycle through beam patterns and colors with ease — even while wearing lineman's gloves.

Other Features:
Proprietary Battery Warming / Heat Recovery System — Warmer batteries equals more power
UK's Proprietary Advanced Compound Path Optics (CPO)
UK's CPO system is self-contained. Internal lenses rotate over the primary bulb system offering the different beam pattern/ color options: Spot, Wide and Red Wide using a rotating knob system
Removable LED Lamp Module
Underwater Kinetics
www.uwkinetics.com
---
New Insulated Tool Line Certified to 1000V
Click here to enlarge image
IDEAL INDUSTRIES INC. introduces an extensive new line of insulated screwdrivers, nutdrivers, pliers, and cutters. Offered individually or in convenient multi-piece sets, the new tools meet ASTM F1505-01 and IEC 60 900 standards, as well as comply with OSHA 1910.335 regulations and NFPA 70E standards. Each tool is UL and VDE listed and certified to 1000V AC for exceptional safety.

The new cutters and pliers feature double insulated Santoprene handles. The high-visibility orange outer-surface handle resists oil, perspiration, water and chemicals for precise functionality, while the permanently bonded, inner-surface handle is bright yellow so it acts as an "at-a-glance" safety monitoring system.

IDEAL is offering its double insulated cutters and pliers in a broad range of styles, including the company's popular Reflex wire stripper cutter design. These tools feature high carbon steel jaws with induction hardened cutting edges and serrated gripping surfaces.

Key to the success of the new screwdrivers is a tempered blade that is finished with black oxide and hardened for longer life and maximum quality. The nutdrivers are precision formed and hardened for heavy-duty workloads.

Screwdrivers and nutdrivers are available in all standard sizes and styles.
IDEAL INDUSTRIES INC.
www.idealindustries.com
---
High Dielectric Strength Rope
Click here to enlarge image
Yale Rope Technologies announces its dielectric rope, Hy-Dee Brait, a 100% olefinic, 8-strand plaited rope. Hy-Dee is torque free, flexible, easy to splice, and has extremely high dielectric strength both wet and dry. The Dry conductivity will not exceed 100 microamperes at 100kV, and wet 1 miliampere at 125kV. Test method available upon request.
Yale Cordage Inc.
www.yalecordage.com
---
Kits for Hazardous Spills
Click here to enlarge image
Oil Eater has introduced all-in-one, professional grade emergency spill kits designed to clean up hazardous spills.

Each kit contains a generous supply of absorbent pads, pillows, universal snakes, booms, protective gloves, oil-resistant high temperature disposal bags, an emergency response instruction guide and a 5-gallon pail of Oil Eater cleaner/degreaser.

Kits are available in 65-gallon and 95-gallon overpacks which can handle the corresponding volume of liquid.
Eco-Friendly Cleaner/Degreaser Eliminates Need for Multiple Cleaning Solutions
Click here to enlarge image
The new eco-friendly Oil Eater cleaner/degreaser is a powerful, water-based cleaner that uniquely matches effectiveness with safety and eliminates the need for multiple cleaning solutions. The cleaner is biodegradable, non-corrosive, non-toxic and non-flammable.

It cuts through oil, grease, grime and dirt, encapsulating them into a solution that rinses off easily and leaves no residues. It is very effective on equipment, engines, tools, concrete, asphalt and much more and it won't harm the skin. It is also an excellent concentrate for parts cleaning and pressure washing machines.

Oil Eater is available in 1-gallon size, 5-gallon bucket and 30- and 55-gallon drums.
Kafko International Ltd.
www.oileater.com
---
150th Limited Edition Tape Stop Power-Return Rule
Click here to enlarge image
Klein Tools recently added a Tape Stop Power-Return Rule (Cat. No. 915-25) to its existing line of power-return rules. The 150th anniversary limited edition tape measure features a unique self-lock blade that automatically locks the blade.

For ease of use, the new power return rule is designed with oversized, easy-to-read, numbers and a dual-end hook that allows for effortless attachment.

The Tape Stop Power-Return Rule features architectural markings in 1⁄8" and ¼" scale printed on the first 10' on the back side of the nylon-coated blade for easy elevated and flat surface measurements. Weighing less than a pound, the rule is 1" wide and can be extended to 25'.
Magnetic Screwdriver with 32-Piece Tamperproof Bit Set Offers Easy Access and Storage
Click here to enlarge image
Klein Tools is offering its new magnetic screwdriver (Cat. No. 32510) with a 32-piece tamperproof bit set for secure, tamperproof fastening applications with the flexibility needed to tackle a variety of projects.

Designed with the professional tradesman in mind, the Klein magnetic screwdriver has a sturdy bit and screw holding magnet that allows screws to fit firmly in place for secure fastening and ease of use. A Cushion-Grip handle provides for greater torque and comfort.

The 32-piece tamperproof bit set (also sold separately, Cat. No. 32525) holds nine TORX, six fraction hex, five metric hex, four spanner, four Tri-Wing, and three TORQ-SET bits. The tamperproof bit set contains a 1⁄4" square to 1⁄4" hex adapter to drive sockets. The industrial strength steel bits have been heat treated to provide long-lasting use. A durable PVC gray storage block supplies trouble-free storage of the bits. The block slides over most screwdriver shafts for convenient bit access and storage.

A 32-piece standard tip bit set (Cat. No. 32526) is also available for use with the magnetic screwdriver. The standard tip bit set contains seven hex, six Phillips, three square recess, seven TORX, six slotted, and two clutch bits. A durable PVC black storage block allows for the same safe-keeping of the standard bits.
Klein Tools
www.kleintools.com
---
Introducing the LUG-ALL 4-CHB
Click here to enlarge image
LUG-ALL has introduced a new 11⁄2- and 2-ton capacity web strap puller, the LUG-ALL 4-CHB. With the LUG-ALL 4-CHB, all the parts needed to switch from a double line to a single line are the hoist, so you don't have to worry about misplacing or losing parts.

The LUG-ALL 4-CHB utilizes a convertible bracket and shaft that is secured by a linchpin. During conversion, the quick release action and replacement of the linchpin and shaft means you can be operational quicker without having to worry about a pulley block left hanging around on the line. When you are in the bucket every minute counts.

The LUG-ALL 4-CHB weighs 15 pounds and saves 4 inches on a single rig and 8 inches on a double rig.

Have an old 4-HB model but want the 4-CHB capabilities? Instead of buying a whole new hoist, buy a 4-HB conversion kit. The 4-HB conversion kits come with parts that will allow you to easily convert your old 4-HB model into the convertible 4-CHB model.
LUG-ALL Corp.
www.lug-all.com
---
Ergo One-Hand Reversing Ratchet
Click here to enlarge image
A more comfortable tool is a more productive tool. J.H. Williams Tool Group's ergonomic tools put greater control, power and precision into your hands. The ½" or 3⁄8" drive ergo One-hand Reversing Ratchet is ergonomically designed with a smooth, non-slip handle ensuring maximum comfort in your hand. The ring switch provides easy, one-handed change of direction. Easy access reverse lever allows user to change working direction quickly and easily with only one hand. Built-in ratchet spinner disc for fast socket turn-down. 72 tooth gear with 5-degree engagement allows engagement in tight working areas. Nickel/Chrome plating provides protection from rust and corrosion. Durable handle material withstands aggressive fluids and oils.
Electronic Dial Torque Wrench
Click here to enlarge image
The new Electronic Dial (ED) torque wrench features solid state electronics for accurate torque application and measurement. ED's design provides easy set-up and usage. There is no need to look directly at the digital readout as the wrench features three indicating lights and an audible buzzer. The ED wrench has unsurpassed reliability and durability, 21st century technology in a simple, easy to read digital torque wrench.
J.H. Williams Tool Group
www.jhwilliamstoolgroup.com
---
The New Handi Klip
Click here to enlarge image
Glove Guard LP is committed to meeting the needs of customers and to provide the best glove clips money can buy. Their newest addition, Handi Klip, is the result of those needs. It features oversized jaws and a non-breakaway ball and socket design that allows both ends to rotate freely. In the rare instances when a safety breakaway is not needed, or might not be advantageous, Handi Klip will provide another quality alternative. When a safety breakaway is needed, the Glove Guard & Utility Guard lines have a proven record of reducing glove loss and thereby reducing hand injuries.
Glove Guard LP
www.gloveguard.com
---
One-Watt Focusable Micro LED Flashlight Packs a Big Punch
Click here to enlarge image
LEDtronics introduces a new Micro High-Power LED Flashlight. While continuing the durability of its predecessors, it has a one-watt, 80-lumen LED chip that emits over 4,300 end foot-candles (4300cd) of bright Cool White (8000 Kelvin) light that's powerful enough and lasts long enough to light your way — all the way home. Other LED light colors are available for qualified customers.
LEDtronics Inc.
www.ledtronics.com
---
B54Y Linear Crimping Tool
Click here to enlarge image
Cembre Incorporated is now offering a compact and light 6-ton Linear crimping tool. At 6.4 lbs and only 17 ¾" tall, the new B54Y will include many specifications to increase safety in the field, including:
It can be operated with one hand;
It is balanced for greater control;
Jaws on the B54Y rotate by 180˚ for ease of operation in confined spaces;
Automatic return of the jaws after completion of the crimp;
Automatic return can be stopped at any time to ease positioning; and
There is minimal vibration for better grip.
The main feature of this new technological innovation is the original method of transforming the action of the motor into the hydraulic pressure necessary for the execution of the connector crimping cycle. This method permits a limitation of the size of the tool while, at the same time, achieving optimal energy efficiency.
The pumping piston requires no seals; furthermore the hydraulic operating mechanism is designed to eliminate hydraulic dynamic tightness.
The inside of the plastic shell containing the tool's body is shaped to achieve separation of fresh incoming air flow from warm outgoing air, resulting in much improved cooling of the mechanisms of the tool.
Cembre Inc.
www.cembre.com
---
Flood Lens and Adapter Bezel
Click here to enlarge image
Renowned for the versatility of their lights, Golight has added yet another feature to its line of remote controlled search lights. The lights can now be fitted with a flood lens. The innovative design allows for the flood lens to mount directly over the existing lens with a simple bezel modification. The new lens is composed of an extremely durable polycarbonate that is impact-, scratch- and heat-resistant. With the flood lens attached, the light transitions seamlessly from a search to a work application by increasing the beam angle to 40° x 40°.
Golight Inc.
www.golight.com
---
KTW6021 Series Wire Wrap Tool Kit
Click here to enlarge image
JDV is pleased to introduce their new KTW6021 Series Wire Wrap Tool Kit. These tool kits are designed to provide all of the essential tools for terminating 22-24 or 24-26 AWG wire-wrapping applications.

The KTW6021 Series Tool Kits includes a Standard Pneumatic brand (model 6021) 120 Volt wire wrap tool, bit/sleeve, hand wrap tool, unwrap tool, cut/strip tool, and a deep cavity tool pouch. (Left handed tool pouches are also available.)

Also, JDV offers electric, battery, and manually operated wire wrap tool kits and can customize these kits (with JDV or Standard Pneumatic brand tools) to meet the needs of your application.
JDV Products Inc.
www.standardpneumatic.com