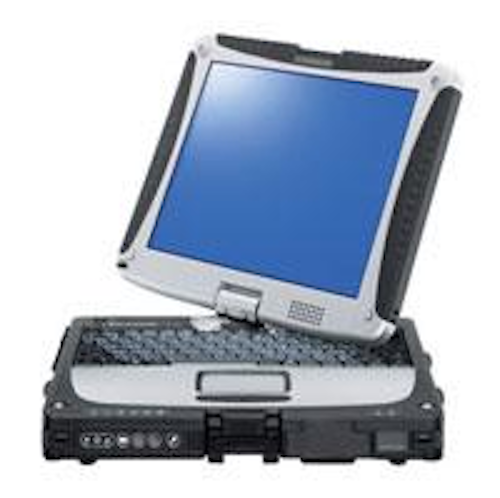 June 24-27 — Pennsylvania Convention Center — Philadelphia, PA
SCTE Cable-Tec Expo 2008, with "Engineering History in the Making" as this year's theme, is set for Tuesday through Friday, June 24–27 at the Pennsylvania Convention Center in Philadelphia. Expo is marking its 25th anniversary this year.
For 25 years, SCTE Cable-Tec Expo has unlocked the industry's best engineering practices for all cable professionals—from field technicians and engineers to executives and marketing specialists.
SCTE's Expo 2008 will feature 400-plus hands-on, technology-focused exhibits, 20-plus technical workshops, CEO/CTO panels, the Annual Awards Luncheon, the International Cable-Tec Games, and an array of outstanding networking opportunities, including the relaxing Expo Evening, for the expected 10,000-plus attendees. For a quarter of a century, Expo has been recognized as the place to find ways to utilize the technologies of today and prepare for the technologies and services of tomorrow.
Get full show details and register today at
http://expo.scte.org.
Phone: 800-542-5040
E-mail: expo@scte.org
---
Rugged Toughbook 19 Convertible Tablet PC to Deliver More Computing Power, Memory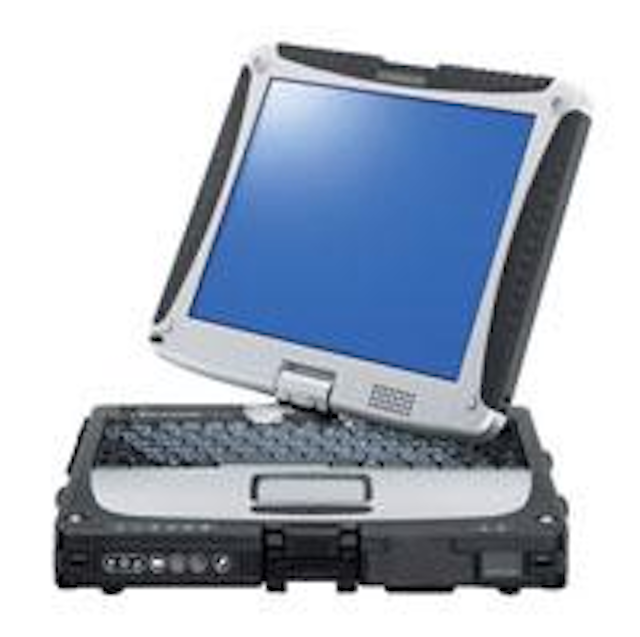 Click here to enlarge image
The next generation Toughbook 19F convertible tablet PC joins Panasonic's flagship Toughbook 30F clamshell notebook with its incorporation of the Core 2 Duo processor and expanded memory capabilities. The 5.1 lb Toughbook 19 offers an optional integrated camera for use in inspection and incident documentation applications.

These MIL-SPEC-certified notebooks address heat dissipation through its heat-pipe technology, allowing next-generation rugged units to run fast but cool without using a fan.

The Toughbook 19 has a sunlight-readable 550 nit tablet model or a 500 nit touchscreen – both come with an anti-glare, anti-reflective coating. In addition, the Toughbook 30 was the first notebook to achieve a 1,000 nit rating. The screens can be dimmed significantly for those working in dark environments. Both PCs deliver 7 hours of battery life.

Rugged Panasonic Toughbook notebooks are tested using the MIL-STD-810F methodology for a range of extreme conditions including drops, shocks, vibration, humidity, altitude, water-, rain- and dust-resistance, temperature extremes and thermal shock. Each of the 11 Mil-spec tests conducted on the Toughbook 19 (and the Toughbook 30) is validated by independent lab testing.

The products have achieved UL1604 Class 1 / Div. 2 certification for use in hazardous environments and are IP54-rated for water and particulates.
Booth #2107
Panasonic Corporation of North America
SqueekyKleen Saves Time and Money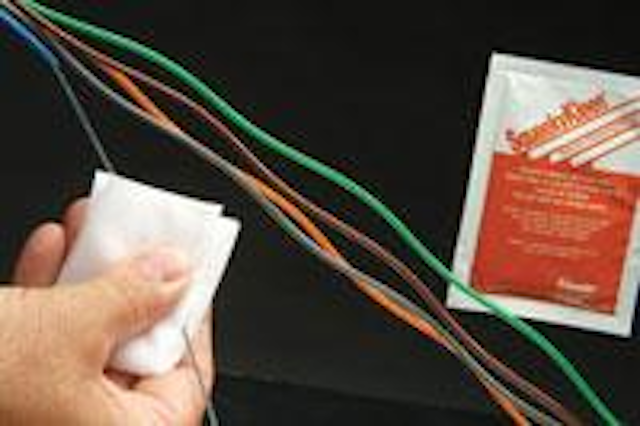 Click here to enlarge image
New SqueekyKleen cleans and fans fiber in two wipes without alcohol, saving time and money. Hear the difference! No follow-up with alcohol required to get fibers squeaky clean and separated for fast and easy splicing. SqueekyKleen is less harsh on hands and reduces chemical odors and harmful vapor concentrations to a minimum in splice trailers and vaults. SqueekyKleen's unique formulation and specially designed high-performance towellete work to remove pic from the entire surface of loose tube or ribbon fibers, leaving no residue. SqueekyKleen helps keep splice equipment clean of contamination for better fiber alignment and splice quality. Will not harm acrylite on loose tube cables or mylar on ribbon fiber.
Booth #1408
American Polywater
Lightweight. Economical. Durable.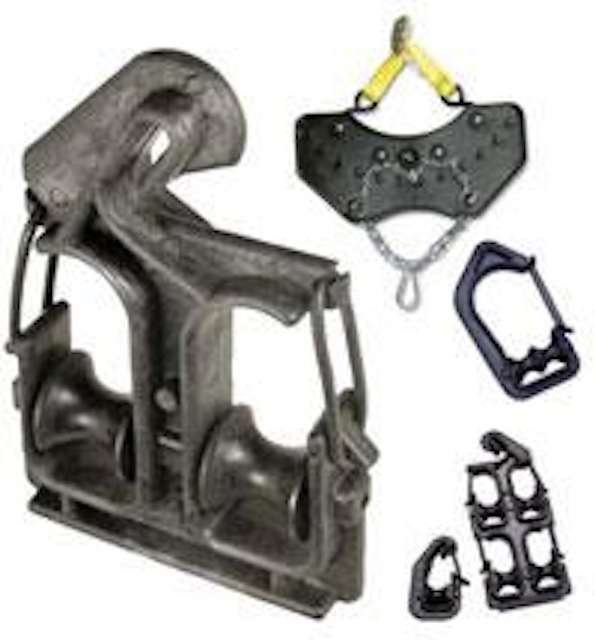 Click here to enlarge image
Don't get strung along with expensive cable blocks… Morrow cable blocks, 90° corner blocks and benders, from Budco, provide a lightweight, economical yet durable solution to stringing coax and fiber… at half the cost of typical metal cable blocks. Start saving now!
Booth #1400
Budco
New COYOTE Drop Closure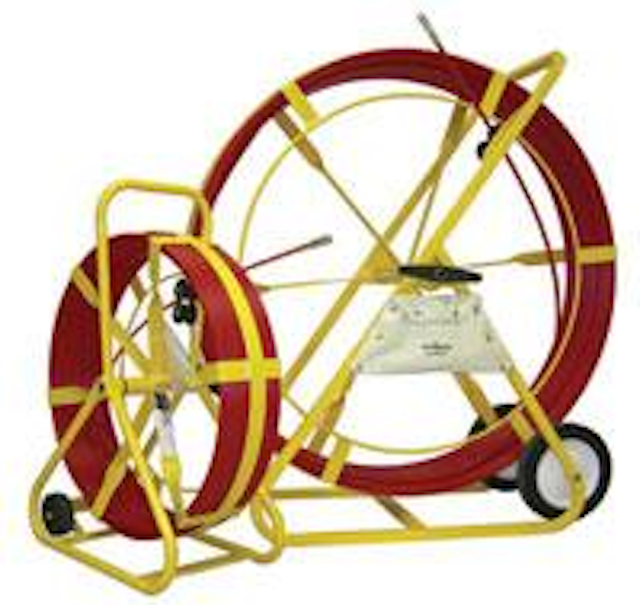 Click here to enlarge image
The complex fiber networks constructed today are only as reliable as the weakest link in the chain. Every splice location, no matter how small, must be protected from the elements to provide the maximum reliability your customers expect. The new COYOTE Drop Closure is the latest edition to the COYOTE Fiber Optics product line designed specifically to protect the small fiber count applications. The closure's compact size, use of Preformed's versatile grommet system and internal LITE-GRIP Splice Platform make this rugged closure the ideal choice to address low fiber count or repair applications. Plus you will get the problem solving and technical support you've come to expect from Preformed Line Products.
Compact Size: 17"(431.8mm) L x 7" (177.8mm) W x 2.5"
(63.5mm) D
Splice Capacity: Single Fusion: 24 Ribbon: 72
Capable of In-line or Butt applications
Accepts same craft friendly grommet system as COYOTE Dome Closures
Booth #1513
Preformed Line Products
EXFO Expertise Reaches Out to CATV/MSOs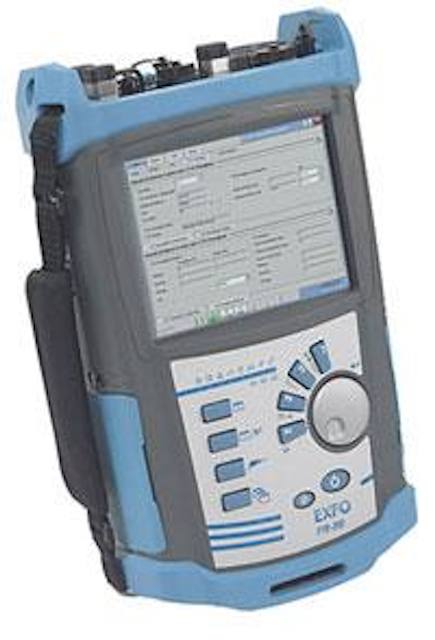 Click here to enlarge image
Leveraging more than 20 years of experience in providing innovative test and measurement solutions, EXFO has recently released two compact, comprehensive cellular backhaul test kits to support cable TV and multiservice operators (CATV/MSOs) in the testing, turn-up and maintaining of backhaul services over PDH, SONET/SDH and Ethernet links.

Housed in the rugged, lightweight FTB-200 Compact Platform, the standard EXFO backhaul kit is the ideal solution for testing DS1, DS3 and 10 Mbit/s to Gigabit Ethernet services. This standard kit accommodates two field-interchangeable modules — one FTB-8510B Packet Blazer and one FTB-8105 Transport Blazer module — to verify, validate and benchmark DSn and Ethernet services (optional STS1/3 interfaces also available).

The advanced kit, also housed in the FTB-200 Compact Platform, provides all the services of the standard kit, but also supports OC3 to OC48 SONET testing with the FTB-8120NGE Power Blazer – the Frost & Sullivan 2008 technology innovation award-winning multi-service testing solution.

These kits can also be used in conjunction with EXFO's field-proven line of optical testing products (such as OTDR and CD/PMD modules) for a complete copper-to-optical network testing and benchmarking solution.
Booth #1016
EXFO
Fiber-Guard Plenum is Flame-Retardant and Easy to Install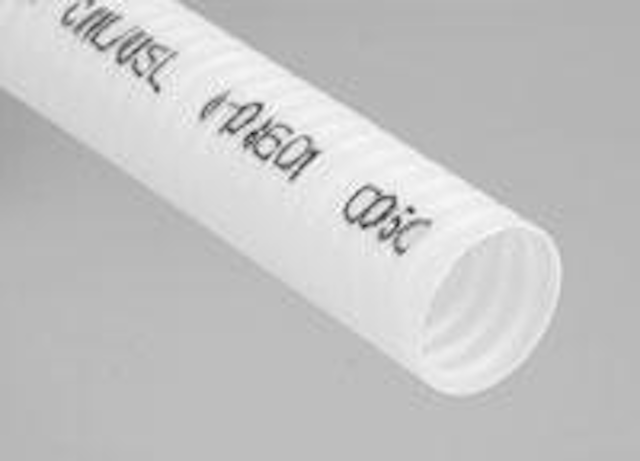 Click here to enlarge image
As a part of its flame-retardant conduit product line, ARNCO Corp. offers Fiber-Guard Plenum, which is flame-retardant and easy to install. Fiber-Guard Plenum is used as a non-metallic flexible raceway for protecting optical fibers in accordance with NEC articles 770 and 800.

The flexible and lightweight design of Fiber-Guard Plenum makes it easy to install and maneuver around obstacles that may be encountered in areas requiring plenum. The Plenum's corrugated wall provides superior crush resistance for long-term protection. The corrugated wall also reduces surface contact between the conduit's inside wall and cable jacket, helping to lower cable installation friction. Fiber-Guard Plenum is pre-installed with 1,000-pound tensile Bull-Line aramid pull tape to further help in reducing cable installation costs. Available in either white or orange for easy identification, Fiber-Guard Plenum has diameters of 1", 1 ¼", 1 ½" or 2" to accommodate specific fiber cable diameters. Sequential footage marking and product identification are printed every two feet on the plenum, which has standard lengths ranging from 250' coils to 5,000' reels.
Booth #1201
ARNCO Corporation
Duct Hunter Detectable Rodders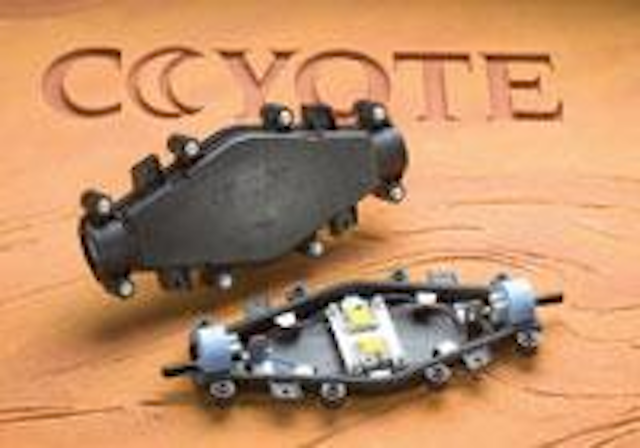 Click here to enlarge image
Known for their Buddy System of fiberglass conduit rodders and fish tapes, Jameson announced a new line of detectable rodders this year.

The Duct Hunter rodders enable underground systems such as sewer lines, gas pipes and buried cable to be accurately located without disturbing overlying soil.

Utilizing the same rugged steel construction and fiberglass core rod as the Buddy System, the Duct Hunters are made detectable by a continuous solid copper wire at the center of the fiberglass core.

By connecting a signal transmitter to the rod end, the copper within the rod is energized with an electromagnetic signal. The signal then travels from the energized rod, through the earth and to a ground spike connected to a transmitter. The energized rod acts like an antenna, detectable from above ground through the use of a hand-held signal receiver.

The ability to locate underground systems without digging saves a tremendous amount of time and resources, while preventing inadvertent damage to existing buried utilities.
Booth #1612
Jameson LLC
Introducing a New Line of Power-driven End Strippers

Click here to enlarge image
Ripley's WS 22A, WS 68, WS 68 SNAP, WS 5DA, WS 5A-DA and WS 6DA can now be used with a power drill to eliminate repetitive motion injuries.

Repeat the same motion too many times, and repetitive motion injuries are almost sure to follow. But UtilityTool gives you the power to greatly reduce those worries, with new, ergonomic end strippers. Designed for use with low or variable speed power drills, the WS 22A, WS 68, WS 68 SNAP, WS 5DA, WS 5A-DA and WS 6DA all get the job done with remarkable speed, precision and safety.

The tool is sold under Ripley's popular UtilityTool brand name, which has provided high quality wire and cable preparation tools to electric utilities and electrical contractors for over 25 years.
Booth #1017
Ripley Company
Revolutionary New 60S Fusion Splicer, Surviving 2.5' Drop Test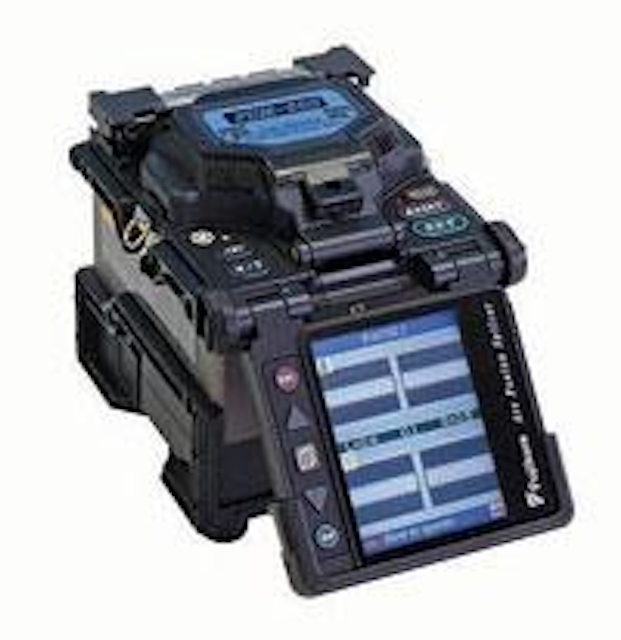 Click here to enlarge image
AFL Telecommunications is launching its newest core alignment fusion splicer, the FSM-60S, at the SCTE Cable-tec Expo in June. Retaining the reliability and functionality Fujikura fusion splicers are known for, the new model is more rugged with enhanced features, making it a more versatile option for field splicing.

Setting the standard for core alignment fusion splicing, the FSM-60S incorporates a new rugged construction, adding improved reliability by resisting shock, dust and rain. True to its form, the 60S can withstand a 30" drop test and continue splicing! Additional new features include an automatic tube heater, user-selectable clamping method (sheath clamp or fiber holder system), automated monitor image orientation, and battery charge capability that allows the battery to charge while operating the machine.

The FSM-60S incorporates a new user-friendly interface. Splice time for a single fiber is nine seconds and a 60mm splice sleeve heats in 30 seconds, making the total cycle time a mere 39 seconds.

Save time and money – the FSM-60S is the productivity tool you can count on! Demonstrations of the new FSM-60S core alignment fusion splicer will be held at booth #2212 at the SCTE Cable-Tec Expo in June.
Booth #2212
AFL Telecommunications