DistribuTECH Product Previews 2008
Jan 1st, 2008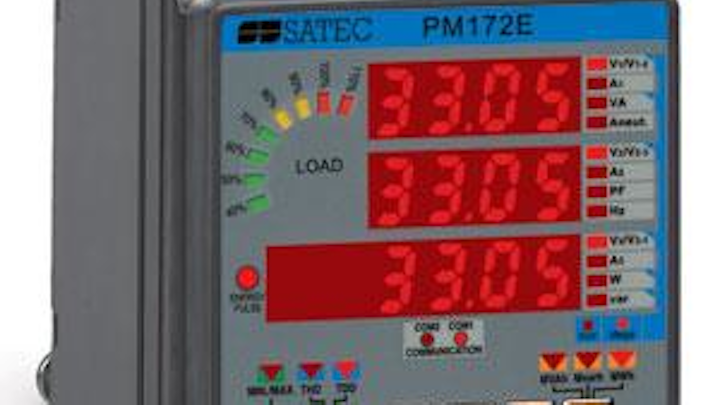 A New Low Cost, Feeder Monitoring Solution, Specifically Designed for the Substation Automation Market
The new PM172-N "Feeder Monitor" Powermeter is an advanced multifunction power unit specifically designed for electrical substation automation by monitoring feeders, switchgear, and transformers. It provides:
True RMS measurements via advanced digital signal processing to ensure revenue accurate data of more than 80 electrical measurements in one powerful device;
Two programmable contact inputs for monitoring breaker status, etc. The PM172-N can time tag when the breaker opens and closes, keep a count on the number of operations, and alarm after a predefined number of operations for preventive maintenance;
Two programmable relay outputs for measurement alarms, control of capacitors, shedding of load based upon over-demand or under-frequency, under/over voltage control, etc.;
Two analog outputs for transducer data to older RTUs / SCADA or two analog inputs for monitoring temperatures, pressures, etc.;
Two independent digital Communication Ports, each with assignable registers and three internal protocols; and
Memory for logging and trending Volts, Amps, Power, Energy, Harmonics, etc.
Click here to enlarge image
Advantages also include:
Three-Phase-at-Once bright LED Display, visible in full sunlight;
LED Percent-Of-Load Bar – mimics analog pointer for quick loading information;
5.5kV galvanic isolation on all inputs;
Fits standard 4" round meter hole; and
Field configurable to any wiring configuration, PT and CT ratio.
Booth #1031
SATEC Inc.
Restore Temporary Service with Brooks UPG Products
When emergency service must be instituted, select the most complete line of safe, easy-to-use meter socket adapters and accessories from Brooks Utility Products Group. A full range of products are available for service testing, meter disconnect and service adapters for power restoration.
Plug-in temporary service adapters allow for restoration power to be run from a transformer or neighboring meter socket. And "Dead-leg" adapters can provide full 120 volt panel service when one leg of the service has been damaged or faulted.
Click here to enlarge image
Brooks UPG offers all related covers, test links and jumpers, disconnect devices and sleeves and bypass and service restoration cables for temporary service installations. In addition, Brooks is the most complete source for contractors and builders to access temporary metered power (TMP) with UL Listed adapters that feature easy installation into meter sockets at construction sites.
Booth #1239
Brooks Utility Products Group
CBC7000 with Local VAR Sensing Capability & Integrated Communications
Introducing the CBC7000 VAR sensing controller by Cooper Power Systems. This DNP 3.0 controller is specifically designed for local VAR operation providing settable parameters, voltage control, data logging and analysis. Additionally, the CBC7000 offers options that override local operation or scan the controller for live data. Accomplished via Cooper's pluggable SelectComm modules, integrated communications are deployed on various networks including cellular, WiFi, WiMax, BPL, 900 MHz paging, and also using serial and IP radios. Optional integration with existing radios is capable via a serial port.
Click here to enlarge image
The solution is specifically designed to deliver operational benefits including unity power factor and distribution feeder low voltage protection, immediate notification of an operation malfunction, remote activation of capacitors and changing controller settings without sending a field crew, and receipt of real-time alarms.
By incorporating flexible and integrated communications, capacitor controllers, and advanced feature rich applications with complete solution technical support, Cooper provides a most cost effective and simple solution.
Booth #1300
Cooper Power Systems
Meter-Treater Expands Product Line
Over 20 years ago, the Meter-Treater brand received recognition for being the first Meterbase Surge Protector in the Industry. Since then Meter-Treater's product line has evolved to include a vast array of AC Power and Communications Protectors.
A New Generation of State-of-the-Art Modular Meterbase Protection (MAP Series) will be available soon!
Click here to enlarge image
Meter-Treater's MAP Series represents a new era in Meter Based Surge Suppression. The MAP Series eliminates the need for additional clearance between the utility socket and meter.
Product Features & Benefits:
Whole house surge protection;
Easy plug-in installation;
Change out without meter removal;
Rated at 400 amp continuous service;
Stock with minimal inventory space;
Single, split and three phase available;
Type 1 - UL 1449 3rd edition device;
State-of-the-art fiber optics indicator;
Compact modular design;
Hardwire connection NOT necessary; and
MAP series patent applied for.
Booth #2044
Meter Treater
ORION RF System
Catch a rising star in non-licensed radio frequency technology designed for water and gas utilities. With the advanced ORION technology, utility customers can easily upgrade their meter reading system. ORION is designed for maximum flexibility to meet the various system and application needs for all water municipalities.
Click here to enlarge image
No FCC licensing is required! Customers will get faster meter reading, greater accuracy and can eliminate the need for estimated bills. Plus, with optional features like leak detection, GPS mapping programs and connectivity to power line carrier technology, broadband over power line and Wi-Fi networks, customers can tailor ORION to fit their system's needs. AMR technology has never been more accessible.
Booth #601
Badger Meter, Inc.
RAM Offers New Innovative Option for Powering Laptops and Tablets
Click here to enlarge image
The new RAM Power Adaptor is a compact, easily integrated and simple solution to your power needs. Ideally suited for a wide variety of applications, six different voltage outputs can be achieved to make sure your device is getting exactly the right amount of juice. With a power input range of 12 to 35 volts DC, you're sure to find multiple uses for yet another great RAM accessory. Easy to read LED indicators, ON/OFF switch, replaceable fuse, and thread on input and output are just some of the design features that are sure to impress.
Booth #416
RAM Mounting Systems
New Panasonic Toughbook 30 Docking Station
The Toughbook Tested and approved CF30 Docking Station was designed using MIL-STD-810F test procedures and complies with FCC Class A standards. The docking station allows complete port replication eliminating the need to connect any external peripherals to the computer, allowing fast insertion and removal of the computer. The dock features 4 USB ports (three out back and one out the side), 1 Ethernet port, 2 Serial, 1 Video, Microphone and Speaker ports. The docking station can be upgraded to have single or dual RF pass-through to enhance connectivity. An external Lind Power Supply is needed to supply power to the docking station.
Click here to enlarge image
For security, the CF30 docking station has two key lock options. First, is the optional push button lockable latch that is keyed alike. With this option, lock use is not necessary for continued, positive docking engagement. The second option is the automatic, keyed alike lock that automatically locks when the computer is engaged. The docking station also has built-in credit card guard for theft protection.
Booth #2130
Gamber-Johnson
DCB Announces Two RoHS Compliant Serial Security Encryption Devices for SCADA
Data Comm for Business, Inc. (DCB) announces their new SSE-R serial security device for point-point-to-point links and the SE-6600-R for multi-point links. The security devices feature easy setup, RoHS compliance, industrial temperature specifications and secure AES encryption. The applications range from security and traffic control to financial transactions, process industries and SCADA applications.
Click here to enlarge image
The SE-6600-R, for multi-point polling applications, has a unique feature that lets a user install all the remote sites and the master site, and only then turn on the encryption. Until the master site is turned on, all the remote SE-6600-Rs are in a transparent pass through mode. This feature means little or no interruption of an existing multi-point application when the SE-6600-R is added to a system.
Booth #942
Data Comm for Business, Inc.