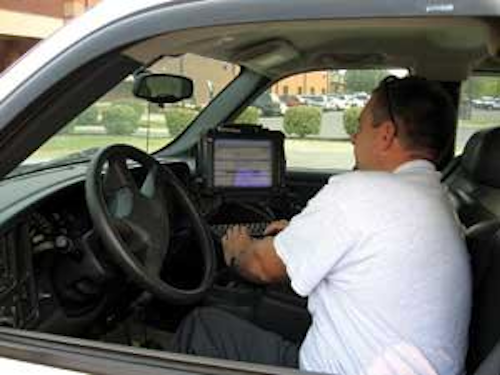 By Laura Grock
The portability and ruggedness of the latest tablet PCs has made them an indispensable new tool in the utility and energy industries. Patrick Gray of Xplore Technologies, a manufacturer of state-of-the-art rugged tablet computers, says that utility industry users are employing rugged mobile PCs in more ways than ever before. "Rugged mobile computers are replacing traditional PCs or using them in areas that once were reliant on more manual processes," says Gray. From workforce management tools, billing, and asset tracking to GIS mapping and emergency dispatch, rugged tablet PCs have changed the IT dynamics of the utility industry, replacing more fragile notebook PCs unable to withstand this sector's unique and often difficult environmental demands.
Gray says that Xplore clients employ the iX104C3 rugged tablet PC to deal with unusual field conditions, conditions where a traditional PC would be impractical. For instance, in the field, rugged mobile computers can work in environments where flammable gasses are or might be present. In fact, drops to concrete, extreme changes in temperature, shock and vibration, water immersion, and visibility in unusual conditions are just some of the variables that can be encountered in the field or within the plant environment. It is precisely these situations that rugged tablet PCs are equipped to encounter. Lighting conditions are not necessarily an issue either. When a utility worker needs to work underground, in near to total darkness, or even in direct sunlight, these devices consistently perform. For example, Xplore's iX104C3 is equipped with Allvue technology, an advanced LCD assembly process that reduces glare and increases screen readability in all light levels. Wireless capabilities are also an important aspect of these rugged mobile PCs. New wireless capabilities enable access to geospatial information system data remotely. Utility personnel can retrieve reference material, schematics and other critical information quickly and easily. Cost is another factor that has fueled the popularity of rugged mobile computers in the utilities area.
As rugged technologies have become more affordable, Gray says that he has seen a marked increase in usage within the utility industries. "Rising costs are always a concern," says Gray. "But rugged mobile computing in the field has helped our utility industry customers streamline their processes and improve the bottom line in their budgeting. Utility companies can then use those savings elsewhere–to improve infrastructure, upgrade technology, or make necessary changes where safety might be a concern," says Gray. Consequently, affordability and total cost savings due to automation are important reasons behind the increase in usage of rugged mobile computing. Through rugged mobile tablet computing, utilities can manage and map field assets more effectively, improve the accuracy of data collected, automate work orders, decrease their reliance on paper forms and binders, and experience a lower total cost of ownership over the project life.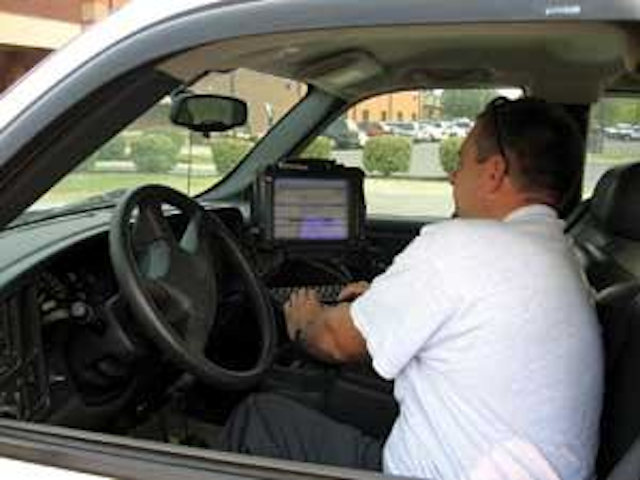 Click here to enlarge image
Xplore's Gray says that the Consolidated Utility District of Rutherford County, Tennessee is a case in point on both the cost-saving issues and environmental considerations. Grown out of a need to provide safe drinking water to the rural residents of Rutherford County, the Consolidated Utility District (CUD) serves more than 41,000 customers and maintains 1,200 miles of water line. In 1988, the CUD served a little more than 10,000 customers with 32 employees. Today, the CUD is the largest utility district in the State of Tennessee, growing at a rate of more than 3,000 customers per year with 90 employees. With this significant rate of growth, the CUD's Systems Manager, Andy Koostra, knew he needed to find ways to streamline and greatly improve the efficiency of the district's billing operation.
"Until January of 2007, all of CUD's orders were handled with pen and paper. Service orders were either picked up in person or dispatched over 2-way radio," explained Koostra. "This introduced error and significant travel time to and from the office to pick up the orders. With all the new technologies available, I knew there had to be a better way."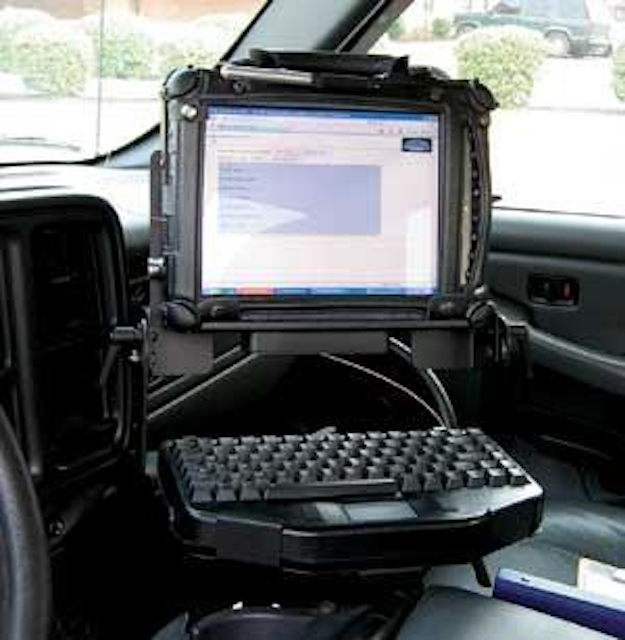 Click here to enlarge image
In January of 2007 CUD implemented a new billing system that included a module to send service orders to the field. The modules would be used to receive and complete all orders. After looking at their mobile computing options, Koostra chose the Xplore iX104C3 rugged mobile PC. "I was looking for a product that was flexible and easy to use and saw a demonstration of the Xplore tablet at the ESRI User Conference in San Diego. I felt Xplore had the best overall package of tablet, docking station and accessories and it was also equipped with Verizon Air Cards, which we use in all of our tablets," said Koostra.
After testing and evaluating one Xplore unit, Koostra was impressed and put in an order for more. "We purchased the units and installed them in trucks to have the GIS maps available in the field. We knew at that time that mobile service orders were going to be implemented in the future. As the new billing system was implemented we added the Air Cards to the existing Xplore tablets and purchased more for additional trucks and personnel." As to performance, Koostra says, "Their ruggedness and outdoor view ability are among the Xplore tablet's best aspects. If you can't see the screen in direct sunlight the tablet is useless. Our field employees are now better informed and the office staff has instant feedback on work preformed. All of our work is real time now. It's quite a difference."
Switching from two-way radio to Xplore's rugged mobile computers has enabled CUD to send service orders directly to the field and save on time and gas. "Our customer service has also improved by allowing us to respond more rapidly to requests," said Koostra. The change also dramatically improved CUD's communications–both with customers and in the field. "Many times we will be doing "cut offs" or disconnecting a customer for non-payment and the customer will come in that same day to pay. With the tablets and our billing system the CSR (Customer Service Representative) is able to see if the order has already been completed which would result in a increased charge to the customer or if it has not been completed the order can be cancelled once payment is received. In the past this was all done by 2-way radio and paper which resulted in miscommunication and lag time between CSRs and field crew."
Overall, CUD has experienced a tremendous increase in efficiency. In October 2007 alone, CUD completed 6,715 work orders through the new work order system using Xplore tablet PCs. In total, CUD completed 44,942 work orders since going live on March 1, 2007 through November 1, 2007.
However, usage of rugged mobile computers extends beyond the water utility industry. Electric and utility support companies are also tapping these devices for work in the field.
Another case in point, Xplore Technologies works with the Arkansas Utility Protection Services, Inc. (ARKUPS), a utility support company, to help streamline its systems. Generally, when utilities are required to repair cables and pipes buried beneath the ground, they must contact a state-authorized "One-Call System." The call system must be contacted for lines, pipes, etc. location information to ensure the efficiency and accuracy of the digging, but more importantly, to keep the worker and community safe. In order to address the increasing number of location requests in Arkansas, in 1998 the Arkansas Utility Protection Service was created.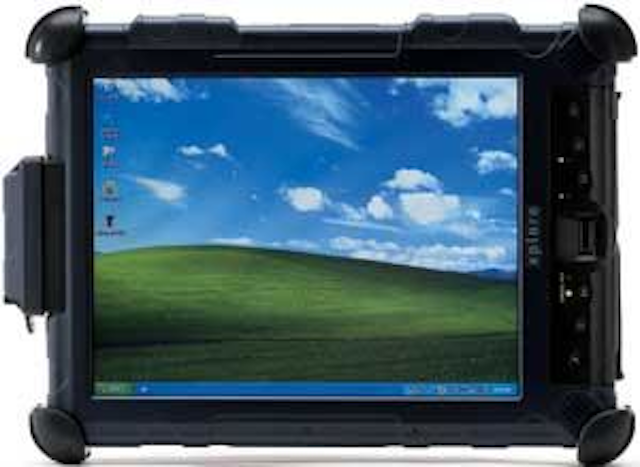 Click here to enlarge image
Once created, ARKUPS faced the challenge of determining the best way to handle the transmission of information to and from its field locators who were situated throughout the state's 75 counties. When discussing the initial deployment system put in place, Roger Cox, general manager of ARKUPS, commented, "The most fundamental processes, such as transmitting work orders, were held captive by uncooperative fax machines and 'disappearing paper work'. It just wasn't efficient." ARKUPS was faced with an inefficient method of transmitting data–something that was critical to the safe and effective marking of underground elements. To solve the problem, ARKUPS decided to implement a Computer Aided Dispatch (CAD) system. The CAD system would issue and track work orders as well as allow for accurate data collection and processing for a host of line location services provided by the company. Central to the CAD system's success was the selection of a mobile computer system and peripherals that could withstand the often challenging environment found in the line location business. Consequently, ARKUPS decided to implement Xplore's X104C3 in its system. ARKUPS' workflow using the rugged mobile computer is as follows:
The ARKUPS locator receives tickets (work orders) via modem from the Arkansas One-Call center. Tickets include information such as directions, warnings, number of utilities to be located and site maps of the areas.
Arkansas One-Call's base maps showing counties, cities, streets, roads and other landmarks are available in the field trucks, so that the department of public safety can see the same maps Arkansas One-Call used to take the locate request thereby providing much greater efficiency in reaching the dig site.
The locator goes to the location on the ticket and performs the requested location services.
The locator completes the necessary reports and enters information into the rugged mobile computer, i.e. time to locate each utility, obstructions, person(s) met at the site and mileage.
At the end of the day, the locator connects the tablet computer to a landline and uploads/downloads all tickets worked on for the day, receives all new tickets, and corresponds with peers and superiors via e-mail.
The data collected allows ARKUPS to manage the time spent per locate, accrue real cost analysis needed for budgeting, track vehicle mileage, hours spent locating versus travel time, update the utility's maps and information, and numerous amounts of other valuable data.
ARKUPS' Roger Cox sees a significant improvement in his company's overall efficiency and ability to give safe support to the area's utility companies. "The tablet's rugged construction, ultra hi-bright color screens and ability to perform from any location and in any environment make it the perfect solution for our needs," says Cox.
Rugged mobile computing has come a long way in just the few years since the durable technology hit the marketplace. With rising costs and difficult environmental conditions ever present in the utilities area, more and more utilities are seeking innovative solutions. With the latest technological advances, these devices have become an indispensable and now permanent part of the utility and energy industry landscapes.
---
About the Author:
Laura Grock is a freelance writer who covers utilities, engineering, the environment, and green products and lifestyle issues.