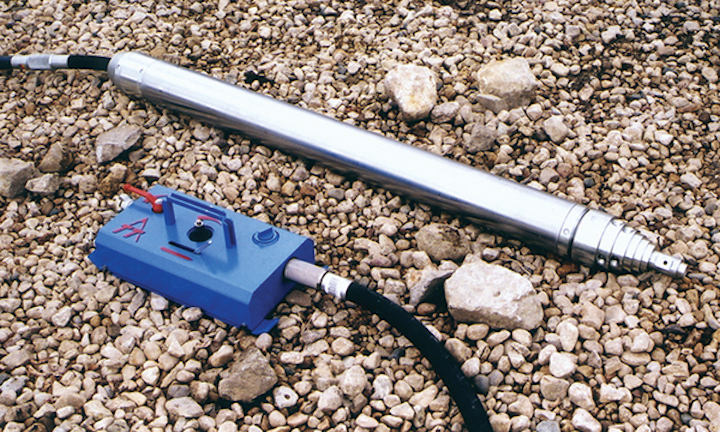 Boring Tool
The Grundomat piercing tool from TT Technologies bores consistently on target time after time. It is constructed from durable, hardened alloy steel and reliable machined components for maximum power and precision. Grundomat tools are also equipped with an advanced reversing system, as well as an in-line lubrication system. Basic and deluxe packages are available. The tool serves as a complement and, in many situations, an economical alternative to larger, more expensive directional drilling equipment.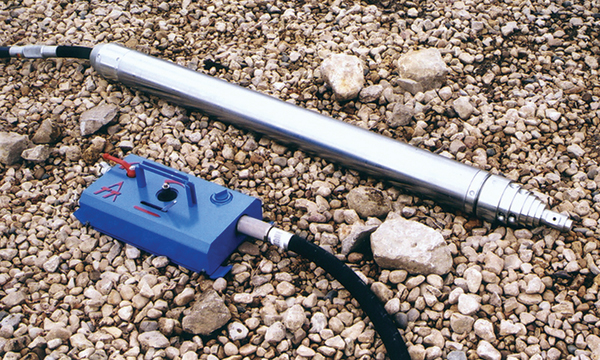 Especially suitable for economical last-mile installation, Grundomat's reciprocating stepped-cone chisel head ensures high impact accuracy. The tool's chisel-head action is unique because it hammers away at solid obstacles. This two-stroke action means that the piston's impact is concentrated on the reciprocating tool head for optimum boring performance. It is available in 16 models ranging from 1 3/4" in diameter to 7" in diameter, for horizontal boring distances from 50 feet to 150 feet. The Grundomat is easily configured to pull in a wide variety of new pipe materials.
TT Technologies
www.tttechnologies.com
OEM Kits for GM/Navistar Medium-Duty Truck Market
DewEze® Manufacturing, a leader in mobile hydraulic power, has announced general clutch pump kit availability for the newly released 2019 General Motors and Navistar Commercial Vehicles.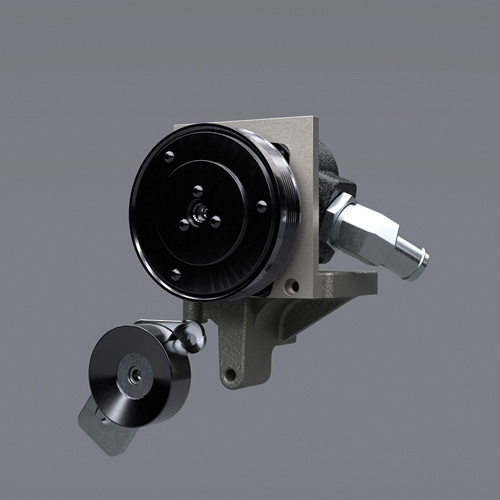 The kits, offered in a PH14 Pump or AA Pump, were designed to mount on the 6.6 L Duramax diesel engines for the jointly developed Chevrolet Silverado Medium-Duty and Navistar International Truck brands. This powerful combination provides instant mobile hydraulic power in a variety of applications, particularly in the tow truck, bucket truck and service truck industries. Kit details are as follows: 700592: 2019 Chevy/GMC 4500, 5500, 6500 International CV 6.6 L (PH14 Pump); and 700593: 2019 Chevy/GMC 4500, 5500, 6500 International CV 6.6 L (AA Pump).
DewEze®
www.deweze.com
Software with Production Targets Capability
B2W Software, a leading provider of heavy-construction management software, has delivered a new B2W Production Targets capability that empowers heavy-construction contractors to assess job progress more accurately at any given point in time. Using B2W Production Targets, contractors can easily set specific, variable targets for expected productivity according to the conditions, plan and resources for each individual day. Without this capability, daily targets are typically set by averaging projected productivity from the estimate evenly over the duration of a job or job phase.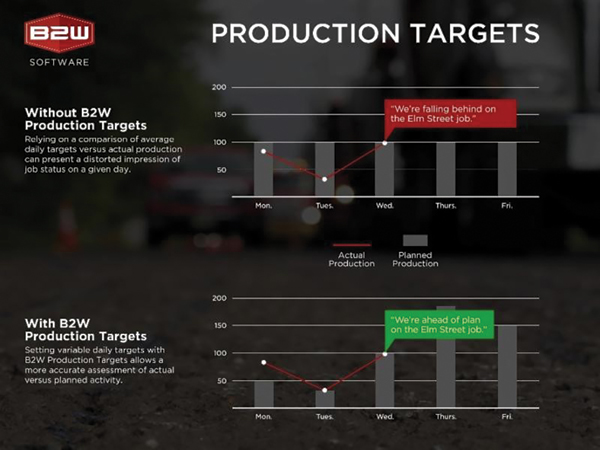 The averaged targets, however, can present a distorted impression of job progress on a given day or series of days when compared to actual production data. B2W Software users can now use current versions of the B2W Schedule solution for resource scheduling and dispatching and/or the B2W Track solution for field tracking and analysis to implement B2W Production Targets. Users can set variable daily targets in electronic field logs, and B2W Track then allows them to enter actual productivity in the field for comparison to the targets in real time.
B2W Software
www.b2wsoftware.com
Updates to Arc Flash PPE
Task Wear
Cementex, the safety tool specialists, has released the updated 11/12 cal/cm2 UltraLite Series of Arc Flash PPE Task Wear, designed to combine comfort with complete safety. Developed after years of first-hand market research, the UltraLite Series garments are designed for use by qualified persons trained in proper arc flash safety in any situation where the risk of exposure to an arc flash is present.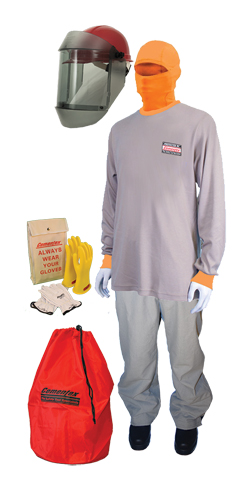 The updated line of garments now features a standard color gray, which reflects sunlight for heat reduction in outdoor applications. Additionally, the gray garments allow for easier identification of contamination, as well as any dirt or debris that may compromise the safety of the garment. The 11/12 cal/cm2 UltraLite garments include a balaclava-hooded, long-sleeve t-shirt and simple high-waisted pants made to fit comfortably over daily-wear clothing. With kits available that include gloves, a helmet and face shield, and a basic tool kit, UltraLite Task Wear ensures that technicians are completely safe and prepared for the job. Additionally, the 11/12 cal/cm2 UltraLite garments are available in a compact Coverall Duffel Bag Kit.
Cementex
www.cementexusa.com
Channellok® Insulated Plier Line
Channellock Inc. Insulated Pliers are designed for electricians and other professionals who need high-quality, OSHA-compliant pliers for safety on the job. The 8" Long Nose Plier features a long, streamlined design for precision handling, and XLT™ Xtreme Leverage Technology to enable cutting with considerably less force than traditional high-leverage pliers.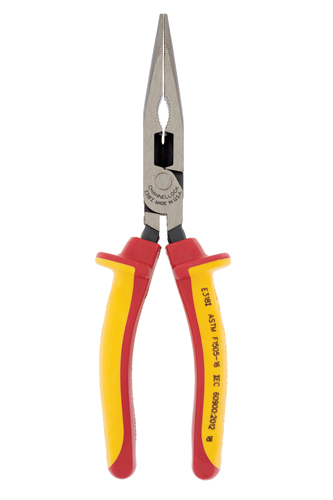 The pipe grip design will accommodate many shapes and the crosshatch teeth provide a tighter grip. The 7" and 8" Diagonal Cutters feature strong lap joint construction and a durable diagonal cutting-edge design. The 8" Diagonal Cutter also features XLT technology to improve cutting performance and reduce hand fatigue. Finally, the 8" Combination Plier features XLT technology, crosshatch teeth for a tighter grip and a pipe grip design to accommodate many shapes. The insulation on these tools is impact resistant and flame retardant, and the entire product line complies with IEC 60900-2012, ASTM F1505-16 and NFPA 70E standards. They are tested to 10,000 VAC and rated for 1,000 VAC when working on live parts.
Channellock Inc.
www.channellock.com
Next Generation Harnesses
Pure Safety Group (PSG), the largest company dedicated solely to fall protection, has unveiled its Guardian Fall Protection S1 safety harness. The S1 is the first in a series of innovative new harnesses designed with three levels of features for various real-life work scenarios. All harnesses meet OSHA standards, exceed ANSI standards and are CSA-certified.
The S1 Harness is a rugged utility option for users who need to grab their fall protection gear and safely get to work. It is designed with water-resistant, contrasting core webbing, label cover and impact indicators for easy inspection, dual lanyard keepers and durable rubber web keepers. The S1 features steel hardware that includes a three-bar torso adjustment for quick and proper fitting, various connection point options for use in multiple applications, and a chest strap captivation for performance. The S1 Harness is available in four sizes for optimal fit. Building on the S1 Harness, the S3 Harness and the S5 Harness, each with additional, enhanced feature sets and innovative components, will launch in the first quarter of 2019. The harnesses in the S series are able to be customized.
Pure Safety Group
www.puresafetygroup.com
Coax Cable Installation Kit with Hip Pouch
The Coax Cable Installation Kit with Hip Pouch from Klein Tools includes all the tools needed to cut, strip and crimp compression F-connectors to RG56/RG6/RG6Q cables. The exclusive custom-molded, freestanding hip pouch with durable metal belt clip keeps essential tools handy.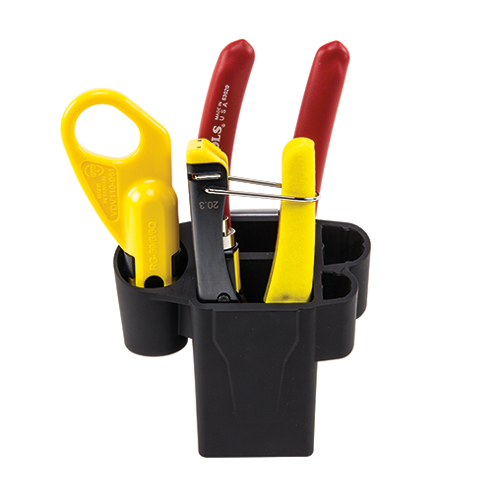 Comes with: the Klein-Kurve® Multi-Cable Cutter with precision shear-type blades for easier cutting and double-dipped comfort grips with curved handles; Radial Stripper with two-level, one-step prep with durable high-carbon steel pre-set cutting blades for precise, accurate cable stripping; and Compression Crimper for fast, reliable F-connector installation with a fixed plunger for quick, easy insertion and removal of cable and connector. Works with many commonly available compression F-connectors.
Klein Tools
www.kleintools.com
Power System for Work Trucks
Miller Electric Mfg. LLC, a leading worldwide manufacturer of Miller® brand arc welding equipment, has announced the new EnPak A30GBW power system, an all-in-one work truck solution that decreases truck engine idle time by up to 75%, reducing costly maintenance and unplanned downtime. By significantly cutting truck engine idle time, the EnPak A30GBW solution reduces the associated maintenance costs and downtime. The EnPak A30GBW all-in-one solution maintains the power capabilities of a traditional PTO system — including compressed air, electrical power, battery charging and welding — all while the truck's engine is turned off.
This helps operations improve the bottom line, maximize efficiency and keep technicians and customers satisfied. Work truck operators can also back up their truck battery with the EnPak A30GBW unit. Chassis Power technology provides up to 150 amps of 12-volt DC power back to the truck battery and automatically recharges it as needed throughout the day — with the truck turned off. Operators no longer need to run the truck engine to power electronics, lights or their electric-over-hydraulic cranes, and they can turn off their trucks without worrying about draining the truck battery and being left stranded. Auto-Speed™ technology automatically adjusts the engine to run at the lowest speed to match compressed air, battery charge and weld demands of the job, providing 100 amps of welding power at idle. Auto Start/Stop automatically turns the engine on and off based on demand. In addition to fuel savings, these technologies also reduce noise, which enhances safety and improves the work environment.
Miller Electric Mfg. LLC
www.millerwelds.com
Overshoes
Quatro® Dielectric 2 Buckle Overshoes are high-spec, waterproof, hand-built, rubber dielectric overshoes manufactured with specially formulated insulating layers offering exceptional electrical protection.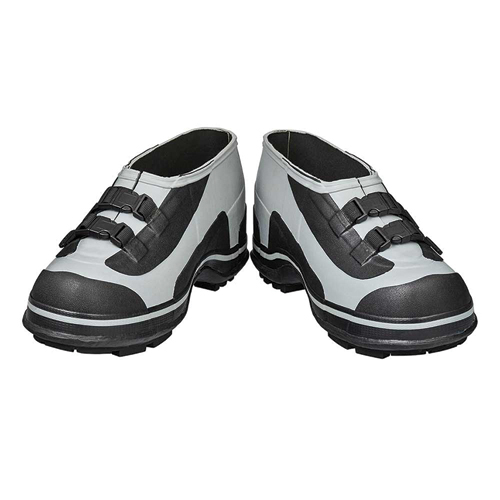 Grey upper allows for easier visual identification and in-service inspection. Reinforcing scuff and abrasion guards protect high-wear areas, while unique serial ID numbers assist in PPE management. Every overshoe is tested after manufacture at 20 kV for 3 minutes in water as per ASTM F1116. Each boot carries a unique and traceable serial number for PPE management and control.
Quatro Dielectric
www.quatrodielectricfootwear.com
Kevlar®-lined gloves
Youngstown's FR Waterproof Ultimate Lined with Kevlar® is an award-winning winter glove designed for total hand protection from working hazards and harsh winter conditions. The glove is made of a specially tanned cowhide leather that is inherently flame and oil resistant. The inner layer consists of a waterproof, windproof and breathable membrane to keep hands warm and dry.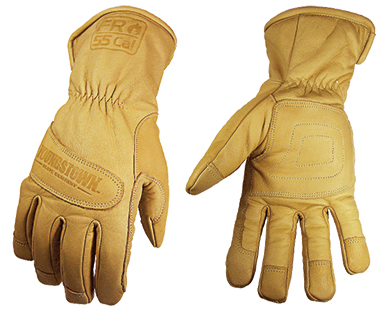 FR Nomex® insulation is used for lasting warmth throughout the work day. The innermost liner against the worker's hand is 100% Kevlar® fiber by DuPont™. The result is a warm and waterproof winter glove that is flame resistant, cut resistant, puncture resistant and arc rated.
Youngstown Gloves
www.ytgloves.com
Vehicle-Specific Wide-Style Console
HAVIS's Vehicle-Specific Wide-Style Console for 2017-2018 Ford F-250, 350, 450 XL and XLT Super Duty, F-450 and 550 cab chassis, 2015-2018 Ford F-150 XL and XLT pickup is 30" L x 12.5" W and accommodates several job-critical accessories. The angled console cleanly fits between the bucket seats and the dash contour for a custom look in your vehicle.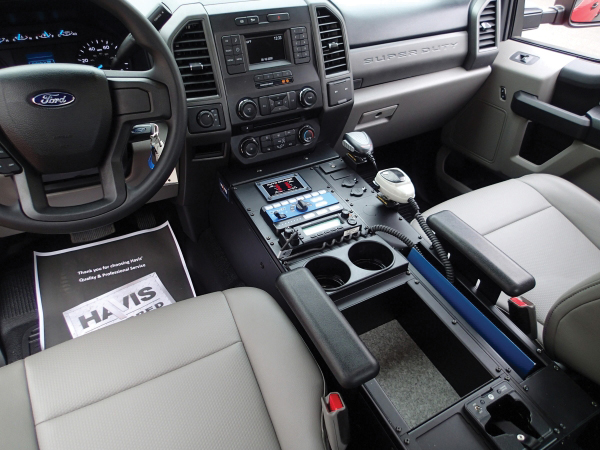 Heavy gauge steel-welded construction is designed for heavy-duty use and durability. Includes two 12-volt sockets; two rectangle rocker switch cutouts with blank covers, filler plates (FP) and/or equipment brackets (EB) to completely enclose mounting area less internal mount options; large accessory pocket (13" long x 2.5" wide x 8" deep) and internal front electrical equipment mounting shelf; provisions for internal or external side-mount poles and side panels with perforations to allow for equipment cooling as well as internal speaker mounting; cutout and extension cable for relocation of OEM USB into the console; and additional trim panel for XL dash without CD player.
HAVIS Inc.
www.havis.com
Low-Line Warning Flags
SpanMark™ warning flags are a low-cost solution for marking low-hanging live lines. Made of durable vinyl material in bright orange, yellow or red, each flag comes with a patented SnapFast Clamp for simple, sure installation by hand or hot stick. Available with reflector, symbol, or text options. SpanMark warning flags make it quick, easy, and affordable to mark low-hanging hot lines near utility facilities, construction sites, or anywhere tall equipment or helicopters might strike a line.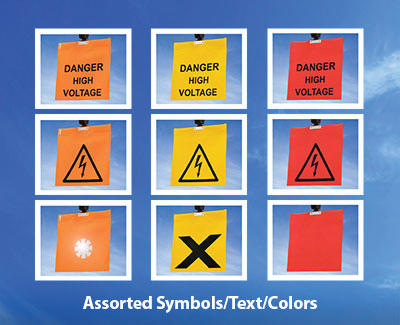 SpanMark installs in seconds from the ground or a bucket. The patented and rugged SnapFast mounting clamp prevents line slippage on single or bundled cables. It's also safe to use on OPGW lines. Once in position, the grip is such that the clamp stays in position, even in a Force 8 gale. Using a hot stick equipped with a SnapFast installation tool, SpanMark can be installed on live power lines up to 115 kV. Simply push the unit against the hot or cold line and the clamp snaps shut. The clamp can be quickly removed using the same tool.
P&R Tech
http://pr-tech.com
Multifunctional Vacuum Integrity Tester
Vacuum Interrupters has developed the VITS60M vacuum interrupter integrity tester, which performs three test sets for the price of one. The device does insulation resistance testing with automated polarity index and absorption ratio testing. It can also serve as a stand-alone 60 kV DC high-potential test set. The VITS60M is an extremely user-friendly, portable, lightweight 60kV DC test set that includes everything required to test the integrity of vacuum interrupters in the field or shop.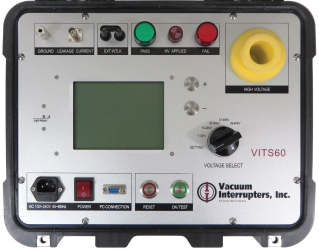 It incorporates a variable high-voltage power supply, back-lit LCD display, comprehensive safety features, and is furnished with a complete set of test cables. It also has superior performance as a 2.5/5/10 kV megohmmeter and can also function as a stand-alone 60kV dc hipot. As a megohmmeter, it not only measures insulation resistance but also provides automated test routines for polarity index and absorption rate tests. The main objective of the unique design and simple operation of the VITS60M is to permit the test technician to use a single test set to easily test vacuum interrupters as well as insulating elements in the field during maintenance testing. Armed with this information, users can determine if a vacuum circuit breaker, contactor or other electrical equipment should remain in service or must be repaired or replaced. Utilizing the traditional NETA/ANSI/IEEE high-­voltage DC test for vacuum interrupters, the VITS60M provides a 1 kV–60 kV DC test voltage for basic Go/No-Go, Pass/Fail test results. The unit's LCD display indicates test duration, test voltage being applied, measured leakage current, and pass or fail condition of the vacuum interrupter.
Vacuum Interrupters Inc.
http://vacuuminterruptertesting.com
Portable Battery Pump for Torque Applications
Enerpac, an international market leader in high-­pressure hydraulics, introduces its new XC-Series Cordless Torque Wrench Pump, which is ideal for maintenance applications in the power generation, oil and gas, and MRO markets. This portable pump is well suited for remote locations, sites that do not have access to power or where having electric cords could cause trip hazards.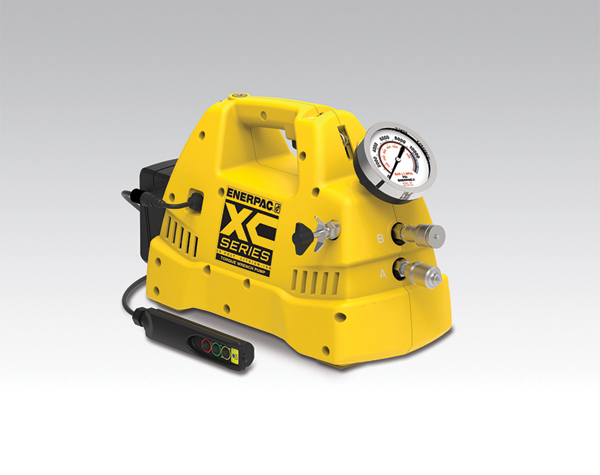 The XC-Series Cordless Torque Wrench Pump features an interactive pendant that can be operated in manual or auto-cycle mode. The pendant allows the operator to store a set operating pressure. The pump has an easily accessible user-adjustable relief valve for precise pressure control along with a bladder reservoir that allows the pump to be used in any position. Additional features include LED indicators that provide visual and vibratory feedback of the pump operation and an integrated handle and carrying strap for portability. The pump also includes a 28-volt battery with lithium-ion technology for maximum battery performance and a quick, one-hour charger.
Enerpac
www.enerpac.com

Slips, Trips, Falls Prevention Guide
Graphic Products, a global leader in workplace safety and visual communication solutions, announces the release of a new guide, Preventing Slips, Trips, and Falls, and a companion 5 Tips to Prevent Slips, Trips, and Falls infographic. Employers can significantly reduce common slip, trip, and fall hazards by implementing cost-effective safety solutions and OSHA best practices.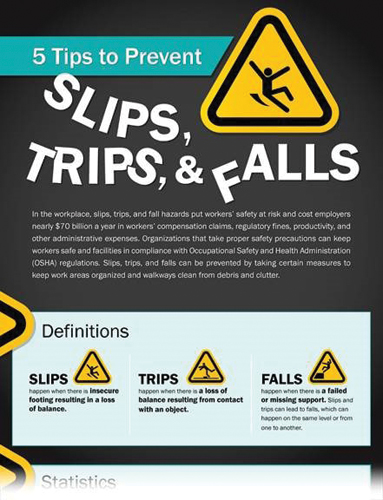 These free safety education resources for facility managers provide leading data on slip, trip, and fall hazards in the workforce and industry trends for safety. Prepare for and manage slip, trip, and fall incidents, which were up 6% in 2016. Quickly download the guide and keep it as a handy reference for top slip, trip, and fall hazards, regulations, and safety best practices to help keep workers on their feet. The supportive infographic visually captures slip, trip, and fall statistics, common causes, and five effective prevention tips that benefit any industry. Using the slips, trips, and falls resources from Graphic Products, managers and safety professionals can better protect workers, increase productivity, and prevent needless and costly accidents today.
Graphic Products
www.graphicproducts.com
New Website and Catalog
Optronics International, a leading manufacturer and supplier of heavy-duty LED vehicle lighting, recently went live with the company's new website featuring its newly-released 2019 Vehicle Lighting Catalog. Both the website and catalog will make it easier for users to select and obtain information on over 3,000 of the industry's most advanced LED and traditional lighting products offered by Optronics. The user interface developed for the new website is designed to maximize product search and drill-down capabilities while minimizing the number of clicks needed. Advanced search tools enable users to quickly access item level product listings and to quickly sort and filter by product features and brands.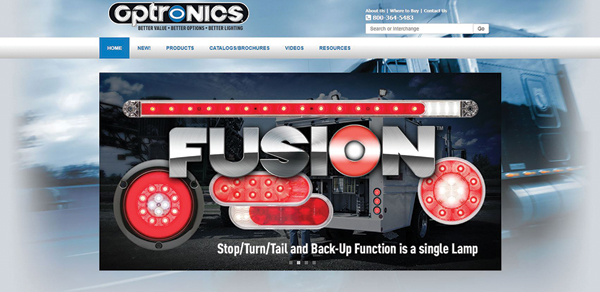 Once products are located, users can use the print- and download-friendly content format to gather product-listing information. Product images can also be viewed, examined and rotated in high-resolution, three-dimensional detail. Product listings on the website are updated in real time, providing the most timely and accurate information available. The website complements Optronics' traditional 2019 Vehicle Lighting Catalog, which is also available on the website, in the form of a downloadable, searchable PDF. The new edition of the catalog has been expanded from 308 pages to 388 pages and includes more than 500 new items. Among the new offerings featured on the website and in the catalog are a variety of innovative LED products. Optronics continues to be among the most prolific suppliers of new lighting technology to the commercial vehicle marketplace.
Optronics
www.optronicsinc.com
Remote Switch Actuator
The CBS ArcSafe® RSA-242 remote switch actuator is designed to safely and remotely operate the ABB/SACE Novomax air circuit breaker. The RSA-242 allows technicians to remotely close or trip an ABB/SACE Novomax air circuit breaker from a safe distance of up to 300 feet, well outside the arc-flash boundary. Installation and operation do not require any modifications to existing electrical equipment, thanks to CBS ArcSafe's magnetic latching system.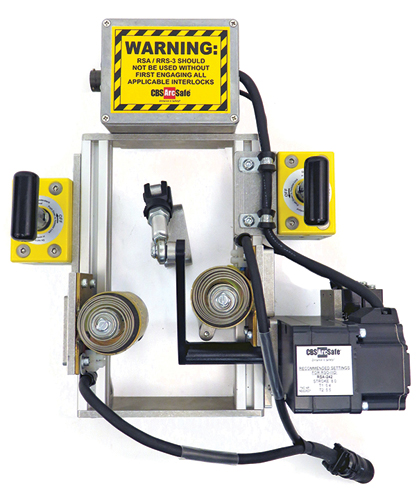 Typical applications include general protection of low-voltage primary and secondary distribution, generators, motors, transformers, and capacitors. When compared to other arc-flash mitigation alternatives, the RSA-242 is a cost-effective solution for keeping operators safe.
CBS ArcSafe
www.cbsarcsafe.com
Incident Manager Software
ARCOS® LLC, a provider of resource management software and services for critical infrastructure industries, has released its new Incident Manager software to help utilities and other industries automatically plan for and respond to emergencies ranging from storms to security breaches. ARCOS designed Incident Manager for organizations to use in preparing for emergencies, including mobilizing staff to respond to emergent events. But the tool also plays a valuable role in recording real-time actions and data reports that are part of emergency response. As both an emergency and blue-sky, or daily, operations platform for any event, employers can use Incident Manager to replace paper files, emails and phone calls with dashboards, computerized ICS templates and IVR and SMS.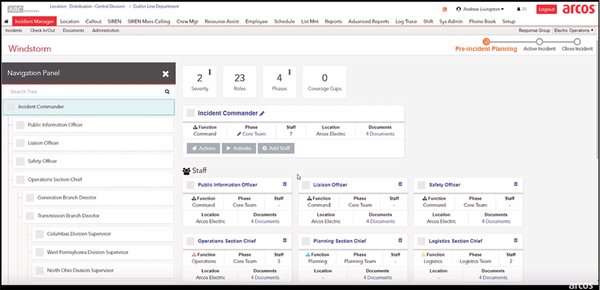 As employers either ramp up or scale back their emergency response, Incident Manager will fire off notifications to any grouping of employees while determining employee readiness and location. Through APIs, ARCOS can integrate Incident Manager with an organization's document management system to archive action reports (e.g., ICS Form 215A, Incident Action Plan Safety Analysis) and written directives during an event, tapping this storehouse afterward for best practices. Executives can also draw from Incident Manager's archive to quickly develop reports for government agencies and other third parties. Incident Manager's ability to create templates and store documents gives managers closed-loop reporting and feedback that no manual process can mirror. Incident Manager complements the ARCOS Resource Management platform, which organizations use as a platform for responding to, restoring and reporting on daily operations and interruptions in service.
ARCOS
www.arcos-inc.com
residential meter
The new Stratus IQ™ residential electricity meter from Sensus, a Xylem brand, is the first meter in the industry to have four data streams from a single, smart device.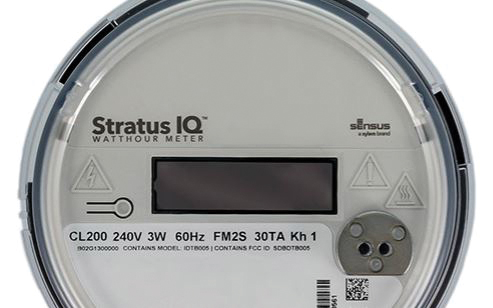 With the horsepower of a commercial and industrial meter, Stratus IQ delivers more data, faster. It monitors energy consumption with eight load profile channels, measures voltage minute-by-minute for maximum grid monitoring and performance, features a virtually indestructible design that protects against weather, theft and tampering, and supports "software-defined metrology features" including loss of neutral and power quality. Advanced functionalities include continuous health checks, scheduled remote disconnects and a meter history log.
Sensus, a Xylem brand
www.sensus.com