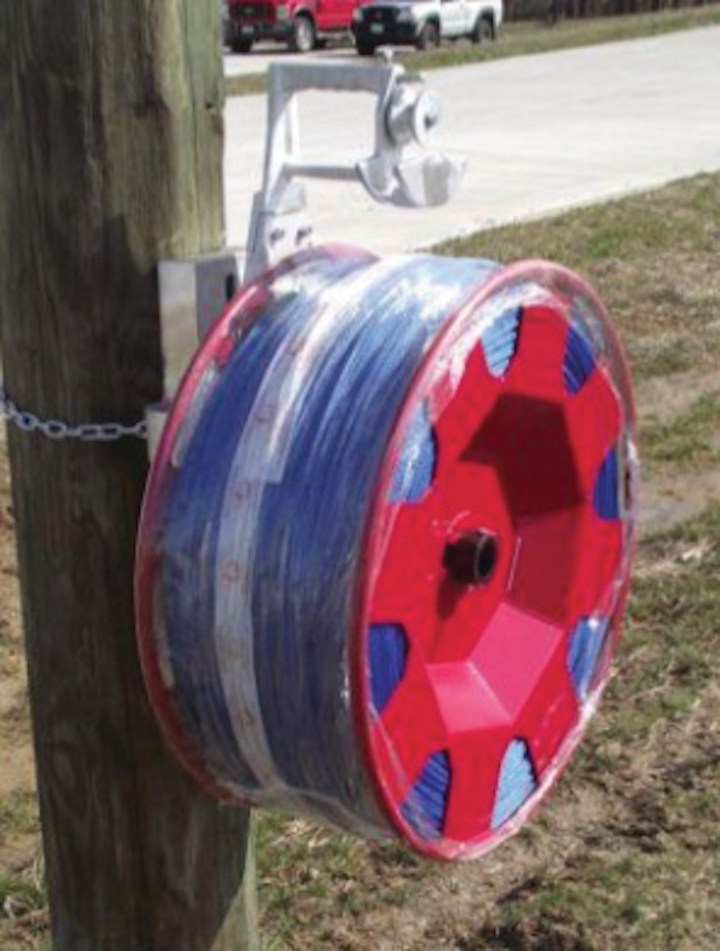 XX-Large Phone Holder
Klein Tools introduces the Tradesman Pro™ XX-Large Phone Holder, which accommodates larger phone sizes for daily use. Klein Tools' complete Tradesman Pro™ phone holder product line helps all professionals keep their jobsite tech safe and within reach. The Tradesman Pro™ XX-Large Phone Holder (Cat. No. 55474) fits iPhone 6 Plus, 7 Plus and 8 Plus; Samsung Galaxy® S7, S8, S8 Plus, S9, S9 Plus, Note® 7, Note® 8, Note® Edge, and similar sized phones.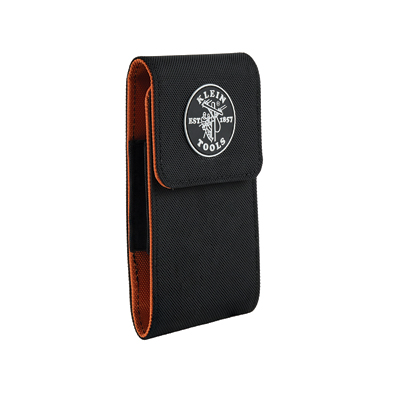 It is large enough to easily fit cell phones with a protective case. A metal clip for attaching to belts up to 2 inches (51 mm) wide helps keep cell phones accessible. A magnetic flap closure provides added protection. Constructed of durable 1680d ballistic weave. Additional Tradesman Pro™ phone holders and organizers are also available to accommodate everyday storage needs.
Klein Tools
www.kleintools.com
---
Bobcat™ 200 Air Pak™
Diesel All-in-One
Miller Electric Mfg. LLC, a leading worldwide manufacturer of Miller® brand arc welding equipment, has announced the new Bobcat 200 Air Pak Diesel power system. The new diesel model will be available in February 2019, and an enhanced gasoline model will be released in April. This engine-driven all-in-one solution helps work truck operators consolidate equipment to maximize available payload, reduce fuel consumption and minimize operating costs.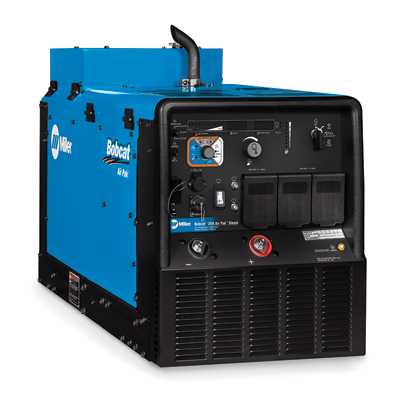 The Bobcat 200 Air Pak Diesel all-in-one maintains power capabilities in a compact, lightweight footprint, allowing class 3 to 5 work truck operators to consolidate or improve reliability of their power equipment. Truck operators can reduce weight by up to 500 pounds and increase available payload by up to 24 cubic feet compared to using multiple engine-driven machines, such as a separate air compressor and welder. In addition, by turning off their trucks and running the Bobcat 200 Air Pak power system, truck operators can reduce truck engine idle time by as much as 75% to help minimize fuel costs. The Bobcat 200 Air Pak Diesel power system also improves fuel consumption and optimizes efficiency with industry-exclusive Auto-Speed™ technology, which automatically adjusts the engine to run at the lowest speed to match weld and battery charge demands. Auto-Speed technology also helps reduce noise, which enhances safety and improves the work environment.
Miller Electric Mfg. LLC
www.millerwelds.com
---
EXO Termination Kits
Platinum Tools®, a leader in solutions for the preparation, installation, hand termination and testing of wire and cable, has launched the new EXO Termination Kits. The EXO Cut/Strip/Terminate Kit (P/N 90185) gives users all tools they need to prep and terminate a cable. It includes the following tools: EXO Crimp Frame + EXO-EX Die™; EZ-RJ45 Die; Cyclops® 2 Cable Jacket Stripper; electrician's scissors; and 5-inch side cutting pliers.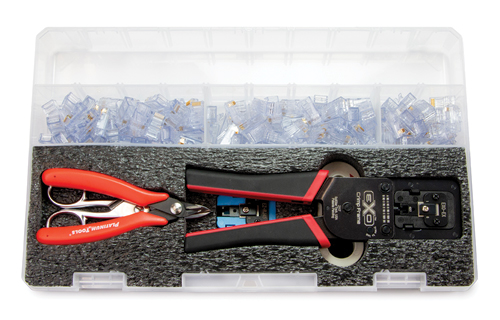 Included connections are as follows: EZ-RJ45 CAT5e, 50 pcs; ezEX™44, ezEX-RJ45, 50 pcs; ezEX™48, ezEX-RJ45, 25 pcs. The EXO Termination Kit (P/N 90186) comes prepared to accept additional tools with a foam insert that has tear way foam to accommodate strippers and cutters. It includes the following tools: EXO Crimp Frame + EXO-EX Die and EZ-RJ45 Die. Included connections are as follows: EZ-RJ45 CAT5e, 50 pcs; ezEX™44, ezEX-RJ45, 50 pcs; and ezEX™48, ezEX-RJ45, 25 pcs each.
Platinum Tools®
www.platinumtools.com
---
Portable Handscope Oscilloscope Kits
The new compact, shockproof Handscope from AEMC Instruments canbe comfortably held in one hand. The kits contain many additional items including AC Current Probes as outlined in the descriptions below. The Handscope is an ergonomically designed instrument equipped with a full-color display and LED backlighting for precise, crisp data display.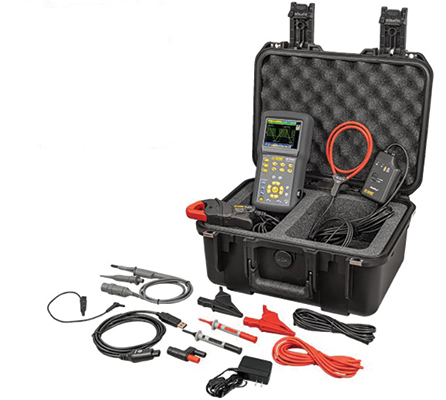 Integrated help screens are available at all times to make it simpler to use. The Model OX5042 is equipped with 2 fully isolated 600V CATIII rated channels and combines three instruments in one: 40 MHz oscilloscope, range 5 mV to 200 V/div; dual independent 8,000-count multimeter; and built-in harmonic analyzer out to the 31st harmonic (fundamental between 40 Hz and 450 Hz). Additionally, 2 MB of storage are available for recording data. In the multimeter mode, it is possible to store graphic recordings of 2,700 measurements from 5 minutes to 1 month. Isolated USB communication with the SCPI protocol is available. This makes it simple to program the instrument remotely with the supplied SX-METRO software. The Handscope is designed for both field and lab use, is supplied with current and voltage measurement probes and has a 3-year warranty.
AEMC Instruments
www.aemc.com
---
Drilling Rig
Engineered for high performance, reliability and productivity, the TR Series of drills from Bay Shore Systems boasts hydraulic torque up to an unstoppable 200,000 ft-lbs, which means plenty of power, plus drilling depths of up to 100 feet. It features comfortable, easy operation and a fully integrated kelly winch to avoid bird nesting or broken cables.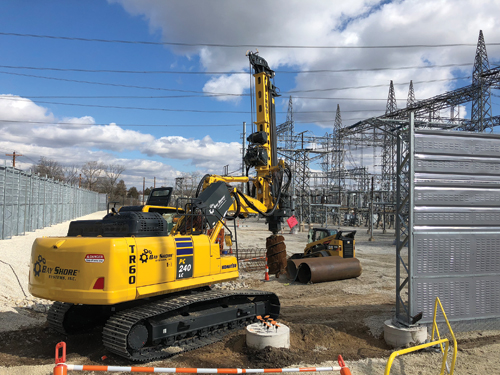 The TR Series is 100 percent hydraulic with no shifting required for consistent quality, hole to hole. The TR60 is the newest member in the TR Series. The TR60 has rotary torque of 66,000 ft-lbs (90 kN-m); drills 40 feet (12 m) deep with RLKs and 15 feet (4.5 m) overhead, or 50 feet (15 m) deep with square bars; segmented mast, 13 degrees of side tilt; and over 9 feet (2.7 m) of reach. The TR60 will also mount to a smaller excavator, 25 ton, making the transport weight 79,000 lbs (36,000 kg) for the tall mast and 75,000 lbs (34,000 kg) for the short mast.
Bay Shore Systems
www.bayshoresystems.com
---
Laser Alignment Modules
BEA Lasers, a manufacturer of rugged laser modules and assemblies, introduces two new additions to its MIL Series of Laser Diode Modules for alignment applications. Both new MIL RA Alignment Modules feature a low-profile 3/8" rugged laser housing, fitted with a M12 connector. A PVC jacketed cable 2 meters long, integrated power supply and optional mounting bracket complete this sturdy ready-to-use system. The optional mounting bracket is available in sensor style or as a multi-adjustable "LB" bracket. The modules can be obtained in straight or right-angle configuration.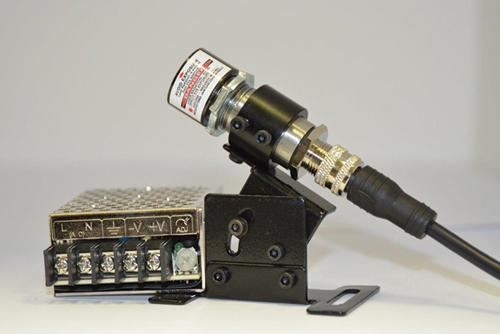 The MIL RA Series Laser Diode System is available in standard 520 nm (green) or 635 nm (red), with 1 mW or 5 mW output. Other outputs are available upon request. The MIL RA Series includes the industry's first rugged right-angle alignment system. The Alignment Modules feature a 3/8" brass, nickel-plated laser housing. This Laser Diode Module occupies only 1.5" of space, allowing it to fit in tight spaces, which is a much smaller profile than other alignment lasers intended for industrial use. The MIL RA Series Laser Modules are typically used for alignment and leveling applications. They are ideal for counting, machine vision, edge detection, paper web, riveting and water jet cutting alignment, to name just a few. Optional customizations include laser pattern options (lines, crosses, dot patterns, etc.), flash options, other outputs and more.
BEA Lasers
www.bealasers.com
---
NEMA Spaced Panel Board Lugs
BURNDY®, a leading manufacturer and provider of compression connector solutions to the industrial, energy, construction, telecommunications, petrochemical, data center, and transportation industries, is pleased to introduce the expansion of its aluminum panel board terminals. These new terminals feature NEMA-standard spacing (1/2" diameter stud holes spaced 1-3/4" apart).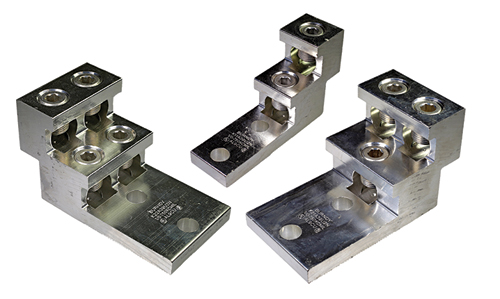 The lugs are listed to the UL Wire Connector Standards UL486A-486B, CSA Certified to C22.2 No. 65. Additionally, these are 600-volt-rated with AL9CU dual rating for use with copper and aluminum conductor. Two sizes with range taking conductor ports cover from #2 AWG through 750 kcmil, the conductor ports are in a stacked arrangement to save space. Each size offers a configuration to accommodate 2, 3, or 4 conductors.

BURNDY®
www.BURNDY.com
---
Corner-Mount Interior LED Lamp
Optronics International, a leading manufacturer and supplier of heavy-duty LED vehicle lighting, has introduced its new ILL38CMB Corner-Mount Interior LED Lamp. The modular, low-profile lamp can be installed in virtually any trailer as original equipment or as an aftermarket upgrade. One of the challenges of interior vehicle lighting is to evenly illuminate the largest area possible, and to achieve this, a central lamp location is often adopted. Unfortunately, the placement of even a low-profile lamp on the ceiling of a vehicle's cargo or work area can make it vulnerable to being struck by cargo, dock equipment and forklifts.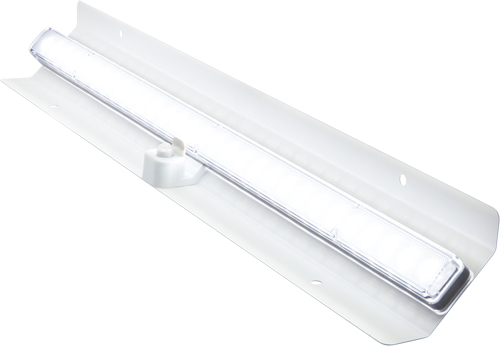 Optronics' new ILL38CMB Corner-Mount Interior LED Lamp relocates a vehicle's critical interior lighting sources away from the high-traffic central core of a vehicle, where they are vulnerable to potential harm, and reorients them to the corners of a vehicle's ceiling. A corner location keeps the lights away from potential threats while providing opposing beam directions that reduce shadows and dark areas, enhancing overall interior illumination quality. The ILL38CMB has a modular design that enables multiple LED lamps to be spaced along the ceiling of a vehicle or configured as two continuous bars of light on ceiling corners throughout the entire length of a vehicle.
Optronics International
www.optronicsinc.com
---
Rugged, Military-Grade, Waterproof Smartphone
Kyocera International Inc., a leader in rugged mobile solutions, has launched the rugged DuraForce PRO 2, a 4G LTE Android smartphone now available through Verizon Wireless. Designed for business and enterprise use, especially construction, public safety and transportation as well as adventure-seeking consumers, DuraForce PRO 2 is dependable and durable in harsh environments on the job or in everyday life. DuraForce PRO 2 features a Verizon-­exclusive 5-inch Sapphire Shield Display, which is virtually scratch-proof. The rugged smartphone boasts IP68 waterproof and dust-proof certification (to 2 m/6.5 ft deep for up to 30 minutes) and Military Standard 810G for protection against shock, vibration, temperature extremes, blowing rain, low pressure, solar radiation, salt, fog, humidity, immersion, temperature shock and icing/freezing rain.
Certified Non-incendive Class I, Division 2 (Group A-D, T4), the device is ideal for plant and field operations needing durability and safety where concentrations of flammable gas, vapors or mists are not normally present in explosive concentrations but may exist. Backed by a 2-year manufacturer's standard warranty. Loud 106dB dual front speakers and four noise-canceling mics featuring Qualcomm® Fluence PRO™ technology, make push-to-talk (PTT) calls, speakerphone use, music and other audio crystal clear. Three cameras, 13 MP rear, 5 MP front, and a super wide view 4K action camera, are all underwater safe and compatible with action-camera mounts. Cameras are covered and protected by Sapphire Shield for extra durability. DuraForce PRO 2 incorporates enhanced security features including a biometric fingerprint sensor built into its power button, Secure Device Encryption with FIPS 140-2 and more. With gloved and wet-screen operation, the device can be used in cold, wet, or muddy conditions. With up to double the ROM/RAM of previous versions (64 GB/4 GB, and supports up to 512 GB microSD) and a Qualcomm® Snapdragon™ processor with 2.2 GHz x 1.8 GHz Octa Core CPU, this smartphone can keep up with the busiest work environments.
Kyocera
www.kyoceramobile.com
---
Durable, Oversized Storage Canisters for Arc Flash PPE Task Wear
Cementex, a national leader in the manufacture of electrical safety solutions, announces the availability of its PPE storage canisters, which provide ultimate protection for arc flash suits with hoods or face shields, thanks to its oversized 14" diameter. These extra-large, ultra-durable hardsided arc flash storage canisters are designed to withstand the harshest environments and safely store technicians' most delicate and valuable PPE items. At 14" in diameter and 16" tall, the canister's extra-large dimensions enable storage of large PPE items, such as a complete Category 4 Arc Flash PPE Kit with a ventilated hood.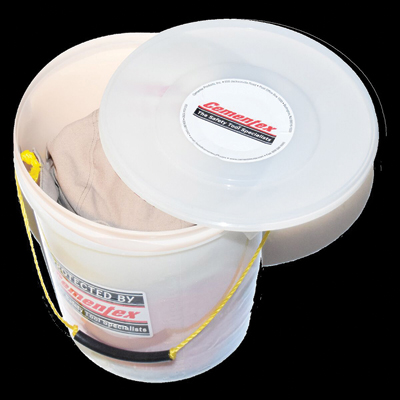 The canisters also feature a stackable design for easy, orderly storage in shops and equipment rooms. Their seal-tight lids ensure secure, reliable closure, and durable rope handles include a comfort grip for easy transport. Cementex PPE Storage Canisters are available separately or as an upgrade to most Cementex PPE Task Wear kits. Additionally, the canisters are available with a fixed, 12-pocket tool wrap to include all of a technician's most critical tools along with their task wear. All Cementex products are made in the U.S.A. to the highest standards of quality.
Cementex
www.cementexusa.com
---
Push-To-Talk Oriented Phone
The key to good communication in a harsh working environment is the right tool. RugGear®, a leading manufacturer of rugged mobile devices, has introduced the RG725. A device as flexible and quick to use as a walkie-talkie but with all the advantages of a smartphone based on Android™ 8.1 Oreo™, the new RG725 is the ideal companion in any environment where you need reliable and stress-free communication at the touch of a button. RugGear RG725 is built with best-in-class, push-to-talk-oriented design for users to boost communication and workflow efficiency in a variety of work situations.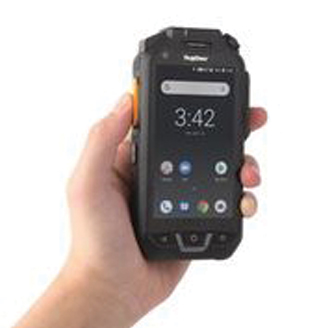 A dedicated tuning knob makes channel selection quick and precise so you can talk with the right crew member by only pressing the large PTT button. An additional highlight is the locked headset connector — a PTT headset 13-pin port, also known as Direct Radio Connect. An extra loud >105 dB front speaker provides best performance on noisy construction sites. MIL-STD-810G ensure perfect and durable performance in every situation. A very strong 4x LED ultra-bright torch functions as a flashlight for patrolling at night and a long-lasting 5,000 mAh battery make the device a durable partner in any situation — even emergencies at dark can be recorded instantly with a single press of the camera button.
RugGear®
www.ruggear.com
---
Battery Tool Monitoring Smartphone App
Emerson has launched the Sherman + Reilly i-press battery-tool monitoring smartphone app. The i-press app allows crews to track their Next Generation Sherman + Reilly Battery Tools. Using the simple navigation display, workers can view the battery charge, last service date, last five pressure measurements, tool temperature and the number of cycles completed with a connected tool. Users can create a project within the i-press app to save and combine crimping operation data and track tool performance.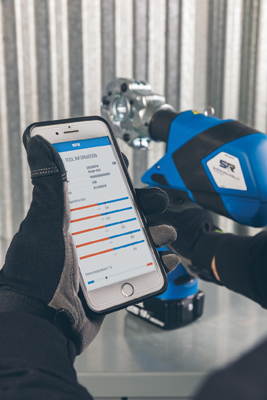 When the project is complete, an overview report is generated and sent as a PDF. In addition to the new i-press app, Sherman + Reilly will continue to provide factory service solutions for battery-powered tools from their locations in Rockford, Ill., and Chattanooga, Tenn. Professional service experts provide preventative maintenance, comprehensive assessments, and certified tool testing to quickly get tools back in safe working order. Available now and can be downloaded for free from the App Store or Google Play.
Emerson
www.emerson.com
---
Clear Cold Shrink Tubing
BURNDY® Cold Shrink Tubing is a quick and reliable way to insulate connectors, add inspectability and save labor costs. Similar to BURNDY clear heat shrink, clear cold shrink tubing provides visual inspection to verify die embossment, correct number and location of crimps, and ensure proper strip length (no wire exposed).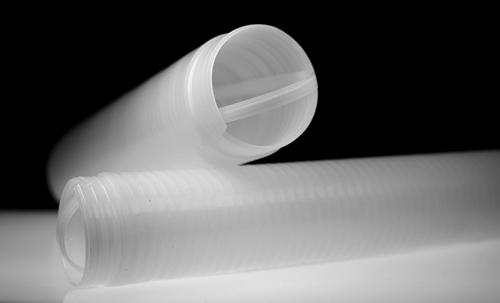 On average, using cold shrink provides a time savings of 60%. Clear cold shrink tubing passes the TELCORDIA Spec. GR-347-CORE for Cut and Abrasion Testing, as well as UL746C, Glow Wire Test; cULus Listed as an insulating cover for wire connectors in accordance to UL 486A/B. Ripcord technology for installation leaves no guesswork whether the correct temperature was applied. An added benefit is that the ripcord is recyclable.
BURNDY®
www.burndy.com
---
Stringing System
The Eagle Line Tools Complete Stringing System eliminates the need for finger lines and prevents the need to tie and untie the pilot lines. This system saves time by preventing extra climbs and keeps the pilot lines safe from vandalism.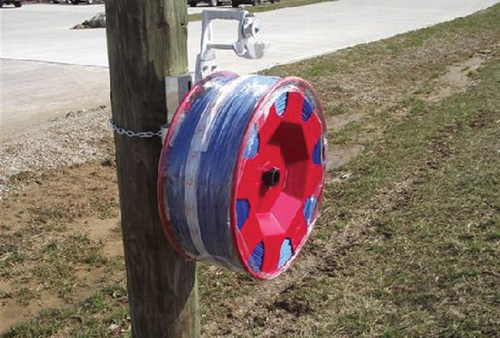 The complete system consists of Controller (SS-050), a Reel (SS-049) with 3,000 feet (also available in 6,000 feet) of 5/16" Poly plus rope, available in yellow, red, green or blue. The system may also be purchased individually. A complete list of parts is available, and parts are compatible with most other brands. Maximum line pull is 500 lbs.
Brenco Inc.
www.brenco.com
---
Hydraulic Puller-Tensioner
The PT1250 hydraulic puller-tensioner from Condux Tesmec provides industry-leading features like a negative self-acting hydraulic brake, an integrated hydraulic dynamometer, a hydraulic cooling system, advanced user controls and more. This model offers 11,240 lbf (50 kN) of pulling or tensioning capacity and is designed for stringing one rope or one conductor.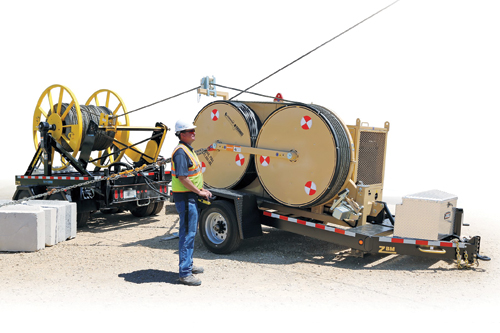 The bull-wheel grooves on the PT1250 are made from high-­resistance interchangeable nylon sectors. The PT1250 features a new digital interface with automatic power management and full safety controls. The company also offers a full line of hydraulic pullers, tensioners, puller-tensioners and stringing blocks representing the safest and most reliable equipment in the power transmission and distribution industry.
Condux Tesmec
www.conduxtesmec.com
---
Ergonomically Advanced Winch Bars
Kinedyne LLC, a world-leading designer, manufacturer and distributor of cargo control technologies, including cargo securement, capacity and access solutions for the transportation industry, has announced the formal introduction of its new EASE-Z Winch Bar family. The EASE-Z Winch Bar is a patented Z-shaped winch bar that rotates 360 degrees, providing users with greater leverage. The bar comes in one standard model and two combination versions that have modified handles that can be used to release tension on chain binders. Traditional winch bars are straight with a slightly angled tip. While effective in many cases, the bars essentially function as a classic lever and make it more difficult for users to exert the proper amount of force when in certain positions or when clearance is limited.

The EASE-Z Winch Bar is different. The tough, heat-treated carbon-steel and mushroom-shaped head of the EASE-Z Winch Bar is tapered for easy insertion, helping to keep the bar seated in the winch cap and preventing it from slipping out during revolution and when the user is applying torque. A knurled non-slip handle with a flanged grip ring on the bar's upper shaft helps prevent it from slipping out of users' hands even in moist conditions. The Z-shaped EASE-Z Winch Bar can be rotated up to 360 degrees, enabling users to optimally position themselves and the bar to deliver superior leverage when tensioning winch straps. The rotation of the bar without having to remove it from the winch cap eyelet provides a pivoting action that lets users quickly orient the bar as needed to avoid obstacles and to achieve optimum posture while applying up or down force. The bars are painted in high-visibility Kinedyne orange. The tool's angled shape is more stable and is unlikely to roll away when laid on the ground or on the deck of a flatbed trailer. The EASE-Z Winch Bar is available in three models. The 80177 standard bar comes in a length of 34 inches. The 80178 combination bar has a handle with greater girth, can be used to release tension on chain binders and comes in a length of 34 inches. The 80179 combination box-end model can also be used to release tension on chain binders and comes in a length of 39 inches.
Kinedyne
www.kinedyne.com