Utility safety: RT Ring Lug Terminal Blocks from Phoenix Contact
Safety Products: Put an end to the frustration and safety hazard of loose screws in your control panel with RT Ring Lug Terminal Blocks from Phoenix Contact.
Mar 16th, 2015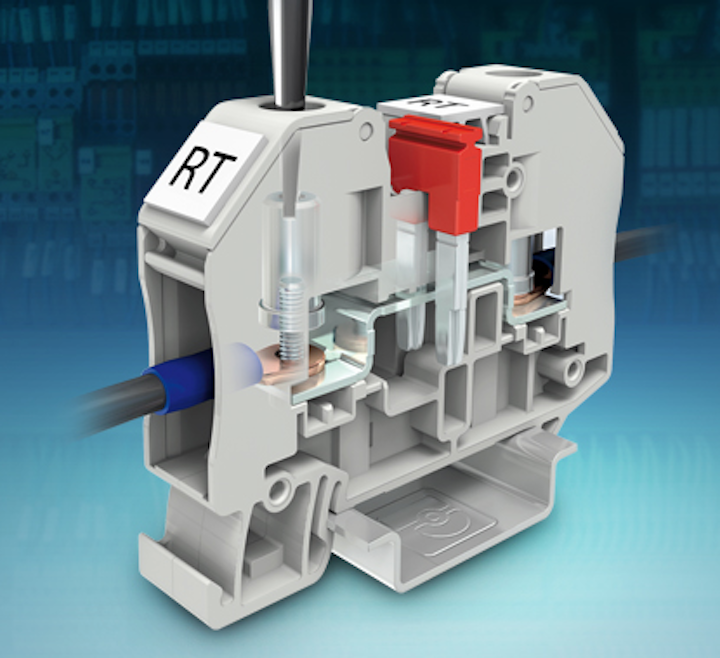 Safety equipment: RT Ring Lug Terminal Blocks from Phoenix Contact can eliminate the problem of dropped screws – and the electrical safety hazard they can bring. Our unique, field-friendly design actually holds the nut in place for reliable ring lug connections.
The modular RT design meets utility and industrial requirements for efficient wiring with the appropriate number of termination points for every control cabinet application.
RT Ring Lug Terminal Blocks offer more features!
• Unique captive hardware eliminates dropped screws — integrated nut is in hinged cover for quick, reliable ring lug wiring.
• Touch-safe connections with high scores on user safety — hinged cover ensures finger protection with isolated ring lug, plus special RT-PE blocks can be easily snapped onto DIN rail for safe grounding.
• DIN rail-mount for better control device management — snap onto DIN rail to better organize and accommodate wiring within control cabinets, save valuable space and reduce man-hours for wire termination, testing and trouble-shooting.
• Sliding link disconnects — effectively open/close the circuit with a center screw disconnect in sliding link. Safely short circuits before isolating current-operated devices.
• Test plugs and adapters for quick test and measurement — quickly install and remove test adapters with 4 mm diameter and 2.3 mm plugs.
Added functionality:
• Multiple conductor connections
• Rugged, reliable FBS push-in bridges for power distribution, reducing the need for wire jumpers
• Professional marking for terminal point identification
• Put an end to loose screws with RT Ring Lug Terminal Blocks from Phoenix Contact.
For more information about Phoenix Contact or other products, click here to go to Utility Products' Buyers Guide.