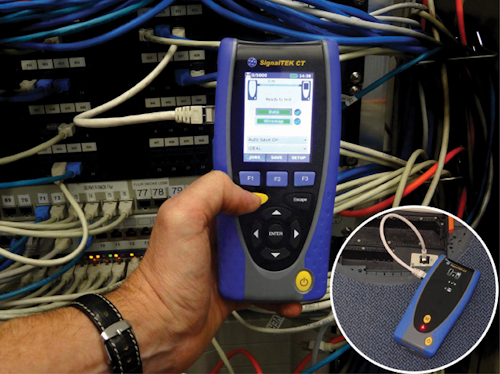 Cable test equipment: IDEAL Networks, the networking solutions and testing subsidiary of IDEAL INDUSTRIES, INC., is now offering a data cable transmission tester verifying copper cabling has been installed correctly and is capable of supporting Gigabit Ethernet applications to the international standard IEEE802.3ab.

NEXT GENERATION TESTER: SIGNALTEK CT
The IDEAL SignalTEK CT is a new generation of tester that is a cost-effective alternative to LAN cable certification. It carries out two primary tests via its Autotest function: a wiremap test and a data transmission test. The wiremap test identifies and locates crossed pairs, opens, shorts and split pairs using its TDR. The data transmission test performs at 100Mbit/s or 1000Mbit/s, providing 100% load on that link from both sides, giving a clear reading if the link really can support the desired Ethernet speed. This is performed to the IEEE802.3ab standard by measuring if all the frames arrive at the other end of the cable, and is achieved by having two handsets which also allows for one person testing. Pass/Fail results are displayed on the screen and can be saved to a USB memory stick for import into PC for later report generation. It all adds up to a cost-effective way for installers and network owners to generate pdf test reports that prove a professional job has been carried out thereby reducing the risk of call backs.

CERTIFIER NOT REQUIRED
Typically, contractors installing data cabling or carrying out moves, adds or changes to an existing network have used a cable certifier to guarantee compliance to international cabling standards such as ISO/IEC 11801. However, this level of testing is not always required. Installing networks for smaller business premises or residential properties, for example, often simply requires proof that the copper cabling has been installed correctly and can support the Gigabit Ethernet applications that are intended to be run over the network.

The SignalTEK CT has been developed to essentially bridge the gap between low-end verifiers and full-blown cable certifiers, enabling a more affordable method of testing installations, while ensuring that work is defect-free and can be documented to meet end-customer's expectations of quality and reliability.

AVAILABILITY
IDEAL SignalTEK CT cable transmission testers are immediately available. Each comes in a kit with display and remote unit as well as rechargeable batteries, patch cables, power supply, multi-lingual manual and carry case.
ABOUT IDEAL NETWORKS
The IDEAL Networks Division is a worldwide leader in data communications solutions. IDEAL Networks develops and manufactures network testers, network installation and management equipment for Local Area Networks (LAN), Wide Area Networks (WAN) and access telecom infrastructures worldwide.

IDEAL Networks was formed in 2010 when Wavetek and Trend Communications, previously acquired by IDEAL in 2001 and 2004 respectively, were merged with the IDEAL datacomm tools and connector divisions. The result was a new division focusing on all issues involving the installation and testing of local and wide area networks. By merging Trend's experience in the telecom sector, Wavetek's expertise in local network certification, and the years of experience that IDEAL has with datacomm tools and connectors, the IDEAL Networks Division is able to offer some of the most comprehensive networking solutions in the industry for everything from installation to testing and certification

For more information about IDEAL Networks or other products, click here to go to Utility Products' Buyers Guide.