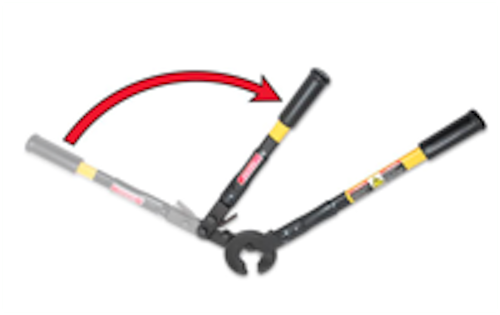 Utility supplies: H.K. Porter®, a hand tool brand from Apex Tool Group, known for professional cutting tools that deliver maximum performance and long life, announced the launch of its new Pivot Handle Cable Cutter.

The new cutter provides superior access in narrow spaces like trenches, vaults, transformers, and manholes. One of its lightweight fiberglass handles hinges 90 degrees near the head, reducing the span of the handles. Even with the blades fully open, the span of the handles is just over 16 inches compared to 44 inches when the handle is straight. A ratcheting mechanism at the hinge allows users to start tough cuts with hands closer together and closer to the body, creating better body positioning during cuts in tight areas.

"These cable cutters provide ultimate access in tight situations, " said Jason Wirth, product manager for H.K. Porter. "H.K. Porter is known for superior quality, long life, and value, and this new product lives up to that legacy. These cable cutters are durable, easy to clean, and cut exceptionally well."

The durable induction-hardened cutting edges slice through thick cable such as copper, aluminum, and communications cable, and provide long blade life. A heavy-duty clevis design adds strength and protects the ratchet mechanism when stored in a truck and during use in the field. The Pivot Handle Cable Cutter is made in the U.S. and is available in two overall lengths: 25-inch and 21-inch.

About H.K. Porter
H.K. Porter® is a market-leading brand of industrial cutting products from Apex Tool Group, one of the largest hand tool manufacturers in the world. The extensive H. K. Porter line of products includes manual cutters, hydraulic cutters, pneumatic cutters, and accessories. Since 1880, H. K. Porter has built an unsurpassed reputation for quality, strength, and durability.

About Apex Tool Group
Apex Tool Group, LLC, based in Sparks, Md., is one of the largest worldwide producers of hand and power tools, tool storage, drill chucks, chain and electronic soldering products. Directly and through its subsidiaries, Apex serves a multitude of global markets, including automotive, aerospace, electronics, energy, hardware, industrial, and consumer retail. Apex markets its portfolio of diverse products under its own brand names in addition to being the principal manufacturer for several key private label products for certain retailers for many years.
For more information about H.K. Porter or other products, click here to go to Utility Products' Buyers Guide.