Lighting tower from Larson Electronics
Work light: Larson Electronics introduces 50 ft. mega light mast on 21 ft. trailer with sixteen 400 watt LED light heads.
Mar 10th, 2015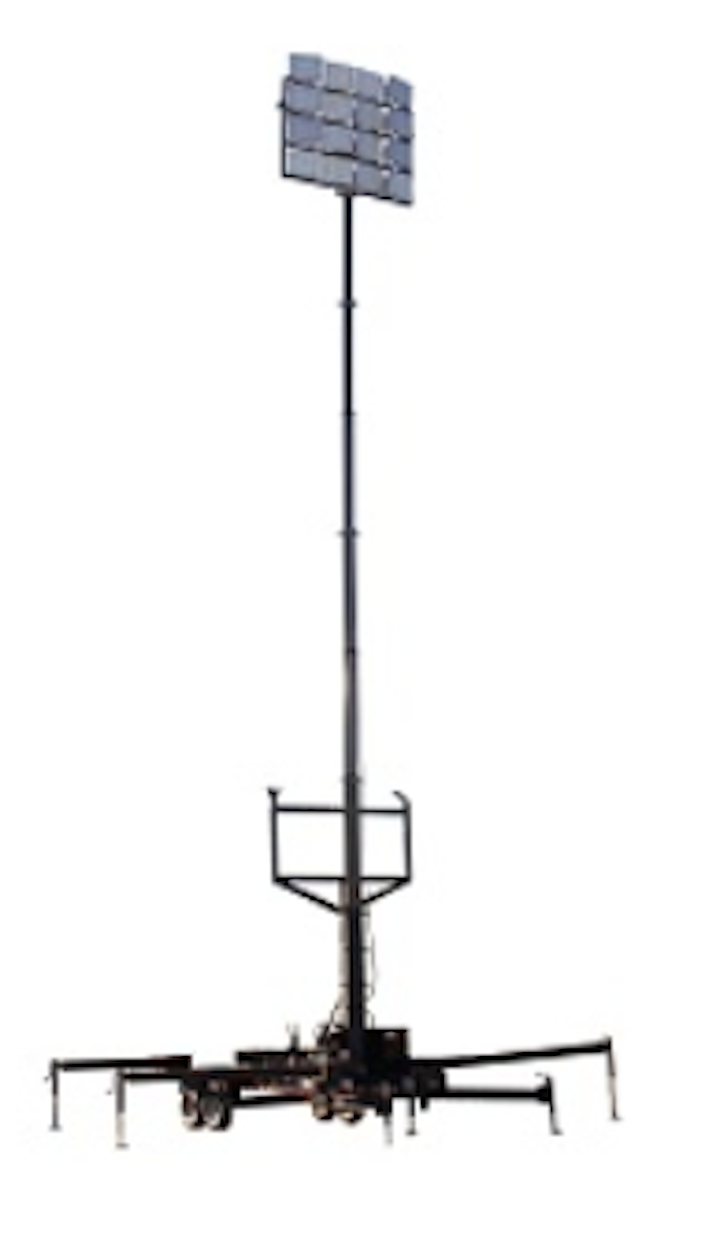 Utility equipment: Larson Electronics continues its commitment to providing high grade lighting equipment to specialty markets with the release of a 50 foot pneumatic light mast on a 21 foot trailer equipped with sixteen 400 watt LED light heads.
The WCDE-11-PLM50-16X400LTL-LED is a trailer mounted fold over seven stage light mast that provides a safe and effective way for operators to deploy sixteen 400 watt LED light heads to elevations up to 50 feet. This pneumatic light tower folds over for easy transportation, features a hydraulic ram upright assist, an air powered pneumatic mast and high output LED light fixtures. The entire assembly is mounted on a 21 ft. by 8 ft. trailer that allows operators to transport this boom from one location to another. The tower is constructed of heat treated aluminum tubing with 2.69 ft. of overlap per section. The mast is elevated using an included hydraulic ram and is extended to its full height using a trailer mounted air compressor.
The sixteen light heads included with this tower are our wet area suitable GAU-LTL-400W-LED high output LED fixtures that produce 52,000 lumens of light at 400 watts. Each light head contains 54 Bridgelux high output LEDs producing 963 lumens each arranged in rows and paired with high purity optics to produce a well-focused 25° wide spot beam. Each light is securely fastened to the light boom and each lamp includes a support bracket to help maintain lamp stability. The lamps are hard wired into a NEMA 3R panel located on the end of the telescoping boom. This mobile light tower includes a Kubota Lowboy II GL11000TM genset that houses a Kubota D722 diesel engine that powers the 11KW 120/240V brushless generator. This genset is liquid cooled and features a single phase generator with electric start ignition. A 150 gallon fuel cell sits beside the genset and is equipped with an electric fuel delivery system which allows this plant light to run for two days without refueling.
"Our new 50 ft. pneumatic light mast is by far the brightest and biggest light mast we have ever manufactured," said Rob Bresnahan with Larsonelectronics.com. "As a manufacture, we can customize these units to customer's specifications with different heights and different light heads. Call us today to discuss your requirements."
Larson Electronics produces a full range of industrial and commercial lighting equipment, telescoping light towers, explosion proof lighting, and LED work lights.
For more information about Larson Electronics or other products, click here to go to Utility Products' Buyers Guide.