Safety lighting: Work light features 250-ft. cord
Work light: Larson Electronics releases explosion proof LED light with 250-ft. cord and explosion proof plug.
Aug 27th, 2015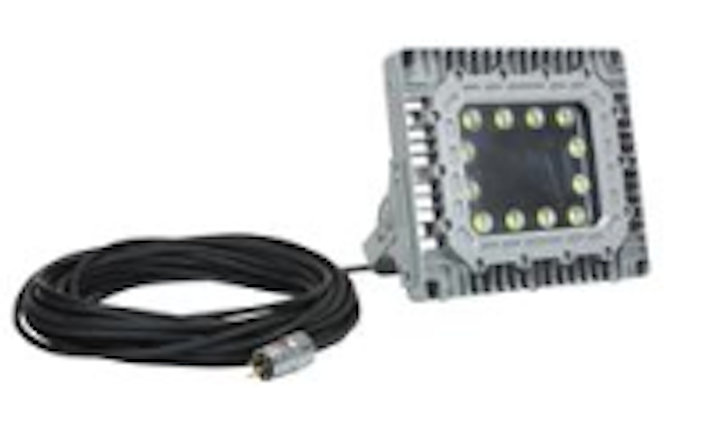 Utility equipment: Larson Electronics has released a 150-watt high bay LED light equipped with 250-ft. cord and an explosion proof plug. This Class 1 Division 1 & 2, Class 2 Division 1 & 2 explosion proof LED light provides 13,000 lumens of high quality light while drawing only 150 watts of power. The copper free aluminum alloy body is powder coated for added durability and an attractive aesthetic appearance. A special heat dissipating design in conjunction with LED technology helps this fixture achieve an excellent 60,000-hour rated lifespan with 80 percent lumen retention. The aluminum body and LED lamp give this light excellent durability and resistance to vibration and impacts.
The housing is specially designed to dissipate heat, which increases the efficiency and lifespan of the LED fixture. This fixture features multiple LED drivers, which help increase the operational life. With traditional LED lights, in the event an LED array or driver fails, the entire fixture no longer illuminates. This fixture contains 12 individual LED boards configured in a series of banks. Each bank contains two LED boards with an individual driver. In the event that a driver fails, only one bank of LEDs will be affected while the others will continue to operate. In the event that an LED fails, the mating LED will continue to operate. This explosion proof LED light fixture is IP67 rated, dust-proof, and protected against high-pressure jets and temporary submersion. This explosion proof fixture is equipped with 250 feet of 16/3 chemical and abrasion resistant SOOW cord that is fitted with an optional explosion proof cord cap for easy connection to explosion proof outlets. This light is universal voltage capable and can be operated with 100-277 volts AC, without any modifications.
"This Class 1 Division 1 light is equipped with a bracket for surface mounting and includes a cord with a plug for those applications where hard-wiring is not preferred," Rob Bresnahan, with Larsonelectronics.com said. "Larson Electronics now offers more plug options with our explosion proof products to accommodate most outlets."
Larson Electronics carries an extensive line of LED light towers, portable power distributions, explosion proof lights for hazardous locations, portable work lights and industrial grade LED area lights.
For more information about Larson Electronics or other products, click here to go to Utility Products' Buyers Guide.