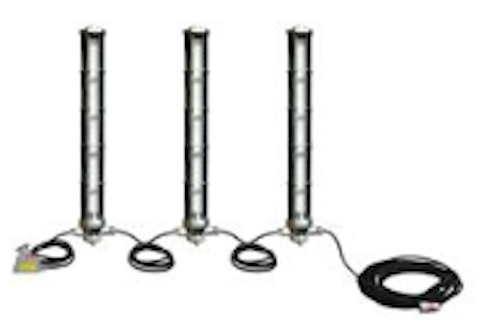 Utility supplies: Larson Electronics announces the release of a 156-watt low profile explosion proof string light set designed to allow daisy chain connection of multiple units to extend the light output in a work area.
The EPL-SL-3-LP24-LED-E2E explosion proof string light contains a total of three 52-watt LED work lights producing a combined total of 20,280 lumens of light. Each fixture is equipped with aluminum hooks and connected in series along 40 feet of 16/3 SOOW explosion proof cord. These Class 1 Division 1 LED lights are connected together with 20 feet of 16/3 SOOW cable between each light. A 65-foot tail section of main SOOW cord is included to allow ample length for connection to power sources. Extending from the last fixture is 10 ft. of SOOW cord connecting an explosion proof outlet that provides the ability to connect multiple units end to end, allowing operators to daisy chain multiple stringers together along the jobsite. The cord is terminated with a Class 1 Division 1 explosion proof plug for complete protection.
This string light set contains three integrated low profile linear fixtures that have a unique design. Instead of using diffused glass, optics, or reflectors to distribute light, Larson Electronics has positioned the boards within the fixture to provide a wide area light without sacrificing light quality or output. Two offset LED assemblies within the fixture allow this lamp to provide a brilliant 100° horizontal beam spread and a 140° vertical beam spread. The LED assembly is protected behind a tempered borosilicate glass tube that is protected by an aluminum wire guard to prevent accidental damage. This explosion proof LED string light set has a T5 temperature rating, is IP67 rated, and carries a paint spray booth, ATEX, and IECEx certification and is approved for use in United States, Canada, Europe, and Asia markets. This explosion proof string light set is universal voltage capable and can be operated on 100-277 volts AC.
For more information about Larson Electronics or other products, click here to go to Utility Products' Buyers Guide.