Utility equipment: Linemen crimpers optimize ergonomics, speed, reliability
Lineman tools: Milwaukee Tool introduces the new M18 FORCE LOGIC 6T Utility Crimpers. Developed specifically for the challenges a lineman encounters on a daily basis, the new tools have been built from the ground up to optimize ergonomics, balance, speed and reliability.
Aug 4th, 2015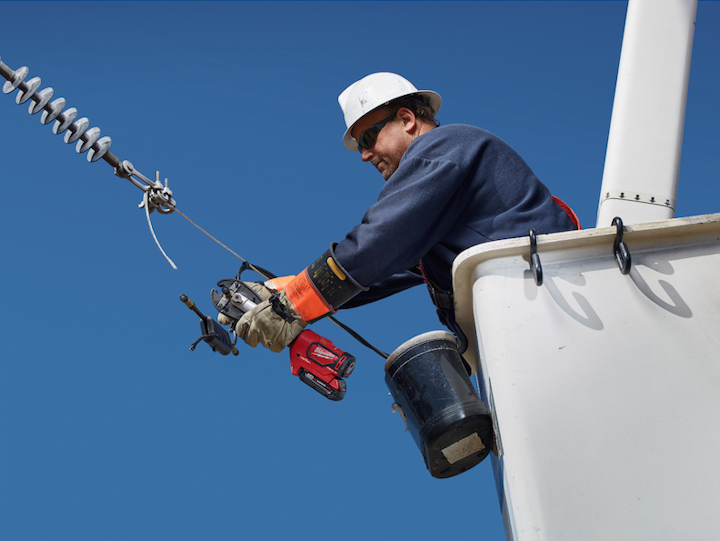 Utility supplies: Milwaukee Tool introduces the new M18™ FORCE LOGIC™ 6T Utility Crimpers. Developed specifically for the challenges a lineman encounters on a daily basis, the new tools have been built from the ground up to optimize ergonomics, balance, speed and reliability.
"In the constant mission towards a safer work environment, the Power Utility industry has moved towards battery operated crimping tools for their daily compression needs, but the current offerings are extremely front heavy, slow to cycle, and temperamental in extreme weather," said Paige Bovard, Sr. Product Manager for Milwaukee Tool. "We focused our design efforts entirely around these challenges, and are proud to introduce what is truly the next evolution in crimping technology, delivering the single most ergonomic and reliable solution in the industry today."
Traditional 6T crimpers strain the wrists and are challenging to align because they are front heavy. By repositioning the grip and fully balancing the tool, Milwaukee's new Utility Crimpers will provide the easiest alignment and 2X more control. When wearing PPE and working out of a bucket/in a trench, which limit Linemen's dexterity, this repositioned grip gives the user superior control and reduces fatigue.
The new Crimpers feature the industry's first adaptive pressure control system, Predictive Force Monitoring (PFM™). "While speed and accuracy don't traditionally go hand in hand," says Bovard, "we are able to achieve both with PFM™." With the ability to measure and modify all performance levels of the system, PFM™ pushes the hydraulics extremely hard and fast through the beginning of the cycle, and lands them softly at the right pressure during the completion of the crimp. This results in the single fastest, most precise crimping system on the market, and also protects components for up to 4X longer life.
Powered by M18 RED LITHIUM™, the batteries and hydraulic system are optimized for consistent performance in -18°C/0°F to 55°C/122°F because linemen work in the harshest environments. For maximum protection against the elements, sealed electronics keep dirt, dust and moisture out.
As a complete problem-solving solution, all M18™ FORCE LOGIC™ 6T Utility Crimpers are compatible with a new proprietary digital platform, One Key™, which allows the user to sync the tool wirelessly with their mobile device or desktop. Users will be able to upload data and history to create custom reports that track the success and timing of electrical terminations. Furthermore, the ONE-KEY™ program will assist in tracking the utilization and service intervals of the tool to maximize uptime and keep inventory lean.
From the power plant, through transmission and distribution, it is Milwaukee's goal to improve reliability and productivity for linemen by offering cordless solutions on one battery platform that will replace the traditional corded and truck hydraulic solutions used today. With a base of tools on the M18™ system already used by linemen, and the launch of several game-changing solutions in 2015, Milwaukee is committed to making this goal a reality.
Specifications
M18™ FORCE LOGIC™ 6T Crimper Kit with Fixed BG Die (2678-22BG)
• 6T Crimping Force
• Length: 14"
• Weight: 4.65
• Avg. Crimp Speed: 3 sec.
• Head Rotation: 350°
• Auto-Cycles: Yes
• Adaptive Pressure Control: Yes, PFM™
• ONE KEY™ Enabled: Yes
Includes M18 FORCE LOGIC™ 6T Crimper, Carabineer, Utility Bag, (2) M18 RED LITHIUM™ 2.0 Compact Battery Packs, and M18™ AC/DC Wall and Vehicle Charger.
*Also available with D3 Groove (2678-22), with Kearney Jaws (2678-22K, and with Fixed O Die (2678-22O)

About Milwaukee Tool
Since the company began in 1924, Milwaukee Tool has led the industry in both durability and performance by providing the best in professional, heavy-duty tools and accessories. With an unwavering commitment to the trades, Milwaukee continues to lead with a focus on providing innovative, trade-specific solutions. Whether it is through their leadership in LITHIUM-ION technology, as seen in the M12™, M18™ & M28™ Systems, time-saving accessories or innovative hand tool products, Milwaukee is dedicated to delivering a steady stream of advanced solutions for the trades that offer increased productivity and unmatched durability. Milwaukee Tool is a Brookfield, Wisconsin-based subsidiary of Techtronic Industries Co. Ltd. (TTI) (HKEx stock code: 669, ADR symbol: TTNDY).
For more information about Milwaukee Tool or other products, click here to go to Utility Products' Buyers Guide.