Work light for hazardous locations
Safety products: Larson Electronics reveals a 150-watt portable explosion proof LED light on base stand.
Aug 14th, 2015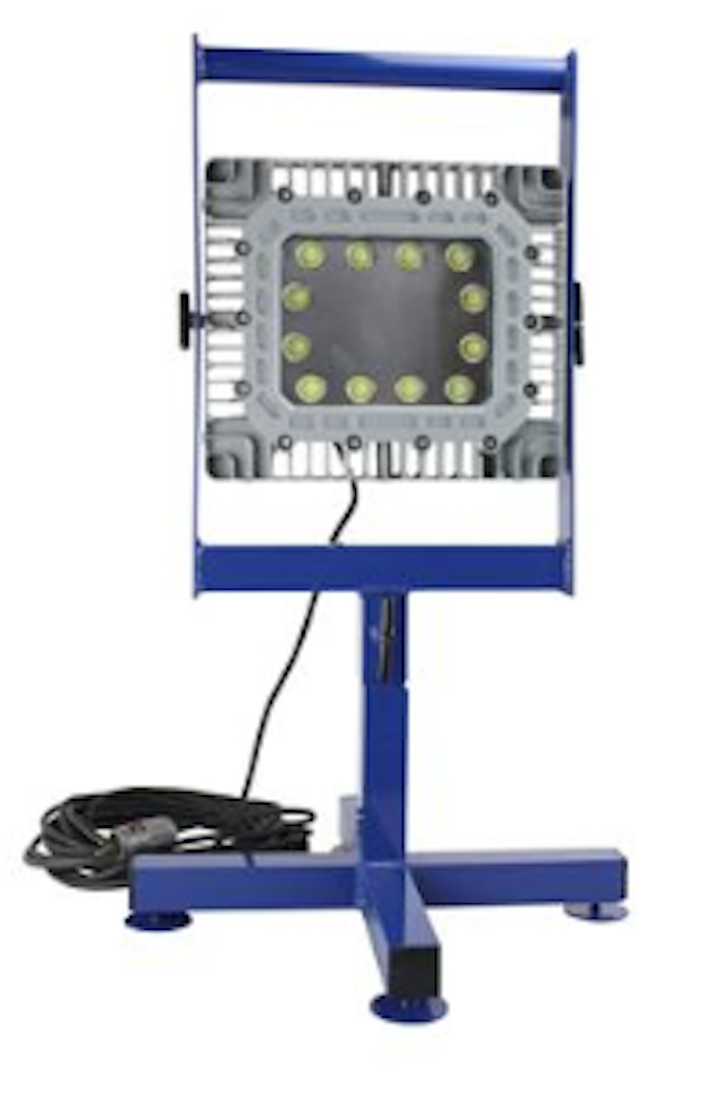 Safety lighting: Larson Electronics has announced a Class 1 and 2, Division 1 and 2 portable explosion proof LED light mounted on a base stand fabricated from non-sparking aluminum. The EPL-16BS-1X150LED-X24I-50 portable explosion proof LED light provides operators an easy to maneuver LED work light for use within hazardous locations. This portable fixture is comprised of a 150-watt LED light head that is mounted atop a base stand fabricated from non-sparking aluminum and operates on 120-277 volts AC stepped down to 24 volts DC through an inline transformer.
The LED light head produces a brilliant flood pattern of light that is ideal for illuminating enclosed areas and hazardous locations where flammable vapors, gases and dusts may be present. The LED lamp head is T5 temperature rated and retains 80% of its lumen output after 60,000 hours of use. The lamp can be easily adjusted up or down 90° and locked into position by loosening the two hand screws located on the side of the light head. Once the light is in the desired position, the operator then tightens the screws back to set the position. The light frame assembly features a carrying handle on the top for easy transport and a hand screw at the base allowing operators to pivot the top frame assembly on the four leg base stand.
Included with this portable LED light is 50 feet of chemical and abrasion resistant SOOW cord leading up to the encapsulated step down transformer. Five feet of 16/3 SOOW cable is on the input side of the transformer and is fitted with an industrial grade cord cap for easy connection to common wall outlets.
"This 150 watt LED fixture provides operators with a powerful flood beam for work areas within hazardous locations," Rob Bresnahan with Larsonelectronics.com said. "This explosion proof LED light is lightweight, versatile and maintenance free."
Larson Electronics carries and extensive line of LED lights, boat lights, intrinsically safe LED lights, LED blasting lights and explosion proof lights.
For more information about Larson Electronics or other products, click here to go to Utility Products' Buyers Guide.