Crimping Tool: Greenlee Micro Crimper Power Crimp Tool Kit
Utility tools: Fiber Optic Center announces the addition of Greenlee Micro Crimper Power Crimp Tool Kit.
Jan 27th, 2015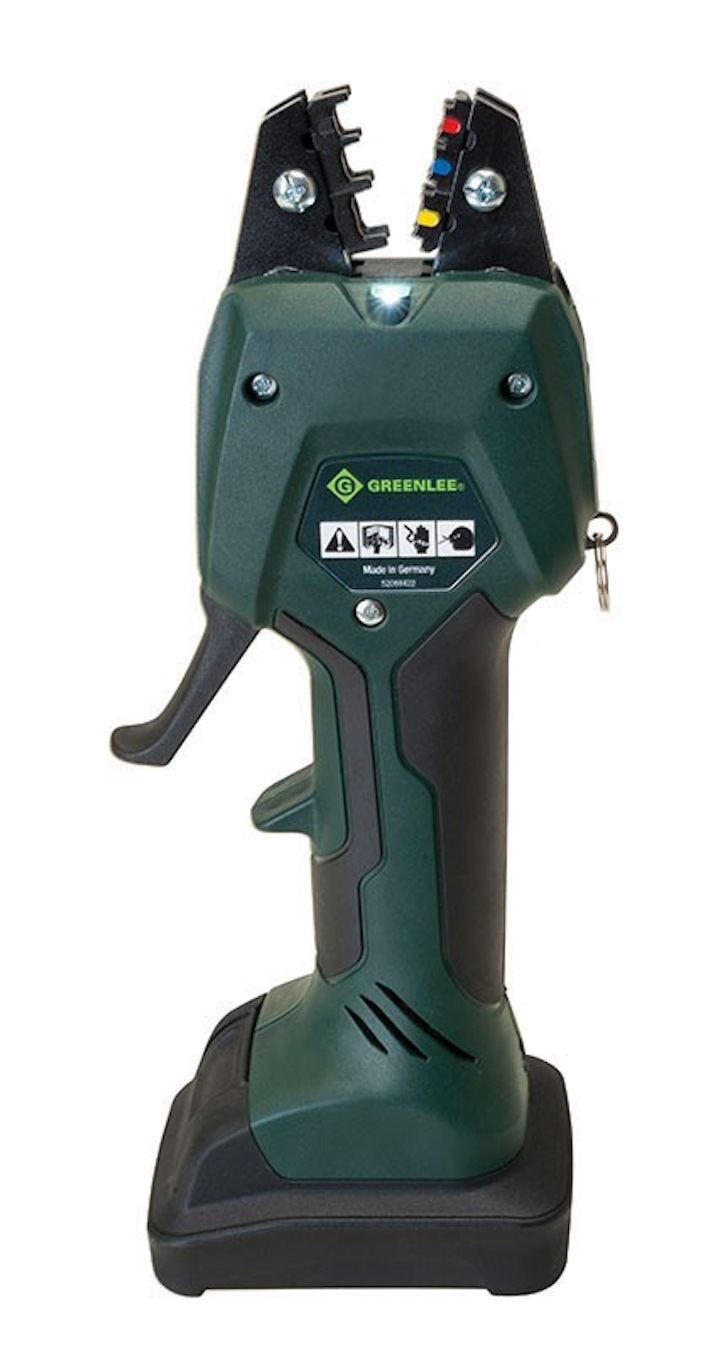 Utility equipment: Fiber Optic Center Inc., (FOC), a provider of fiber optic components, equipment and supplies and recognized as one of the most technically savvy fiber optics companies in the world, announces the addition of the Greenlee Micro Crimper Power Crimp Tool Kit to their website.
The Greenlee Micro Crimper Power Crimp Tool Kit joins FOC's range of fiber solutions. For customers without the space or budget for a benchtop, the size of this power tool allows a crimping solution.
The Tool Kit is available in both 110V and 230V and comes with Charger and Carrying Case. There are also two options for jaw size: the 12mm jaw accepts Wezag, Panduit and Thomas & Betts crimp dies while the 13.8mm jaw size accepts Paladin and Ideal dies.
Per the Bureau of Labor Statistics, 29% of all injuries involving repetitive use of tools cause carpal tunnel syndrome.
Universal Electric Corporation was quoted as saying, "By using the Greenlee Micro Crimper, we were able to completely eliminate hand fatigue in our high volume crimping operations. Use of this tool will go a long way toward eliminating carpal tunnel syndrome risks."
Facts provided by Greenlee on their Micro Crimper Power Crimp Tool Kit include
- 65% faster crimping cycle vs ratcheting tool
- 250 crimps per cycle charge (when crimping 10AWG wire)
- Total weight 2.2 lbs
- Reduces hand force from 53 lbs to 6 lbs
- Gator Eye™ crimping diagnostics
- LED multi-functional light to ensure crimp is complete
The Greenlee Micro Crimper Power Crimp Tool Kit has an innovative trigger with PowerSense™ Technology. The three step process of 1) Manual Clamping or pulling of the trigger part way and adjusting material to ideal position before crimping, 2) Motorized Crimping consisting of depressing the trigger completely to activate the motorized crimp, and 3) completion by simply releasing the trigger and the jaws open automatically.
About Fiber Optic Center, Inc.
Fiber Optic Center (FOC) is an international high technology sales, marketing, distribution, manufacturing and consulting company. FOC has several areas of specialization and expertise, in which they are the industry leader, making them the preferred choice for many of the world's fiber professionals. In these key technology areas, FOC is "at least as technical as the manufacturer" about the products they sell. FOC also strives to "make the business part easy," offering outstanding and personal customer service, low or no minimum purchase order values, and from-stock delivery on industry-leading products and technology. Their main focus is assisting cable assembly houses with supplies, equipment, consulting and technical support in the manufacturing and testing of fiber optic cable assemblies. FOC is the industry connection to the most innovative optical products, technologies and technical experts who integrate their manufacturing knowledge and vast experience into customers' worldwide operations.
For more information about FOC or other products, click here to go to Utility Products' Buyers Guide.