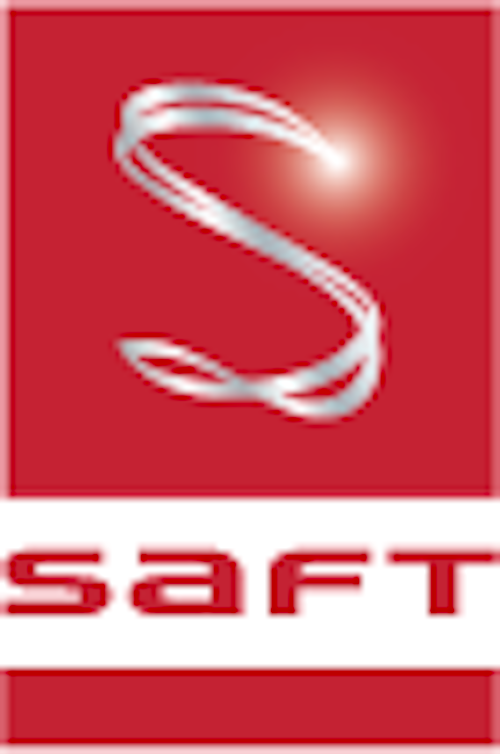 Power management:Saft, a designer and manufacturer of advanced technologybatteries, has launched an innovative battery remaining life analysis servicethat now enables utilities to take the guesswork out of their metering asset management decision-making processes. By drawing on real-life information gathered by Saft from batteries installed in their own fleet of meters, utilities can take fully informed decisions such as keeping meters in service for an extended period of time or bringing forward a planned replacement program.

• New service delivers real-life information from batteries operating in the field and provides utilities with information for informed decision making on asset maintenance and replacement programs.
• Analysis complements Saft's battery life modeling capability to provide a complete understanding of the battery lifecycle.

Saft is the world leading supplier of primary lithium batteries for metering applications, with unrivalled experience of over 35 years, based on hundreds of millions of our batteries deployed in the field. This has enabled us to establish a deep understanding of the many design and operational factors that impact battery life and to develop mathematical models to help OEMs and utilities estimate a battery's run time in their meters. However, lifetime modeling does not address the variances in operating conditions found within a fleet of meters. Furthermore, the new generation of smart meters with remotely upgradable software can result in the modification of battery consumption during its operating life, says Cecile Joannin - Market Manager for Metering, Saft Specialty Battery Group. We have now taken the next step in understanding the battery lifecycle by introducing this innovative remaining battery life analysis service that provides detailed information from operational meters out in the field.

Saft's remaining life analysis service can be applied to any battery from any manufacturer. It starts by taking a representative sample of meters from the deployed fleet. The meters are then dismantled and the batteries removed for laboratory analysis including:

• Mechanical integrity checks
• Remaining capacity determination by a specific chemical analysis of the electrodes
• Determination of actual state of charge through evaluation of discharged capacity and self-discharge
• Determination of actual state of health by measuring the passivation state and the complex impedance of the batteries

The information obtained is correlated with life expectancy data to develop an accurate estimate for the remaining service life of the entire battery fleet.

"The key aim of our service is to provide utilities with better knowledge and expertise related to the battery ageing process," said Jean-Philippe Limal, Saft's Services Director. "This service is already helping utility network managers to determine their optimum metering asset management strategy by providing a sound basis for the implementation of condition based maintenance and in planning replacement programs. Since the battery is the single most critical factor in the meter, access to precise information on remaining battery life can play a vital role in securing the availability of utility metering infrastructure."

About Saft
Saft is a world leading designer and manufacturer of advanced technology batteries for industry. The Group is the world's leading manufacturer of nickel batteries and primary lithium batteries for the industrial infrastructure and processes, transportation, civil and military electronics' markets. Saft is the world leader in space and defense batteries with its Li-ion technologies which are also deployed in the energy storage, transportation and telecommunication network markets. More than 4,000 employees in 18 countries, 14 manufacturing sites and an extensive sales network all contribute to accelerating the Group's growth for the future.
For more information about Saft or other products, click here to go toUtility Products' Buyers Guide.