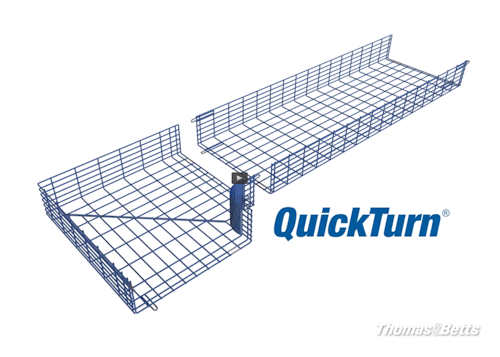 Utility supplies: Thomas & Betts has released a new video with 3D animation that highlights the unique features and benefits of the QuickTurn® basket tray system, a comprehensive selection of pre-fabricated basket tray fittings.

The video, which is available at https://p.widencdn.net/rtm9em, demonstrates the wide selection of straights and fittings and how they are easily assembled with only one tool, without the need for cutting or bending. The selection of component parts and their ease of assembly not only enable a made-to-order system that can be tailored to the specific needs of the installation, but also the reduction of installation time and material waste that contributes to cost savings.

In addition to standard widths, lengths and fittings, QuickTurn® includes easy-to-install standard accessories for mounting, grounding and bonding the complete tray system. Low-resistance corner plates on bends enable speedy cable pulling, without the risk of damaging cable.

Features and benefits of QuickTurn® include:

­ One-tool installation that simplifies the entire process.
­ Ideal for commercial and industrial cable tray applications.
­ Offered in rugged steel construction with powder coat or hot-dipped galvanized finish.
­ Features built-in UL® bonding and splicing.
­ NEC® compliant, with no bonding jumpers required.
­ UL® Classified and made in the United States.

About Thomas & Betts
Thomas & Betts Corporation, a member of the ABB Group, is a global leader in the design, manufacture and marketing of essential components used to manage the connection, distribution, transmission and reliability of electrical power in utility, industrial, commercial, and residential applications. With a portfolio of more than 200,000 products marketed under more than 45 premium brand names, Thomas & Betts products are found wherever electricity is used. Thomas & Betts' headquarters are in Memphis, Tenn.
For more information about Thomas & Bettsor other products, click here to go toUtility Products' Buyers Guide.